Father's Day gifts can be a lot more exciting than a pair of slippers or a set of coffee mugs. This Father's Day, why not put a little more thought into your Father's Day gift and tailor your gift to suit your Dad's needs? This year, you can not only show him how much you appreciate him, but you can also show him how well you know him.
Whether your Dad is a lover of the great outdoors, can't stay away from the beach, is a stylish entrepreneur, a health nut, or relishes in his relaxation time at home – we've got a gift idea for you. We've compiled a list of gifts that cover just about every type of Dad. Below are some awesome Father's Day gift ideas that are practical, thoughtful and unique:
1. California Cowboy's "High Water" Shirt
This unique and stylish shirt is the long-awaited update to the traditional "Aloha" shirt that men seem to love. California Cowboy's "High Water" shirt features custom-designed floral or tropical prints, water-absorbent terry-cloth lining, and cool features such as secret pockets and an integrated bottle opener.
The terry-cloth lining acts like a built-in towel for beach-lovers. It's super soft on the skin and breathable, yet highly absorbent, making it great for drying off after a swim or absorbing hot summer day sweats.
The High Water shirt also has some really functional pockets such as a special side 'bottle pocket' that perfectly fits a bottle of beer, a concealed dry pocket for his phone, a secure sunglass-holder loop, an integrated bottle opener and a hidden interior pocket.
The vintage-inspired prints are mostly inspired by the Aloha shirts of the 70's, and with all these unique features and pockets, it's basically a wearable happy hour kit. California Cowboy is known for its quality materials and clever design concepts. Their designs are inspired by men's daily experiences, which is probably why they're so functional.
2. Walton Wood Farm's "Gentleman's Beard Bundle" Gift Set
Looking for a gift for a Dad who's loyal to his beard? It's true that bearded men love taking good care of their facial hair, but they shouldn't use just any product on their faces. Walton Wood Farm is committed to making high-quality products made with sustainable ingredients. Their products are all vegan and cruelty-free, made with natural ingredients using no harmful chemicals.
A gift set perfect for Father's Day is Walton Wood Farm's 'Gentleman's Beard Bundle' kit. This fun gift set includes one container of 'Gentleman Beard Balm', one 'Gentleman Beard Wash', and one 'Gentleman Power Shower'. He'll love the beard wash and balm because these amazing products will leave him with the softest, best-smelling beard he's ever had. The Power Shower smells incredible with mahogany and citrus notes, and it's a body wash that doubles as a shampoo. Get 10% off with the discount code "CIRCLEMAG10".
3. Lululemon "License To Train" Shorts
If your Dad is always keen to exercise and likes to stay fit, he might be in need of some quality athletic clothing. Make sure the physically-active Dad has what he needs for summer, and get him a pair of Lululemon's famous "License To Train" shorts. Lululemon is one of the world's top brands of activewear because of their high-quality fabrics, soft blends, functionality, breathable technology, and stylish designs.
Lululemon has several options to choose from in their men's collection for Father's Day, but we love the "License To Train" shorts. Why? Because of their lightweight, sweat-wicking and quick-drying fabric that maximizes comfort, and the secured zippered pockets to store airpods, phone, cards and keys. With a pair of these shorts on hand, your Dad won't have to sacrifice style for function.
4. Holzkern Watches Made From Wood and Stone
When it comes to men's style, a watch is a must-have staple for any Dad's wardrobe. Perhaps your Dad is due for an upgrade in the watch department, making a Halzkern watch the perfect Father's Day gift.
Halzkern combines handcrafted wood and stones to create one-of-a-kind men's watches that truly stand out from the crowd. Check out the limited edition Wassily watch, for example. It's made from leadwood and marble.
Wassily Kandinsky (a Russian abstract painter) was inspired by the power of color and form. This particular Wassily model is strictly limited to only 300 pieces in total – when it's sold out it will never be available again. This makes your Dad's personal piece of nature that much more special! Made with a genuine red marble dial, leadwood, and gray stainless steel – it's a standout watch and a very unique Father's Day gift to be remembered. Aside from the Wassily, there are several other Halzkern men's watches to choose from, with different color marble, different stones, and various types of wood.
5. Tommy John's Go Anywhere® Everyday Tech Pant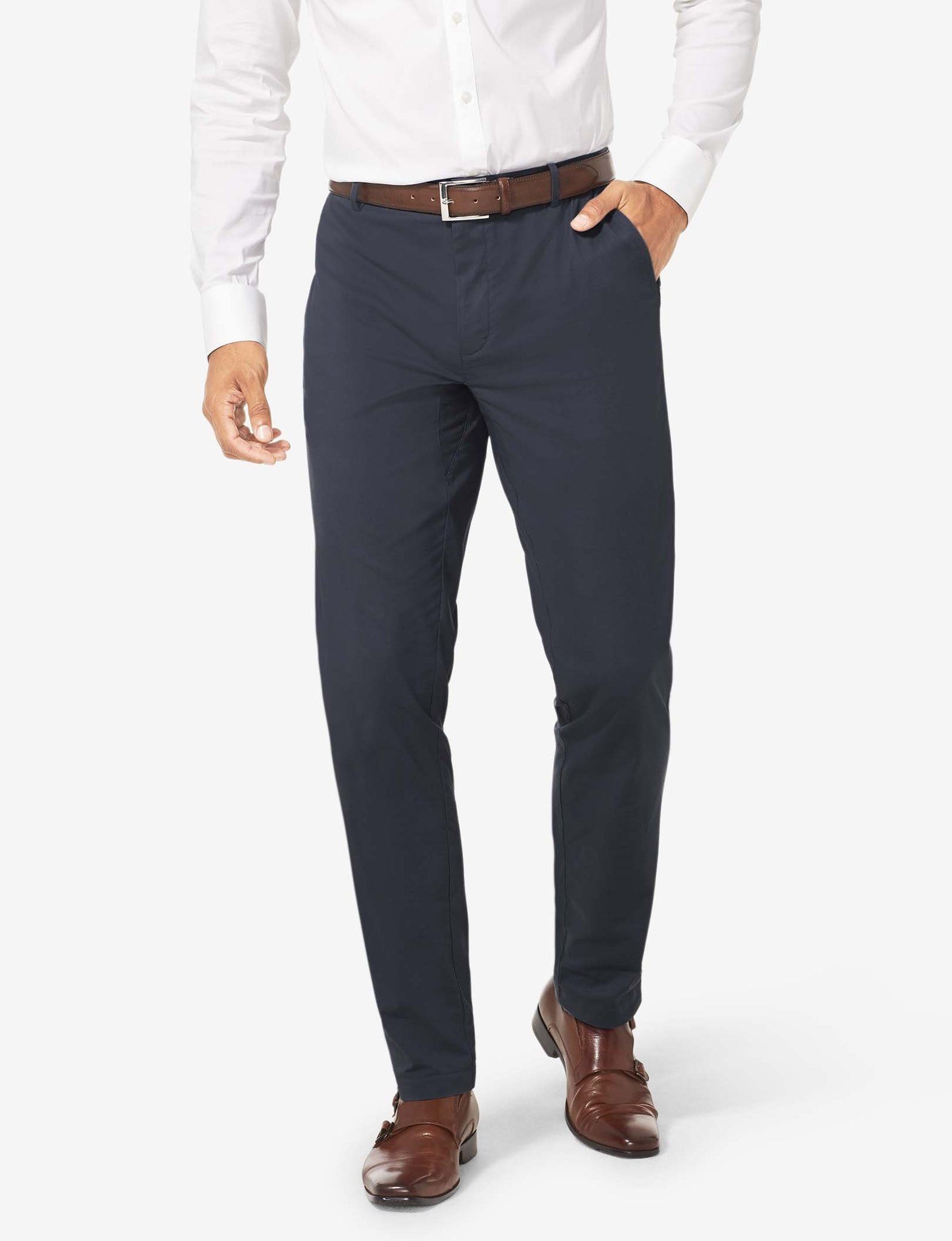 If your Dad is a hard-working businessman who likes to look good and be comfortable, he'll love the premium clothing brand Tommy John. Their Go Anywhere® Everyday Tech Pant is made with an innovative 4-way stretch material for Dad's ultimate comfort.
These pants are complete with a modern, stylish fit for the 2021 businessman who needs to look the part without feeling constricted. The elasticized waistband facilitates flexibility and the utmost comfort all day long. Since it's summertime, your Dad will be happy that the high-quality fabric is breathable and wicks away moisture. Any spills won't be a problem as these pants are also water-repellant. Open side seam pockets are subtle and functional, but the best part is the comfort stretch for increased range of motion, making these pants perfect for Dad's day-to-day.
6. CTRL Skincare
It's very common for men to neglect their skin, and many busy Dads out there often fail to buy themselves proper skincare products. That's why the gift of good skincare is a great Father's Day gift.
CTRL Skincare is an affordable unisex skincare line that collaborates with top chemists and combines the forces of science and nature to produce quality skincare products. Their naturally-derived botanical extracts, vitamins and antioxidants help create the perfect formulas for sensitive skin.
CTRL Skincare's Daily Refresh Cleansing Gel is a refreshing and nourishing facial cleanser rich in vitamins and antioxidants. Daily refresh is a natural, pure, high-performance cleanser that combats aging and helps maintain healthy skin. Their Paradise Smooth Moisturizing Gel instantly hydrates and leaves a matte finish. These products are hypoallergenic, dermatologist-tested, natural, vegan, paraben free and cruelty-free. Get 15% off your first order with discount code CTRL15.
7. Casetify: Customized Phone Case
Casetify's "Ultra Impact Case" is the perfect phone case for your stylish and tech-savvy Dad. (Especially if he seems to always be dropping his phone.) Get him the protection he needs without compromising style with this customizable Ultra Impact Case. It's made with an extra four corners of trademarked qiTech material for an extra 10 feet of drop protection.
Superior impact resistance is achieved without the bulk, in an ultra-sleek phone case complete with antibacterial coating. Casetify's antibacterial coating eliminates 99% of bacteria to help protect your Dad from picking up germs.
The best part is that you can customize your Casetify phone case with photos of you and Dad or with text, in case you want to write a special message to Dad that he'll always have with him. Buy 2 Get 20% OFF using code "DAD2021" (Only valid from June 16 – June 21st.)
8. Beekman 1801: Quality Sun Care
If your Dad is an outdoorsman or loves the beach, he will definitely appreciate quality sun care products. Beekman 1801 has one of the best facial sunscreens out there. Their "Hello Sunshine" SPF 30 sunscreen has no fragrances or preservatives, and is water-resistant for 80 minutes.
Dads will like it because it's not sticky or shiny, nor does it have a fragrance. Natural Zinc Oxide provides broad-spectrum sun protection. Aloe vera and goat's milk offer moisturizing conditioners that soothe and soften skin.
9. Home Depot Patio Upgrades
Since the week of Father's Day also marks the official beginning of summer, an awesome Father's Day gift would be some form of patio upgrade. If your dad has a deck, porch or patio with old or outdated furniture, check out Home Depot's stylish selection of outdoor furniture. Home Depot has patio accessories and furniture that would make for a wonderful Father's Day surprise.
Do you know your Dad's favorite colors and fabrics? If so, customize your gift of patio furniture with Home Depot's Personalized Patio Sets.
10. Comma Home's Bamboo Modal Weighted Cooling Blanket
It may seem counterintuitive to be buying a blanket for your Dad during the warm summer months. However, Comma Home's Bamboo Modal Weighted Blanket is made to combat overheating and night sweats, while also soothing insomnia and restlessness. It's the perfect gift for Dads who are hot sleepers, and it's great for a more comfortable summer sleep. Not all blankets work the same, and some are better than others when it comes to the heat of the summer.
Here's how the Bamboo Modal Weighted Blanket works: This is a weighted blanket that comes in 15 and 20 lbs. The weight is produced by small tempered glass beads that are secured inside of the blanket. The weight is evenly distributed over your entire body. It's incredible how the weight signals your body to release melatonin and serotonin, the naturally-occurring hormones that regulate sleep and mood. This induces feelings of relaxation and sleepiness, and can effectively facilitate a deep, restful sleep.
The outer bamboo modal material is naturally cool to the touch and extra breathable. This allows hot air to circulate out of the blanket rather than keeping it trapped around your Dad's body. This keeps him comfortably cool all night. The cooling properties of this blanket combined with its relaxing and insomnia-fighting benefits make it the ultimate summer sleep tool. Your Dad will finally experience quality rest that leaves him feeling refreshed every morning, and he'll have you to thank for it. Circle Magazine readers can get 10% off with the code SLEEP10.
11. AcousticSheep's Wireless SleepPhone
SleepPhones® are the world's most comfortable headphones for sleeping, studying, relaxing, and traveling.
This unique product was developed by a family doctor who needed a way to listen to soothing music (to fall back asleep) after taking patient calls in the middle of the night.
SleepPhones® feature a luxuriously soft headband that contains thin removable speakers to play sleep music, audiobooks, guided meditation, white noise, or ASMR to help your Dad fall asleep. SleepPhones® are fully padded and comfortable for sleeping, with nothing sticking into the ears or poking the skin.
The Classic version (an Amazon Choice) plugs into virtually any device, and the Wireless version that connects with any Bluetooth-enabled device. Your Dad will love using this to block outside noises as he tries to fall asleep.
SleepPhones® are ideal not just for sleeping. They're also great for meditating, listening to music, catching up on a good book or podcast, or walking the dog.
12. Herschel Tech Novel Duffle Bag
Herschel is known for its high-quality bags, and your Dad will love the Tech Novel Duffle which has three separate compartments for his tech, clothes and shoes. The internal organizers make packing a breeze, including a fleece-lined laptop compartment.
This highly functional duffle bag also has reinforced handles for comfortable carrying, and a removable padded shoulder strap. Your Dad can take this with him for a weekend getaway or business trip. He can even use this versatile duffle as a work, office or gym bag.
13. Steeped Coffee Collection
Steeped coffee is an innovative solution for convenient, premium coffee that is environmentally-friendly. What sets Steeped Coffee apart is its proprietary brewing method that does not require machines or brewing equipment, made much like tea. The coffee comes in single-serve casings that are nitro-sealed to ensure absolute freshness. It's a uniquely "unplugged" coffee experience, from the award-winning packaging made using compostable and renewable materials to the non-GMO filters. All it takes to brew a perfect cup is hot water and a few minutes for steeping. At the end of the day, there are no wasteful plastic pods accumulating in waterways or landfills.
Best of all, each Steeped Pack contains hand-roasted, ethically sourced, Direct Trade coffee that's precision ground to showcase the distinctive flavor profile of every crafted blend. Most importantly, whether you're looking for light, medium, dark, French roast, or even decaf, there's something for your Dad. Get him a collection for Father's Day and he'll have you to thank for his unique new way to enjoy his morning cup.
14. Buttercloth's "Step to Success" Shirt
Your Dad can step confidently into the world wearing a luxurious, polo designed shirt made to easily transition from daytime to evening fashion. The "Step to Success" is a solid navy polo (it comes in other colors, too) and a must-have for Dads this summer. Featuring Buttercloth's signature tailored fit to run around with the kids, while still looking his best.
The "Step to Success" shirt is made with Buttercloth's patented Icy Cotton fabric and feels heavenly soft to the touch. (Your Dad won't believe how soft this shirt is.) He can slip into the comfort of a favorite t-shirt, while having the dapper style of a polo shirt. Circle readers can get 15% off with the discount code WELCOME15.
15. Merrell Men's Choprock Trail Shoes
If your outdoor-enthusiast Dad likes to spend his days on hiking trails or around water, he'll love Merrell's Choprock Trail Shoe. These shoes are great for hikers as they grip on even the most rocky or slippery terrain, and protect your Dad's feet from debris while also keeping his feet dry.
No-sock construction with quick-dry materials make this the perfect shoe for men who never have any clean socks. As a result, you don't need socks with these uniquely designed trail shoes. They happen to also be a very stylish design. There's an integrated rubber toe bumper for complete toe protection, a megagrip rubber outsole, and drainage ports to keep dry.
16. Maui Jim Sunglasses
Have a Dad who loves sunshine, nature, sight-seeing, and the outdoors? You can't go wrong getting him a quality pair of polarized sunglasses. If your Dad is in need of a fantastic pair of polarized sunglasses, look no further than Maui Jim. Their ultra-advanced technology in polarized lenses shows the wearer the full color spectrum, while also protecting their eyes from 100% of UVA and UVB rays. Moreover, if your Dad is sightseeing while wearing Maui Jims, he'll get to see all 16,777,216 hues of the color spectrum in vivid color, clarity and detail. Maui Jim sunglasses enhance the wearer's vision, improving quality of life experiences. The Kawika style of Maui Jims is stylish-looking while providing quality, durable frames with unmatched lens clarity. These are great sunglasses for the dad who spends a lot of time driving and on the go.
17. Disc Golf Disc Set
This Father's Day, give your Dad the gift of a new hobby with a portable Disc Golf basket and accompanying discs. Disc Golf is easy to learn for beginners. This new hobby will get your Dad outside more, and help motivate him to get exercise. It's a fun new hobby he'll enjoy that involves being amongst nature. You can get him the beginner disc golf set of discs from Discraft. Disc golf is a flying disc sport in which players throw a circular disc at a basket. It's played using rules similar to golf. This is fun for the whole family and often brings families closer together. As Discraft explains on their website, "Disc golf is one of the easiest and most fun sports to enjoy outdoors. Playable by anyone, regardless of age or skill level, there is no better sport to get the family or a group of friends outdoors and enjoying nature."
18. Little Sleepies Matching Pajama Set
How cute would it be if your Dad could wear a matching pyjama set with one of his kids or grandkids? Little Sleepies makes the cutest and most comfortable matching PJ sets. Check out their Father's Day Collection and choose from a variety of fun prints for nighttime loungewear and pyjamas. How fun is it for a Dad to match his kids? Most importantly, these products are made with a luxuriously soft, high-quality bamboo viscose fabric. With feel-good fabric like this, both Dad and the little one will love wearing these pyjamas.
19. CLARRI HILL Scented Candle and Hand Cream Gift Set
CLARRI HILL gift sets make a great Father's Day gift. Their Sapphire Set, for example, includes a scented soy candle and a matching hand cream enriched with shea butter. Therefore, both the candle and hand cream share the same unique 'sapphire' scent, which smells like a fresh men's cologne.
The products are high-quality, natural, handcrafted, cruelty-free and non-toxic. Use the discount code CIRCLE15 for 15% off any regular-priced items.
20. Customized Gift Card
This Father's Day, level up your expression with a personalized, multi-use e-gift card from Gift Card Granny. Dad will have the flexibility to indulge in his heart's desire (which is probably rare for him) using a Visa gift card you've customized for him. You can upload a photo of your choice to a Visa or Mastercard, and you may even add a custom message with thoughts from your heart.
21. CircleDNA Premium Kit for Dad's Preventative Health
This Father's Day, invest in your Dad's health by getting him the world's most comprehensive DNA test as a Father's Day gift.
With the premium DNA testing kit, he'll receive a comprehensive health and wellness report. This includes cancer and disease risk reports, as well as diet, fitness, and wellness reports. Your Dad will love this gift because it not only reports back on his health, but also provides him with fun information about his personality, success traits, and much more.
By understanding his DNA, your Dad will be able to take better care of his health by adapting his lifestyle, diet and exercise routine to his genetic markers.
We've created a sweet deal for fathers everywhere! Sign up here to get up to a 50%+ discount on our DNA testing kits.