There are certain delicious sweet potato recipes that truly shine the spotlight on this underrated super spud. Compared to regular potatoes, which seem to always make it to meals in the form of mashed potatoes, french fries, and in chowders, etc, sweet potatoes don't receive as much attention and fanfare. In fact, many people are only familiar with sweet potatoes in casserole form, or smothered in sugar and marshmallows, as a Thanksgiving side dish.
However, sweet potatoes ought to be a consistent component of a healthy diet, especially if you're trying to maintain a healthy weight and promote better brain and skin health. They're relatively low in calories, with a small sweet potato containing only about 90 calories, plus it's a superfood with many health benefits.
In general, sweet potatoes are healthier than regular potatoes since they're richer in vitamin A, a crucial vitamin that we all need more of. According to the Journal of Nutrition and Metabolism, sweet potatoes also have a lower glycemic index which means they won't make your blood sugar spike, which reduces cravings, and keeps you full for longer.
You might notice that after a dinner that includes a good serving of sweet potatoes, you feel satisfied and you don't have the urge to snack after dinner. This isn't a coincidence.
The sweet potato is chock full of essential nutrients, so it definitely deserves some love in your kitchen all year round. This humble ingredient is not only healthy, but also very versatile and deliciously perfect for any meal of the day.
Sweet potatoes can be eaten on their own as a cooked vegetable side dish or as a snack (like sweet potato fries made in an air fryer), or as part of a savory breakfast, a side dish with a protein entree, or even as a dessert.
Top Reasons to Include Sweet Potato Recipes in Your Meal Prep: The Benefits of This Superfood
Sweet potatoes are so delicious, that their taste in itself should be enough of a reason to include them in your diet. However, if you need more of a reason to include sweet potato recipes in your meal rotation, you're about to be quite surprised.
Below are just some of the many benefits of eating sweet potatoes, from health benefits to beauty benefits:
Better skin health and improved skin appearance (sweet potatoes have the vitamins that make skin glow, such as vitamins A, C and B6 as well as plenty of antioxidants for skin health.)
Improved gut health (plant based, soluble and insoluble fiber found in sweet potatoes promotes healthy bowel movements and a healthier gut.)
Nutrient-dense (sweet potatoes are very nutritious, containing many crucial vitamins and minerals such as magnesium, potassium, antioxidants, vitamin A, C, and B6.)
Complex carbohydrates (Sweet potatoes are complex carbs. Complex carbohydrates take longer to digest than simple carbs, are typically more nutritious, and can leave you feeling fuller for longer, reducing the urge to snack after dinner. Here is some more information on the benefits of complex carbohydrates.)
Cancer-fighting properties (this food contains a lot of antioxidants which fight free radicals and can help prevent certain cancers.)
Better brain health (certain vitamins and minerals found in sweet potatoes, such as the mineral magnesium, promotes better mood and better brain function.)
Easy Ways to Incorporate Sweet Potatoes Into Your Diet
There are some very simple and easy sweet potato recipes that make it easy to add this root crop into your diet. You can eat them with the skin on or peeled. Ways of cooking are boiling, baking, roasting in the oven, air-frying, pan-cooking, or steaming. Its natural sweetness pairs exceptionally well with different ingredients, so you can make both sweet and savory sweet potato dishes. Some popular ways to eat sweet potatoes include the following:
Sweet potatoes as one of the vegetables in a Thai curry
Mashed sweet potatoes with a choice of seasonings
Sweet tater chips with dip
Baked or fried sweet potato fries
Sweet potato toast with avocado or nut butter
Hashed sweet potatoes
Baked sweet potatoes with various toppings
Sauteed sweet potatoes
Sweet potatoes in stews, soups, or porridges
Pureed potatoes in baked goods to add moistness without fats
Sweet desserts like candied sweet potatoes or sweet potato pie
Delicious Sweet Potato Recipes
Sweet potatoes have earned their place in a standard healthy diet. And just like any other raw ingredients, the way you prepare them can curtail or boost weight loss. Be careful when frying sweet potatoes, though. If you deep fry them in unhealthy oil, the sweet potato strips will be loaded with fat and cholesterol. In contrast, baking wedges of sweet potato help retain nutrients and keeps the calorie count lower. If you need inspiration, we have some scrumptious sweet potato recipes that will 'wow' your family.
Below are 6 easy and healthy sweet potato recipes: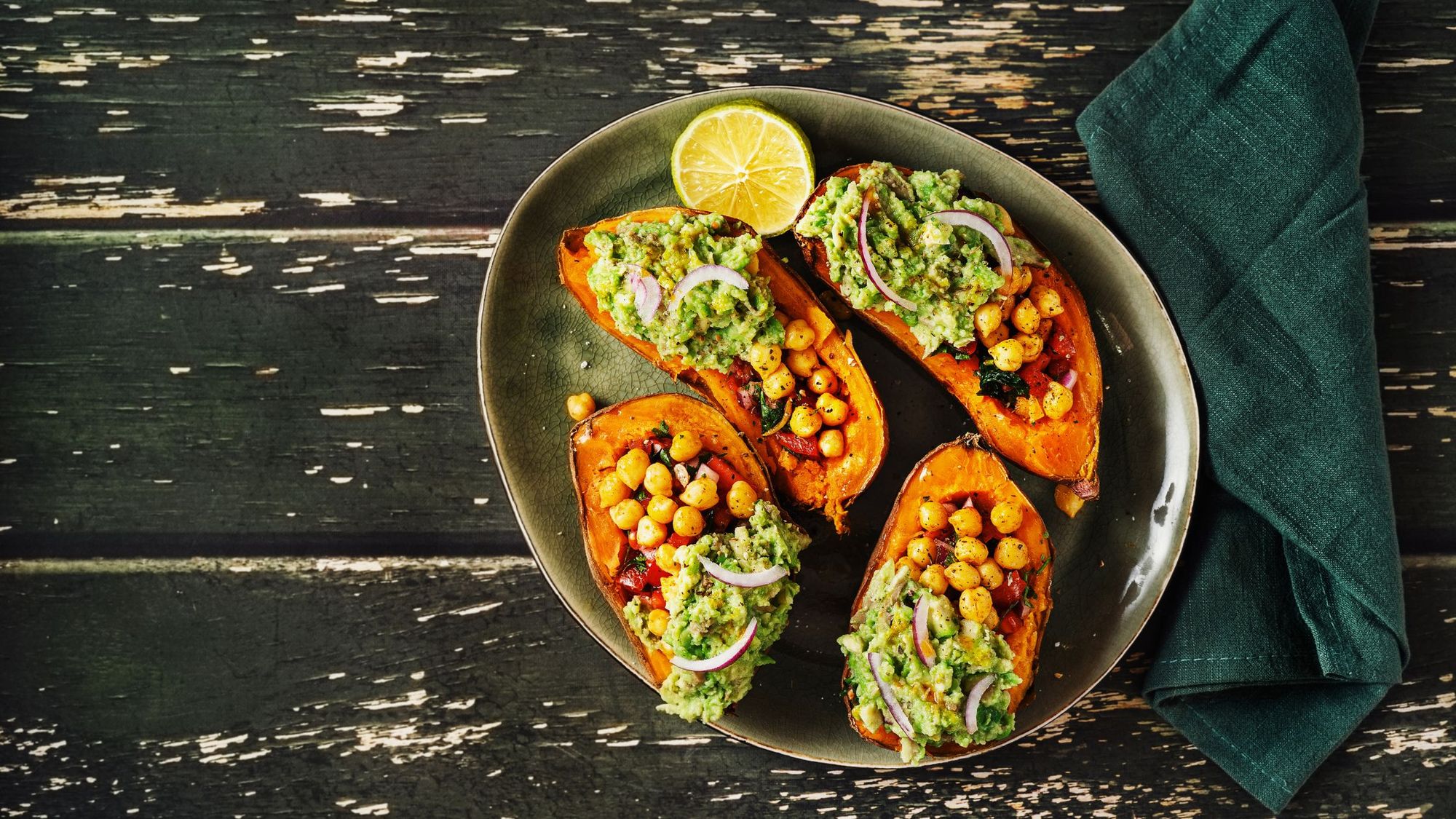 1. Baked Sweet Potato
Baked sweet potato is stellar on its own, but it is also a great canvas for many different flavors. If you're looking to boost your sweet potato recipes list, it must include the baked variant. You can play around with different toppings and have a stellar lunch or dinner meal. Check out the basic baked potato recipe below, which results in puffy flesh, crispy skin, and caramelized edges:
Ingredients:
12 potatoes
2 to 3 tbsp olive oil
Sea salt
Preheat the oven to 375 F. Wash potatoes well to ensure all the dirt and grime are out. Poke with a fork around eight to ten times all around. Slather the sweet spuds all over with oil and sprinkle with some salt. Put on a baking sheet and pop in the oven for around 50 to 60 minutes. You'll know it's done when you can poke it easily with a knife.
When done, make a lengthwise slit on one side. Fluff up the meat inside then stuff it with your chosen topping and condiments. Now, this is where the fun part comes in because there are a multitude of ways to jazz up these baked treats for breakfast, lunch, or dinner. Here are some ideas to inspire you.
For a hearty breakfast, you can try these fun toppings:
Bacon, scrambled eggs, baby tomatoes, and chives
Smoked salmon, wasabi mayo, avocado, and dill
Sausage, baked beans, shallots, and tomatoes
For lunch and dinner, you can go with the following add-on:
Tuna, apples, celery, walnuts, and mayo
Tex-Mex black beans, avocado, roasted peppers, cheese, cilantro, Chipotle dressing
BBQ pulled pork or chicken, lettuce, blue cheese dressing
Feta cheese, tomatoes, onions, olives, balsamic vinegar, olive oil
Indian-inspired chicken or chickpeas curry
Spicy shrimp with chili, garlic, scallions, and butter sauce
When eaten alone, a medium-baked sweet potato has about 100 calories and 21 grams of net carbs. It's generally low in calories and more filling compared to other refined carbohydrates side dishes like a tortilla, pasta, or white rice. This humble crop makes an excellent canvas for different flavors whether you're hankering for Tex-Mex, smokey sticky barbecue, or Mediterranean.
2. Yummy Sweet Potato Chili
Give your usual chili a sweet and festive feel using natural sweet potatoes as a prime ingredient. This is one of those sweet potato recipes that you'll keep on coming back to because it's mouthwatering. This delicious and nutritious chili is also very easy to prepare. You can make a big batch and store it. This recipe reheats well and develops more intense flavors as the days go by.
Ingredients:
1 tbsp olive oil
1 pound of meat of choice (chicken, turkey, or beef)
1 can of black beans drained
1 large onion diced
3 cloves minced garlic
1 red bell pepper diced
3 tbsp red chili powder
2 tbsp cumin
1 tsp oregano
1 tsp dried coriander
1 can crushed tomatoes
1 cup broth
2 cups sweet potatoes diced
1 cup Tex-Mex cheese blend
Dash of salt and pepper
Heat oil in an oven-safe pot and add ground meat, cooking until brown. Add everything in the pot except the cheese and put on low heat, stirring occasionally until the potatoes and beans soften. Top with the cheese and pop in the oven at 400 F. Bake until the cheese is melted and bubbly.
This hearty chili makes about six generous bowls with 286 calories and 24 grams of carbs per serving. You can pack this up for lunch as this reheats well in the microwave. It's a stand-alone meal or can be eaten with tortillas.
3. Thai Red Curry with Sweet Potatoes, Veggies and Protein of Choice
The sweetness of sweet potatoes tends to pair very well with curry, especially red curry or green curry. It may look complex, but it's actually quite easy to make, and the taste of the sweet potato will make all the difference.
Your curry ingredients will involve a few vegetables including sweet potatoes, and your protein of choice. Your protein could be prawns, beef, or chicken. Alternatively, you could make the curry with vegetables only and just add a few extra vegetables of your choice.
You can modify which vegetables you use in your recipe, such as using eggplant instead of zucchini, or adding broccoli, bamboo shoots, etc. Below is a basic idea of your ingredients for your Thai red curry dish.
Ingredients:
½ yellow onion, diced
1 clove of garlic, minced
1 sweet potato, cut into wedges or cubes
1 carrot, cut into half-circles
1 zucchini, chopped into cubes
1 red bell pepper, chopped into 1 inch pieces
1 chicken breast, raw and fresh, chopped into cubes or 1 inch pieces (or protein of choice)
Salt and pepper
Lime juice
1 tablespoon olive oil
2 tablespoons of thai red curry paste (or green curry paste)
½ can of full-fat thai coconut milk
Rice of choice (jasmine rice, multigrain rice or brown rice)
Start by preparing your ingredients by cutting up your veggies and meat. Then, preheat a large pan on your stove on medium heat with a tablespoon of olive oil in it. Add your diced onions and 1 tablespoon of minced garlic to your pan. Once the onions start to darken or brown, add the chicken. Sprinkle some salt and pepper on the chicken while it's cooking in the pan, followed by half of your curry paste (about 1 tablespoon) flipping and tossing the chicken for about 7 – 10 minutes (you may want to start cooking your rice in a rice cooker during this time.) Cook the chicken while coating it in curry paste before adding vegetables to the pan. Add all of your vegetables, along with a dash more salt and pepper, another tablespoon of curry paste and ½ can of full-fat coconut milk, stirring to mix well and coat evenly. Some people also add a tablespoon of chili flakes for added spice. You can eat this Thai red curry in a bowl by itself for dinner, or serve it over a moderate portion of rice.
This recipe will feed 2 people for dinner. Double the recipe to serve 4.
One bowl of this Thai green curry is quite healthy as it contains only about 225 – 275 calories and approximately 20 – 45 grams of carbs depending on your portion of rice.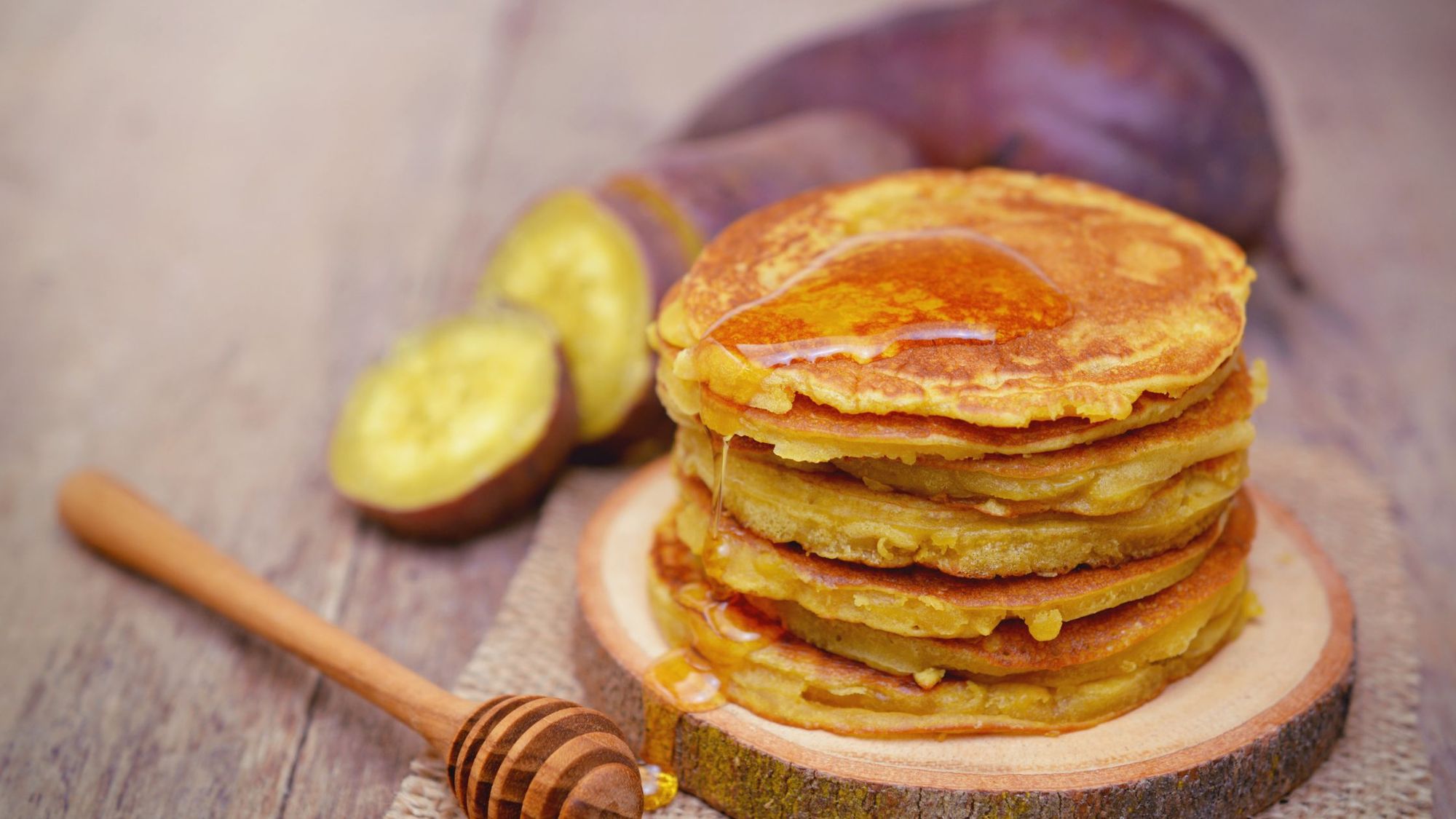 4. The 2-Ingredient Sweet Potato Pancake
Did you know that you can make a healthy pancake with sweet potato and eggs? You can also add a pinch of cinnamon or even pumpkin spice mix to boost the flavor. And with the addition of eggs, this becomes a fiber and protein-packed breakfast. You can even morph it into a "brinner" or breakfast for dinner when you're pressed for time at night.
These little round cakes are heavenly with a crispy and caramelized exterior, along with a sweet, creamy interior. You can serve it with honey or the nut butter of your choice. To make this, you can bake or slow-cook a bunch of sweet potatoes ahead. This way, all you have to do is scoop out the tender flesh in the morning.
Ingredients:
1 medium sweet potato
2 eggs
Mash the sweet potato and blend the eggs for a chunky batter. You can add any spice mix of your choice. If you wish to have a smoother, tender pancake, you can mix them in a food processor or blender. Heat a non-stick pan and cook 1/4 cup of batter at a time. Don't expect bubbles like traditional pancakes. Instead, cook for 3 minutes on one side, then flip and cook on the other side. This makes one serving of four 3-inch golden pancakes with 256 calories and 23 grams of carbs.
5. Taiwanese Sweet Potato Rice Porridge
If you're looking for a comforting soup this winter, try this Taiwanese porridge. The addition of sweet potatoes will give the rice a lovely taste and color. If you want to see more solid chunks, use yellow potatoes. The orange sweet potato variant tends to disintegrate when cooking, but it will lend a nice orange hue to the final dish.
Ingredients:
2 cups rice grains
6 cups water
2 medium sweet potatoes cut into cubes
This porridge is easy to prepare because you'll just boil everything in one pot on low heat. Stir occasionally to prevent the rice from sticking at the bottom. It will take about 20 to 30 minutes to convert the rice grains into silky porridge.
Plain porridge is about 150 calories per bowl and sweet potatoes add 100 calories. This has a higher carb count at around 35 grams. The addition of sweet potatoes makes it more filling because of the fiber content. You can also add other toppings to this porridge, and eat it for breakfast, lunch, snack, or dinner.
For something savory, century eggs, scallions, pork floss, and fried garlic slivers work well. You can also pair it with a simple scallion omelet. If you want something sweet, you can try glutinous rice balls, scoops of sweet red beans, or coconut jellies (all in ready-to-eat bottles at the Asian store).
6. Sweet Ending: Sweet Potato Pudding
Are you looking for a healthy sweet ending to a meal? There are many dessert sweet potato recipes to tickle your palate. This creamy sweet potato pudding will definitely satisfy your sweet tooth without guilt. Although it's not sugar-free, this simple recipe will be so much healthier than store-bought cheesecake and ice cream. Even dieters can have cheat meals and enjoy sweet treats in moderation while maintaining weight loss.
Ingredients:
Non-stick spray or butter for greasing ramekins
5 eggs lightly beaten
1 1/2 cups pureed sweet potatoes
1/2 cup brown sugar
Pinch of salt
1/2 tsp cinnamon
1/8 tsp nutmeg
1 1/4 cups milk
2 tsp vanilla
Whipped topping (optional)
Preheat the oven to 350 F. Prep six 6-ounce ramekins and grease to prevent sticking. Place them in a larger tray and set aside. Combine sweet potato, sugar, and spice. Blend well with a fork or mixer, slowly adding milk and vanilla. Then add beaten egg and mix thoroughly.
Once the mixture is ready, fill the six ramekins. Pour about one inch of boiling water into the tray where the ramekins are. Pop in the oven and bake for 40 minutes or until the pudding is set. Wait for it to cool before serving it with whipped topping. This delectable dessert treat serves six with 157 calories and 21 grams of carbs per serving. It will keep well in the fridge in a sealed container for up to four days.
Are Sweet Potatoes a Food You Need More Of?
Some people with GI issues may feel gassy and bloated when they consume too many sweet potatoes. That's why it's always a great idea to consult with your physician if you're thinking of making radical changes in your diet.
You can also do an at-home DNA test to find out more about the optimal diet for you, such as a CircleDNA, which entails a simple cheek swab.
With a CircleDNA test, you'll find out helpful information such as:
Whether or not you have higher needs of vitamin A (the vitamin found in sweet potatoes)
If your body composition suits a high or low carb diet better
Nutritional needs based on your genetic makeup
In general, almost everyone can benefit from eating more sweet potatoes, because of how many nutritional benefits there are. If you're on the Keto diet, you can still eat sweet potatoes, but you may only want to use half a sweet potato to ensure you're only eating about 12 grams of carbs.
References: