---
Anyone who cooks their meals at home knows the importance of using healthy cooking oils to make their dishes. Oil is a vital ingredient in most dishes because it helps you stir-fry, pan fry and saute foods, it accentuates flavors, and prevents food from burning and sticking to the pan. Cooking oil also enables the Maillard reaction, a chemical reaction between amino acids and sugar that gives foods like seared meats their characteristic flavor.
Oil also helps your body absorb fat-soluble vitamins such as vitamin K, E, A and D, and it supplies your body with the essential fats it needs for optimal functioning. Fat also helps with nerve impulse transmission, regulates cholesterol levels, and can help improve our memory storage ability. All diets need to include a certain amount of fat for organ protection, insulation, energy storage and inflammation control.
However, the type of fat you put into your body matters a great deal. Monounsaturated fats and polyunsaturated fats help keep your body healthy, while saturated fats and trans fat can cause obesity, heart disease and other long-term health effects if eaten in excess.
Cooking your own meals is typically significantly healthier than eating out or ordering takeout, which is why many people find that they lose weight when they cook at home more often. So, when adding oil to the pan it's important to be selective and choose an oil that is going to give you health benefits as well as enhance the taste of your dish. It's important to know which oils are the healthy cooking oils, and have them on hand.
Read on to learn about the 5 healthiest oils used for cooking, and why they are so good for you.
Healthy Cooking Oils: What Makes an Oil Healthy?
Healthy cooking oils consist of unsaturated fatty acids and antioxidants that help lower cholesterol, facilitate nutrient absorption and fight off disease. However, another important factor to consider when choosing which oil to cook with is the smoking point.
If a type of oil has a high smoking point, that means it is able to withstand high-temperature cooking without getting burned. When compounds in a type of oil interact with oxygen and begin to burn, they produce smoke. Not only does burned oil ruin the taste of your food, but it also produces a byproduct called acrolein. Acrolein is a potential carcinogen because it can change your DNA by binding with amino acids.
Generally speaking, however, most home chefs don't have to worry too much about acrolein exposure. However, line cooks or professional chefs, who spend a great deal of time above a stovetop inhaling acrolein, should be especially mindful of the type of oil they're cooking with.
Below are 5 of the healthy cooking oils and why:
1. Olive Oil
Diets such as the Mediterranean diet rely on olive oil for their health and success. Delicious and flavourful, olive oil has been used for centuries for everything from cooking to skincare. Its versatility makes it an obvious go-to for both frying and roasting. Olive oil is an essential ingredient in most marinades and salad dressings.
To reap the most health benefits, choose extra virgin olive oil. Olive oil called extra virgin is unrefined, preserving all of its nutrients, antioxidants and heart-healthy fats.
Olive oil does not have a high smoke point (approx. 350 degrees F), so it should not be used for high-heat cooking like deep frying as it produces a rancid taste after it is burned. The oven makes the heat more evenly distributed than a stovetop, which is why it is still good for heat-intensive foods such as roasts. In addition, other components in the roasting pan (things like water and sauce, for example) absorb some of that heat.
Olive oil is high in the antioxidant vitamin E, as well as oleic acid, oleocanthal and oleuropein. Together, these heart-healthy compounds can help lower LDL cholesterol, reduce inflammation, and may even help fight off certain cancers.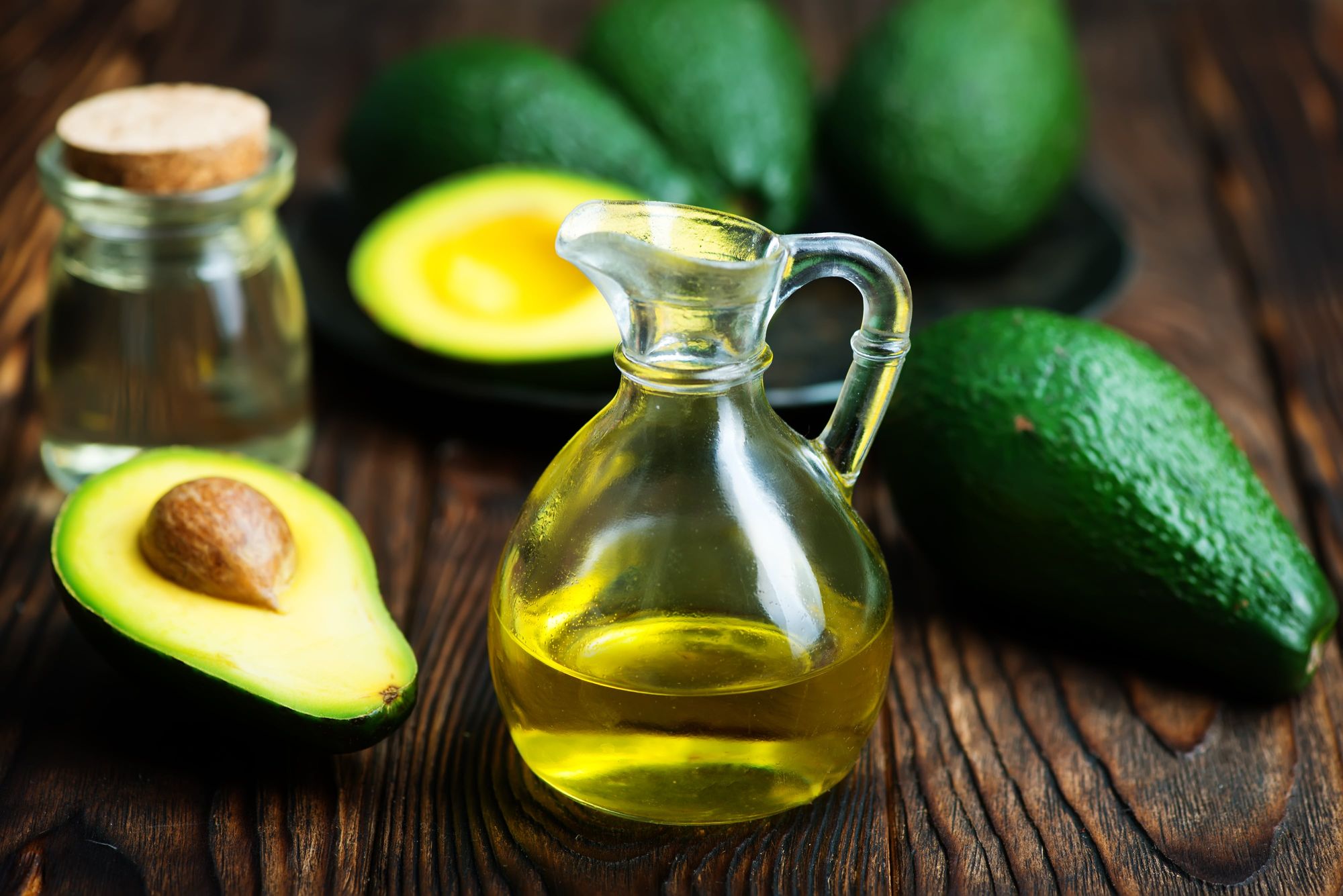 2. Avocado Oil
Avocado oil is one of the healthy cooking oils you should have in your pantry. Avocado oil has many of the same health benefits as olive oil, including high amounts of oleic acid, which fights free radical damage. However, avocado oil has a higher smoke point than olive oil at 520 degrees F.
Avocado oil, along with its abundance of heart-healthy substances, may also help to reduce the pain caused by osteoarthritis. Avocado oil contains a high content of vitamin E, one of the most important fat-soluble nutrients for vision, blood and skin health, brain power and reproduction.
It also has a high concentration of monounsaturated fats. A diet that includes a healthy amount of monounsaturated fats can help lower your risk of heart disease, stroke and atherosclerosis.
Monounsaturated fats work to lower unhealthy low-density lipoprotein cholesterol while simultaneously raising 'good' high-density level lipoprotein cholesterol levels. They also help improve triglycerides, which your body can use as an energy source between meals more efficiently than carbs.
3. Coconut Oil
You might be surprised to see coconut oil on this list of healthy cooking oils, due to its high amount of saturated fat. However, coconut oil has plenty of health benefits that should not be underrated.
Unlike other cooking oils, coconut oil remains solid until it is heated. That's because saturated fat becomes solid at room temperature. Other foods like butter and ghee are also high in saturated fat. A saturated fat-rich diet leads to the buildup of bad LDL cholesterol in the arteries, resulting in plaque that hardens in the same way, leading to conditions like atherosclerosis.
However, when the compounds found in saturated fats, such as lauric and stearic acid, raise LDL cholesterol, they bring the good kind of HDL cholesterol along with it. Additionally, research suggests that lauric acid may help kill certain bacteria that make you sick due to their antimicrobial and bactericidal effects, as well as bacteriostatic effects, which stop bacteria from multiplying without killing them.
Due to the high saturated fat content in coconut oil, you should use it in moderation, but its high smoking point, unique taste and surprising health benefits make coconut oil a healthy choice to keep in your cupboard.
4. Sunflower Oil
When it comes to high-heat cooking such as stir-frying, sauteing or deep frying, sunflower oil is one of the best and healthiest choices out there. It is low in saturated fat and contains both mono and polyunsaturated fats. It has a very high smoke point of 400 degrees F.
Sunflower oil is also very high in omega-6 fatty acids, which play a crucial role in brain health, growth and development along with omega-3s. They also help with the maintenance of your reproductive system and the regulation of your metabolism. Like the other oils on this list, sunflower oil is also high in vitamin E.
However, the high amount of omega 6s can also lead to inflammation if consumed in access. In addition to that, sunflower oil tends to be very heavily processed, which diminishes its nutritional content. Finally, polyunsaturated fats are easily damaged by oxidation, which occurs when the oil is heated and can produce toxic compounds.
A balanced diet should limit deep-fried foods anyway, but if you do crave a crispy snack now and then, sunflower oil is a much healthier alternative to vegetable oil.
5. Sesame Oil
Finally, sesame oil is the last on our list of healthiest oils to cook with. Sesame oil has a medium smoke point of 410 degrees F and boasts a distinct nutty flavour that pairs well with Asian dishes. It is commonly used in salad dressings, marinades, and for sauteing and stir-frying.
Most people use sesame oil due to its delicious flavor, even if other oils are a bit healthier.
Sesame oil is also one of the healthy cooking oils on this list because it is high in heart-healthy compounds, as well as powerful antioxidants sesamol and sesaminol, which may help protect the brain against neurodegeneration that causes Parkinson's disease. It may also aid in managing blood sugar levels.
You can buy regular or toasted sesame oil. Toasted sesame oil has a much more bold flavour that many find delicious. Toasted sesame oil may bode well in some dishes and is usually used in dressings or as an ingredient in a marinade.
Healthy Cooking Oils: The Bottom Line
All healthy balanced diets need some fat in them, and cooking with a healthy, unrefined oil can bring your dishes together as well as help in accomplishing your health goals.
Your diet plan should also be somewhat tailored to your genetic makeup. For example, some people have a genetically higher sensitivity to carbs, and others are genetically more sensitive to fat. You canfind out your optimal diet type with a DNA test from CircleDNA. This at-home DNA test provides you with 500 reports about yourself, including information about your ancestry, genetic physical strengths, the optimal exercise routine based on your genetic makeup, and much more.
---
References