Stop wondering what's for dinner when you're following a ketogenic diet and take a look at these satisfying keto dinner ideas. In general, keto meals must follow these parameters: high-fat (preferably healthy fats), low-carb, and moderate protein content. Those who follow a ketogenic diet can incorporate foods like meat, eggs, bacon and cheese into their meals without guilt. On the keto diet, you're only supposed to have about 40 grams of carbs per day, which means your keto dinner should be 11 – 17 grams of carbs in total.
The idea behind the keto diet is that eating a low-carb diet will morph the body from burning glycogen or simple sugar from carbohydrates for energy to a ketone or fat-burning machine, burning fat for fuel because energy from carbs is not available. Studies state that achieving a state of ketosis could help with weight loss and weight maintenance, promote appetite control, improve lipid profiles, and help manage visceral adiposity (or hidden fats stored within the body). The keto diet could even improve your mental health.
However, keto dieters must pay very close attention to their carbohydrate intake to ensure that their bodies remain in ketosis and therefore a fat-burning machine. Excessive carbs will kick the body out of ketosis, ending fat-burning mode as blood sugar and insulin levels rise due to the presence of glucose. Even too much meat will transform the excess proteins into sugar through gluconeogenesis. If you're following a keto diet, this could interfere with your weight loss and stall fat loss goals. That's why keto dieters need meal prep with tasty and satisfying keto dinner ideas to prevent hunger pangs which could lead to making poor choices and succumbing to temptations.
Fortunately, there are tons of simple and delicious keto dinner ideas for you and the whole family. This means you don't have to cook a special dinner for yourself if you're on keto, because everyone can partake and enjoy your delicious keto meals with scrumptious recipes that tickle the taste buds. Making a keto dinner has never been easier with these innovative recipes. Check out 7 easy and satisfying keto dinner ideas which are perfect for busy weeknights.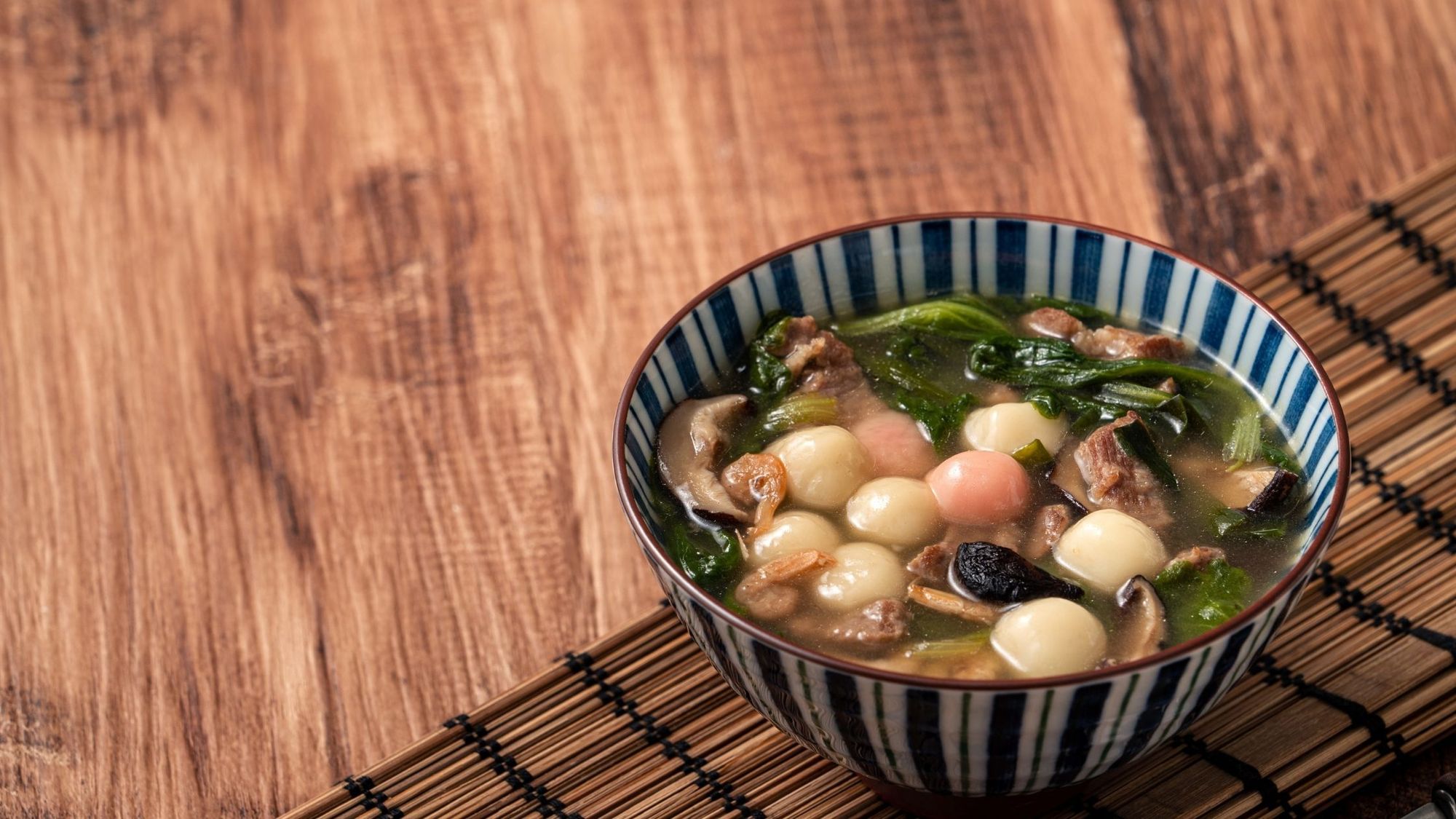 Comforting Keto Dinner Ideas Perfect For Winter: Savory Soups
Soups are excellent keto dinner ideas because they are easy to make and cleaning up is a breeze because the magic happens in just one pot. More importantly, studies show that soups influence energy intake and could help in planning effective weight loss strategies. Some researchers attest that soup doesn't only warm the tummy but could be more satiating than solids. As a preload or meal precursor, soups could increase fullness, decrease hunger, and reduce subsequent food intake.
Below are two delicious keto soup recipes, in addition to other keto dinner ideas: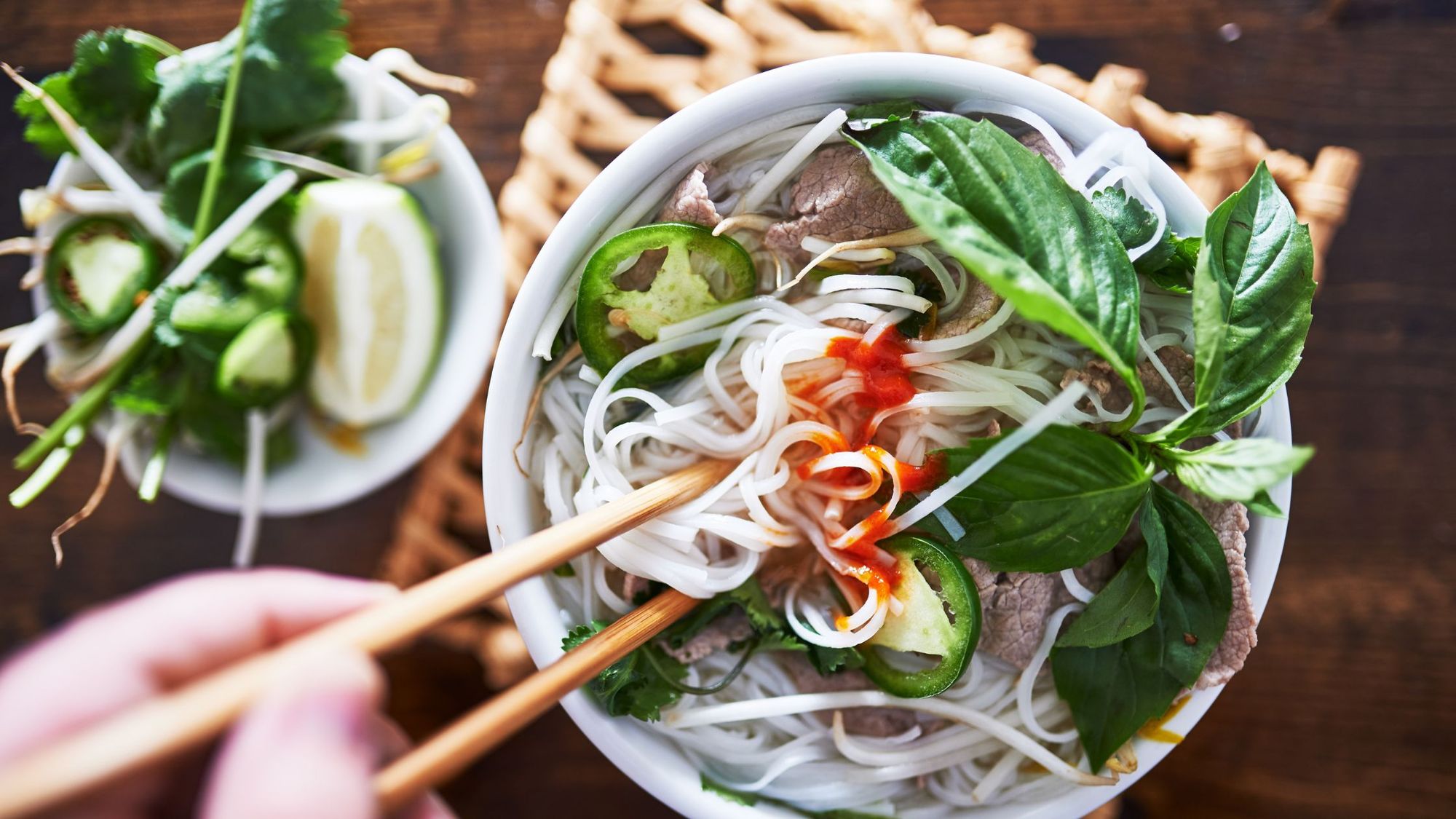 1. Vietnamese Chicken Pho With Shirataki Noodles
This comforting Vietnamese dish may be the last thing on your mind when you're doing the keto diet. But if you swap out traditional carb-rich rice noodles with low-carb shirataki noodles, then you've got a keto dinner champion. These alternative noodles are low-carb and are a great canvas that will absorb the taste of the soup. This dish is chock full of veggies and protein, making it a quick filling meal when you're in a rush.
Ingredients:
4 cups low-sodium chicken broth
2 star anise
1 tsp coriander
1 knob ginger
1 stalk lemongrass
16 ounces of chicken or turkey
1 pack of rinsed shirataki noodles
1 cup bean sprouts
bunch of scallions (garnish)
bunch of coriander (garnish)
1 wedge of lime (garnish)
Brown the aromatics (anise, coriander, ginger, and lemongrass) and place them inside a cheesecloth. You'll use this to supercharge the broth. Alternatively, you can buy a premade spice mix in the Asian store. In a soup pot, boil the stock with the poultry and aromatics for 30 minutes to marry the flavors. Take out the chicken or turkey, shred, and set aside. Strain the broth to take out the sediments and get a clear soup.
Prepare serving bowls with shirataki noodles, shredded meat, and bean sprouts. Pour the hot broth and garnish with scallions, coriander, and lime.
This recipe serves four with 154 calories per bowl and 4 grams of carbs. If you wish to increase the fat intake, you can substitute the poultry with pork belly slices.
2. Filling Cabbage and Sausage Soup
Whether it's warm or cold outside, a bowl of soup for dinner always hits the spot. This filling soup deserves a spot in your keto dinner ideas list because it's not only nutritious and delicious, but it's virtually hassle-free since it's cooked in a crockpot. There's very minimal prep work and cooking involved, but you still get to enjoy a tasty soup that hits your keto macro requirements.
Ingredients:
4 links or 12 ounces of andouille sausage sliced
8 cups sliced cabbage
1 cup cubed carrots
1 tbsp oil
1 small onion chopped
4 cloves minced garlic
6 cups broth (veggie or chicken)
4 cups water
1 tbsp vinegar
1 tsp garlic salt
1 tsp celery salt
1 tsp caraway seeds
1 tsp fennel seeds
½ tsp dried thyme
In a pan, heat oil and cook sausage with garlic and onions until the fat has rendered and the aromatics have turned golden brown. Put this in your crockpot along with all the other ingredients. Cook on high heat for four hours and enjoy. This soup makes a whopping 12 servings with 2 cups per serving.
Each hearty bowl is 132 calories and 4 grams of carbs. You can freeze this soup in individual containers for up to 3 months and reheat it. It's a great lifesaver when you're in a bind.
3. Thai Green Curry
A delicious chicken and vegetable keto curry is one of the most delicious and satisfying keto dinner ideas out there.
Many 'keto' recipes out there can easily become not-so-keto if you use the wrong sauce. Many sauces contain lots of carbs. Luckily, curry paste only contains 3 carbs per tablespoon, and only a couple of tablespoons are needed. The curry sauce is made up of green curry paste and ½ can of full-fat coconut milk, which only contains 3 grams of carbs, so green curry sauce is a low-carb sauce.
You can use beef or tofu instead of chicken, but you can't use just any vegetables.
The vegetables you use in this curry must be low-carb vegetables such as bell peppers, onions, zucchini, mushrooms, eggplant and bamboo shoots. You can modify which vegetables you use in your recipe, as long as they're low-carb vegetables.
Ingredients:
½ yellow onion, diced
1 clove of garlic, minced
½ can of bamboo shoots
1 zucchini, chopped into cubes
1 yellow bell pepper, chopped into 1 inch pieces
1 chicken breast, raw and fresh, chopped into cubes or 1 inch pieces
Salt and pepper
Lime juice
1 tablespoon olive oil
2 tablespoons of thai green curry paste
½ can of full-fat thai coconut milk
Start by preparing your ingredients by cutting up your veggies and meat. Then, preheat a large pan on your stove on medium heat with a tablespoon of olive oil in it. Add your diced onions and 1 tablespoon of minced garlic to your pan. Once the onions start to darken or brown, add the chicken. Sprinkle some salt and pepper on the chicken while it's cooking in the pan, followed by half of your curry paste (about 1 tablespoon) flipping and tossing the chicken for about 7 – 10 minutes. Cook the chicken while coating it in curry paste before adding vegetables to the pan. Add all of your vegetables, along with a dash more salt and pepper, another tablespoon of curry paste and ½ can of full-fat coconut milk, stirring to mix well and coat evenly. Some people also add a tablespoon of chili flakes for added spice. You can eat this green curry in a bowl by itself for dinner, or serve it over a very small portion of wild grain rice, low enough to stay under your allotted 40 grams of carbs per day. Squeeze a bit of fresh lime on top before eating.
This recipe will feed 2 people for dinner. Double the recipe to serve 4.
One bowl of this keto green curry contains about 250 calories and 12 grams of carbs if you don't eat it with rice. (add another 15 grams of carbs if you eat it with ½ cup cooked multigrain rice.) You likely won't need rice since all the meat and vegetables will be quite filling, and full-fat coconut milk is quite satisfying.
4. Protein-Packed Creamy Pork and Mushroom
This creamy keto casserole is packed with muscle-building protein thanks to good old reliable juicy pork tenderloin. Mushrooms add a nice bite and an earthy flavor. Even picky-eaters love this one. If the rest of the family is not doing low carb, this pairs well with mashed potato or noodles. But if you want to stick to a low-carb dish, pair this with zucchini noodles, keto bread, cauli mashed potatoes, or cauli rice. Best of all, it's super easy to prepare in just one pot. Dinner will be done and dusted in 30 minutes.
Ingredients:
1 pound pork loin cut into strips
1 pack of mushrooms (half a pound) sliced
2 tbsp olive oil
2 tbsp butter
2 tbsp fresh thyme roughly chopped
2 cloves minced garlic
¼ cup fresh parsley roughly chopped
½ cup heavy cream
½ cup chicken broth
¼ cup sour cream
Heat butter and oil in a pan and brown the tenderloin slices. Do it in batches to avoid crowding. Once done, set aside and place mushrooms and garlic into the pan and cook until brown. Add broth and herbs to deglaze the pan and get the yummy stuff stuck in the bottom. Put back the pork and simmer for five minutes. Lower the heat and add the cream and sour cream. Avoid high heat to prevent the cream from curdling.
Remember to carefully mix the pork and mushrooms until well-coated.
This dish makes four servings with roughly 400 calories and 4 grams of net carbs in each serving. If you live alone, this can keep in the fridge for five days. Use it to pack up a keto lunch and just add some salad for your fiber intake or other keto side dishes of your choice.
5. Avocado and Egg on Keto Toast
When you're hankering for breakfast for dinner, commonly referred to as 'brinner' this recipe is for you. Get a break from cheese, cream, and meat with a mock avo-egg on keto toast. This is a satisfying dinner treat that kicks carbs at bay. Keto dinner ideas couldn't be more simple than this. It's the perfect dish to whip up when you're pressed for time because it has few ingredients and simple cooking steps. And it has avocado, which is a rockstar keto ingredient that keeps you full. Furthermore, evidence suggests that avocado is a very healthy fat that's good for heart health because it increases good cholesterol levels. It protects against heart disease and lowers blood pressure.
Ingredients:
1 avocado, mashed
1 wedge lemon
2 eggs
2 slices of keto bread
Mash the avocados and squeeze a lemon on them to prevent browning. Season it with salt and pepper and set aside. Cook the egg using your fave method. It could be scrambled, fried sunny side up, or poached. Toast the keto bread and once done, assemble your toast. Layer mashed avocado and top with egg. You can drizzle this with a little balsamic vinegar, paprika, and black sesame seeds.
This meal is about 380 calories and 7 grams of net carbs. Counts can increase depending on your choice of bread and egg cooking method. If you're using store bought bread, don't forget to read the nutritional info label.
6. Not Your Granny's Classic Chicken Casserole
If you have a lot of leftover rotisserie chicken, this is a very satisfying keto casserole version with a generous portion of tasty caesar dressing. Broccoli adds the right amount of bite. And since the florets are packed with fiber, you'll feel satiated for a long time and curb those cravings. Keto dinner ideas like this dish make your life easy. This recipe doesn't involve much cooking since all you need to do is assemble the ingredients in a pan.
Ingredients:
3 cups shredded rotisserie chicken
4 ounces of cream cheese
½ cup keto caesar dressing
1 cup cooked broccoli
4 eggs
1 cup mozzarella cheese
¼ cup heavy cream
salt and pepper to taste
bunch of fresh parsley (garnish)
Preheat the oven to 350 F and grease a square 9×9 baking pan. In a bowl, combine chicken, broccoli, cream cheese, and dressing. Spread in the bottom of the pan. In the empty bowl, whisk the eggs, cream, mozzarella, and seasonings. Pour this on top of the chicken and spread evenly. Pop the pan in the oven and bake for 45 minutes or until the egg is set and the cheese is golden.
Garnish with parsley before serving. This dish is best eaten hot with wilted spinach or a lettuce salad to keep carb content low. Each pan makes six servings and each serving contains 305 calories and 3 grams of carbs. If you have leftovers, you can pop this in the fridge for 4 days and reheat it in the microwave or oven toaster.
7. Delicious Baked Salmon With Asparagus
Salmon is the quintessential fatty fish so it deserves a spot in your keto dinner ideas list. This king of the sea is packed with omega-3 fatty acids that increase good cholesterol and protects cardiovascular health. It's also a great source of other nutrients like protein, vitamin B12, vitamin D, selenium, and potassium. Check out this very easy salmon recipe that even kids can make!
Ingredients:
1 pound salmon filet cut into two
2 tbsp broth or water
Juice of half a lemon
1 tbsp hot sauce
4 cloves minced garlic
Salt and pepper to taste
4 tbsp butter
2 tbsp chopped parsley
1 pound asparagus
Preheat your oven to 435 F. Cut two big foil pieces, big enough to accommodate your salmon slices. In a separate bowl, combine broth, lemon, and hot sauce. Clean the salmon then season both sides with salt and pepper. Put this in the middle of the foil and place asparagus on one side. Top with butter and minced garlic on both fish and veggies.
Finally, seal foil packets and crimp the edges, then transfer them to a baking sheet and cook for 12 minutes. Once done, carefully open the pack, drizzle with lemon juice, and garnish with parsley. Bon appetit! This dish serves two.
This dish contains 600 calories and 15 grams of carbs per serving. Fish is best eaten fresh, but if you're cooking for one, this will also keep well in the fridge for a day or two.
Is the Keto Diet Right For You?
Do these delicious keto dinner ideas make you salivate? If you're looking to lose weight, the keto diet can help your body burn more fat, and help with weight loss. However, since it is a high-fat diet, you must check with your physician if it's right for you. You could have pre-existing issues like high cholesterol or hypertension that won't do well with a high-fat diet – unless you're very careful and you only eat healthy fats while on the keto diet.
You can also take a CircleDNA test to assess if a high-fat, low-carb diet is right for you, based on your genetic makeup. Apart from providing reports on your ancestry, personality profile, skin traits and disease risks, this at-home DNA test can determine if you're genetically compatible with a low-carb, high-fat diet. Having a comprehensive report based on your genes could help you maximize your results. If you're the type who hates obsessing over every single macronutrient, then a ketogenic diet may work well because all you have to do is avoid carbs and eat high-fat (ideally mostly health fasts) and moderate protein.
References:
The Potential Health Benefits of the Ketogenic Diet: A Narrative Review (Kathryn Dowis and Simran Banga) https://pubmed.ncbi.nlm.nih.gov/34068325/
Can too much protein stall your results? (Atkins) https://au.atkins.com/blog/can-too-much-protein-stall-your-results
Soup preloads in a variety of forms reduce meal energy intake (Julie E. Flood and Barbara J. Rolls) https://www.ncbi.nlm.nih.gov/pmc/articles/PMC2128765/Why is avocado good for you? (Katherine Marengo) https://www.medicalnewstoday.com/articles/270406