Winter lunch ideas should ideally be comforting, warm and healthy. You're likely making lunch at home a lot in the winter. People like to stay bundled up indoors when it gets colder, cozying up to the warmth of family, and feeling snug thanks to the burning embers of a fireplace. Some of the best things to do at home in the winter is explore warm, healthy, and tasty meals, try out new recipes, and keep you and your family well-fed.
The arrival of winter also tends to result in a less crammed social calendar for most people, leaving more time to meal prep, and make the next day's lunch the night before during a low-key night at home.
Why Skipping Lunch is Not a Good Idea
For those who have an early day at work, school, or whatever engagement, a comforting lunch can be a great pick-me-up in freezing temperatures, providing comfort and sustenance to help you go about your busy day. Furthermore, a lunchbox is not just for kids. With the right type of insulated lunch box, food can stay warm (or at least not get cold) or easily be reheated at work with a microwave.
As for others who do intermittent fasting, lunch is often the first meal to break their fast, so a nutritious lunch is a must. Thus, you can't gloss over lunch because studies show that skipping lunch equates to poor food choices.
By the time dinner comes, you could be feeling ravenous if you've skipped lunch, resulting in binge eating or bigger portions. Skipped lunches could also impact performance at work or school, because it's hard to concentrate with a grumbling stomach and low brain fuel.
That's why it's very important to plan for your lunches. Research also says that people who plan their meals are more likely to adhere to nutritional guidelines and enjoy increased food variety, such as including more colorful veggies on their plates. To help you plan good lunches, we have some tasty lunch ideas for winter that you may want to try out. There are lots of different options for winter lunch ideas, from easy-to-prep foods to more complex yet tasty dishes.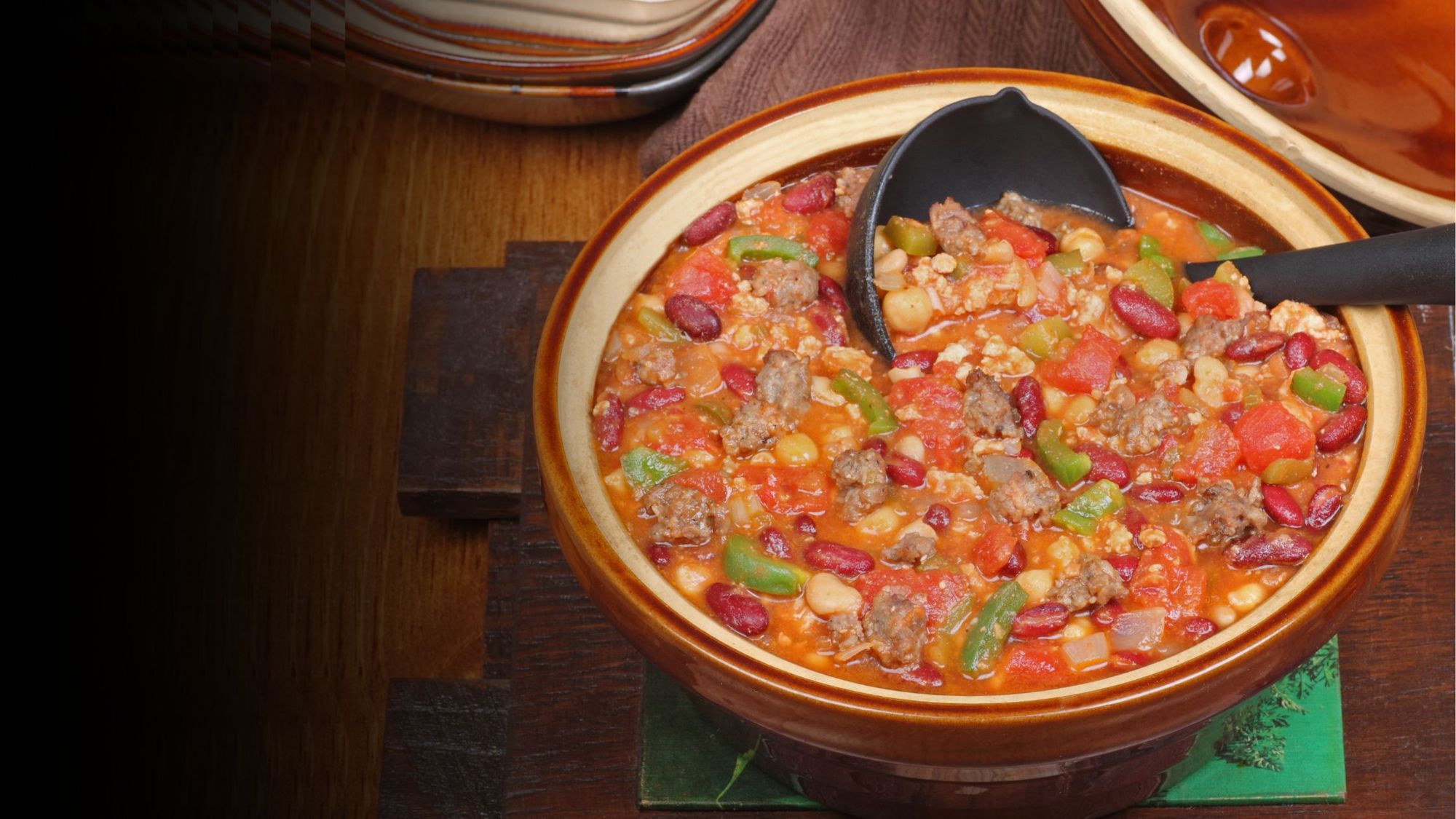 Classic Winter Lunch Ideas: Meat and Veggie One-Pot Chili
Cold winter days are best balanced out with warm comfort food. A hearty chili meal is the perfect example of comfort food. Enjoy this ingenious take on a classic favorite. What makes this chili recipe so great is not only is it easy to put together on slow and sluggish days, but it is healthy and tasty, too.
This indulgent and warming chili is packed with the season's freshest ingredients. With winter squash and collard greens, this chili is one of the best lunch ideas for winter. Moreover, chili works well for easy storing. You can freeze it and reheat it whenever you like, and it packs well for lunch boxes, too. It's very easy to transport since all you have to do is pour it into individual tupperware containers.
This chili recipe includes the following ingredients:
Tbsp olive oil
pound of 90% lean ground beef (swap out for chicken, turkey, or pork)
medium yellow onion
Chili powder to taste (depending on spice preference)
tbsp ground cumin
tbsp sugar
tbsp tomato paste
tbsp garlic powder
Salt and pepper to taste
Cayenne pepper to taste
cup cubed winter squash
cup chopped collard greens
1/2 cups of beef broth
15-ounce can of petite diced tomatoes
16-ounce can of drained and rinsed red kidney beans
8-ounce can of tomato sauce
Cilantro for garnish
Instructions:
Add the olive oil to the pot and place it on medium heat, then saute the onions. Once the onions are clear, add the protein (you can substitute the beef for chicken or turkey depending on your dietary needs and preferences). Break the ground meat apart, so it doesn't look clumpy. Then add cubed pumpkin, aubergines, seasonings, and tomato paste, stirring until well combined. Mix in the broth and the diced tomatoes, juice included, along with the drained beans and tomato sauce.
Bring the mixture to a low boil, reducing the heat to medium-low, and leave on a gentle simmer, uncovered for 20-25 minutes to allow it to thicken. Stir occasionally to make sure it doesn't stick to the pot's bottom. Lastly, remove the pot from the heat and let rest for 5 to 10 minutes before serving. This quick, easy, and delicious recipe yields 6 servings, each averaging 334 calories. You can eat this with warm crusty bread or tortilla and a side salad.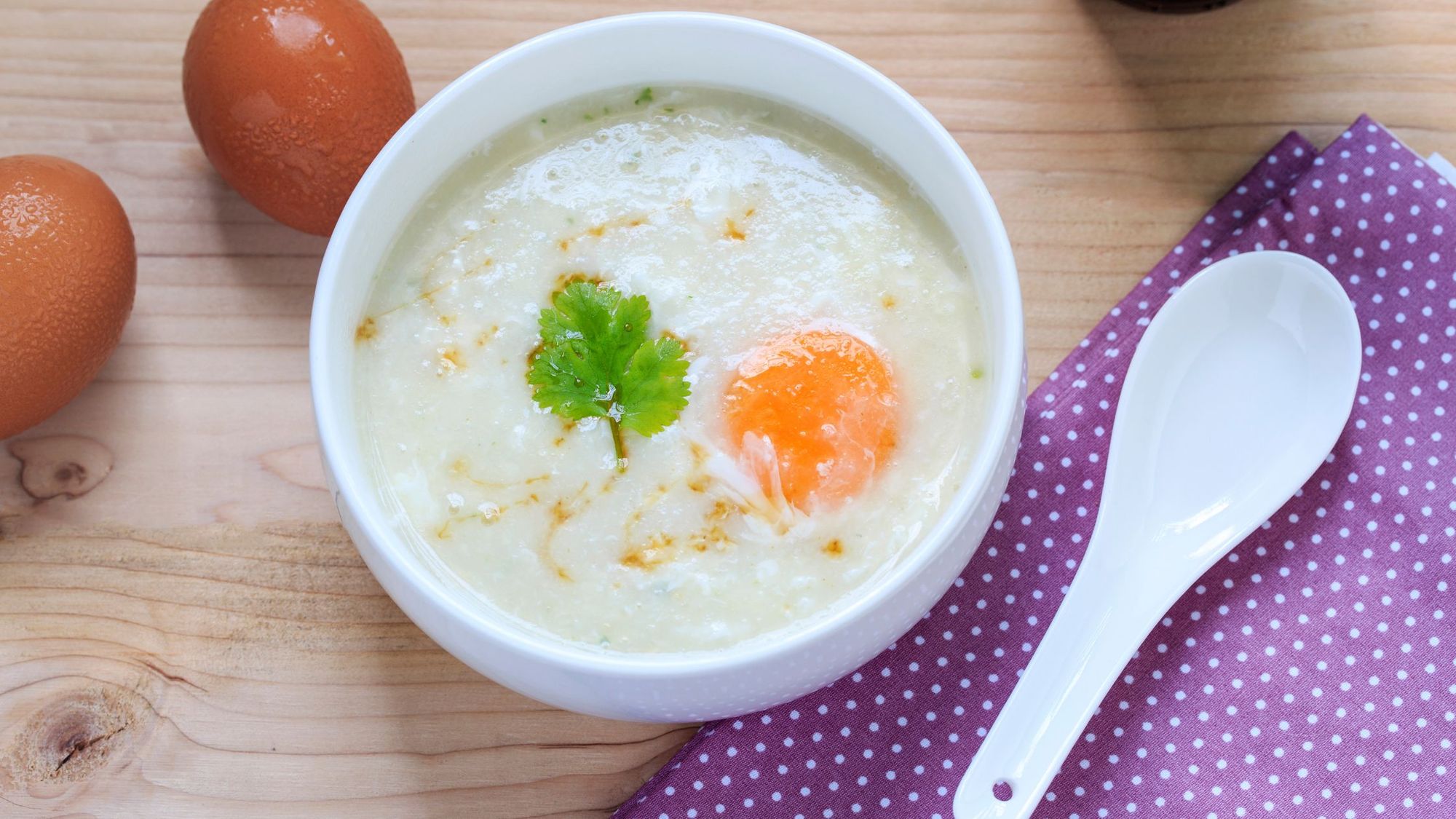 Comforting Chinese Congee
You cannot have a list of winter lunch ideas without this Asian staple! Chinese congee is another excellent meal to try out for your winter lunch ideas. When it's cold outside, treat yourself to this warm bowl of homemade goodness, packed with immunity-supporting garlic and anti-inflammatory ginger. It's an excellent choice for combatting flu season.
Furthermore, congee serves as a great base for a wide range of toppings and can be eaten with chicken, pork, dumplings, boiled eggs, and vegetables on the side. It is also very easy to make, uses few ingredients, and can be dressed up or down. You will need the following:
cup of rinsed long-grain white rice
cups of vegetable or chicken stock
Salt and pepper to taste
One-inch knob of peeled and thinly sliced ginger
cloves minced garlic
Sliced green onion for topping
Sesame seed oil or soy sauce for topping
Instructions:
In a pot, mix in the rice, stock, salt, and ginger. Bring to a boil and then to a low simmer. Stir occasionally to ensure that the rice does not burn and stick to the bottom. Simmer for about an hour or until the congee is thickened to your desired consistency. Add salt to taste, and serve hot with toppings of your choice.
This recipe yields 4 to 5 servings, so you can share it with family or save the leftovers in the fridge for the next day. This thick and filling soup tastes even better the next day because the flavor of ginger and garlic intensifies. With this recipe in your arsenal, you will not run out of creative winter lunch ideas because you can mix and match toppings to suit your tastes buds.
Pancit Canton: Egg Noodles
Searching for fast and easy-to-prep lunch ideas for winter? If you like quick, fast, hearty, delicious, and comforting meals, the Filipino egg noodle dish Pancit Canton hits the spot. This dish is similar to Chinese Lo Mein because it uses dried egg noodles cooked in a tasty broth.
What makes this dish great is you can essentially throw in whatever veggie or meat is available to you. Throw in whatever veggies are in your fridge that haven't gone bad. It's very practical, and an excellent recipe for days when you're clearing out the fridge. This delicious stir fry is a one-pot dish that makes cleaning up a breeze. Best of all, this dish contains the main food groups with go, grow, and glow ingredients (carbs, protein, and fiber) from veggies. For this dish, you will need the following:
pack of dry stick egg noodles
50-100 grams of protein of choice (chicken, beef, tofu, shrimp, etc)
cups of vegetable, chicken, or beef broth
tbsp of oyster sauce
tbsp fish sauce
Ground pepper to taste
tbsp of oil
tsp sesame oil
medium onion
garlic cloves, roughly chopped
small carrot cut into sticks
½ small red bell pepper cut into strips
15 pieces of green beans or snow peas
1/2 can straw mushrooms or fresh button mushrooms
1/2 small head of cabbage
A handful of scallions for garnish
Instructions:
In a heated pan, add oil and saute garlic and onion. Add in your vegetables, except the cabbage, and cook down. You can even add bell pepper, chayote, and other kinds of vegetables available to you. Toss in your protein and season with oyster sauce. Mix everything and allow to cook. Then, add in your broth with all the seasonings. Once it starts to boil, add the cabbage.
Lastly, add the noodles, carefully mixing them in. If you see the broth may not be enough, you can add a few more, using half cups at a time to prevent mush noodles. Allow the noodles to cook fully. It usually takes 2 to 3 minutes for the dried noodles to absorb the yummy broth. Drizzle with sesame oil and sprinkle with scallions, then serve piping hot alongside lemon or lime. This makes 6 servings of about 451 calories each (depending on meat choice).
Hearty and Filling Protein and Veggie Wrap
On days when you want a dish with as minimal prep time as possible, a hearty wrap is a great lunchtime option. Although it's not a hot meal like the other lunch ideas for winter, a nutritious and delicious wrap is great to have in your bag when you're on the go because it's very easy to eat no matter where you are. You can prep this ahead and place it in eco-friendly disposable containers, so you don't have to worry about washing your lunchbox when you get home.
Moreover, wraps are very easy to prepare and even kids can make them. So there's no excuse to shy away from making a delicious winter wrap for lunch. They are easy to prepare, so you can utilize a wide range of ingredients. Play around with different proteins and vegetables to make your favorite combinations. But, for a start, you will need the following:
1-2 wraps of choice (pita bread, chia wrap, multi-grain tortilla, low-carb tortilla, etc.)
15-20 grams of protein of choice (egg, chicken, tofu, beef, tuna, etc.)
Any readily available vegetable (tomato, lettuce, avocado, spinach, etc.)
Cheese (optional)
Dressing (optional)
Salt and pepper to taste
Instructions:
There are many ways to prepare wraps. For the most part, it simply involves cooking your protein and then tossing that onto a warm tortilla of choice, topping it off with your greens, cheese, and dressing.
There are plenty of combinations to try, including a ham and egg wrap with lettuce and tomato, a chipotle chicken breast wrap with tomato and lettuce, a beef and kimchi wrap, a salmon avocado egg wrap, etc. The options are endless and are almost always no-fail. A wrap is a versatile lunch option that's packed with fiber, protein, and carbs so you get to enjoy your main food groups in one go.
Oven-Baked Herbed Garlic Chicken
Looking for warm lunch ideas for winter? If you have a bit more time on your hands, you may want to try your hand at baking a chicken roast for lunch. It is especially great for big lunches with the family, or if you want to treat yourself to oven-baked deliciousness with succulent, juicy meat. You can also roast potatoes, asparagus, broccoli, and carrots in the same baking dish to get your fiber and veg in.
Furthermore, if you cook roast chicken for a weekend family lunch, there is usually a lot of leftover chicken that you can re-invent for a scrumptious chicken dinner. For example, shredded roast chicken can help you create other meals. You can use it as filling for a breakfast omelette, a stuffing for wraps, a topping for salads or stir fries, and a filling for a hearty sandwich. The carcass or bones from the carving can also be boiled to make Chinese congee, Vietnamese chicken pho noodle soup, or traditional chicken soup. And who doesn't love a hot soup in the wintertime?
Now, here's what you will need to make a fool-proof, juicy roast chicken:
2kg whole chicken at room temperature
1/4 cup butter
tbsp olive oil
1/4 cup dry white wine (optional)
1/2 lemon
Salt and pepper to taste
tbsp fresh chopped parsley
garlic cloves, minced
head of garlic peeled and cut in half crosswise
fresh whole rosemary sprigs
Instructions:
Preheat your oven to 430 degrees Fahrenheit. Then, clean your chicken by discarding the neck from the inside cavity and removing excess feathers, patting it dry once done. Pour the olive oil, melted butter, lemon juice, and wine on the chicken and rub it all over. Then season with salt and pepper.
Next, rub minced garlic all over the chicken, and stuff the garlic head inside it with the rosemary. Tie the legs, and breast-side up, place into a tray and roast for 1 hour and 15 to 20 minutes, and baste midway through cooking time. Then broil for 2-3 minutes to get that golden brown skin. This recipe serves 4 people, at about 200 calories per serving (depending on the part of the chicken or if consumed with the skin).
Got Any Must-Try Lunch Ideas for Winter?
Do you have any winter lunch ideas that you'd like to share? We'd love to hear from you in the comments section. The above delicious and nutritious recipes are just a few good examples of what you can cook to enjoy hearty, fuss-free winter lunches. Of course, when you're deciding on what to prepare for your meals, take note of your food sensitivities and allergies.
What we put in our mouths fuel and nourish our bodies, so we have to carefully select what will work for our needs, fitness goals, and preferences. To help you in this aspect, you can take a CircleDNA test to find out the optimal diet and foods for you, based on your genetic makeup. This at-home DNA test provides you with more than 500 reports about yourself, including genetic nutrition reports, your ancestry, potential health disease risks, exercise plans, and diet suggestions. All of these are based on your unique DNA to help you achieve optimal wellness.
References:
Association of Employees' Meal Skipping Patterns with Workplace Food Purchases, Dietary Quality, and Cardiometabolic Risk: A Secondary Analysis from the ChooseWell 365 Trial (Jessica McCurley et.al.) https://pubmed.ncbi.nlm.nih.gov/34478879/
Meal planning is associated with food variety, diet quality and body weight status in a large sample of French adults (Pauline Ducrot et.al.) https://www.ncbi.nlm.nih.gov/pmc/articles/PMC5288891/
Aged Garlic Extract Modifies Human Immunity (Susan Percival) https://pubmed.ncbi.nlm.nih.gov/26764332/