Caring for kids, especially younger kids who have higher needs and are more dependent on you, is a full-time job. Learning how to keep your kids busy while you're working remotely is a must for a productive work day.
If you throw in work responsibilities along with parenting obligations, it can often feel like you just have way too much on your plate. If you're a parent who works from home, you'll often find yourself facing this kind of struggle to keep your kids busy or occupied so you can get your work done and stay focused.
Many parents find that it feels extra challenging to focus on remote work while keeping their young kids safely occupied and entertained at the same time. After all, it's a delicate balance between finding things that keep your kids busy, so they can give you breathing room with sufficient time to get the necessary work done.
If you're feeling guilty about using Netflix or different interactive apps on the tablet as a pseudo-babysitter to keep your kids busy more times than you can count, take a deep breath and don't sweat it. You are not alone, because Harvard Business Review reveals that more than 50 million Americans are juggling jobs while child-rearing. Furthermore, this issue is not limited to the US, with equally striking data in other countries with parents struggling to work and raise their kids.
There's no shame in turning to technological advancements for keeping kids entertained and holding their attention, so you can at least check your work emails, attend a short Zoom meeting, and continue to provide support for your team with less distractions. You do what you can to make things work! Although the balancing act may be tough to juggle, it's not impossible to work from home even if you have young tots. With a few helpful hacks, you can keep your kids busy with fun and productive activities while keeping them safe while you're working from home.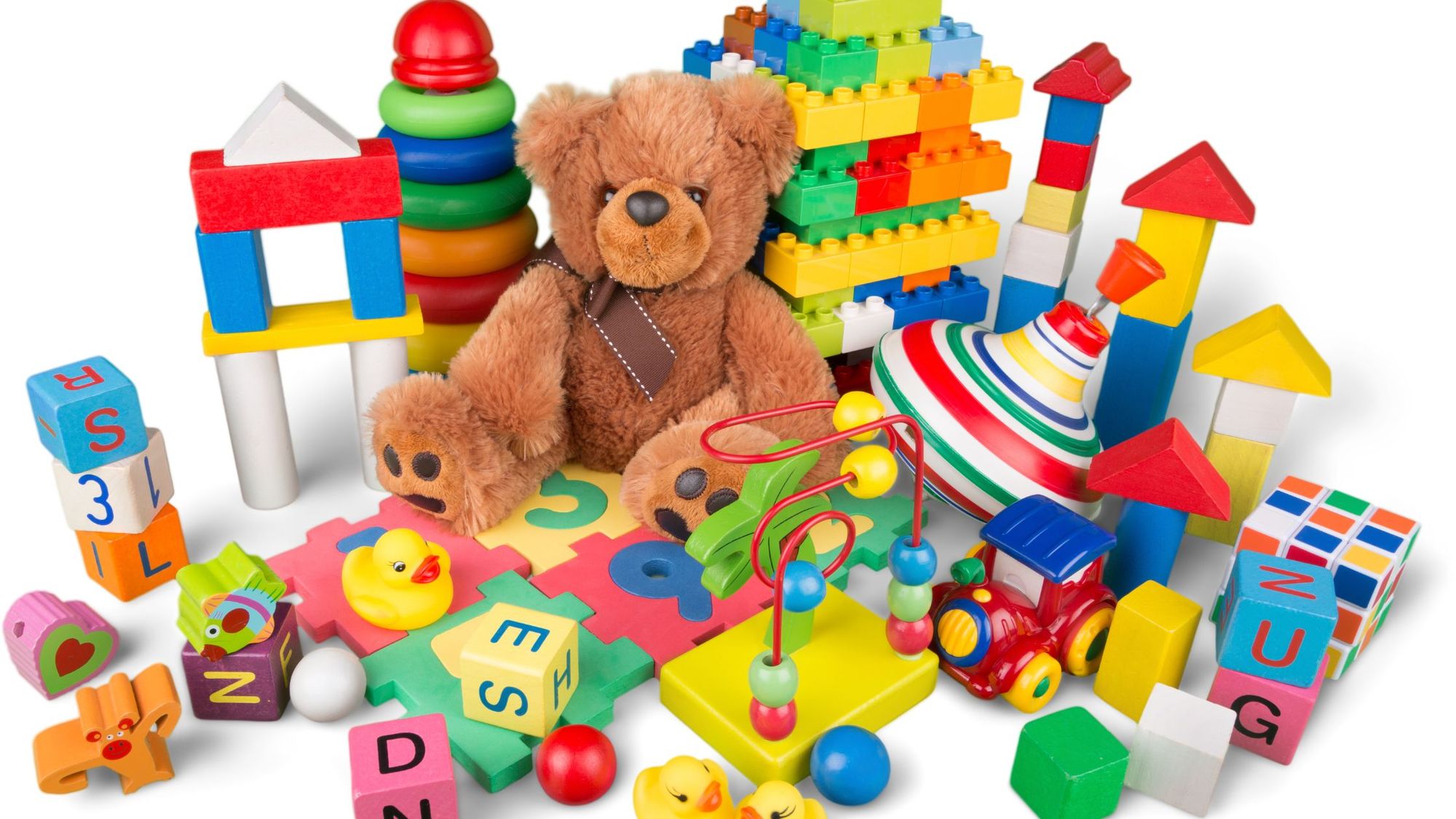 Keep Age Appropriate Toys on Hand to Keep Your Kids Busy
This is one of the best tips to keep your kids busy at home. Keep toys organized in bins and don't take them all out at the same time. Rotate the toys weekly to prevent your kids getting bored with their toys, and to keep kids excited, since the toys will look fresh and new in their eyes. Toys that usually hold a kid's attention for hours are:
Wooden building blocks
Lego sets (bigger blocks for small tots and smaller blocks for the bigger kids)
Cooking sets
Jigsaw puzzles
Board games
Arts and Crafts
Encourage your kids to role-play to stimulate their imagination. They can pretend to play in a restaurant and cook. You can also give instructions with challenges like building a gas station from the blocks as this will keep them focused and immersed.
Inform the Team So Kids Don't Have to Tiptoe Around You
Stay efficient while working from home by communicating with your leaders or team members. Tell them what your situation is like at home, so they can manage their expectations and you can plan your schedule better. Managers appreciate honesty in the workplace, and in turn, this fosters trust and openness which are elements needed for a productive and pleasant working environment.
Whether your little one is suddenly home due to illness, school break, or it's a regular scenario because of homeschooling, being upfront with the people in your office would enable them to understand your situation. Most likely, there are fellow parents in your office that have the same setup so you can support one another.
At the same time, getting things off your chest will help you be more relaxed around your kids as you're sharing space. You also don't have to force your kids to tiptoe around you in their own house all the time. There will be set rules while you're working, but they're also free to get comfortable. For example, if there's sudden noises in the background, your co-workers won't be surprised since they're aware you have children with you. This also means if there's an accident or if the kids need help with something, they can comfortably come to you. Communication is a win-win situation for all.
Stay Organized with a Routine
Working from home while the kids are around can get tricky. But with a routine and a bit of organization, you can succeed. Make sure your kids wake up and eat breakfast at the same time to prevent them from getting cranky. Organize nap schedules so you can have video conference calls without kids running in the background. It would also help to keep toys and crafting supplies where your kids can readily reach for them. If possible, designate areas in the home for toys, reading, or crafting. Having delineated spaces is very helpful if you have multiple kids that want to engage in various activities at different times.
Moreover, you can also pre-plan activities to make your days go smoothly. And of course, be realistic and anticipate disruptions. Kids are a ball of energy so anything can happen even if you try your best to prepare for every eventuality. Instead of feeling resentful because your days aren't perfect, enjoy the extra time together while your kids are young. And again, remember that you may have some coworkers stuck in the same boat and they'll hopefully be empathetic.
Help Kids Find Hobbies They Enjoy
It would be nice if your kids get lost in a task and give it their undivided attention. It could be something as simple as doing paint with numbers or stringing beads. Susan Perry Ph.D. is a psychologist and author of Playing Smart who says that getting into a zone where kids are completely absorbed in what they're doing is helpful. When this happens, children are immersed and fully engaged so they could even lose awareness of their surroundings and time. When you encourage play ideas and activities for kids that fall in this "flow" category, you help build creative thinking, bolster resilience, and improve impulse control.
Hence, as a parent, you need to set up activities or encourage hobbies that will get your children into the zone, especially while you're working as this could spell fewer distractions for you. You can start by choosing activities that target your kid's interests. For example, if they like arts, you can prepare supplies together. And of course, don't forget to permit them to make a little mess in one area where it's easy for you to still supervise them while you're working. This allows you to control some bit of the chaos without limiting their creative juices. Furthermore, it's easier to become fully immersed in activities when they know you're not hovering and they're not being judged with eagle eyes.
Fuel Their Creative Juices with Arts and Crafts
Arts and crafts projects are perfect for kids and their boundless imaginations. Studies attest that participating in creative activities has a good influence on young kids as it promotes positive behavioral changes, increases self-confidence, boosts levels of knowledge, and also helps improve physical well-being like coordination. Encourage your kids to create something while you're busy at work.
Even the youngest toddlers can keep busy with stickers, stencils, finger paints, play dohs, coloring books, crayons, stamps, etc. For older kids, you can add more complicated activities with cutting using a blunt pair of scissors and pasting with glue like creating collages. For some ideas, you can check out the following "craftastic" projects below:
Paint rocks: This is fun for kids of all ages. You can hunt for rocks outside in your downtime and have the kids paint them when you get home. Just clean and wash the rocks before you start decorating. You can also add googly eyes from craft stores to create monsters or pets. Sky's the limit to your imagination.
Make bracelets: Kids will enjoy making friendship bracelets for their siblings and friends. For older kids, you can use finer beads. However, younger kids need larger beads to avoid accidental inhalation or ingestion. Working with beads enhances fine motor skills, plus they'll boost their self-esteem because kids usually feel proud to show off and wear their creations. Alternatively, you can also use ribbons and do away with the beads. Teach your children how to make decorative knots on the ribbons to create various bracelet designs.
Build a fort: Use extra cardboard boxes in your garage and have your kids build their own fort. You can even attach several boxes to make the area bigger. They can decorate it with paint, markers, and crayons. Just don't forget to use a tarp to catch spills. This will keep them busy for hours, allowing you to concentrate a bit on your work.
Poster collages: Challenge your kids to make an old-school collage. Give your kids old magazines and let them cut their favorite pics with a blunt-tipped scissor. You can give more mature kids a theme like building a 2-D garden or robot using different pics
Homemade board games: For older kids, you can encourage them to create their own board games. Buy them cardstock and cardboard so they can create their own them. If you have multiple kids, this is a great bonding activity because they can collaborate on this project from designing the boards to creating tokens to writing the rules. And once they're done, you can all play the new board game as a family on your time off.
Play Office Together
While you're busy working, make your younger kids feel like a grown-up by encouraging them to play office. Give them their own table, chair, and office supplies. Set up their workstation near your table. Just be sure to remind them to keep their indoor voice down. You can let them play with the following:
Junk mail
Scrap paper
Sticky notes
Old calculators
Pencils
Old keyboards
You can keep them busy by providing them with office work. An example would be filing papers and stapling them together. They can also practice their writing skills or get busy filling up their work log with stickers. Experts say that pretend play is critical to a child's development since it fosters creativity, improves coping skills, and enhances emotional regulation.
Play Interactive Dance Class Videos or Workout Videos
When your kids are bored out of their wits but they can't play outside because you're still tied to your computer, you can let them burn energy with an online workout video. There are tons of fun workouts on Youtube for kids. And most of them are free. You can try the following ideas for kids:
Hip-hop dancing
Zumba
Yoga
Cardio kickboxing
Commando or military style training
These fun children's workouts usually have children on the videos. They also have themes and music that children are familiar with so they'll stay engaged. Hopefully, if you find something your kids love, they won't view it as a chore and have a great time. This hits two birds with one stone because they keep kids busy giving you free time to concentrate on work.
But more importantly, the kids get to move which is good for their overall health. The Center for Disease Control recommends that children from 3 to 5 years old be physically active throughout the day to enhance their growth. As for children from 6 to 17 years old, they are recommended to move for an hour doing moderate to vigorous physical movement daily.
What Activities Will Be Best to Keep Your Kids Busy?
This is not an exhaustive list of activities to keep your kids busy, and there are many other activities your children can do based on their temperament and inclination. To help you find the best suited hobbies and activities that you and your family will enjoy, consider taking a CircleDNA test. Test results could reveal talents and creativity levels that run in your family, as being gifted at dance, music, or art is often genetic.
You could find out your kids could have innate musical ability or drawing skills based on their genetics. The results can help you plan meaningful activities that will really resonate with your kids. Anything a kid is genetically gifted at will likely be something they'll enjoy doing in their spare time. Consequently, you can fill chunks of your children's time with productive activities that they enjoy while you're busy working from home.
References: