Looking for low calorie pastries that won't majorly set you back in your diet? Low calorie pastries aren't as easy to come by as most of us might wish. The average pastry is brimming with butter, refined flour and sugar, as well as endless carbs and fats. It's safe to say that most pastries are very high in calories.
A simple Danish pastry with sweet cheese, for example, has over 419 calories. That's almost one fifth of the recommended daily calorie allowance for men, and almost a quarter of the recommended daily intake for women.
Of course, even if you're committed to losing weight or maintaining your weight with a healthy diet, there are times when your cravings for something sweet and crumbly will feel too great to ignore.
During the winter, our food cravings tend to increase, and it's even tougher to resist the siren's call of a freshly baked crepe, cannoli, or cinnamon swirl pastry.
When your stomach won't stop rumbling for a glazed treat from your local café, it's helpful to know which options are less likely to send you hurtling back to square one on your weight loss journey.
Many people are coming up with creative ideas to enjoy pastries in a healthier way, from making their own low calorie pop tarts, to finding 'mini' versions of their classic favorites.
5 Low Calorie Pastries to Satisfy Your Cravings
Ultimately, most pastries are going to have a lot more calories than your average piece of fresh fruit, and we all know what the healthier snack options are.
However, you can cut your sugar, fat, and carbohydrate intake by focusing on baked goods with fewer additives, and more natural ingredients.
It's even worth looking for ways to recreate your favourite snacks at home. For example, you can make your own healthier version of a danish or bespoke brioche with less sugar, healthier flour, and other "alternative" ingredients, to ensure you're not destroying your diet.
Here are our top choices for low calorie pastries: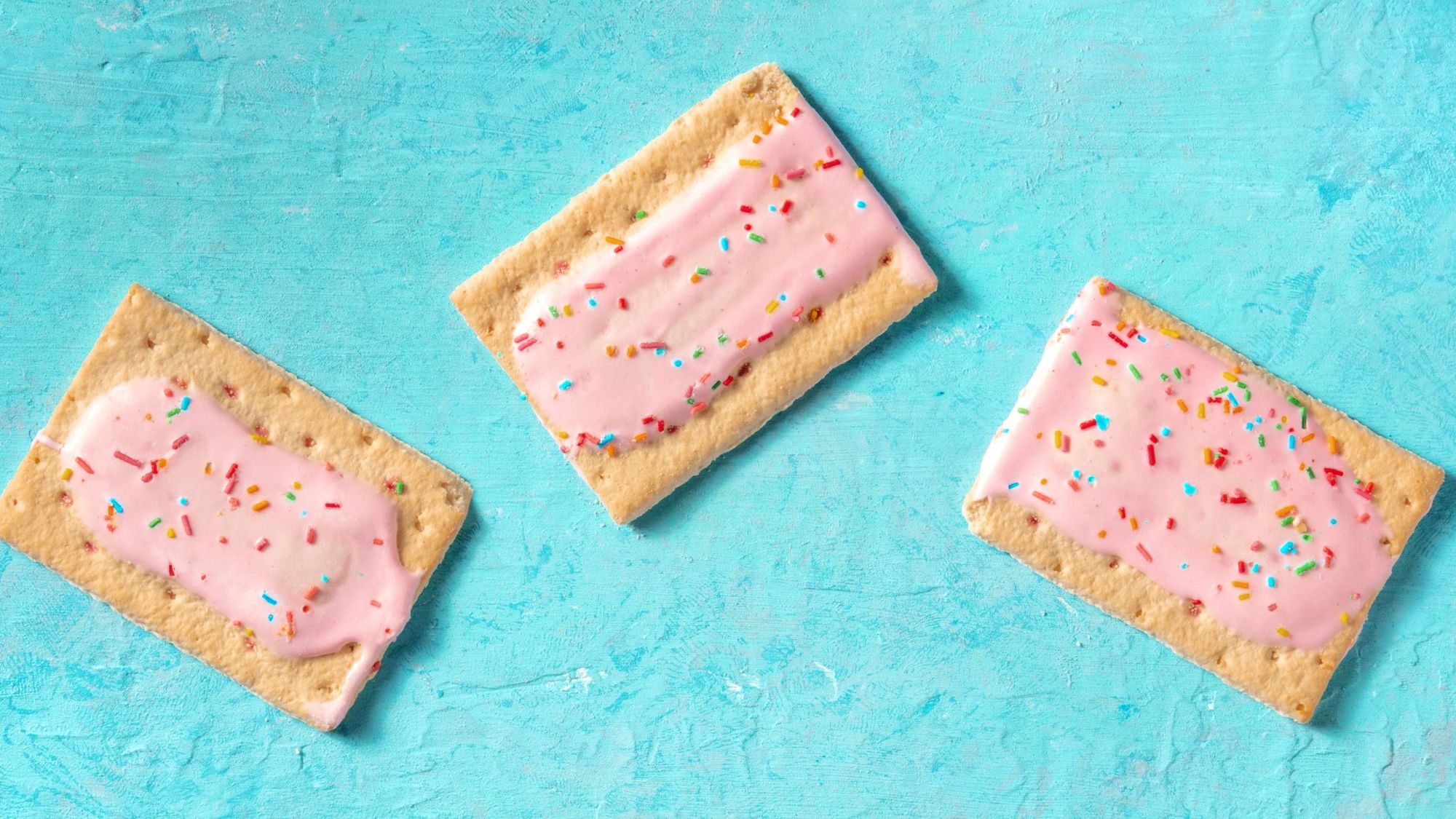 1. Low Calorie Pop Tarts: Try Homemade Pop Tarts
Your standard pop-tart is no friend to your diet. Traditional store-bought options for pop tarts are terrible with you. They are made with white flour, various forms of sugar, and plenty of saturated fat. The average strawberry pop tart includes 4.8 grams of fat, 192 calories, and 18g of sugar. However, making your own pop tarts at home can reduce your fat and sugar intake significantly.
You can make your own homemade low calorie pop tarts with only 168 calories per serving, and higher levels of fiber, to help you process your food and preserve a healthy gut biome. All you need is:
For the low calorie pop tart filling:
· ½ cup of brown sugar
· 1 and a half cups of all-purpose flour
· 1 and a half teaspoons of cinnamon
For the pastry:
· ½ cup of quick-cooking oats
· ½ cup of whole-wheat flour
· 1 cup of all-purpose flour
· 1 teaspoon of salt
· 1 teaspoon of sugar
· 1 cup of cold shortening
· 2 teaspoons of butter
· 1 large egg
· 1/3 cup of fat-free yogurt
For your filling, add all of the ingredients into a food processor bowl and mix thoroughly. Next, combine your oatmeal, flour, shortening and butter and until you have a coarse, lumpy mixture.
Whisk the yogurt and egg in a separate bowl, then combine it with the flour mixture. Divide the dough in half and roll it into separate sheets to create your two pop tart halves.
Add your filling to one side of the pop tart, and fasten the other half on top, pressing down the edges with your fingers. Avoid extra sugar and fats by sprinkling a little cinnamon on your low calorie pastries when they're done, instead of icing.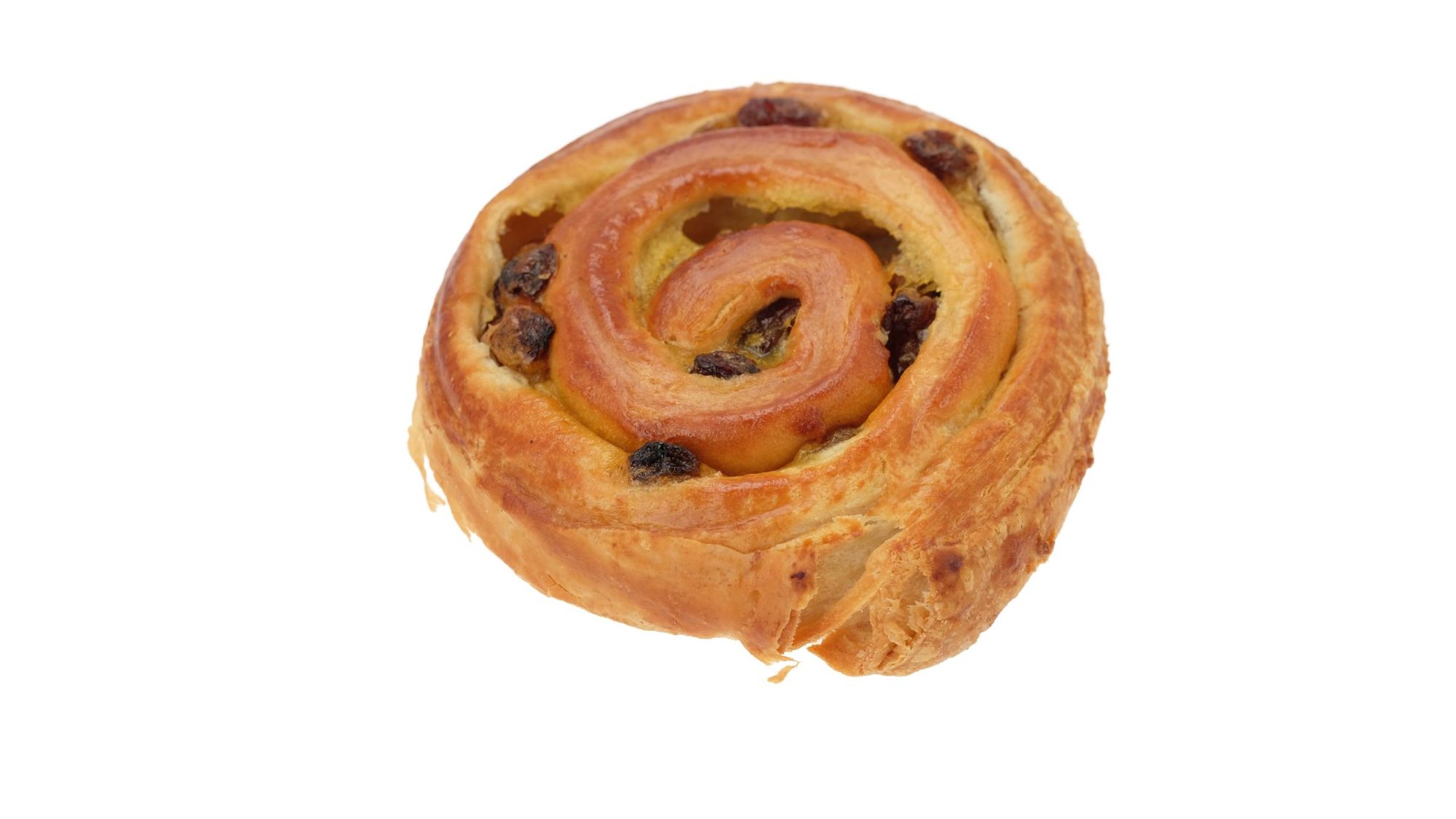 2. Pain Au Raisin
The Pain Au Chocolate is probably one of the most popular pastries out there, but it's not most diet-friendly, containing around 424 calories on average. If you're looking for a similar crumbly texture, with less guilt, then switch chocolate for raisins.
A Pain Au Raisin only contains around 325 calories, and 16.7 grams of fat. It also contains a healthy dose of raisins, which provide their own unique benefits. Raisins can help prevent anemia, assist with building strong bones and teeth, and they even relieve constipation.
Raisins are also high in antioxidants, cholesterol and fat-free, and they're a great source of fiber. If you make your Pain au Raisin low calorie pastries at home, you can also add ingredients such as cinnamon, and reduce the amount of sugar in your recipe.
3. Homemade Raspberry and Apple Puff Pastry
Another excellent option if you're looking for low calorie pastries you can make yourself is a DIY raspberry and apple puff pastry. This homemade version can contain as few as 70 calories. They're ideal if you're looking for a quick, easy, and warming dessert. Here's what you'll need:
· Puff pastry or filo pastry
· Apples (any style you want)
· Vanilla paste or extract
· A sprinkling of cinnamon
· Fresh raspberries
Start by grating your apple and mixing it with the cinnamon and raspberries in a large bowl. Next, grab your pastry and cut it into large squares. Brush the corners of the pastry with egg to help seal everything together before adding your filling, then press everything together in an envelope shape.
To keep your calories low, you can cook these treats in the oven, or in your air fryer, depending on your preferences for crispiness. If you want to play around with the filling, you can switch your apples and raspberries out with blueberries, blackberries, and strawberries.
The great thing about this pastry option is it will also give you a great way to get more fruit into your diet. Your dose of fresh fruit will provide you with extra vitamins, minerals, and antioxidants!
4. Filo Pastry Pies
The pastry in a traditional pie is one of the biggest culprits of extra calories. Fortunately, you can play with your own sweet pastry recipes at home to reduce the amount of pastry you use. For instance, you could add pastry to the top of an apple pie, but leave it bare underneath.
If you can make your own pastry at home, consider using an unsaturated spread rather than lard or butter to reduce the saturated fat content of your treat. Alternatively, switch your pastry from common options such as shortcrust or puff pastry, to filo.
Filo or "Phyllo dough" is a thinner dough with fewer calories per 100 grams than most alternative options. There's about 110 calories in a single sheet of pre-made filo dough.
While you're swapping out your pastry options, consider experimenting with different fillings too. You can switch sugar-rich fruit fillings with fresh fruit, honey, and a sprinkling of cinnamon for the same warming results, without the side effects of excessive sugar.
5. Plain Mini Croissants
Flaky almond croissants can be an excellent afternoon treat at any time of the year. However, the more ingredients you add to these pastries, the more calories you'll need to burn off later. A standard butter croissant includes around 406 calories, depending on your chosen brand and filling.
If you're going to buy a croissant, it's best to check the dietary information on the packaging, and stick to plain options, with no added glazes or fillings. Alternatively, you could make your own high-fiber croissant at home in as little as 10 minutes.
A healthy oat croissant made at home will have about 272 calories (even less if you make mini croissants), and it's relatively easy to make. All you need is:
· 1 egg
· ¾ cups of oat flour
· 2 and a half tablespoons of all-purpose flour
· 1 tablespoon of honey
· 1 teaspoon of coconut oil
· 1 teaspoon of baking powder
· A pinch of salt
Combine your oat flour, all-purpose flour, honey, coconut oil, and baking powder in a bowl, with a pinch of salt. Add your egg and stir the mixture until it's combined into a soft dough ball. Using a rolling pin, roll your dough into a rectangle, then cut triangles using a sharp knife.
You can add a filling in the center if you like before rolling from the base of the triangle upwards to create the iconic croissant shape.
High Calorie Pastries You Should Avoid
Most of the best low calorie pastries are made at home. When you bake your own sweet treats, you have complete control over the ingredients you use, as well as the baking process. For instance, using an air fryer instead of a traditional deep fat fryer will cut out a lot of saturated fat and calories.
However, it is possible to find some low-calorie versions of the products being sold above at stores and cafes. The most important thing you can do is check the dietary information on the packaging before you indulge. It's also worth avoiding some of the main culprits for higher calories such as:
· Cinnamon rolls with icing: Frosted cinnamon rolls might be a delicious breakfast treat, but they can also contain as many as 1,000 calories, depending on how they're made. Even a simple cinnamon roll will usually come with around 290 calories per saving, and 9.9 grams of fat, not to mention a huge portion of sugar.
· Danish: Just about any Danish you'll find in a store or supermarket will contain a lot of calories, regardless of whether you choose a savory or sweet option. A cheese Danish can contain around 419 calories, while sugary versions often include over 300 calories each. Switch for a plain croissant if you're watching your weight.
· Apple turnover: An apple turnover contains around 54.2 grams of carbs, as well as 14.4 grams of fat, and 363 calories. That's before you add in extras such as sugar, and cream if you're going to be serving this pastry as a desert.
Choose the Right Low Calorie Pastries
As tempting as it is to stock up on sweet foods during the winter months, it's important to remember that pastries contain a lot of calories, fat, carbohydrates, and sugars. If you're watching your weight, and trying to maintain good health, then it's best to stick to low calorie pastries when possible.
If you're struggling with managing your diet, consider getting some extra help with a CircleDNA test. Your DNA test's genetic nutrition reports can give you key insight into which foods you should avoid based on your genetic makeup.
Resources: