If you're thinking about trying sunless tanning, it's probably because this summer, you realized how much you enjoy the look of a glowing summer tan. Perhaps you're not looking forward to your skin tone going back to what it was before summer. Sunless tanning is a fantastic way to keep that look of a sun-kissed summer glow all year long. There are many other benefits of sunless tanning as well.
Many of us feel that we look better with a tan, but with increasing health concerns surrounding sun exposure, sunless tanning is the best and safest way to achieve that beautiful glow.
What exactly is sunless tanning? There are a few variations of this beauty regimen. A spray tan (the booth you stand in that sprays a fine mist of sunless tanning product onto your skin) is one way of achieving a sunless tan. Airbrush tanning is another method of sunless tanning, where an airbrush technician sprays your body with the product, and he or she can even contour your abs with strategic product placement. Another popular sunless tanning method is to buy your own sunless tanning mousse and mitt at your local drug store and apply it yourself.
Generally, you'll have to leave the sunless tanning product on your skin for about 4 – 8 hours, and you'll have a beautiful summer glow once you shower off the product. Prepping your skin the day before with a full face and body exfoliant is the best way to ensure your sunless tan looks flawless. You'll apply barrier cream to your hands and feet. The sunless tan lasts 4 – 8 days for most people.
Benefits of Sunless Tanning
Self-tanning products don't just give your skin a gorgeous tanned glow. These products also happen to be very good for your skin, they cover skin imperfections, and they keep you safe by minimizing your sun exposure. Below are 7 benefits of sunless tanning:
1. Protect Your Skin from Sun Exposure
While some sun exposure is good for you to get your vitamin D, you don't want to over-expose your skin to the sun. Unfortunately, many people sunbathe all day, over-exposing themselves to the sun to get tanned skin. Sunbathing all day puts you at a higher risk of skin cancer, while sunless tanning is the perfect way to achieve a tan without risking your health.
2. Your Skin Will Look Flawless as You'll Cover Skin Imperfections
A spray tan or sunless tan covers your skin imperfections and acts as makeup for your whole body. Those with acne scars, uneven skin tone, hyper-pigmentation, stretch marks, varicose veins, blemishes or other skin imperfections will absolutely love sunless tanning products, as the product will cover these imperfections.
In other words, sunless tanning can make your skin look flawless. If you love how a high-quality skin foundation or BB cream perfects your skin, then you'll love how a spray tan does the same thing but lasts up to one week. With sunless tanning products, you'll feel beautiful without makeup, as your skin will be looking flawless.
3. You'll Save Time Getting Ready
Whether you have to get ready for a date, a special event, or for work, your getting ready time will now be cut in half. You'll need less than half the time to get ready when you start sunless tanning. As we just mentioned, sunless tanning acts as makeup for your whole body, covering skin imperfections and reducing the need for makeup.
When you use sunless tanning products, you'll feel as though you woke up with makeup on. If you want to look especially great for an event, it's best to get a spray tan the day before the event.
4. Sunless Tanning Products are Good For Your Skin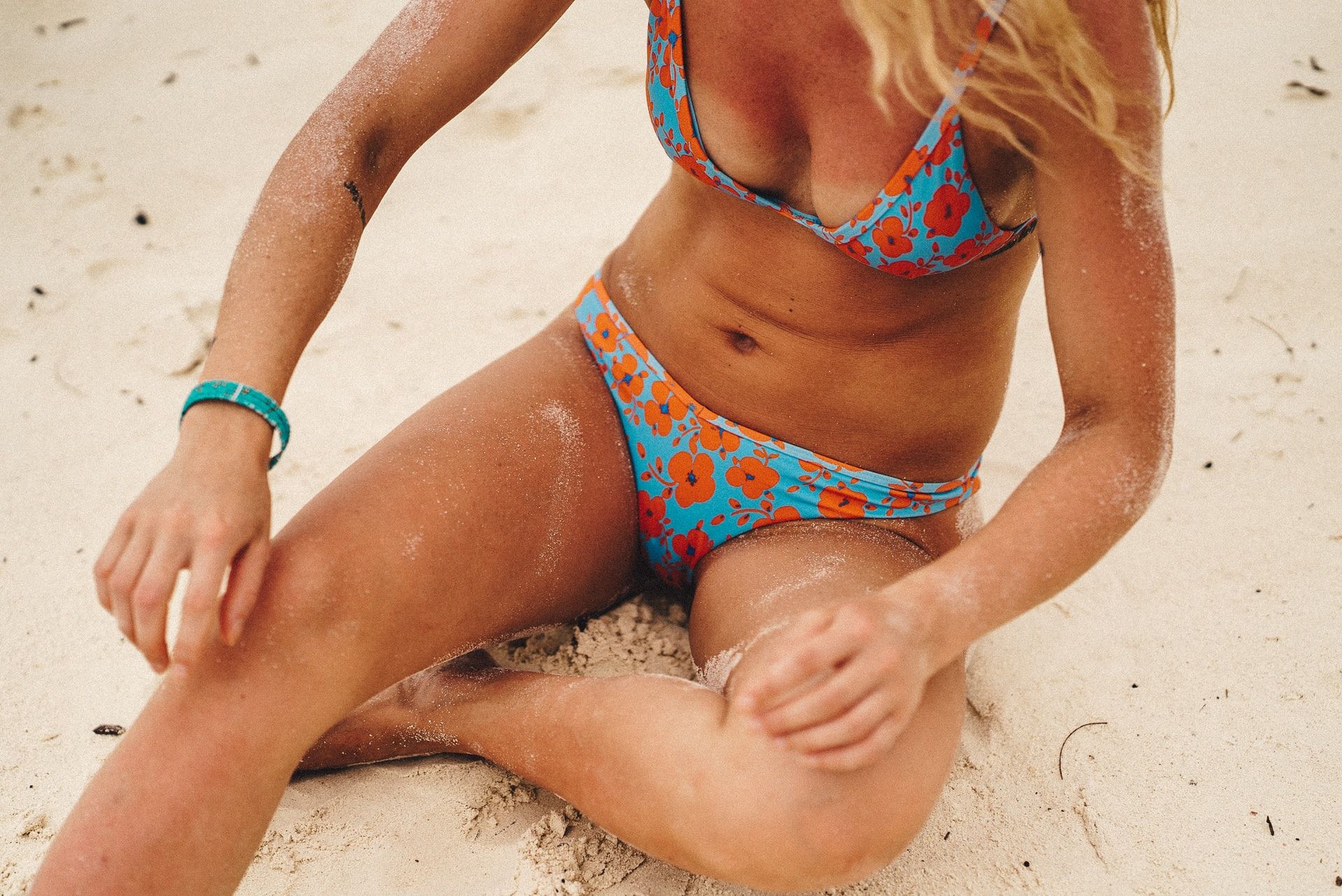 Advanced spray tan solutions are full of organic ingredients that are great for your overall skin health. Advanced spray tan technology involves sunless tanning products that are typically at least 98% organic. Sunless tanning solutions often contain healthy ingredients for your skin including green tea leaf extract, walnut extract, aloe, ginger root extract, green algae, avocado oil and grape seed extract. Think of a sunless tanning session as a skincare session, too, since these ingredients boost skin health while also giving you a gorgeous tan.
5. You'll Look More Toned
Sunless tanning products can make you look thinner and more toned. A common testament among spray tan enthusiasts is getting compliments that they look as though they've lost weight. This is especially true if you get a trained airbrush tanning technician to apply your sunless tanning product to your body. They can contour and shape your body to look slimmer and more toned, by concentrating the product in certain areas of the body. In general, however, sunless tanning products do make you look slimmer.
5. You'll Feel More Confident
Now that you understand how sunless tanning products act as a skin-perfecting product that also makes you look more toned, it makes sense that you'll feel more confident. When your skin looks more flawless, more tanned, and you look more toned, you'll naturally get a confidence boost. Sunless tanning is one of the best and easiest ways to get a confidence boost.
7. Your Tan Will Look Even, and You Won't Look Orange
One of the benefits of modern sunless tanning is that you don't have to worry about looking orange or unnatural. With the newest technology available in spray tanning booths today, you can now achieve a flawless, bronzed, natural glow without looking orange. The newest sunless tanning products out there are very natural looking and go on evenly. The modern spray tanning booths at tanning salons even allow you to select a "level" of darkness you'd like to achieve. If you're going for a natural look, you can ask for a level one tan, which is the subtle, natural glow.
Today's modern spray tan booths often include a prep spray prior to the sunless tanning product, and moisturizer spray at the end, in what's known as a sunless tanning "multi-session". You'll first be sprayed with a skin-perfecting 'prep' spray, which balances your skin's pH levels and primes your skin for the most smooth and even application of the sunless tanner. Prep spray is often formulated with grape seed extract, which is good for improving skin tone and texture. After the sunless tanning product is misted onto you, the final step is often the moisturizing spray. This is typically formulated with green tea extract to help reduce free-radical damage and is highly moisturizing.
In Conclusion
You can still get a tan in the sun when you have a spray tan. Many people get a spray tan or use sunless tanning products before a vacation. Some people do this because they're embarrassed about looking pale in their swimsuits at the pool. However, you can still get a 'real' tan from the sun when you have sunless tanning products on.
This means that you can still get a sunburn if you're out in the sun with a sunless tan. You still need to wear sunscreen if you're in the sun rocking your sunless tan.
Covering skin imperfections is the primary benefit of sunless tanning. To uncover your genetic skin conditions and your genetic risk of skin cancer, access your personal skin reports from CircleDNA.