What do you do when you're craving something savoury, but you aren't sure which healthy savoury snacks are accessible? Many savoury snacks are loaded with calories, which is why it's important to be aware of which healthy savoury snacks you could go grocery shopping for and have access.
You'd be surprised that many savoury snacks are healthy, low-calorie, nutritious and delicious. These salty and umami-filled treats will surely tickle your tastebuds, especially for the days when you're craving something savoury instead of sweet. Best of all, these healthy savoury snacks are not loaded with empty calories.
Remember, you can maintain a truly healthy lifestyle without deprivation. You should feel confident to eat what your palate desires while staying assured that your choices will keep you satisfied and energized.
The good news is there are many salty and spice-ladened snacks out there waiting for you. So check out this list of healthy savoury snacks, from ultra-convenient grocery options to something you can prepare at home. They will give you that much-needed fuel for energy, inspire you to try new flavours, and provide you with essential nutrients.
Store-Bought Options
When you're in search of something convenient, grab-and-go snacks from the supermarket are your best bet. They require minimal prep time and are already packed in individual serving sizes for easy consumption. You can readily bring this to the office, gym, or anywhere you need to be.
The key to success is reading the labels from caloric content to other nutritional details. Remember, many brands offer quick snacks, but some can sadly compromise the healthy aspect for convenience. So instead, check out these guilt-free options below, so you can fulfil your cravings while keeping your hunger at bay while you're away from your kitchen.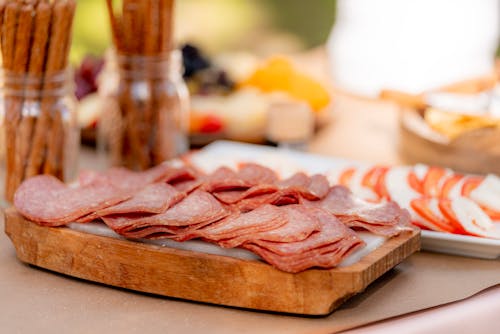 High Protein Meat Snacks
When you're craving something savoury, you cannot go wrong with pre-packed meat snacks. Protein is an essential building block that your body needs to build muscles, produce enzymes, and so much more. For the best results, choose the low-fat organic variants with less sodium and additives. You can have:
Turkey jerky
Salami
Pepperoni
Beef sticks
The list goes on and on because there are so many meat snacks out there with different flavour profiles like hot, tangy, sweet, barbecue, and so on. But again, these prepared protein treats are not created equal, so do your due diligence and read the nutritional info. And, of course, buy from a reputable brand that doesn't use tons of preservatives and assures nitrate-free options.
Alternatively, you can also consider fresh cold cuts from the deli and just pre-pack them on your own with zip locks. However, note that these have to be kept fresh with a cold pack, or you can put them in your work fridge. Meat snacking treats for carnivores doesn't require you to cook a full-blown dish before heading out for the day.
Nuts and Seeds
Nuts and seeds are full of healthy fats and proteins. However, you must be mindful of consumption because the calories can add up. That being said, they offer the perfect pick me up as they satisfy mid-meal hunger pangs effectively. A little will go a long way! If you're bored with plain nuts and seeds, you can choose from different flavours such as:
Habanero flavored nuts
Mexican
Garlic
Curry
Best of all, studies show that certain nuts and seeds contain good fats that are hearty and healthy. For example, chia seeds, almonds, flaxseeds, and walnuts lower your blood pressure while increasing healthy cholesterol levels. So keeping a handy nut bar on your desk is a great after-lunch supplement to help you fight mid-afternoon lethargy.
Veggie Chips
If you love savoury flavours, veggie chips are the perfect answer. And they are so much healthier than your usual potato chips and less in calories, too. You can try the trendy veggie snacks that are all the rage these days because they satisfy your crunch minus the guilt. For example, you can try the following healthy chips:
Kale chips
Taro chips
Mushroom
Asparagus
Cassava
These healthier alternatives also come in several flavours like salt and vinegar, black pepper, sriracha, salted egg, and so much more. Of course, nothing will beat fresh vegetables, but when your tongue is pining for potato chips, you know you can grab a healthier choice that isn't loaded in fats, starches, or calories. Again, the key is reading the nutritional label so you can stay on track.
Seaweed Crunchies
Head off to your Asian aisle to find seaweed crunchies, which have very minimal caloric content. They come in tempura chips or sheets. You can get the original with plain salt or try different flavours like the following:
Chilli
Black sesame
Wasabi
Cracked pepper
Brown sugar and sea salt
Seaweed may sound boring, but in reality, this snack offers complex flavour profiles plus that crunch you are looking for. More importantly, seaweeds are low in carbohydrates, making them a great treat for those doing the Atkins or Keto diet. Best of all, this humble bounty of the sea is an excellent source of protein, calcium, magnesium, iodine, and iron.
Healthy Popcorn
Clearly, the butter-coated popcorn in the cinema is bad news for your health. It's loaded in calories, sodium, and cholesterol, making your blood pressure spike and predisposing you to heart disease. However, air-popped popcorn is a different story. It is a healthy treat without excessive fats or calories. So do try savoury variants like black pepper and sea salt, pizza flavor, sour cream, onions and chives, or garlic salt.
Fortunately, you don't have to pop it yourself, but you can buy healthy popcorn in the grocery store. Popcorn is a whole grain, and therefore, a great fibre source. Thus, it can promote good digestion and help you fight off constipation. Best of all, popcorn is a great fibre that can absorb excess bad cholesterol in your system before it lodges onto your heart, staving off heart disease and hypertension. What's not to love?
Savory Recipes You Can Make at Home
If you enjoy cooking, you may want to prepare savoury snacks in your kitchen. Doing your meal prep is healthier because you know all the ingredients and respective quantities going into your treats. Often, supermarket finds are packed with salts and other additives, so making your own snacks is the way to go if you don't feel like reading labels and want to save money. Below are some easy suggestions that should help get you started, even if you're a total kitchen newbie: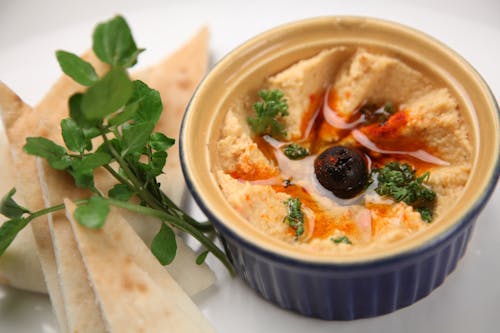 Babaganoush
Eggplant is an underrated snack, but it sure is super savoury and healthy because they're low in fat and calories but rich in fibre. You can make your Babaganoush dip by baking your eggplants or grilling them on your stovetop. From there, peel off the skin and mash the eggplants. Add a tablespoon of olive oil, yoghurt, and tahini, then add a pinch of cumin, salt, and pepper. If you like it spicy, you can include cayenne pepper, too. Pair this with wholewheat pita chips, crackers, or rice cakes.
Tomato Chips
Tomatoes are naturally low in fat. Hence, making tomato chips at home is a no-brainer because all you need is salt and tomatoes. You can also experiment with different flavours and sprinkle garlic powder, parmesan cheese, black pepper, etc. Here's how to get them done without a dehydrator:
Wash the tomatoes and slice them thinly.
Sprinkle with salt and let sit for 15 minutes to draw up moisture.
Flip and re-salt for 5 more minutes, then dab with paper towels.
Layout them on a plate and douse with olive oil cooking spray.
Microwave them in the microwave for 7 minutes.
Flip the chips and microwave for 1 full minute.
En voila! You are done. Contrary to popular belief, tomatoes are not veggies but fruits. They are part of the berry family, making them rich in antioxidants. Your tomato is packed with lycopene, and this component helps fight oxidative stress, boosts immunity, and promotes a healthy heart. Experts say lycopene is so powerful that it fights inflammation and carcinogens to keep cancer at bay.
Egg Muffin Cups (Egg Bites)
These are very healthy treats that you can make in your oven or oven toaster. Just crack and beat several eggs and fill them up with your favourite toppings. Do watch out for portion sizes if you are counting calories. For example, you can try the following:
Tiny bits of ham
Sun dried tomatoes
Olives
Scallions
Spinach
Low-fat cheese
Once your mixture is ready, pour them into muffin cups. It's best to use a non-stick tray or silicone cups so you can take out the egg muffins easily. Bake them until they're set. The great thing about this is you can store them in the freezer and reheat them in your microwave. They are loaded with protein which can stave off hunger, regulate blood sugar, and build lean muscle mass.
Round Off Tips to Help With Your Diet
If you're a savoury snacker, be mindful of your salt intake because too much sodium is bad for your heart and kidneys. It can lead to hypertension and heart disease. If you do your home cooking, avoid iodine deficiency with iodized salt.
Also, you must note that if you constantly crave salty and savoury treats, it could mean you are dehydrated. So prioritize drinking at least 8 glasses of water a day, more if you drink coffee, work out, live in a warm climate, or take diuretics.
More importantly, if you have a family history of high blood pressure or heart problems, you must take it easy on your salt consumption. But, again, it would help to consult your nutritionist for advice to ascertain that you meet daily nutritional requirements.
A CircleDNA test will tell you what specific diet and exercise plan is most suited to your genetic profile, as well as warn you about any possible nutritional deficiencies. This will help you make more conscious choices about your snacks and help you choose the best treats that will truly fuel your body.