There are many reasons why you might be preparing to cook a vegan Christmas dinner this year. Perhaps you've gone vegan or most of your family is vegan or vegetarian. Or, maybe your new partner's family is vegan, you're attending a pot-luck Christmas dinner where some guests are vegan, or you want to try the vegan diet because you recently learned about all the benefits of eating a plant-based diet.
Cooking a vegan Christmas dinner with no meat or animal products might seem challenging – especially if you've always been an avid meat eater who cooks a lot of meat.
However, as more people explore the benefits of a plant-based diet, you're likely to encounter people at your holiday potluck, family dinner, or festive party who don't eat meat. Keeping a few recipes on-hand is a good way to ensure you keep everyone happy during the holidays.
The good news is that vegan Christmas dinner ideas don't have to be complicated. Most of the time, all you'll need to do is switch the meat or animal-based product out with something equally appetizing, such as cauliflower, mushrooms, or seasoned tofu.
Below are some of the best, mouth-watering vegan Christmas dinner sides, desserts and main course recipes you can explore during the yuletide season. Who knows? You might even find a new family favorite. Below are some vegan Christmas dinner ideas you could bring to a pot-luck or serve at the table, which will be loved by your vegan friends and family: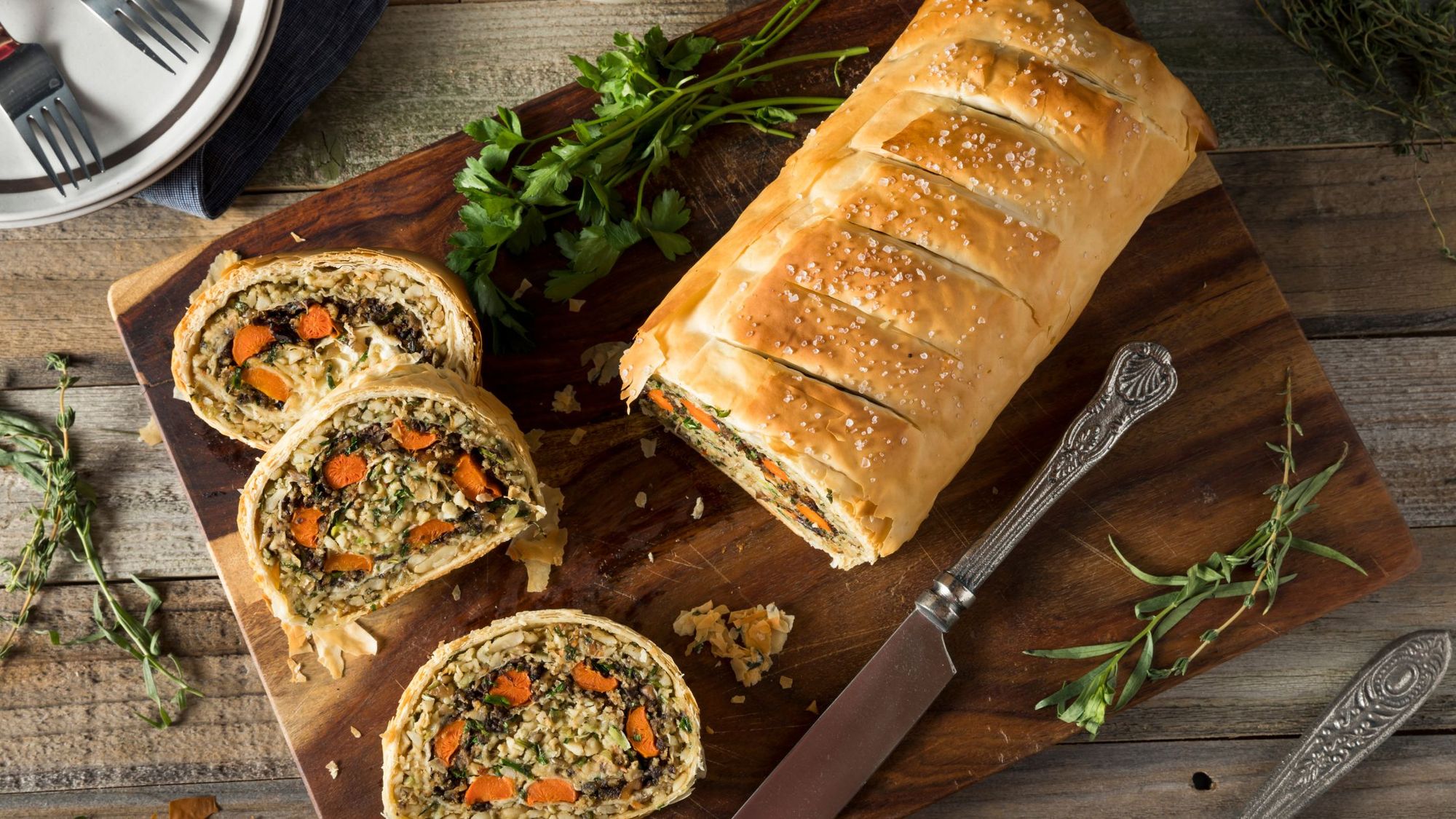 Mushroom and Sweet Potato Wellington
The Wellington is easily one of the most popular holiday foods. Brimming with flavor, this meal looks fantastic as the centerpiece for any festive table. If you're looking for vegan Christmas dinner ideas bound to impress, try this.
Ingredients:
· 100g of dried porcini mushrooms
· 200g of chestnut mushrooms (chopped)
· 2tsp of olive oil
· 1 large onion (chopped)
· 2 crushed garlic cloves
· 500g of sweet potatoes (cut into chunks)
· 100g of white breadcrumbs
· 1 tbsp of parsley (chopped)
· 1 tsp of rosemary (chopped)
· 2 tbsp of pomegranate molasses
· 40g of chopped pecans
· 2 x 320g of dairy-free puff pastry
· 3 tbsp of plant-based milk
· 40g of dried cranberries
· 1 tbsp of Dijon mustard
Instructions:
Soak your dried mushrooms in some boiling water while heating olive oil in a frying pan. Fry the onions and chestnut mushrooms for around 20 minutes, then add the garlic, sweet potatoes, and re-hydrated mushrooms.
Cover the pan and cook until the potatoes are softened, then stir in the herbs, molasses, breadcrumbs, cranberries, and nuts. Once the mixture is cool, wrap in your puff pastry sheet and coat in a mixture of Dijon mustard and plant-based milk. Cut steam holes in the middle, and bake for around 40 minutes.
Delicious Vegan Christmas Dinner Side: Onion, Pear and Chestnut Stuffing
Another classic for your vegan Christmas dinner recipes, this vegan stuffing can be prepared and frozen ahead of time, saving you from excess stress around the holidays. The pear will deliver a fantastic kick, along with some much-needed vitamins for the winter months.
Ingredients:
· 2 finely sliced onions
· 2 cored pears (chopped)
· 50ml rapeseed oil
· ½ bunch of thyme
· 250g of breadcrumbs
· 8 cooked chestnuts (chopped)
· Sprinkle of nutmeg
Instructions:
Preheat your oven and fry your onions with a pinch of vegan salt for 15 to 20 minutes. Add the chopped pears and thyme to the pan and cook for 10 minutes, before transferring to a bowl and mixing in your chestnuts and breadcrumbs. Season with nutmeg. Grease a baking dish and add the stuffing, cooking for up to 20 minutes, or until golden brown.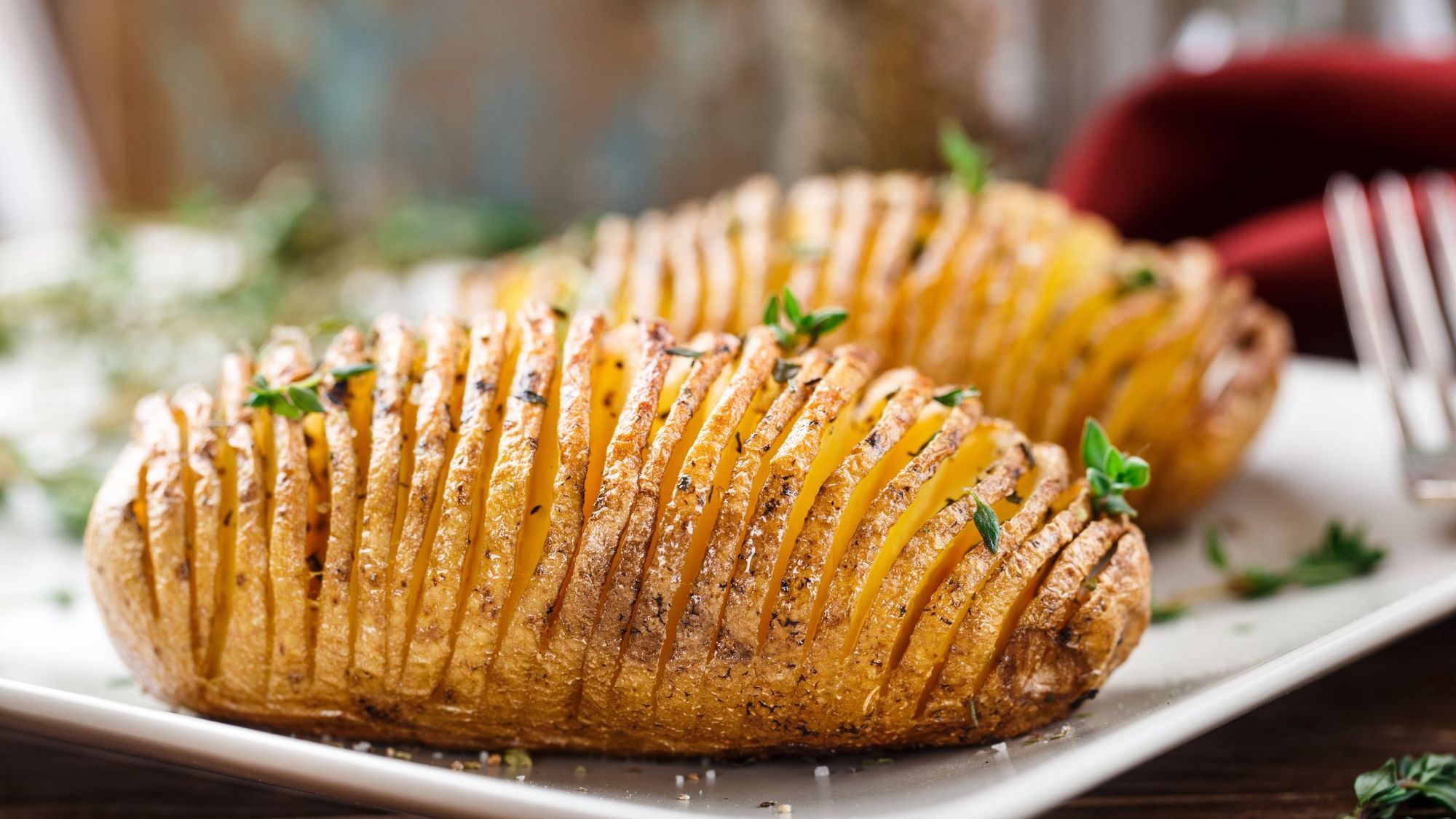 Hasselback Potatoes
We all love a hearty dose of potatoes around the holidays. These delicious vegan Hasselback potatoes are fantastic if you want a delightful vegetarian Christmas dinner recipe for a potluck. They're also very easy to make, with only a handful of ingredients.
Ingredients:
· 1.5g of mid-sized potatoes
· 4 tsp of vegetable oil
· 4 garlic cloves
· A few sprigs of rosemary
· Kosher sea salt flakes
Instructions:
Preheat your oven to about 400 degrees Fahrenheit and spear your potatoes with a metal skewer. Place on a chopping port, and slice deep wedges through each potato, being careful not to cook all the way through. Place the potatoes cut side up on a baking tray and drizzle with oil. Add your garlic and rosemary, then season with salt. Roast for around an hour, until they're tender and crisp.
Christmas Pudding Brownies
Brownies are an amazing addition to any vegan Christmas dinner for the dessert course. This particular option will be ideal for people of all ages, as it's dairy-free, and packed with dark chocolate, for some bonus antioxidants.
Ingredients:
· 2 tsp of ground flaxseed
· 200g of dark chocolate
· 100g of dairy-free spread
· 100ml of oat or almond milk
· 125g of self-raising flour
· 1 cup of mixed sultanas and raisins
· Half a cup of cherries
· 50g cocoa powder
· 50g ground almonds
· 150g golden caster sugar
· 100g of light brown sugar
· 1 tsp of vanilla extract
· A sprinkle of sea salt
· ½ tsp of cinnamon
Instructions:
Mix your fruit in a bowl and add your flaxseed to a second bowl with 4 tsp of water, so it creates a gel-like substance. Melt 150g of chocolate and mix together your flour, almonds, cocoa, spread, sugar and salt in a separate large bowl. Whisk in the chocolate mixture, along with the flaxseed, vanilla, and fruit. Fold in any remaining chocolate chunks and scrape the mix into a greased baking tin.
Bake your brownies for around 40-50 minutes until no raw dough remains. Cut the brownies into squares and leave them to chill.
Vegan Christmas Cookies
Christmas cookies are perhaps the ultimate festive snack. This vegan and vegetarian Christmas dinner recipe will ensure you always have a sweet way to finish off a great meal. Plus, the cranberries and pistachios are great for those in search of a healthier food option.
Ingredients:
· 125g of dairy-free spread
· 125g of light brown sugar
· 125g of caster sugar
· 1tsp of cinnamon
· 1 tsp of mixed spice
· 125ml plant-based milk
· 1 tsp of vanilla extract
· 1 tsp of baking powder
· 275g of plain flour
· ½ tsp of baking soda
· 100g shelled pistachios (chopped)
· 75g dried cranberries
Instructions:
Combine the spread and sugar with a pinch of salt, and stir in the milk, vanilla, and spices. Carefully fold in the flour and remaining powders until you have a stiff batter. Add the cranberries and pistachios, then chill the dough for 30 minutes. Roll small walnut-sized pieces of batter into balls and flatten on a greased baking tray. Bake for around 15 minutes until golden brown.
Enjoy a Delicious Vegan Christmas Dinner
Creating a vegan Christmas dinner side, entree or dessert doesn't have to be a challenge. There are countless amazing recipes out there, sure to bring a smile to your loved ones' faces. If you're cooking vegan meals for yourself this holiday season, remember to check your CircleDNA report for insights into your possible food intolerances and optimal foods that suit your body best.