Engaging in outdoor family activities may be the last thing you'd normally think of when it's cold outside. For those in the Northern Hemisphere, winter is rearing its ugly head in the form of bitingly cold winds and snow flurries. Many succumb to the temptation of their warm, inviting beds too much in the winter, since staying cocooned in cozy sheets feels more relaxing and rewarding than frolicking in snow and ice.
However, you can't possibly stay bundled up indoors all the time, because it's just not healthy. Studies suggest that depression tends to rise in winter, especially for people who isolate themselves. Cabin fever can set in if you don't go out to breathe fresh air and enjoy the beauty of nature. Seasonal Affective Disorder (SAD) is commonly associated with winter, where repetitive episodes of depression and loneliness surge.
Thus, even if you're inclined to laze around in bed all day, it makes a lot of sense to resist the temptation to be overly sedentary. Think about all the fun, thrilling activities you can do outdoors with your family. Though you may feel sorely tempted to spend the winter season hibernating and sedentary, it is always important to get some movement and fresh outdoor air. Engaging in physical activities is necessary for optimal health and wellness.
Luckily, wintertime also comes with holiday excitement and festivities, so think of outdoor activities like visiting Christmas markets, ice skating, and enjoying snow activities. If you have a family, bring everyone along so you can make memories. Doing outdoor family activities together makes everything more meaningful, allowing you to truly cherish the holiday season. Moreover, moving together means you'll all be working towards good health. That said, here are some fun and exciting outdoor family activities that you can get hyped up to do this winter: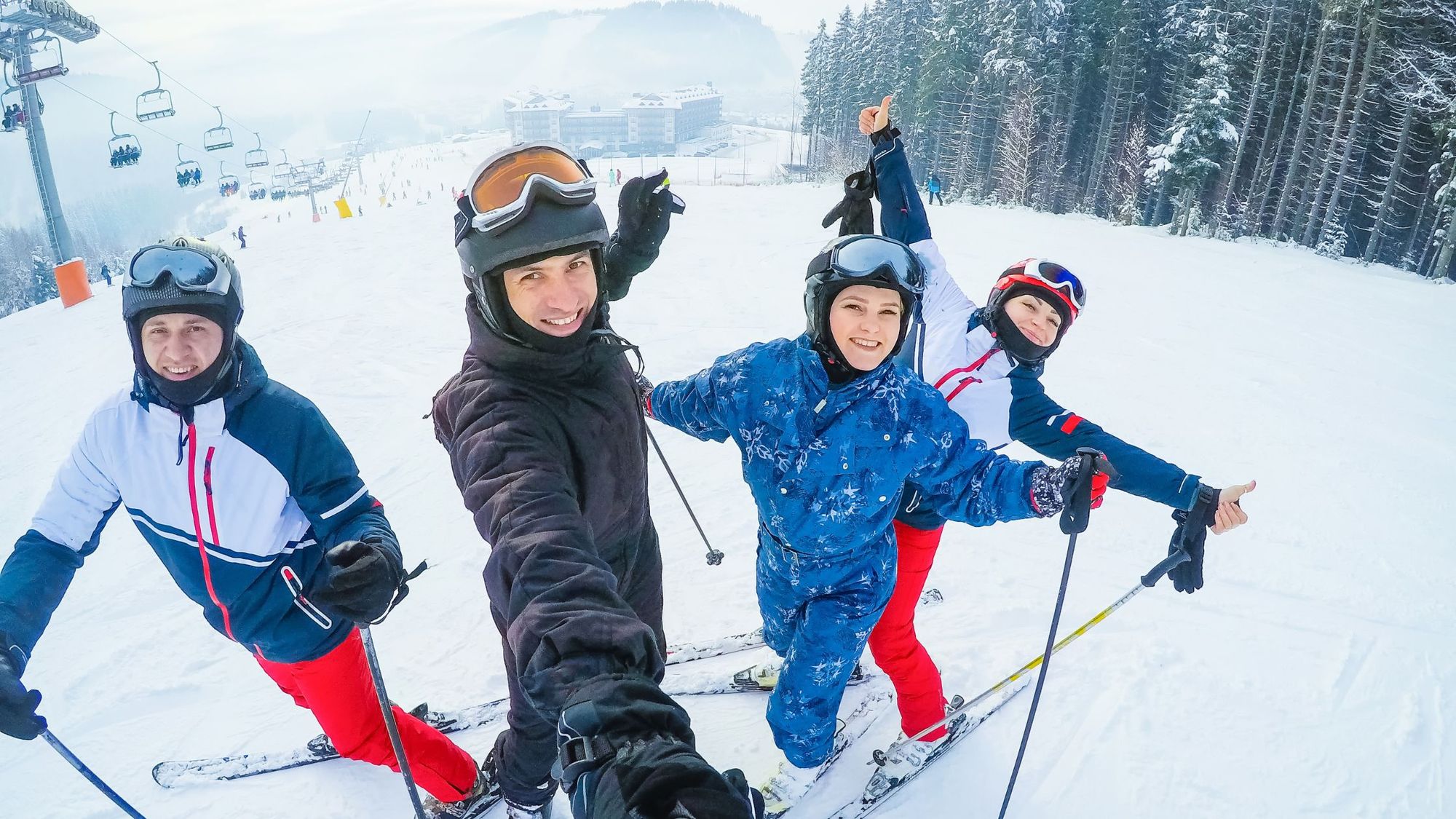 1. Quintessential Outdoor Family Activities: Traverse a Mountain on Skis
Tis the "ski-son" to be jolly! Heading up to a ski slope with your family is one of the most traditional things you can do this winter. People who live in lower latitudes without snow can get in on some frosty winter action by traveling up north. Skiing is a great bonding activity for any age, from beginner to intermediate level. It's not just a fun outdoor activity, but it's also a very good workout.
Skiing is excellent for working your leg muscles and also honing your balance. It is also a cardiovascular workout, so it will help improve your heart health and burn off extra calories. Skiing is also wonderful for strengthening your knees and core muscles. Moreover, for children, it can be a great way to not only burn off some energy but also practice how to focus.
For families that don't feel confident downhill skiing, try the much more doable activity of cross-country skiing or 'flat skiing'.
Find out if skiing is a physical activity that suits you best based on your genetic strengths and weaknesses by reading your sports and fitness reports from CircleDNA. It could be in your family's DNA to be great skiers.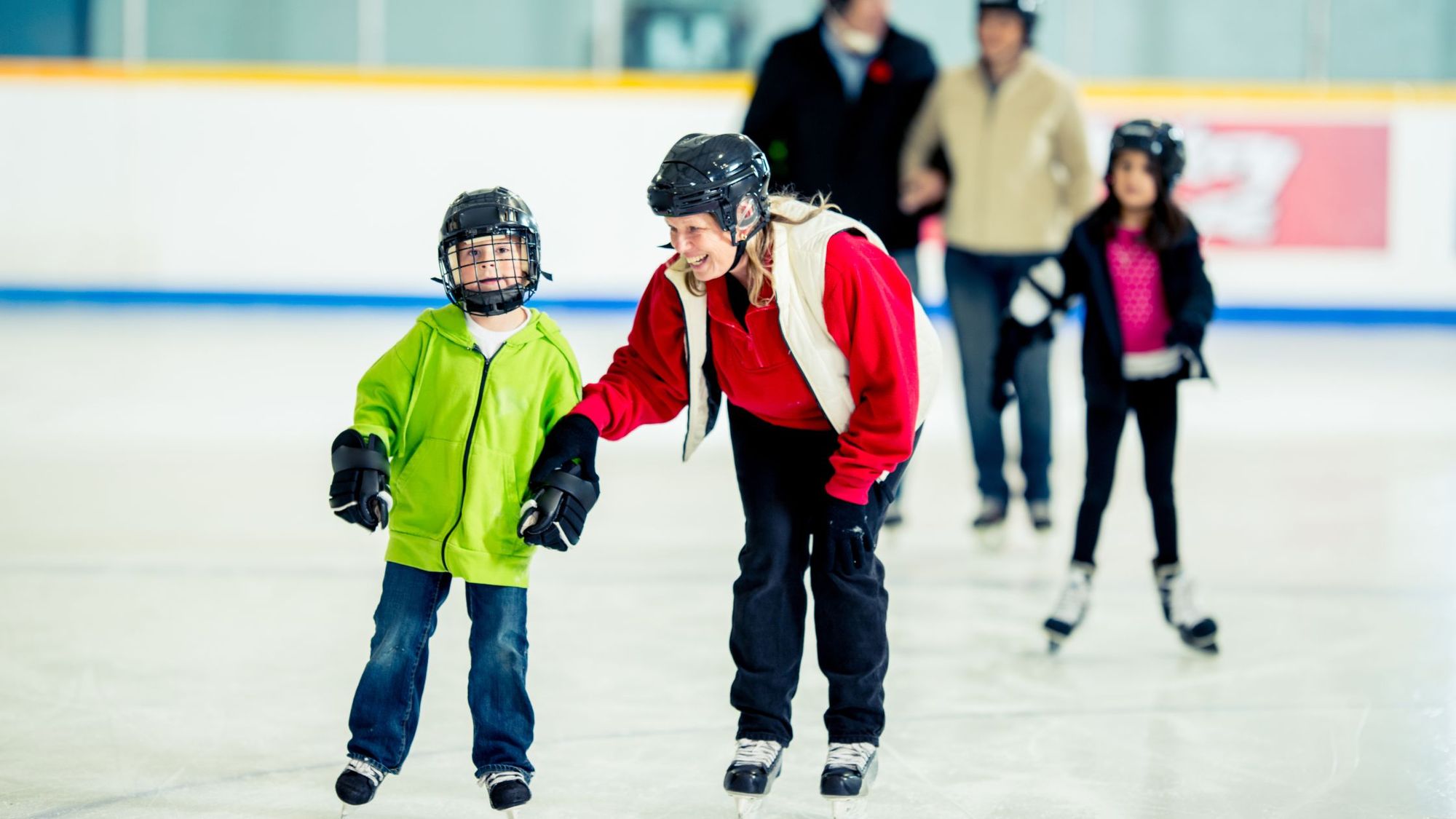 2. Ice Skating: A Classic Winter Activity
Ice skating is another great family activity because it's inexpensive and people of all levels can give it a try. This means you and your younger children can be skating together in one place because there's no skill separation with skating that other activities may create. You don't have to be a pro to enjoy this.
Moreover, skating is an intense workout as it fine-tunes your cardiovascular wellness. It builds up stamina, strengthens the abdominal muscles, and tones leg muscles. Ice skating works almost every muscle group, as gliding requires synchronization of the legs, arms, and core, which altogether combined can greatly improve joint flexibility and overall mobility.
Level up your outdoor family activities by having an ice skating activity in a nearby frozen lake or pond. This is a great way to commune with nature and explore, compared to staying in an indoor rink. You take it up a notch by purchasing some hockey sticks and pucks and treating your kids to a friendly match-up. Make it even more festive by packing cookies in a box and hot cocoa in a thermos.
3. Jack Frost Challenge: The Snow Maze
If you're on the lookout for unique outdoor family activities that involve both physical and mental exertion, partaking in a snow maze will surely wow you all. Snow maze making is great fun, especially with kids. This activity not only forces them to move but allows them to think creatively and problem-solve.
For this activity, you must take advantage of freshly fallen snow. It's a great alternative to building a snowman or sledding. Making this snow maze is easy because all you have to do is step, stomp, and shuffle on the snow to form the trails for the maze. Mark your start and endpoints. Then, you need to walk back and forth a few times to pack down the trails. Don't forget to create lots of dead ends and obstacles.
You can race each other, or play tag! You may also want to do a snowball fight while chasing each other through it. This is a fun winter activity that you can continue for days on end. If there's freshly fallen snow, you can make your maze walls higher and add more intricate designs and obstacles to amp up the challenge and make the maze trickier to finish.
4. Outside the Box Kinda Fun: Shoveling
Shoveling is a pretty mundane task so it may not be on your list or the kids' list of fun outdoor family activities. But here's the catch: mundane things are important, and with the right mindset, the mundane can morph into something fun.
Instead of shoveling monotonously on your own, involve the whole family! Divide the driveway into as many lanes as needed for the members of your family. Then, race each other to see who clears their side up the fastest. Not only do you get a workout in, but you also clear up your property! Most of all, this activity teaches children about responsibility. It is a win for all.
5. Winter Hiking
Outdoor family activities are great ways to explore and appreciate nature. Snow-capped trees make hikes extra beautiful in the winter. If you're looking for something adventurous, hiking up a mountain or trekking in a nearby park is a fun way to be active with your family this winter. The key is proper preparation so you won't suffer from frostbite. Make sure you dress warmly and are packed with all the hiking essentials.
What makes this exciting is there is so much more to do than the physical exertion of walking. You can bird-watch with your children, spot furry animals in nature, take pictures of panoramic views, and more. A simple hike or trek is the perfect way to feed your kids' curiosity and maybe even yours. Some families even opt to camp out and go hiking for a few days.
6. Crafting Fun: Bird Feeder Building
Bird feeder building is a task often left to the parents, but it would be great to include your children in this activity. Constructing any item is a physically challenging task that also requires mental fortitude. Having the kids jump on board with age-appropriate tasks like cutting or painting will also help build their fine motor skills and enhance their patience.
Moreover, you get to challenge their artistic sensibilities as you come up with the design together. Having them do this family project will foster tight bonds because you're all in it together. As a bonus: you get to do a good deed and provide shelter to some birds, squirrels, or other tiny animals in need of a place to stay this winter.
7. Shop For Christmas Trees
Christmas trees are winter staples. Often, these are bought at Christmas tree farms, where families are seen walking around in search of the perfect tree to bring home. Outdoor family activities don't get much more fun than walking through Christmas tree farms and picking out a tree.
8. Bob the Builder: Make a Snow Castle
As established in the discussions of snow mazes, snow is great construction material! You can easily build snow castles or snow forts, just like you would with sand at a beach. Use the same accessories you have for beach play to create various shapes.
You may even want to explore building your own snow sculpture village in your yard. Outdoor family activities like this will encourage all of you to move without feeling as if it is a chore. More importantly, building a snow castle is also a mental exercise as it stimulates your creative juices. Crank up some holiday music to make the atmosphere even more festive.
9. Feel the Rush of Speed with Sledding
Sledding, like ice skiing and ice skating, belongs to the list of outdoor family activities that people often think of when they ponder what to do in winter. It may sound cliche, but it is so for a good reason. There is no greater workout than hiking back up and down a hill many times just to feel the thrill of a speeding sled. Adults may also feel an onslaught of happy childhood memories as they roll down a hill on a sled.
Kids will attest that this is just as exciting as a theme park roller coaster. The best part is that every kid will remember the time they went careening down the slope with their dad, mom, or sibling. It is one activity you don't want to miss when the snow starts pouring. Just make sure you're equipped with the proper gear, especially helmets, to avoid potential injuries.
10. Partake in a Challenging Winter Scavenger Hunt
Winter is a wonderful season with many unique plants and animals that make an appearance only during these cold months. Since most trees have zero leaves, it's easy to see an animal scurrying for food. You will also hear more since there are no rustling leaves. Snow on the ground means you can spot animal tracks, too. That said, a winter scavenger hunt should be on your list of outdoor family activities this year.
Give family members a list of things to find, see, gather, and collect. Have them take a picture of such items for proof. The first person to return with the completed list wins. If you want to make it extra fun, create the list in a bingo sheet format. The first person to finish a pattern is the winner. Scavenger hunts are amusing exploratory activities that keep everyone busy and active in winter.
What Are Your Favorite Winter Activities?
We'd love to hear what your favorite winter activities are to banish the cold winter blues. Although it's tempting to stay bundled up in bed during the frigid season, it will only fuel your lazy bone and stimulate feelings of isolation. Instead, it's imperative to banish seasonal sluggishness with fun, thrilling activities with the family.
A bonus tip: don't forget to check out the local market or Christmas market in winter. These seasonal pop-up events provide festive shopping for delicious winter treats, artisanal decors, and unique gifts like hand-knitted scarves or hand-poured soy candles.
Everyone in the family will feel more spirited and happier once they get the endorphins from one of the above outdoor family activities for winter.
References:
Seasonality and symptoms of depression: A systematic review of the literature (Simon Overland et.al.) https://pubmed.ncbi.nlm.nih.gov/31006406/
Seasonal Depressive Disorder (Sadaf Munir & Muhammad Abbas) https://www.ncbi.nlm.nih.gov/books/NBK568745/