When it comes to the best types of cardio, everyone knows that running is one of the best cardio exercises that gets your heart pumping. You don't need a gym membership or a fancy treadmill to get a good cardiovascular workout, as you can just run outside. With quality footwear, you can get your heart rate up running in the great outdoors. However, not everyone enjoys running because it can feel monotonous and it's hard on the knees and joints.
If you tried running and it wasn't for you, don't give up on cardio. Try one of the other types of cardio you haven't yet practised. Thankfully, there's no one-size-fits-all exercise when it comes to cardio workouts. There are many ways to spike up your heart rate to ensure you improve and maintain your cardiovascular health. Your heart health is critical because if this muscle fails, all the rest of your organs will be adversely affected as well. For this reason, regularly engaging in cardio exercises is crucial for a healthy lifestyle.
Cardio gets your heart rate up and keeps it there for a sustained period, which requires cardiovascular endurance. The more regularly you engage in cardio, the more your cardiovascular endurance improves. Consistent cardio will also help you manage your weight, ward off heart disease, boost your mood with a dose of endorphins, and improve your overall health. If you're looking to incorporate more cardio exercises into your routine, don't feel intimidated by veteran marathon runners. Running is not the only option, as many other types of cardio are equally as effective.
If you hate running, there are many other fun and creative types of cardio workouts for you to try. The most important thing about working out is finding an activity you love so that you'll stick with it and do it consistently. This way, your workout doesn't feel like a punishment, and you'll enjoy what you're doing while improving your health. Check out these 8 great types of cardio for those who hate running:
Join the Jump Rope Craze
Relive the joy of your youth by joining the jump rope craze. Most likely, you skipped rope during recess while in elementary school. And even if you didn't, it's so easy to learn how to jump rope. Best of all, the equipment (a jump rope) is very cheap. It's also light, so you can pack it and take it with you when you travel. You can jump rope just about anywhere. All you need is comfy running shoes, your rope, and your favourite playlist as you get into the zone. For inspiration, check out Instagram hashtags such as:
#jumpropetricks
#jumpropechallenges
#jumpropeworkout
#jumpropefitness
Perhaps you'll watch a video of a jump rope trick you'd like to learn. You can teach yourself with a bit of discipline and practice.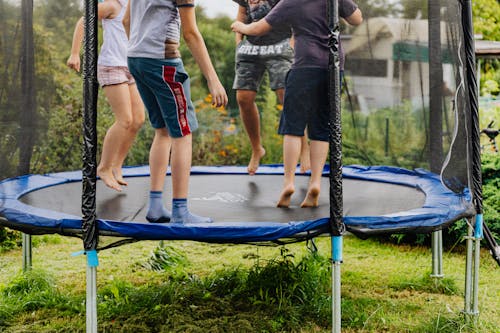 Jump on a Trampoline
If you have kids and they have a huge bouncy trampoline in your backyard, make time to use it with them. You'll have fun bonding and get a great hearty-healthy workout, too. Alternatively, you can also purchase a cheap compact trampoline that's smaller and great for living room use. Put on your favourite tunes and jump in place for at least 20 minutes to get your cardio.
A trampoline workout is much more low-impact and easier on the joints compared to running because the highly elastic mat absorbs the force when you land. As such, you mitigate jarring your knees, ankles, hips, and spine. This is certainly easier on your body than running and helps you build stronger bones to boot.
Dance
Dancing is one of the most fun types of cardio. You can enrol in dance classes, go out to a pub, or dance at home. Even if you have two left feet, you will have a great time dancing. This activity is an excellent way to blow off steam while getting your heart rate up. Best of all, since you dance to cool, upbeat music, your workout feels more like a party. So crank up your party tunes and dance yourself silly.
You'd be amazed to learn that you can burn at least 300 calories per hour dancing. You can also join group dance classes because it's more fun with other people. Go ahead and try one of the following types of dance:
Zumba dance classes
Hip Hop dancing
Ballet
Jazz
Tap dancing
Join a Team Sport
Are you the competitive type who's also a great team player? Joining organized adult sports leagues is one way to get your cardio in. You'll get a great adrenaline rush as you work hard to win with your team. There's no room to feel bored when others count on you to make a point.
You can sign up for soccer, a swim team, volleyball, basketball, or whatever tickles your fancy. Best of all, you can make new friends in your team, and you can keep each other accountable. In addition, having friends to remind you about your games motivates you to show up.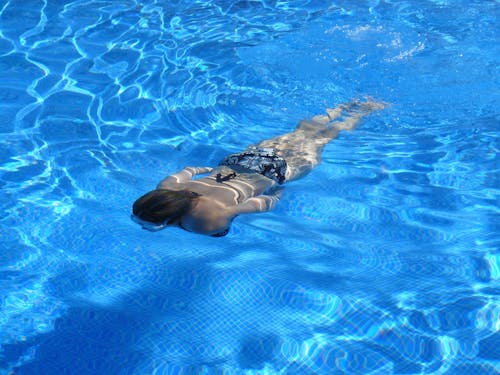 Swimming
Swimming is one of the best types of cardio as it's also strength training. Whether it's summer or winter, you can always find an indoor or outdoor pool in your community. Swimming is a low-impact cardio workout that's easy on your joints. Water causes buoyancy, which is why there's less wear and tear on your body as you swim or do water aerobics.
The water also adds a bit of resistance to your workouts, making swimming a cardio and strength training combination workout As a result, your body becomes a whole lot stronger. Swimming is a total body workout that engages all your muscles from your abs to arms.
Even during the bitter cold months, you can swim in heated pools at your community centre or gym, or join water aerobics classes. If you're not a confident swimmer, it's no sweat. Grab a kickboard to support you while you swim your laps.
Boxing
When you look at professional boxers of the World Boxing Federation, you will see that they're all toned with well-defined arms, legs, and abs. That's because throwing punches and evading them provides a powerful workout. Boxing is an excellent way to stay healthy because you're always on your toes. Boxers move around the rink and are ready to pivot to execute their moves. These athletes are known for their strength, agility, and endurance in the rink.
In fact, just 30 minutes of boxing burns 400 calories. So go ahead, channel your inner Rocky Balboa or Manny Pacquiao, and fight like a champ. Dish out your jabs, hooks, straights, and uppercuts. Besides, there's something cathartic about hitting boxing mitts or punching bags and doing sparring with a friend. You will not only get a good workout, but you also release your stress and learn self-defense too.
Spinning (or Cycling)
Spin classes or cycling outside is one of the types of cardio that is sure to get your heart rate up, especially if you have the endurance to cycle fast for a long time. If you don't like running because it's tough on your joints and unpleasant, switch to biking which is low-impact and gentle on your joints. Ditch the treadmill and choose the stationary bike in your gym. When you want to amp up the challenge, go ahead and try spinning classes with other people. The vibe feels more like a party with fun music and an instructor telling you what to do to increase resistance and make it more challenging.
You can also go on bike rides around your neighbourhood and enjoy the fresh air. Biking outside is a good cardiovascular exercise, especially when you're going uphill. Just don't forget to wear appropriate gear and SPF protection when cycling outdoors.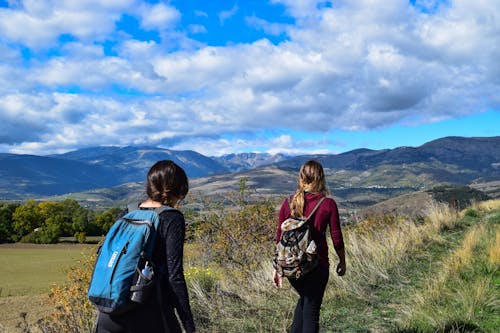 Hike and Enjoy Nature
Power walking, hiking and snowshoeing are all fantastic types of cardio. However, why settle for an ordinary power walk when you can kick it up a notch by adding the motivating reward of a viewpoint? Hiking in nature up towards a lookout point gives you the motivation to keep going. Enjoy the beauty of the great outdoors while you get your cardio. In the winter, hikers love to go snowshoeing as their winter hike. You will be able to vary your challenge with different terrains. An uphill climb will certainly test your limits.
Apart from increasing your heart rate, studies show that earthing or communing with nature relieves stress, improves the body's circadian rhythms, and alleviates pain. Moving outdoors will increase your heart rate and improve your cardiac health. At the same time, it also helps boost your emotional and mental well-being.
Get Up and Move
There's no doubt that cardio exercises are crucial to your exercise routine if you want to live a long and healthy life. If weight loss is your goal, cardio must be mixed into your exercise routine. If running is not your cup of tea, get creative with the above alternative types of cardio to spike up your heart rate. You don't have to be a prisoner of the treadmill to get a "runner's high!"
All the other types of cardio mentioned above will also help your body release endorphins, the happy hormones. Remember, before starting any workout, seek medical advice to make sure your body can accommodate what you will subject it to.
To find out the best exercise routine for you based on your genetics, review your fitness reports from CircleDNA. Apart from revealing your health and disease risks, the results will include nutrition and exercise recommendations that are tailored to your genetic strengths and weaknesses. Finding an exercise you love can make a major difference in your life, because you're more likely to do it if you enjoy it. When a workout doesn't feel like torture, you'll relish breaking into a sweat.