The best cities to travel to often depend on your personality type, your personal preferences, and the time of year you like to travel.
The late fall and early winter are underrated times of the year to travel, and there are many benefits of traveling in the fall and winter. For example, if you choose a travel destination known for beautiful fall foliage such as New York City, Banff, or London, you could get both beautiful fall foliage and stunning holiday lights if you time your visit appropriately.
For many of these destinations, in late October and early November, beautiful colors from the fall foliage can still be vividly enjoyed during your trip, and so can winter holiday displays.
Golden, orange, yellow and red leaves provide unforgettable natural eye-candy and pops of color, while you also get to witness the city set up for Christmas. If you stay at your travel destination through the beginning of November, you'll get to see your autumn travel destination turn into a winter wonderland.
Often, while fall foliage can still be enjoyed in late autumn, you'll also get to experience truly remarkable holiday lights and Christmas markets that are set up in November.
This is why some of the best cities to travel to in the fall are cities known for both their beautiful fall foliage, and their epic winter holiday markets. These are the travel destinations where fall foliage and winter holiday displays come together to create an unforgettable travel experience.
Best Cities to Travel to in Late Autumn
Crisp air, cool weather, and stunning colors make autumn the perfect time of year for your vacation. If you're thinking of taking an autumn holiday, you can't go wrong because this season usually spells better bargains.
Late autumn such as early November is the 'off' season for most destinations, which means you can get better rates and more affordable vacation packages in November – even if you book last minute.
There are fewer tourists at this time of year (which means less crowds and a more peaceful experience) and generally lower airfares and accommodations at many popular vacation destinations.
Why not travel in late autumn when it's quieter? Soaking up beautiful scenery bedecked by glorious fall foliage is perfect for self-discovery as it will reinvigorate your soul. Studies show that communing with nature or earthing reduces stress, promotes better mental health, enhances sleep, boosts the immune system and makes you feel inspired.
Need some awesome late autumn vacation ideas? Here's a list of 9 of the best cities to travel to for a spectacular autumn getaway where you can enjoy fall foliage and winter holiday activities.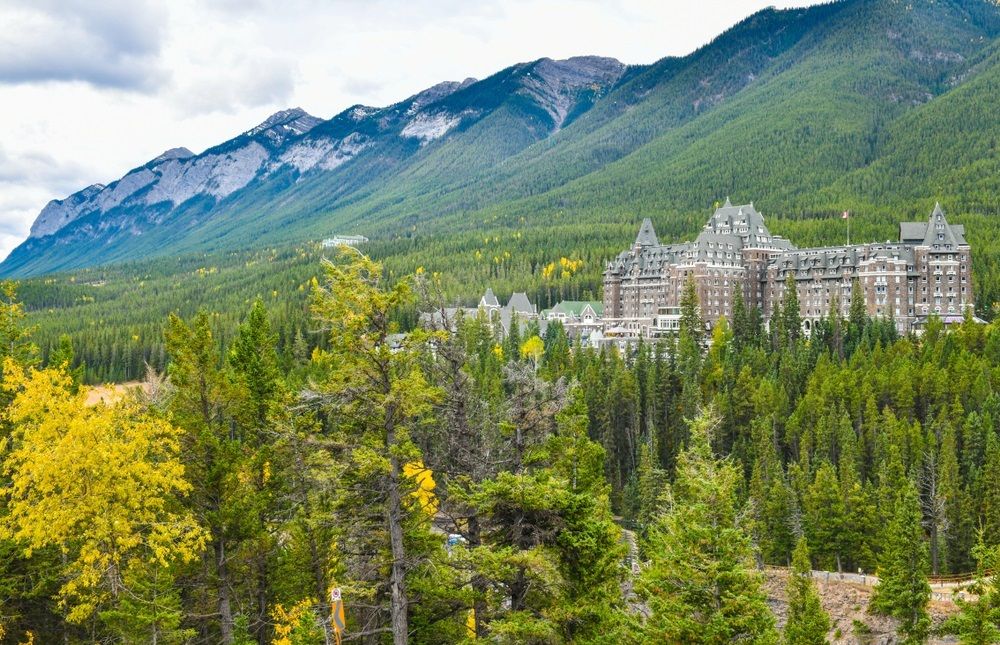 Banff, Canada
Banff is a magical place to cozy up in the fall, and to enjoy a winter wonderland mountain resort town as well. If you want to enjoy exploring the glacial lakes while they're still a piercing turquoise blue and not frozen yet, and see beautiful foliage at its peak, come before November.
In late October and early November, you have a chance of timing your trip to see both fall foliage colors and a picturesque, snowy winter wonderland, as fall quickly changes to winter in this part of the world.
Located in the heart of Banff National Park, don't miss out on staying at a UNESCO World Heritage Site, which is the world famous Fairmont Banff Springs Hotel. This iconic hotel is a landmark within the picturesque alpine town of Banff. Known as the legendary "Castle in the Rockies," staying at the Fairmont Banff Springs will significantly elevate your experience at this scenic alpine resort town.
From secret rooms to discover at the Rundle Bar to a unique high tea experience and complimentary hotel history tours, the Fairmont Banff Springs hotel has it all. This hotel has both an indoor and outdoor pool, as well as a state-of-the-art spa with indoor and outdoor facilities, so that visitors can enjoy the amenities no matter what time of year they come to Banff.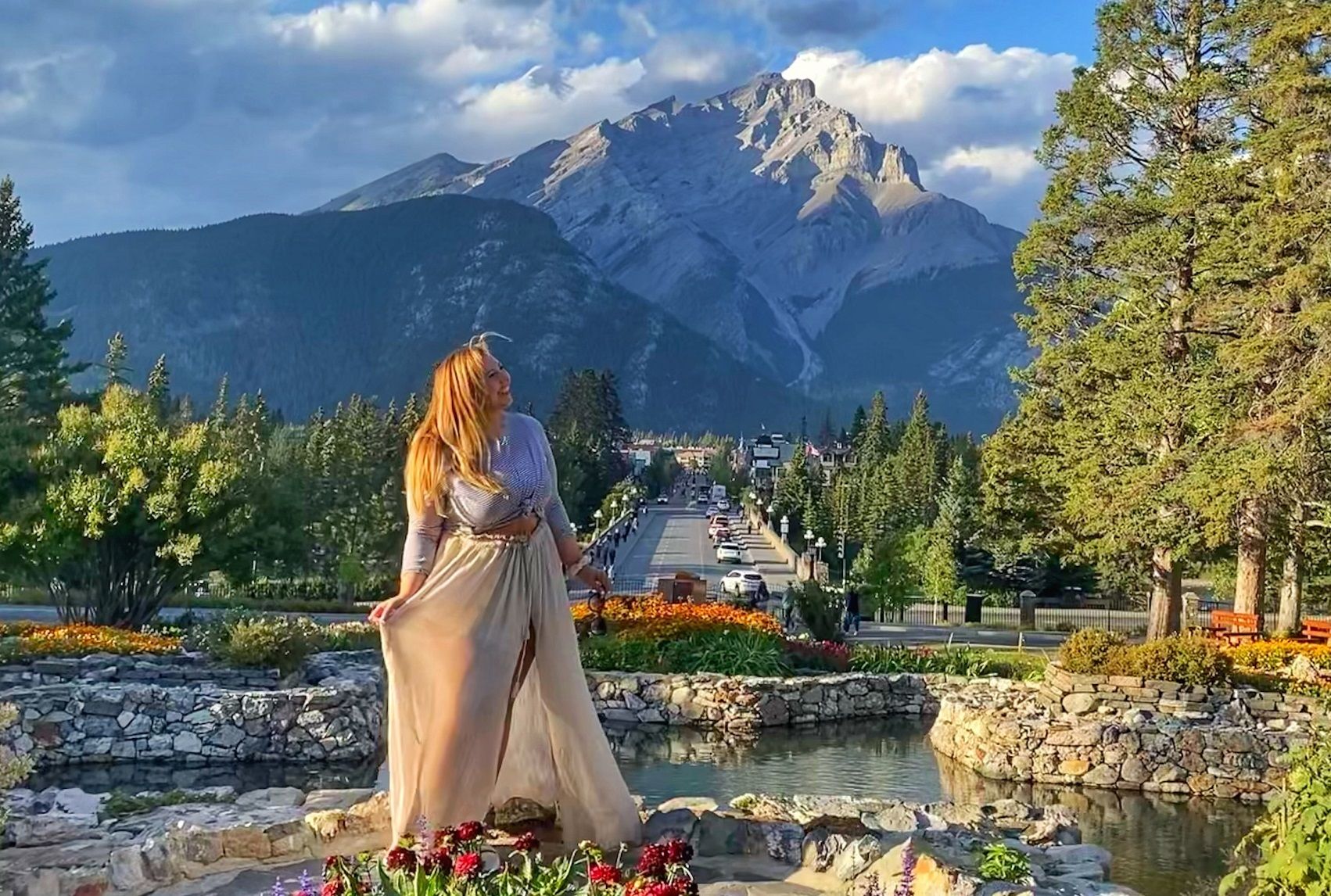 In late autumn, enjoy a short yet scenic walk from Banff Springs Hotel to Cascade Gardens, which offers postcard-perfect views of Cascade Mountain and the downtown Banff strip. It's only a short walk over the bridge from there to Banff Avenue, which is the downtown Banff main avenue that looks like a fake movie set due to the huge backdrop of Cascade Mountain, and the colorful and charming shops, cafes and restaurants. This main avenue also has fun bars with friendly tourists and great music.
Banff is magical in the fall, and is very well known for larch madness, also known as larch march, or larch mania. This is because Banff is famous for the larches which create a fabulously vivid scenic landscape around the end of September. (People often book hotels a year in advance to be in Banff for this short window of time known as 'larch mania'.) Larches are conifers, which is a type of tree that thrives in temperate weather. These conifers lose their needles in the winter but before that happens, they turn into a gorgeous golden color for a couple of weeks in September, bedecking travelers with spectacular hues you'd be hard-pressed to find in other areas.
If you miss larch mania, don't fret. There are plenty of other incredible sights to see in Banff, and some would argue that the snowy mountain peaks in November are even more gorgeous and offer even more majestic beauty than the larches.
For example, you can enjoy epic hikes such as the stunning Lake Louise trails, including the 13.8km Plain of Six Glaciers Hike. The beautiful scenery looks straight out of a movie – or more accurately, a screensaver.
Another one of the most beautiful fall and winter hikes in Banff is called 'Surprise Corner to Banff Hoodoos Trail', which offers amazing viewpoints and can be done any time of year.
In late autumn, I'd also recommend enjoying a good book and hot cocoa in your thermos at one of the canoe docks at Vermillion Lakes. You'll be surrounded by fall colors and breathtaking views of Mount Rundle.
Lake Louise is a jaw-dropping sight to see, but it begins to freeze in November. You can still hike trails in the area during this time, and you'll still see epic mountain backdrops, but you won't see the piercing turquoise blue waters. (However, in late autumn you may be able to see this lake and others in the area before they freeze over, while the town is in the process of turning into a winter wonderland.)
Banff is one of those travel destinations that allows visitors to see the changing seasons. Fall most certainly becomes winter quickly in Banff in November, so if you stay in Banff at this time of year, you'll start to see very snowy and beautiful white mountain peaks, as your colorful fall foliage atmosphere turns into a snowy winter aesthetic. According to the Banff Blog, there should be snow everywhere by mid to late November, which makes the mountain scenery that much more beautiful.
November is also when ski season begins in Banff, but it's the perfect time of year for skiiers and snowboarders to visit, since it's not too crowded or busy yet on the slopes in November. Be sure to hit up Rundle bar for a craft cocktail and a warm meal after a long day of skiing.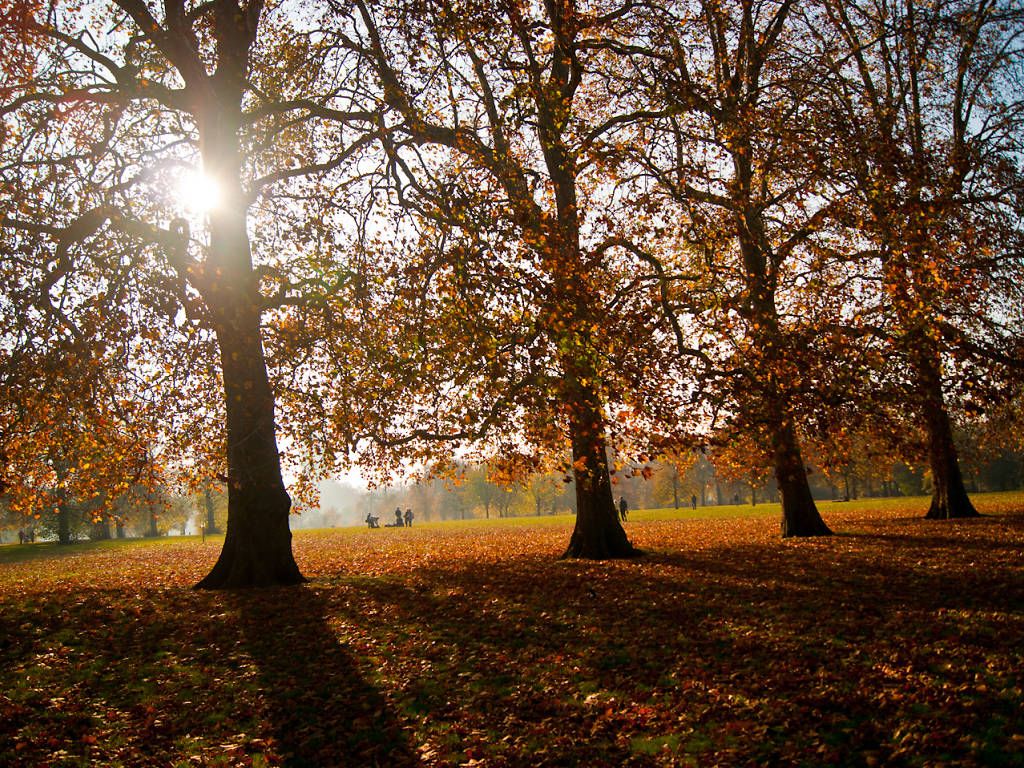 London, England
If you're hoping to catch vivid colors of autumn leaves and snap pretty pictures, know that London is one of the very best cities to travel to for fall foliage. The leaves turn around mid-October with their peak lasting until early November.
Some of the best places in the city to catch the best fall views include Hyde Park, Holland Park, Kynance Mews, and the Thames Path.
Among all the Royal Parks, Hyde Park is the most famous one in Central London. Enjoy golden tones aboard a rented rowboat in late autumn, or sit on one of the benches at the speakers' corner, which is an area of the park used for speeches and presentations since the 1800s.
Insert photo of Hyde Park in the fall
Holland park in the borough of Kensington spans 54 acres with numerous trees and gardens making it perfect for seeing autumnal tones. Check out the Kyoto Garen, which is a hidden gem with gold, oranges, and red in the fall, perfect for self-reflection and meditation.
Kynance Mews is perfect for honoring nature, with trailing ivy vines and red leaves in the autumn. It is one of the prettiest London Mews streets.
The Thames Path gives you the best of both worlds with views of the cityscape and fall tones at the same time by traversing the famous Thames Path which snakes its way along the Thames River. This traverses 184 miles if you dare or just enjoy walking in a small portion of the trail.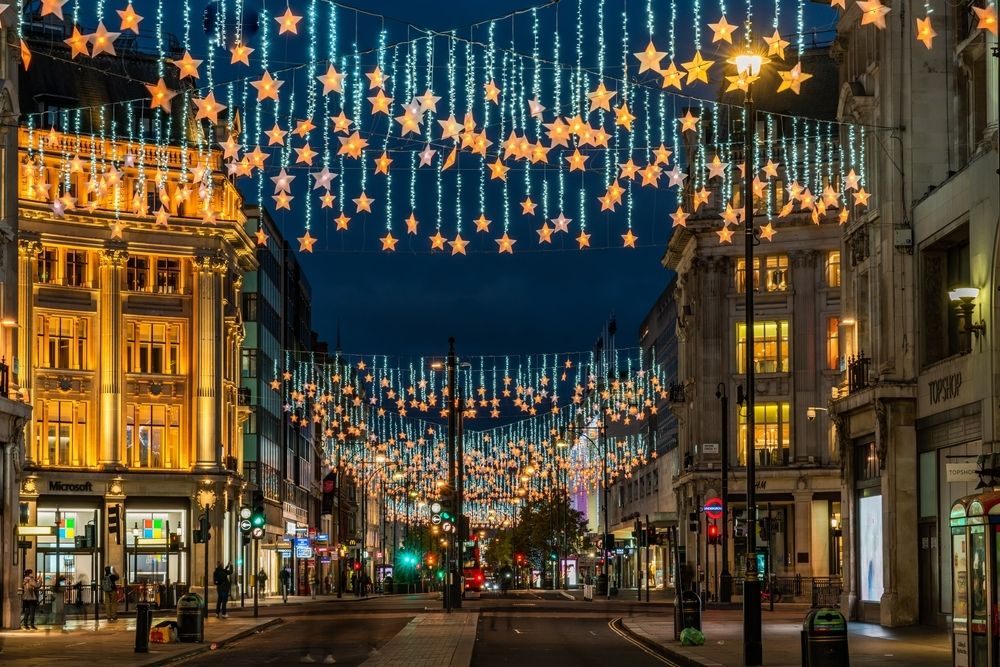 Let's not forget about early November winter holiday transformations that London, England is famous for. If you stay in London until early November, you'll see the city transform into an epic winter holiday destination. Oxford Street in London, for example, is known for being transformed in November with curtains of Christmas lights, LED displays, and a festive vibe that gets you into the holiday spirit.
In early November, London also sets up for its epic Christmas markets. Some of the best ones include the Greenwich Christmas Market and the Covent Garden Christmas Village.
New York, New York
If you want to experience a vibrant fall and a mesmerizing winter holiday experience, New York City is a must-do. New York is one of the best cities to travel to in fall and winter, and the ambience is much more exciting and fulfilling than the spring or summer.
Although this bustling city is known for being a concrete jungle, bedazzling holiday lights are everywhere in November, and you can still enjoy the stunning fall foliage in Central Park at this time of year as well.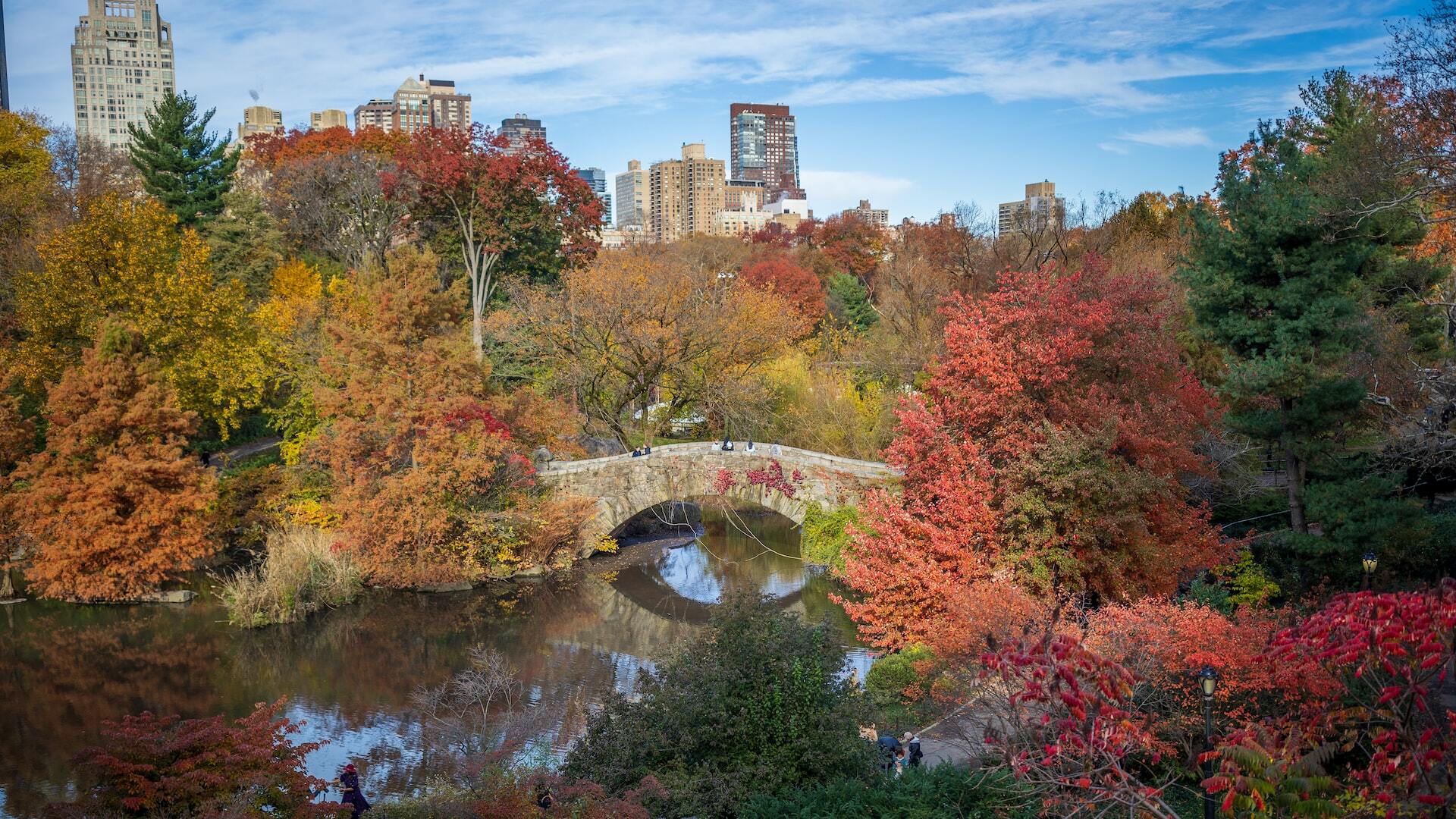 Central Park is extremely photogenic with its 18,000 trees that transform into hues of yellow, gold, red, rust brown, and orange.
Late autumn fall foliage is incredible in NYC. Leaves usually turn by late October with the peak happening in the first two weeks of November. Leaves start disappearing by November 20, so keep this in mind if you're planning a trip to the Big Apple specifically to see the fall foliage. If you travel there in November, you can time your trip to see the fall colors while also seeing the unveiling of the famous Saks holiday window light displays which are usually released in the middle of November.
The famous ice skating rink at Rockefeller Center in NYC opens in early November, and it can't be missed. The holiday vibes and beautiful fall colors in November make NYC one of the best cities to travel to at this time of year.
Waterbury, Vermont
The Green Mountain State is anything but green when its vast lands and rolling hills are set ablaze with the colors of fall. Since Vermont is situated in New England in the upper northeast, fall tends to come from early to mid-September and extends to late October. Foliage peaks early compared to other areas so if you're gungho on seeing the verdant maple trees wearing their bright fall colors, time your trip in between these periods.
Waterbury is the place to be if you're looking for a fun-filled and exciting adventure on the eastern fold of the Green Mountains. The Mad River Byway, Interstate 89, and Green Mountain Byway all converge in Waterbury, where you can do biking tours, hike, enjoy farm-to-table dining, and taste local craft beers. The town also provides easy access to other popular Vermont destinations like Burlington, Montpelier, Stowe, and Mad River Valley. Waterbury is known as the home of Ben & Jerry's ice cream so you can take a factory tour. It's also home to Cold Hollow Cider Mill, which is perfect for apple picking and cider donuts. Nearby farms also offer corn mazes, hayrides, and pumpkin patches.
Paris, France
Enjoy fall foliage while experiencing the joie de vivre (joy of life) in La Ville Lumiere (City of Light). The best month to see fall foliage is October. Fall in Paris comes with showers, but you can make it fun with cute umbrellas and rain boots to walk around in the rain carefree.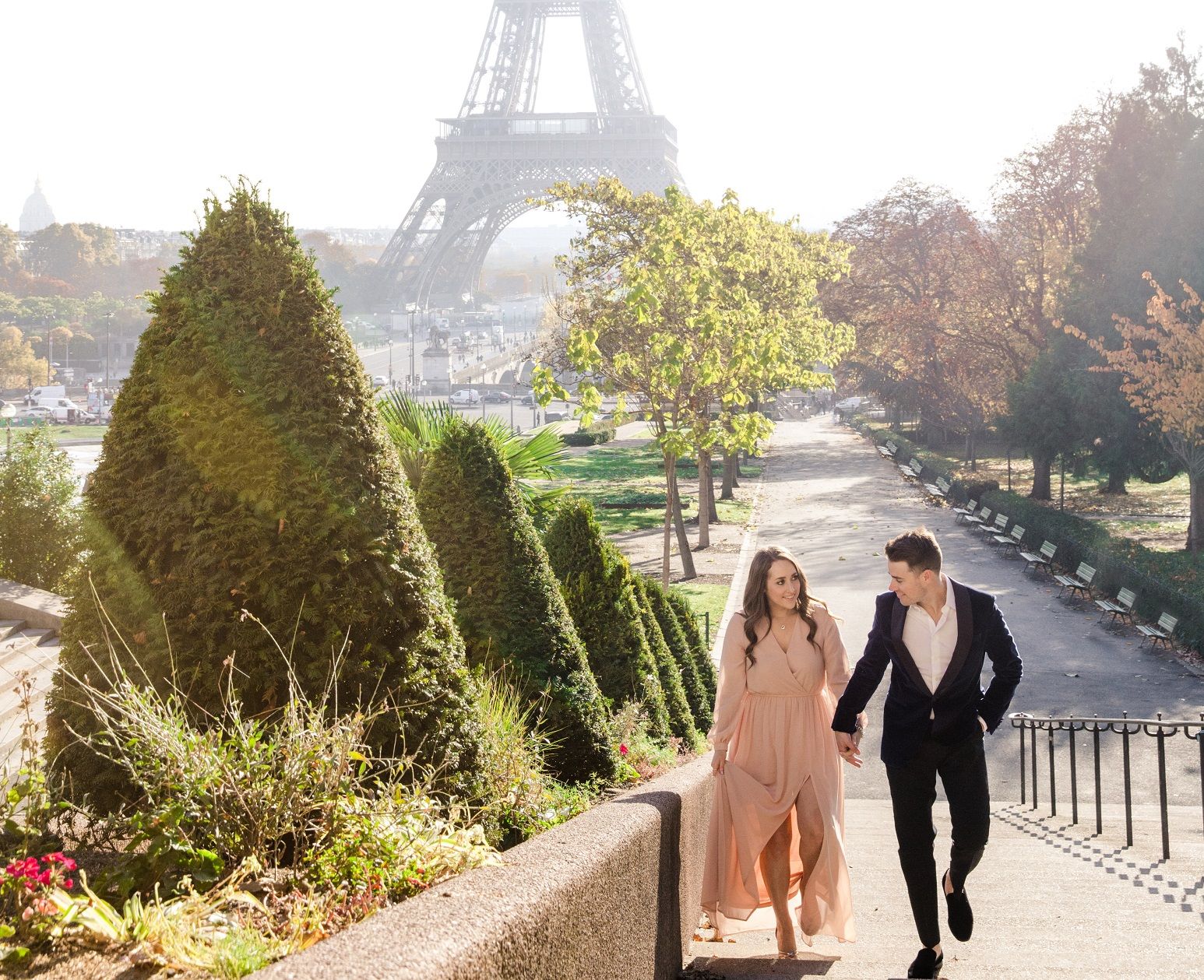 The famous fall fashion week happens during this season and maybe you'll be lucky enough to catch supermodels and designers as you walk on the streets or while enjoying pan au chocolat in the many quaint cafes.
Some of the best places to see fall foliage include Place des Vosges, Parc Monceau, Jardin des Tuileries, and Montmartre.
Montmartre is my personal favorite place to visit in Paris, regardless of fall foliage, it's always fun there, with street artists, cute cafes, and lots to see and do. This quaint neighborhood on a hilltop is one of the best places to see autumn foliage. The streets are bedecked with beautiful trees. If you take the art and Sacre-Coeur walking tour, it will feel as if you're in a painting. There's also an unforgettable Montmartre food tour, allowing you to taste the best French foods while exploring the artistic and charismatic neighborhood of Montmartre with a trusted guide.
Place des Vosges is the oldest planned square in Paris known for its beautiful trees, elegant fountains, and different plant variants. Go for a stroll or enjoy a picnic on its lush lawns.
Parc Monceau is a historic park built in 1178 that is beautiful year-round where you can admire a beautiful pond, century-old trees, charming follies, and historic bridges.
Jardin des Tuileries is a public garden commissioned in 1564 between the Place de la Concorde and the Louvre Museum, and it spans 55 acres. Take a romantic stroll and admire its natural fall beauty here.
In November, you'll love how many cozy cafes and bistros Paris has, as well as the charming Christmas markets, the impressive holiday window displays along streets of Paris, and the lights from the Eiffel Tower.
Kyoto, Japan
One of the most trendy things Japan is known for is the cherry blossoms in spring. But does that mean spring is the only time you should visit Japan? No, because you should not miss out on fall foliage in Kyoto as this even rivals that spring sensation, with some saying that fall leaves are even more beautiful. Besides, the fall foliage could last for one to two months while cherry blossom sightings need luck because they peak for only a handful of days.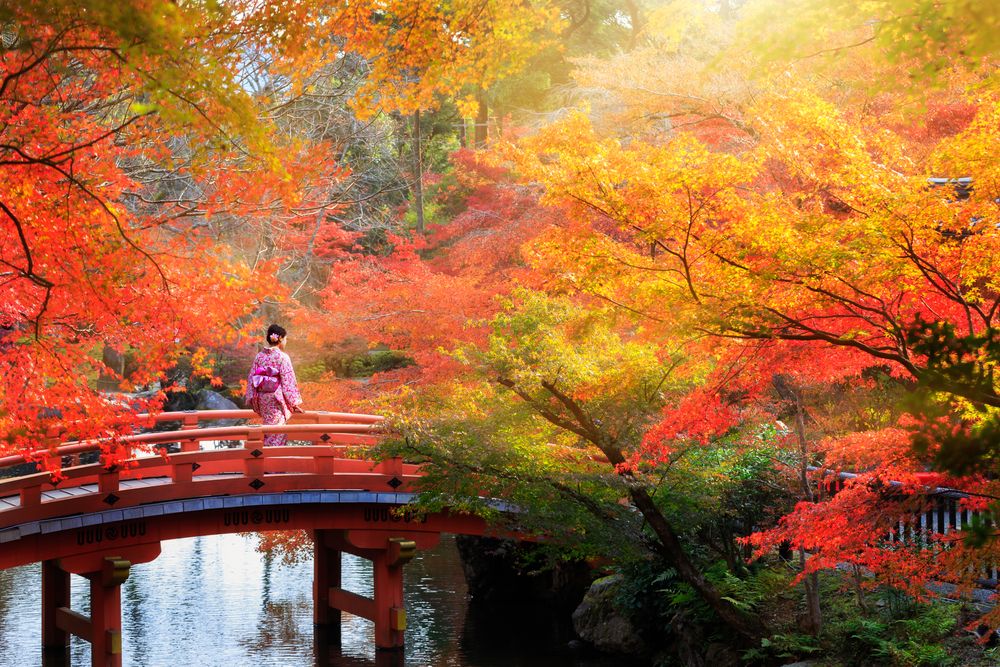 The leaves in Kyoto change in October with the peak coming in mid-November, lasting even until mid-December. Most shrines, gardens, and temples in Kyoto have maple trees and other variants. If you want to see gorgeous, eye-catching colors, check out these temples:
Tofuku-ji
Honen-in
Takao
Nanzen-ji
Ginkaku-ji
Okochi-Sanso
Geo-Ji
If you want to take truly memorable photos, consider wearing a Japanese Kimono for a more authentic look, and to be more cultural. And while you're there, be sure to enjoy authentic gastronomic treats like fresh tuna sashimi, Kobe beef, kaiseki menu set, bento boxes, miso soup, teppanyaki donburi, matcha desserts, and more.
Black Forest, Germany
From Oktoberfest and fall foliage to legendary Christmas markets and whimsical neighborhoods, Germany is certainly one of the best cities to travel to in late Autumn.
Although the Black Forest in Germany is well-known for its perennial and evergreen trees, you can still find deciduous trees with autumn colors in abundance during October. The Germans call this altweibersommer, or the last warm days of the year. Enjoy a mix of conifers and leave-shedding autumnal trees morphing into various shades ranging from yellow to red. The result is dense greenery dotted with dazzling gold and speckled with fiery reds.
The Cuckoo Clock route along the Schwarzwaldhochstraße and Uhrenstraße will delight hikers and drivers with assorted colors. The ambiance of the Black Forest is also perfect for this season with its eerie calm. No wonder it's an inspiration for the Brothers Grimm Fairy Tales like Hansel and Gretel, Briar Rose (aka Sleeping Beauty) and Rapunzel. If you happen to be there in October, take part in the Oktoberfest festivities and sample craft beers with bratwurst while enjoying the reflections of the foliage on the lakes.
Chengdu, China
One of the best places to see to catch autumn scenery is Chengdu, China from October to the first week of November. The suburbs are particularly gorgeous during the fall season with glorious golden leaves creating a warm ambiance that tickles the soul. To see beautiful fall foliage in Chengdu, check out Mount Emei, Jiuzhaigou Valley, or Miyaluo.
At Mount Emei, the forest turns colorful on Mount Emei in October giving you golden, orange, and red autumnal leaves. You can hike its paths and go see the historic Washing Elephant Pool, Wannian Temple, Golden Summit, and Double Wells.
In Jiuzhaigou Valley, the most abundant colors are found in the fall with the trees turning from green to yellow to orange to red. There's also a large number of small lakes, waterfalls, and pools that shift from green to blue and even purple. All that combined gives you a rainbow explosion that's truly a feast for the eyes. It's no wonder that people say that you can see the colors of the world in this valley.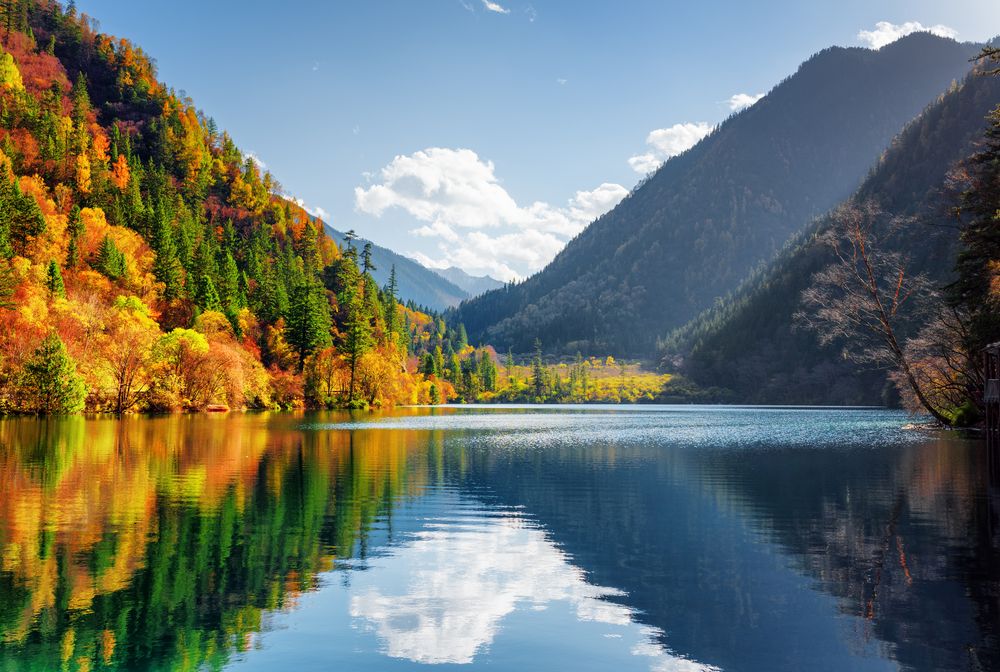 If you're chasing red leaves in late autumn, Miyaluo is one of the largest areas with its vast forests and rolling mountains. The magic of this place is heightened by the Qiang people. If you're lucky, you can join their bonfire or watch them sing folk songs, do their Guozhuang dance, and sample Qiang wine.
Nami Island, Korea
If you're obsessed with all things Hallyu like K-pop, K-beauty, and K-drama fever, Korea is an interesting place where you can bask in resplendent autumn foliage while also enjoying everything Korea has to offer. Korea is a dynamic place where you can soak up the beautiful scenery while feasting on unique delicacies like kimchi, jajangmyeon, buchujeon, tteokgalbi, tteokbokki, etc. In particular, Nami Island, or Namiseom is a picturesque place in the Han River that's perfect for soaking up autumn foliage. It's only a 25.1 km road distance North of Seoul. Even if you don't have a car, you can take the train to get to this popular destination
Typically, the autumn season starts mid-September and lasts until mid-November, with its peak around the end of October to early November. Namiseom is a half-crescent island that's well with the visit because it's not only abundant in natural resources but also rich in history. General Nami led a war here under King Sejo of the Joseon Dynasty in the 1400s. His tomb lies on the island and you can visit his memorial. Things to do on the island include zip-lining, hiking boat or bike rentals, and botanical gardens.
Are You Ready to Plan a Late Autumn Getaway?
Many people like to travel spontaneously. Whether it's because of a recent breakup and you're in need of travel as therapy, or you suddenly just have the urge to travel, it's normal to book a last-minute trip.
The great news is that autumn is a fantastic time of year to book a spontaneous trip, since it's 'low' season for most destinations, and it's therefore less busy, and much more affordable. Even at the last minute, great bargains can be found at this time of year.
The cooler weather also makes this season a perfect time of year for hikes and other activities without getting too hot or risking heat exhaustion or other heat-related illnesses. It's not too hot, nor is it overly cold, so you can explore without breaking into a sweat or worry about bringing bulky outerwear. Late autumn travel is the perfect middle ground for those who are sensitive to high or low temperatures.
If you're planning a vacation this autumn, consider Banff, London, New York, Germany, or one of the other best cities to travel to in autumn and winter listed above. You can enjoy these popular destinations in autumn without a throng of tourists messing up your pictures' backgrounds and causing you to wait in long lines. Besides, with summer crowds gone, local stores and restaurants provide better service with a more relaxing ambience. Autumn is the shoulder season, but once you try traveling at this time of year, you might never go back to peak season travel – especially if you're the type of person who enjoys solace.

If you're more of an introverted person, you'll probably enjoy the quieter Autumn season for traveling, especially since it's easier to explore without crowds. After all, the world is a classroom, and exploring the world helps you learn a lot about yourself.
References:
Banff in November from the Banff Blog: https://thebanffblog.com/banff-in-november/
The effects of grounding (earthing) on inflammation, the immune response, wound healing, and prevention and treatment of chronic inflammatory and autoimmune diseases (James Oschman et.al.) https://www.ncbi.nlm.nih.gov/pmc/articles/PMC4378297/
The Tradition of Afternoon Tea – Fairmont Banff Springs Hotel – https://www.fairmont.com/banff-springs/dining/afternoon-tea/
19 Beautiful things to do in Banff: Fall colors guide from the Banff Blog https://thebanffblog.com/banff-in-the-fall/
Guide to fall foliage in Central Park (Central Park Conservatory) https://www.centralparknyc.org/activities/guides/where-to-find-fall-foliage-in-central-park
Tour Germany's Enchanted Black Forest Where Fairy Tales Are Set (Ashley Lutz for Business Insider) https://www.businessinsider.com/germanys-black-forest-2012-5
Autumn Leaves in Japan: The Underrated Season that Rivals Cherry Blossom (Ampersand Travel) https://www.ampersandtravel.com/blog/2018/autumn-leaves-in-japan-the-underrated-season-that-rivals-cherry-blossom/