You've probably heard of 'sober October', as it's quite common for people to take a break from alcohol in the fall, especially if their summer involved a lot of parties and drinking.
Fall is also a cooler month where cozy indoor gatherings become more common. When we have people over and we're entertaining guests, we want to offer them something fun to sip on. Something that's more fun than a glass of water, that's for sure. But we also want to have options for those who don't drink alcohol. That's where fall mocktails come in.
Fall mocktails can be very delicious, made with seasonal fall produce, or adorned with warm spices and rich flavors.
Whether you're looking for non-alcoholic fall drink ideas for the next brunch you're hosting, or something fun to serve at a dinner party, we've got you covered. These non-alcoholic fall drinks are great party favors for a pumpkin-carving party, a Halloween party, or to serve at Thanksgiving.
Below are 5 fall mocktails that will be a hit: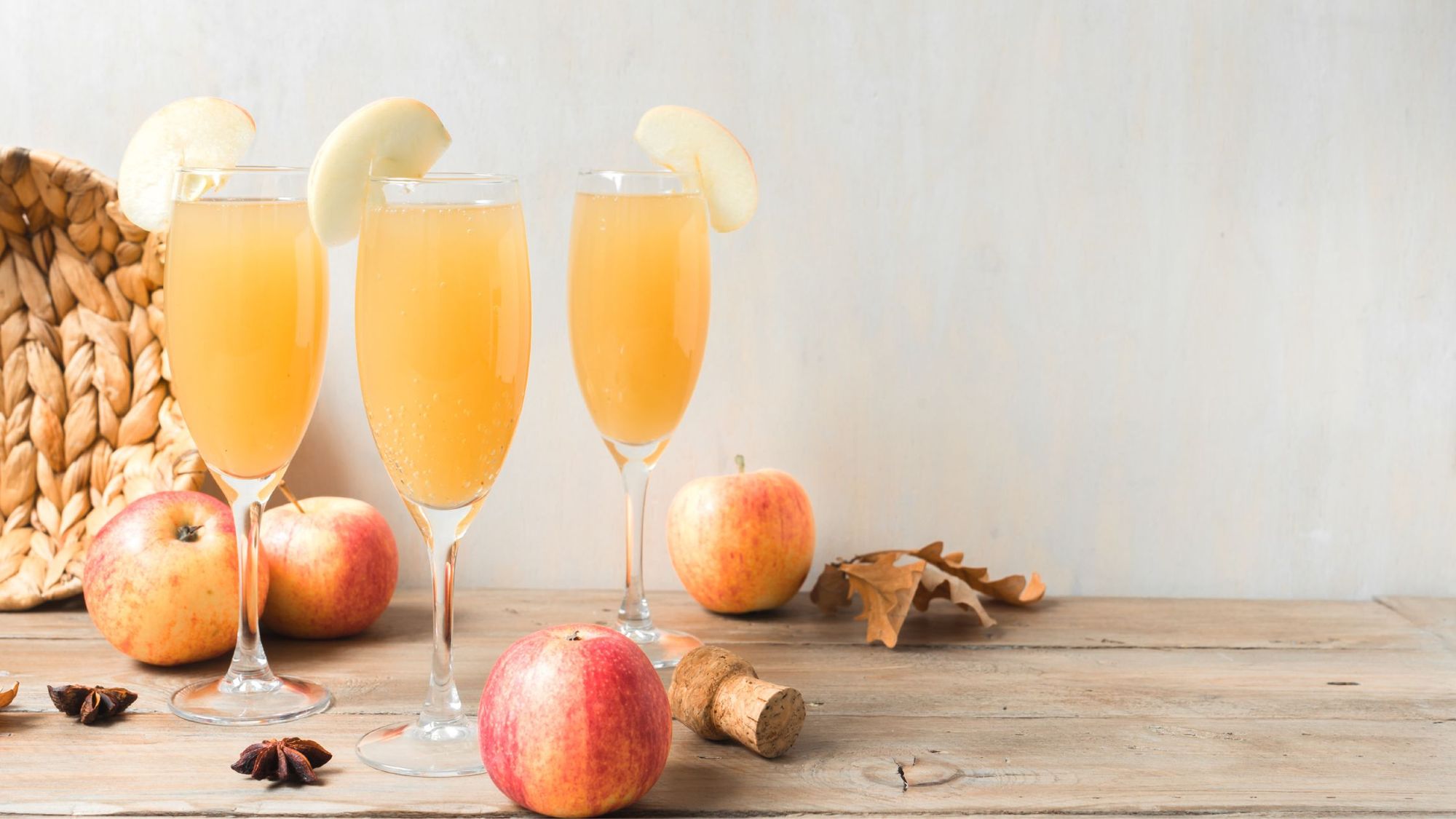 1. Apple Cider Mocktail
Few beverages remind us more of fall or symbolize the changing season more than a classic apple cider. Here's what you'll need to make this easy-breezy fall beverage:
Apple Slices
Apple Cider (Non-Alcoholic)
Cinnamon Sugar
Cinnamon Sticks
Ginger Syrup
You'll start by making your own homemade cinnamon-ginger simple syrup, which will add flavor to your apple cider mocktail. You'll make this by mixing together water, sugar, cinnamon sticks, and ginger root. Pre-heat a saucepan on your stove, and then combine water and sugar in the saucepan, along with cinnamon sticks and sliced ginger root. Simmer these ingredients until the sugar is dissolved. Remove from heat and let the syrup cool with the cinnamon and ginger in it, then strain out the cinnamon sticks and ginger and you're left with a flavorful syrup
Cinnamon sugar can be made by simply mixing sugar with cinnamon. Use this mixture to either rim the glass, or sprinkle over top of the apple slices you're using as garnish.
Before you rim the glass or garnish the glass, you'll first want to use a cocktail shaker to shake and mix your ingredients of apple cider and the simple syrup you've made from scratch.
The amount of simple syrup you add depends on the desired sweetness level, but it typically equates to about 1 teaspoon per cup of apple cider.
Get creative garnishing your glasses with apple slices, cinnamon sticks, or both.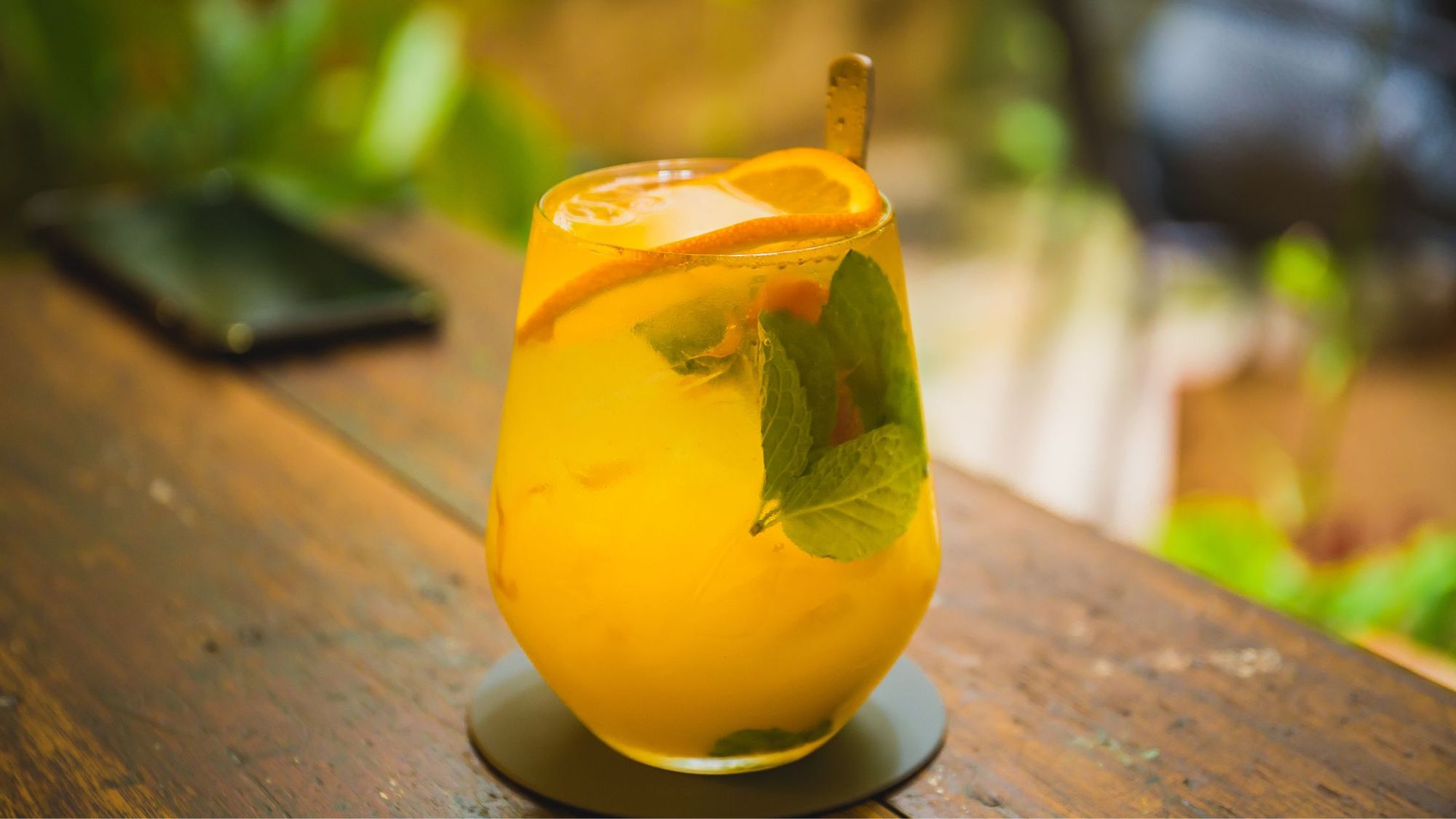 2. Orange Turmeric Mocktail
Turmeric is a fall spice that fights free radicals and is a natural anti-inflammatory, along with many other health benefits. It has a rich yellow color, which is very fitting for autumn and Halloween.
Oranges
Orange Juice
Sparkling Water
Lemon Juice
Coconut Sugar
Ground Turmeric
To make this fall mocktail, take one small orange and cut it into thin slices.Then fill a pitcher with ice, orange juice, and sparkling water. To serve 2 – 4 people, you'll want about 1 – 1.5 cups of orange juice in your pitcher, and about 1 – 1.5 cups of sparkling water.
Add about 1 tablespoon of lemon juice, ½ teaspoon of ground turmeric, and ½ teaspoon of coconut sugar or regular sugar.
Stir the mixture well, and garnish glasses with orange slices or some rosemary.

3. Non-Alcoholic Apple Cider Sangria
Because it's typically made with red wine and spices, most people already associate sangria with fall and winter. An even better autumn spin on the sangria is the apple cider sangria.
It's easy to make, and quite fun to make. It's simple enough to cut up fresh fruit for this fall mocktail, and it's fun to choose your fruits. Here's what we'd recommend:
Oranges
Apples
Pear
Lemon
Cinnamon Sticks
Apple Cider
Try to cut up the fruit at least a couple hours before your guests are arriving.
You'll put all the cut fruit into a big pitcher, pour apple cider over the fruit, and squeeze some fresh lemon juice over the mixture. It's best to let it sit in the fridge (with saran wrap over the pitcher) for a couple hours to get more flavorful apple cider sangria.
4. Iced Pumpkin Spice Latte
The classic 'pumpkin spice' flavors of fall are easy to turn into a fall mocktail type drink by icing your favorite version of a pumpkin spice latte. Here's what you'll need:
Espresso or Dark Roast Coffee
Milk of Choice
Pumpkin Puree (Canned)
Vanilla Extract
Maple Syrup
Pumpkin Spice
Sea Salt
Whipped Cream
Start by making the coffee component, and be sure to ask your guests if they prefer caffeinated or decaf. You'll want 1 – 2 shots of espresso per drink, or ½ cup of dark roast brewed coffee.
Put a bunch of ice in each glass, and get out your milk, spices, pumpkin puree, vanilla extract and maple syrup.
Oat milk, coconut milk, almond milk and regular milk are all delicious types of milk that work well in an iced pumpkin spice latte.
Pour about 1 cup of your milk of choice, along with the coffee, into the glass full of ice. In each glass, add 1 tablespoon of canned pumpkin puree (or homemade if you happen to have some on hand) as well as 1-2 teaspoons of maple syrup, depending on sweetness level preference. You should also add ½ teaspoon of vanilla extract, and if you have some store bought pumpkin pie spice blend, it doesn't hurt to add a dash of that as well as a pinch of sea salt.
You can blend all these ingredients with ice instead of pouring over ice if you want it to be extra cold, but pouring over ice should be cold enough since your milk will be cold.
Finish with a garnish of whipped cream or coconut non-dairy whipped topping.
5. Autumn Punch
This fun and colorful autumn punch is like an autumn harvest in a glass. It's very fun to drink, and fun to make! Here's what you'll need to serve about 4 – 6 people:
5 cups of apple cider
5 cups of sparkling water
1 cup of orange juice
3 cups of lemonade
¼ cup of organic maple syrup
2 oranges
3 apples
1 pear
You'll want to mix all these ingredients (except for the sparkling water) in a large pitcher. Be sure to slice up and cut up the fruit before adding it to the pitcher, similar to how you'd make sangria.
Cover this mixture and refrigerate for 2-3 hours.
When you're ready to serve the autumn punch, that's when you'll add the sparkling water, and garnish each glass with rosemary or an apple slice.
The above fall mocktails are sure to spice up your fall, and get you into the season.