Lately, fitness technology has taken the world by storm. The metaverse, virtual reality, and augmented reality used to be reserved for those in the tech circle. However, ever since Facebook rebranded itself as 'Meta' as part of its strategy to focus on the internet's 'next frontier', more and more people outside the tech circle are starting to talk about the metaverse.
The use of the metaverse permeates through different industries and sectors, from fitness to banking. Investments have poured in from global tech giants such as Microsoft and Google, while leading gaming companies such as Epic Games, Roblox and even luxury brands such as Gucci and Prada are working to integrate and establish their presence in the metaverse.
What is the Metaverse?
Interestingly, the idea of the metaverse is not new. In fact, the term itself was coined by Neal Stephenson in his novel Snow Crash back in 1992 that describes a 21st century dystopian virtual world. Did Neal Stephenson predict the future?
Influential capitalist Matthew Ball describes the metaverse as an 'extended reality', or XR, that combines augmented reality (AR), virtual reality (VR), and mixed reality (MR) to create a more immersive experience in a virtual world. To put it simply, the metaverse aims to allow people to replicate what they do in their real lives as an avatar through an integrated web of 3D virtual worlds.
VR Fitness Technology: Fitness Metaverse
A Fortune Business Insights report predicts that the world of VR gaming will expand from$7.92 billion USD in 2021 to $53.44 billion USD in 2028, following the adoption of fitness technology. Following the rise in VR gaming, there has also been a gradual rise in the VR fitness technology market, largely propelled by the COVID-19 pandemic. According to the Welltodo 2022 Consumer Wellness Trends Report, Gen-Z were reported to be more inclined towards developing a fitness regime that is both healthy and entertaining. The future will see a development of new forms of fitness technology, such as immersive workouts encompassing all aspects of a gym environment, with music, visuals, and instructors that can take your workouts to the next level. Below are some ways the metaverse will impact the fitness industry.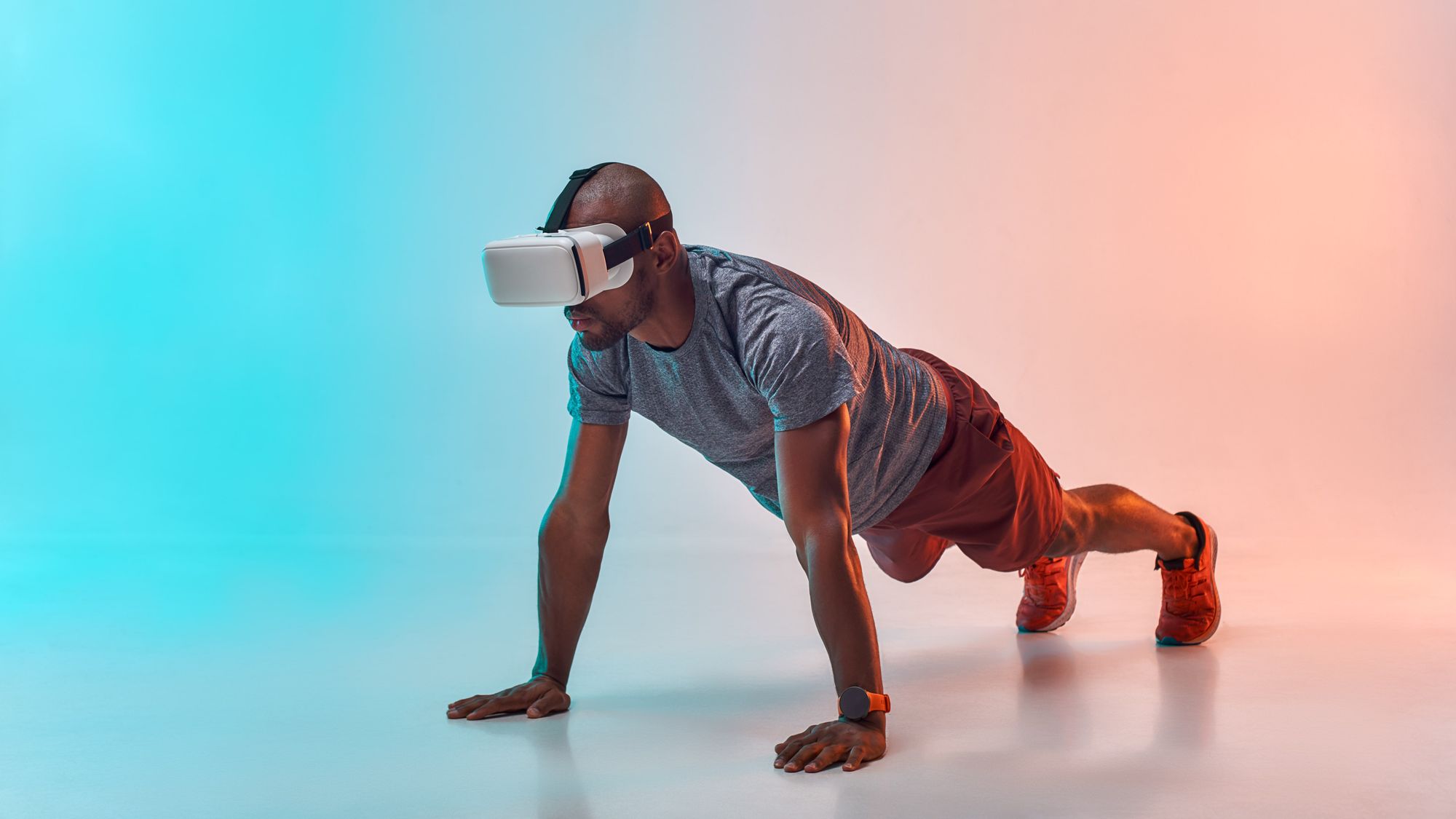 Immersive Virtual Workouts
Whether it's to escape the summer heat or ward off pesky mosquitoes, many people prefer to do their cardio in the gym or at home. If you prefer to do your cardio indoors, a running machine or a peloton bike might show a tiny 10 inch screen of a simple CGI landscape of a forest, beach or riverside path as a weak attempt to bring the outdoors to you. However, fitness technology can make your experience much more immersive.
With just a virtual reality headset, you could be encased in 360 degree landscapes of your choosing, complete with the matching sounds to make it feel real. The future of fitness technology could have you truly feeling like you're mountain biking in Colorado, or running along a beach in Hawaii.
Virtual Trainers
The popularity of virtual workouts has increased dramatically due to the improvement of fitness technology, and the shelter-in-place provisions of the COVID-19 pandemic. According to Global News Wire, the virtual fitness technology market was valued at a little over $6,046 million USD in 2019, but following the pandemic, it was projected to reach $59,231 million USD by 2027. As a result, businesses are catering to the demand for entertaining online fitness technology services that allows consumers more autonomy to access fitness sessions at their convenience, their choice of workout programs, exercise difficulties, and handpick their trainers.
People who never used to use guided online workouts before the pandemic, are now hooked on virtual workouts after trying it during the pandemic when gyms were closed. Fitness technology is more in demand than ever.
Gamify Your Workouts
With the help of fitness technology, many companies have found a creative way to get couch potatoes up and moving by turning workouts into a game. Like all games, a good story line serves as a hook to get people invested in the game. However, instead of sitting in your room and moving your thumbs, users are required to get up and move to fulfill quests and challenges. For example, Dustland Runner is a blockchain game where people take on the role of a "dust runner" to retrieve and deliver mysterious contraband in a post-apocalyptic desert inhabited by bandits and monsters. The added entertainment can be a huge incentive for some people to start moving.
The 'Move to Earn' Model
Some fitness technology games are offering in-game tokens and NFTs for completing in-game missions. For example, OliveX, a mobile blockchain game requires their users to run a varying distance in the real world with their smart phone in hand. After completing tasks, they are rewarded with virtual rewards such as NFTs and DOSE tokens that they can use to level up games, or trade on crypto and NFT marketplaces.
This type of fitness technology model can provide an incentive for people to workout.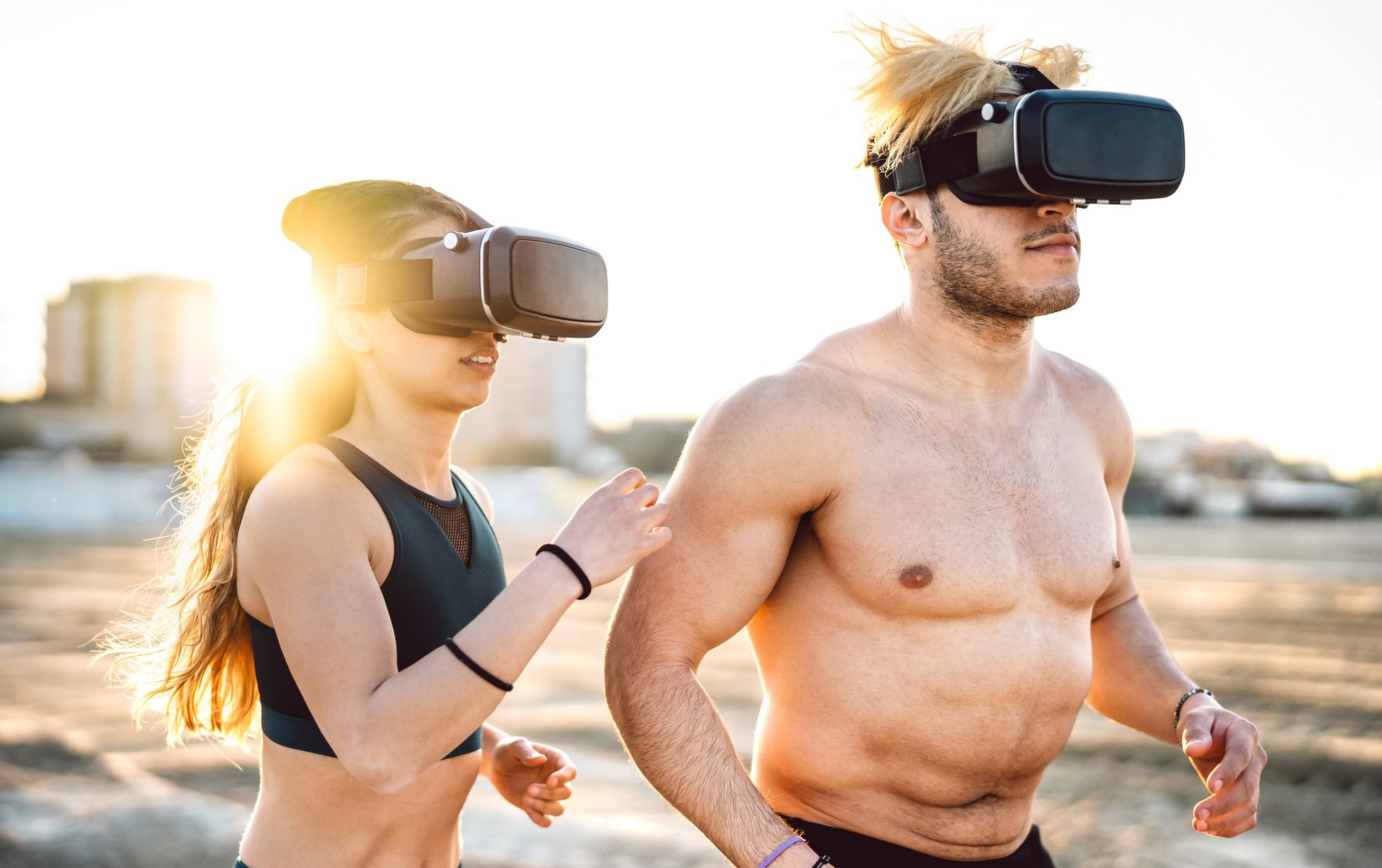 Challenge Your Friends to a Virtual Race
The beauty of fitness technology is that it eradicates geographical barriers. You can challenge your friends for a workout or virtual run (or race) even if you are in different countries. The metaverse is accessible to anyone, anywhere they are. Together, you and your running buddy's avatar can go for a run together in a virtual landscape. Even with the immersive experience and entertainment, it can be hard to stay motivated to workout. Having an accountability buddy can help you and your friends keep each other motivated and help you both achieve your health goals together.
What's the Best Type of Workout For You?
Don't be discouraged if you don't see results even after working out consistently. With all the different types of workouts out there, it can be tough to find the right type of workout for your body type. It is important to remind ourselves that our genes are all unique, hence, some fitness classes or workouts that work for other people may not work for you. Thankfully, there is an easy way of finding the optimal workout for you, that suits your genetic makeup the best. Take the CircleDNA test to get over 500 comprehensive reports to help you tailor your lifestyle according to your genes. Find out your genetic strengths and weaknesses when it comes to fitness, strength, power and endurance. With those insights, you can find the best fitness technology that works for you and keep yourself motivated toward your fitness goals.
---
References
The Online/Virtual Fitness Market Is Expected To Reach $79 Billion By 2026 With The Rising Penetration Of Smart Devices As Per The Business Research Company's Online/Virtual Fitness Global Market Report 2022 (GlobeNewsire) https://www.globenewswire.com/news-release/2022/03/22/2407884/0/en/The-Online-Virtual-Fitness-Market-Is-Expected-To-Reach-79-Billion-By-2026-With-The-Rising-Penetration-Of-Smart-Devices-As-Per-The-Business-Research-Company-s-Online-Virtual-Fitness.html