Avoid food waste and make the most of your Christmas leftovers with these clever holiday leftover recipes. What should you do with all that extra ham or turkey? What about the side dishes like the extra potatoes, squash, cranberries, gravy, and bread or nibblers from the cheeseboard? Chances are, you'll also have a lot of leftover sweet treats like chocolates and Christmas cookies.
As long as food is stored properly, sealed and in the fridge, studies say you don't have to worry about safety and still consume it without worries over the next few days. For instance, ham will keep in the fridge for 4 days. However, you can extend its shelf-life for months by bagging cubed ham pieces into individual portions and putting them in the freezer. With this strategy, you can defrost what you need and include it in salads, soups, quiches, or omelets.
So go ahead and repurpose those Yuletide leftovers into something new to tickle the taste buds. Check out these yummy, festive, and easy-to-prep holiday leftover recipes that morph extras into new and delicious post-Christmas meals. These Christmas leftover recipes are perfect for feeding your family through the week.
Classic Christmas Leftover Recipes: Turkey Ideas
Roast turkey is a quintessential staple in most families' homes for the holiday. With these holiday leftover recipes, you can turn the excess turkey into something new and exciting. In this way, you won't feel as if you're eating the same old thing over and over again. Turkey is a great canvas because you can infuse this big old bird with different flavors. Check out these nifty turkey Christmas leftover recipes ideas: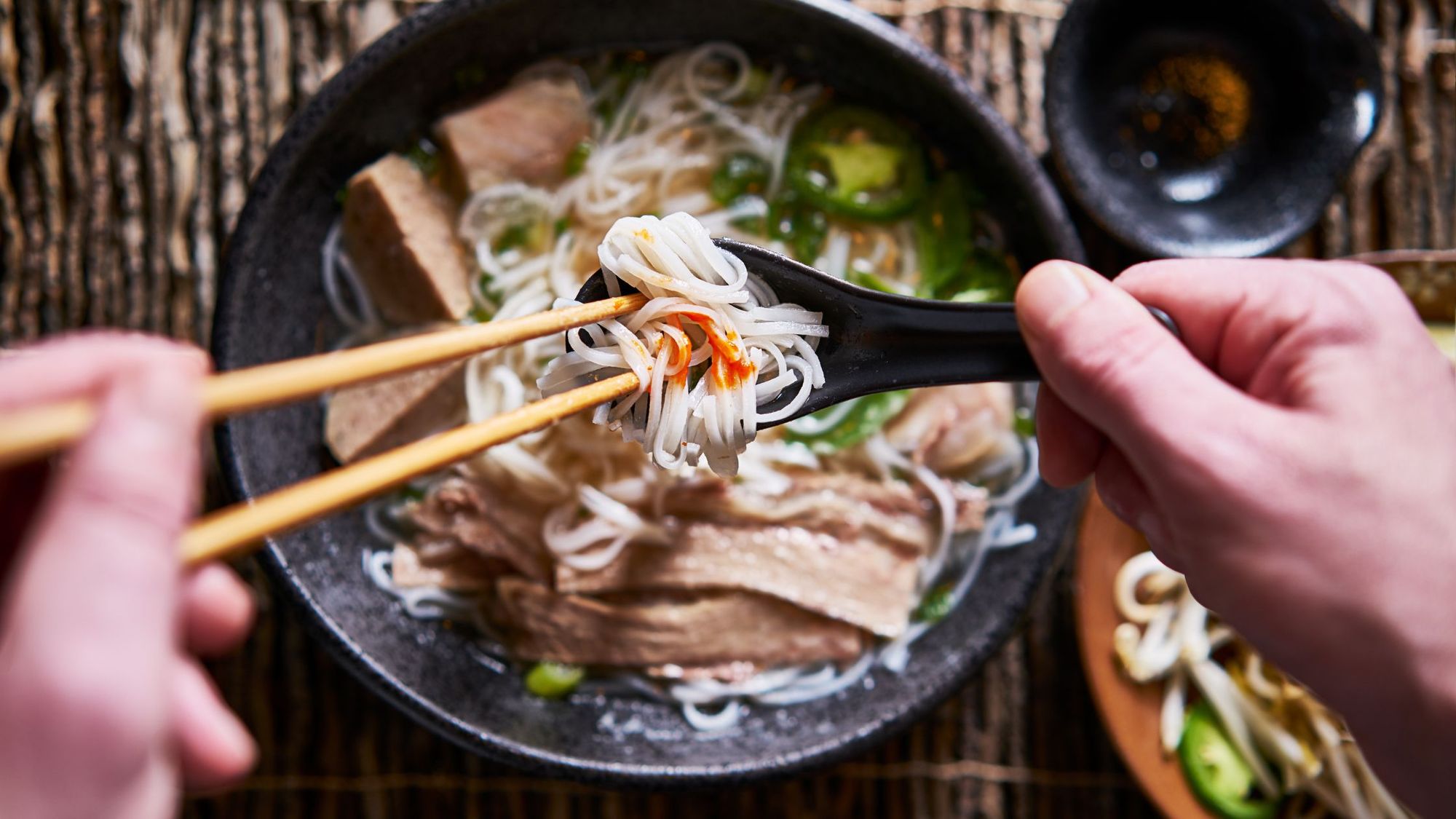 Turkey Vietnamese Pho
This delicious Vietnamese-inspired soup is so easy to make and should be at the top of your holiday leftover recipes list. Even kitchen noobs won't struggle with this recipe because you just dump everything in one pot. Spring new life into your baked turkey by transforming it into this comforting soup that's perfect for fighting the winter cold.
Ingredients:
Pho spice packet
2 boxes of veggie broth
1 onion
1 knob ginger
2 cloves garlic
2 cups shredded turkey
Turkey carcass
Rice noodles
Shredded carrots
Basil
Bean sprouts
Scallions
Fish sauce or salt
Take the turkey carcass and boil it with the veggie broth plus pho spice mix. If you can't find the mix, you can make your own with cinnamon, star anise, peppercorn, coriander, cloves, fennel seeds, and cardamom. Add the other aromatics (onion, ginger, and garlic). Don't stress about it if you have one or two missing spices as long as the aromatics are present.
Next, add fish sauce or salt to taste. Simmer your bird to bring out all the flavors for at least 30 minutes. Once that's done, strain everything to get a clear soup. In individual bowls, place softened rice noodles and top with basic, shredded turkey, basil, and bean sprouts. Ladle in your hot soup and sprinkle with scallions. En voila, you've got a comforting bowl of pho. Creative holiday leftover recipes like this pho soup will help you clean out your fridge.
"Friends" Turkey and Cranberry Sandwich
Remember that episode of "Friends" where Ross is really mad that someone stole his sandwich? That's because it was a turkey sandwich with delicious leftover turkey, butter, mayo, cranberry sauce, lettuce, stuffing – and of course, the gravy-soaked piece of bread in the middle:
"My sister makes these amazing turkey sandwiches. Her secret is, she puts an extra slice of gravy-soaked bread in the middle; I call it the Moist Maker."—Ross Geller
Ingredients:
3 slices of quality bread from your local bakery
1/2 cup of gravy
1/4 cup leftover stuffing
4 ounces of leftover turkey meat
1/4 cup leftover sweet potatoes
1/4 cup of your extra cranberry sauce
1 tbsp butter
1 tbsp mayo
A few leaves of green leaf lettuce
Toast two pieces of bread while you prepare your "moist-maker" with the third piece of bread. Prepare a bowl of warm gravy, and soak that slice of bread in the gravy.
Since this is one of those holiday leftover recipes that is adjustable, reheat any holiday leftovers you have such as turkey, stuffing, and sweet potatoes.
Spread butter on one of the toasted slices of bread, and then spread a layer of cranberry sauce overtop. Upon this spread you'll place some warm stuffing and layers of turkey slices. On top of the turkey, you'll place your middle "moist-maker" piece of bread that was soaked in gravy. After that, you'll place some warm sweet potatoes followed by a little more turkey, or a little more gravy if you like. Your last layer will be some fresh green lettuce (such as iceberg lettuce leaves) and you'll close the sandwich with the other slice of toast which will have mayo on it. This sandwich is delicious and one of the best holiday leftover recipes and post-Christmas lunch ideas ever! Enjoy!
Turkey Mexican Wrap
These turkey Christmas leftover recipes will be a hit with your family. Give the bland turkey a burst of flavor with this super easy Mexican-inspired recipe. It's easy to make, and you can enjoy it for lunch or supper. You can even pack it to work in foil and you won't have any lunch boxes to wash.
Ingredients:
2 cups shredded turkey
Taco spice mix
1 tbsp olive oil
1 clove minced garlic
1 medium onion cut into strips
½ red bell pepper cut into strips
Shredded lettuce
Chopped tomatoes
Chopped up cilantro
Shredded cheese
Tortilla wraps
Heat oil in a pan, then add your garlic and onions. Put in the turkey and infuse flavor with the taco spice mix. When fragrant, toss in the bell pepper strips and cook until done. After, you can assemble your wrap. Put in the lettuce, cilantro, tomatoes, and chopped cilantro. Put in a generous helping of sauteed turkey and top with cheese. Roll the wrap and enjoy!
Turkey Stir Fry with Egg Noodles
Who doesn't love a good stir fry? Holiday leftover recipes like this contain balanced ingredients with the main food groups. You'll get go (carbs), grow (protein), and glow (veggies). The most work you'll do with a stir fry is chopping the veggies, but if you're in a rush, frozen veggies work just as well. Research shows that flash-frozen veggies stored at the peak of freshness are just as nutritious as those bought in the farmer's market.
Ingredients:
1 ½ cups shredded turkey
½ pack frozen Asian veggie medley
1 clove garlic
½ medium onion cut into strips
3 stalks green onions chopped
1 tbsp soy sauce
1 tbsp oyster sauce
1 tbsp oil
Pepper to taste
1 package of egg noodles
Pour boiling water into the noodles until soft then set aside. Heat oil in a pan, then add garlic and onions, sauteeing until aromatic. Add frozen veggies and turkey stirring for a few seconds. Put in your noodles and seasonings and stir fry until heated through. Garnish with chopped green onions and serve.
Holiday Leftovers Recipes: What to Do with Ham?
Ham is another Christmas favorite but it's almost impossible to finish the whole meat, so you'll surely be stuck with extras for days. Avoid food spoilage by storing ham properly and using it up when you need it. Check out these ham Christmas leftover recipes that are more than just a sandwich or salad for your weekly menu rotation: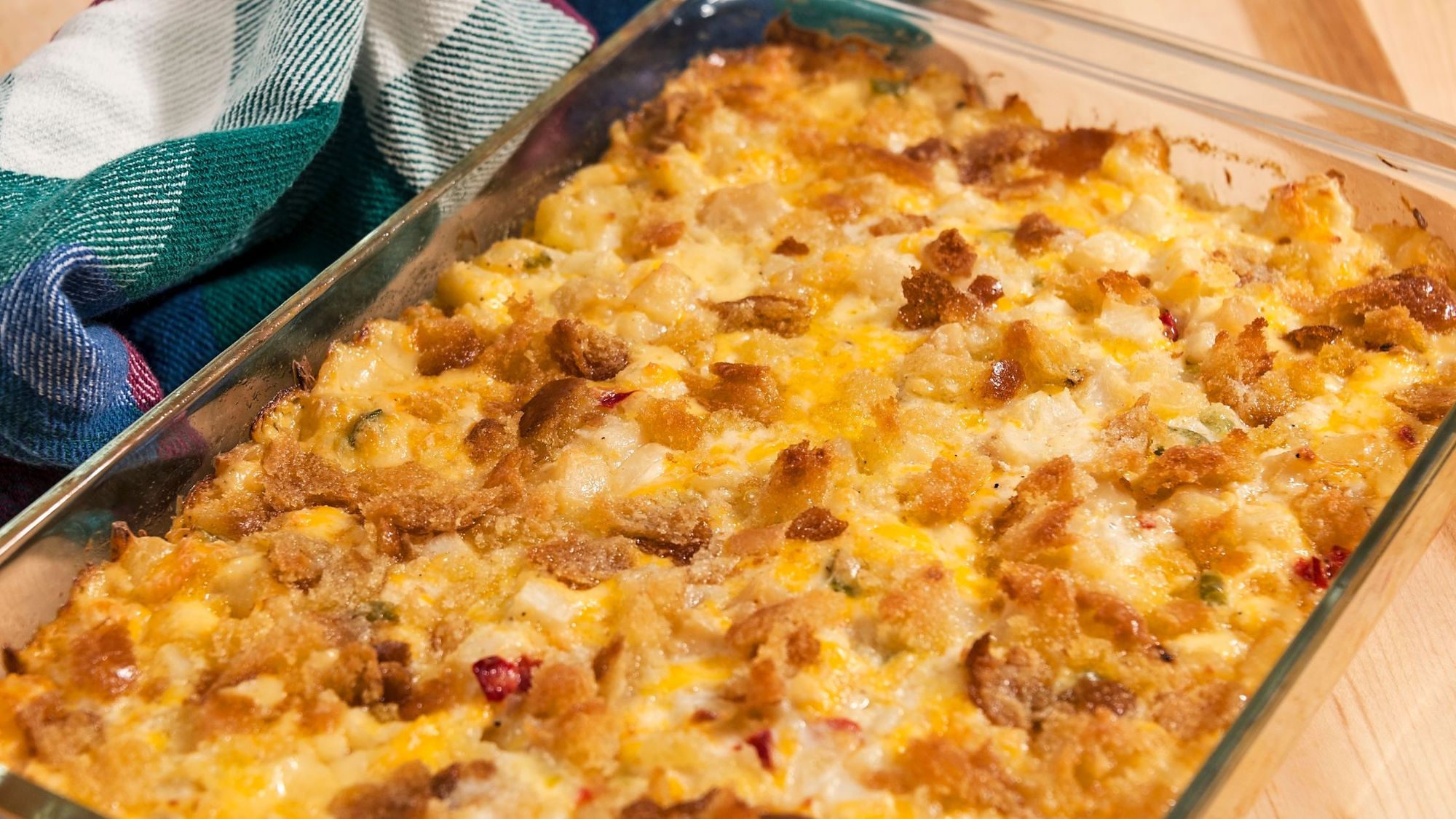 Cheesy Ham Bake
Looking for unique holiday leftover recipes? Make your family happy with this ooey-gooey dish. This cheesy ham bake is a versatile way to use those holiday extras, including folding leftover veggies or potatoes.
Ingredients:
1 tbsp olive oil
2 cups leftover veggies and potatoes
2 cups cheese
2 cups milk
¼ pound chopped ham
½ cup scallions
12 eggs
1 tsp salt
½ tsp pepper
½ tsp red pepper flakes
Preheat the oven to 350 F. Grease your baking 9 x 13 baking dish with the oil. Lay the veggies at the bottom of the pan and top with cheese. Then, layer the ham and the chopped scallions. In a separate bowl, mix eggs, milk, and spices. Once combined, carefully pour the mixture into the baking dish. Bake for 50 minutes or until the egg is set. Once out of the oven, wait for another 5 minutes so the dish is set before you cut and serve. You can pair this up with any leftover bread.
Classic Ham and Pea Soup
Christmas leftover recipes must include this delectable green soup because it's delicious and nutritious. Even kids love this soup because of how tasty it is! This makes a warm and filling dinner when served with crusty bread. A bowl is perfect for chilly winter evenings.
Ingredients:
2 cloves minced garlic
1 small onion cubed
1 tbsp oil
4 cups broth (boxed will do)
¼ cup chopped parsley
1 bag frozen peas (17 ounces or 500 grams) or leftover peas
⅓ pound ham cubed
Salt and pepper to taste
Heat oil in a pot, then add garlic and onions, cooking until aromatic. Pour in the stock and add parsley plus seasonings. Reserve ⅓ of the peas and ham, while adding the rest to the stock. Simmer for ten minutes until warmed through. Cool the soup for a bit then smoothen it in a food processor or blender. Pour this back into the pot and add reserved peas and ham. Simmer for another ten minutes. Enjoy this comforting bowl of delicious goodness with bread.
Easy Ham and Broccoli "Baked" Potato
Got lots of leftover baked potatoes, ham, and broccoli? You can jazz it up in the microwave. This super easy dish is something even your kids can assemble. So go ahead and include this in your Christmas leftover recipes to-do list.
Ingredients:
1 leftover baked potato
4 tbsp chopped ham
½ cup leftover cooked broccoli or peas
1 tbsp plain yogurt or sour cream
¼ cup shredded cheese
In a microwave-safe bowl, assemble the potato and top it with all the ingredients. Nuke it in the microwave until heated and the cheese is bubbly. If you don't have baked potatoes, you can also use mashed potatoes. This is a clever way to use up your ham, spuds, and veggies.
Ham, Cheese and Green Onion Omelette
Ham tastes great in omelettes. In fact, almost any meat does, so if you have leftover meat from Christmas dinner, slice it up and throw it in the frying pan with the eggs.
Ingredients:
Cubed or sliced ham
Shredded cheddar cheese
Sliced green onion
Making omelettes is super easy. As you probably know, you just line a frying pan with butter or oil, heat it over the stove on medium-low heat, add the raw eggs (already stirred up in a separate cup) and then add your ham and cheese. When it's almost finished cooking, add some sliced green onion. 2 – 3 eggs is enough for one person. An omelette for two people usually has 3 – 4 eggs.
What to Do With Sides? Check Out These Christmas Leftover Recipes
When you make turkey and ham for Christmas, there are usually tons of trimmings that go along with it. If you have an abundance of side dishes, here are holiday leftover recipes so your family won't get tired of eating the same old thing.
Cranberry Sauce Overnight Oats
After the holiday indulgence, a little detox won't help. Load up on whole grains like oatmeal that will help reset your tummy and move your colon to purge all those unwanted toxins. Adding cranberry sauce will be a yummy and colorful way to liven up your brekkie
Ingredients:
5 tbsp rolled oats
1 tbsp chia seeds
¾ cup almond milk
¼ cup cranberry sauce
Chopped walnuts
You'll love this because you just mix the ingredients in a jar and stick it in your fridge overnight. You can eat it cold or warm it up in the microwave if you wish. This is the easiest way to make breakfast, especially if you've cooked up a frenzy prepping the Christmas meal. If you're looking to spruce up the oatmeal, you can sprinkle it with leftover crushed cookies or chocolates from your holiday dessert spread.
Mashed Potato Fritters
Everyone loves easy holiday leftover recipes that you can serve in a snap. This fried mashed potato fritters recipe is a true gem. You can use salty mashed potatoes for a savory treat or sweet potatoes to satisfy the sweet tooth. It's simple to whip up and fry to make everyone's tummy happy.
Ingredients:
2 cups mashed potato (regular or sweet)
2 beaten eggs
1 tbsp flour
⅛ tsp garlic powder (regular) or cinnamon (sweet)
1 tbsp oil
Combine all the ingredients except the oil in a bowl. Heat oil in a frying pan over medium heat. Transfer the mixture and press evenly with a spatula. Cook until the bottom is golden brown and crispy, then flip over and do the same. Once done, you can garnish it with your favorite toppings. For savory potatoes, you can add sour cream, cheese, and chives. For the sweet potatoes, you can put whipped cream and mini mallows. Your family will love this crunchy treat and won't think they're eating leftovers.
Trifle Cake With Fresh Fruits
Give your family a sweet ending with this leftover trifle cake. It's a great way to use any leftover cakes, muffins, or brownies. It's super easy and yummy because there's no cooking involved. You'll just assemble the dessert by layering fresh fruits with whipped cream and vanilla pudding. It's super light and easy, so be sure to make room for this in your Christmas leftover recipes list.
Ingredients:
2 cups leftover cake of choice
1 cup crushed cookies
Vanilla pudding (instant Jello packers work)
Whipped cream
Strawberries and blueberries
Prepare pudding according to the packet and slice up the fruits. In a clear glass, put the plain cake in the bottom, then top it with pudding, crushed cookies, and fresh fruit. Make another one or two layers (depending on how tall the glass is). At the very top, artfully spritz whipped cream and garnish with more fruits. You can make this ahead and keep it in the fridge until you're ready to serve. For adults, you can add a little kick by spiking the cake with sherry or rum.
What Are Your Favorite Holiday Leftover Recipes?
It's fun to create something new out of Christmas leftovers. With a bit of innovation, inspiration and creativity, you can prevent food waste and save money. Trying inventive dishes after the holiday rush will be exciting for you and your family because you get to try something unique, using existing ingredients.
When you're experimenting with new recipes, you might want to find out which foods suit your body best, so you can meet the upcoming New Year healthy and in good spirits. You can find out about possible food sensitivities and find out the best diet plan for you, based on your genetic makeup, with a CircleDNA test. This at-home DNA test includes diet and nutrition reports, information about your genetic strengths and weakness, ancestry information, personality traits and more.
References:
Food Leftover Practices among Consumers in Selected Countries in Europe, South and North America (Kadri Koppel et.al.) https://www.ncbi.nlm.nih.gov/pmc/articles/PMC5302397/
Vitamin retention in eight fruits and vegetables: a comparison of refrigerated and frozen storage (Ali Bouzari et.al.) https://pubmed.ncbi.nlm.nih.gov/25526594/