Figuring out how to stay active in the winter involves fighting a lot of your natural urges. In the winter, we're often feeling the urge to hibernate or to stay huddled by the fireplace. Winter can really get the best of you, and winter weather makes people feel more tired and lethargic. It's clear why so many people are more sedentary in the wintertime.
The darkness and the cold outside makes many of us stay home on the couch, or stay in bed. As a result, you feel lethargic and come up with excuses to not move such as, "It's too cold to leave the house."
However, since winter is the time for some of the best holiday parties, this season should also be the time to stay proactive. Don't put your fitness goals on hold in the winter. Though it can be tough to stay motivated to move when with the wind howling fiercely or the snow blowing outside, don't give up or lose your momentum simply because the weather outside is frightful. Below are some helpful tips on how to stay active in the winter, to ensure you stay active throughout the cold, dark months of winter.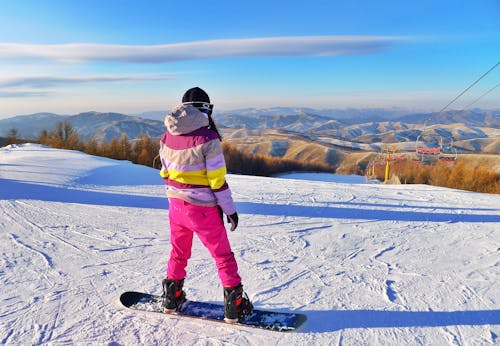 Do a Fun Outdoor Winter Activity
As the saying goes, if you cannot beat them, join them. So as the season changes, explore new and exciting outdoor activities. Try something you've never done before to keep you motivated. Combat lethargy by doing some wintertime fun with your family and friends. When exercise is fun, it doesn't feel like a punishment or chore, and you'll be more excited to keep on moving. For example, the following outdoor activities amp up the fun factor while keeping you motivated:
Cross-country skiing
Snowboarding
Ice skating
Snowshoeing
Snow tubing
Even an outdoor activity as simple as building a snowman or making snow angels with your kids is something to look forward to. These activities will keep you moving and making fun winter memories. What could be better than that?
Work on Staying Well-Insulated
Most people feel too lazy to move in winter because they feel cold. Well, research indicates you can combat that by layering up for an outdoor activity. When you work with layers, you can stay effectively warm and dry. Besides, this strategy allows you to take off the top layer if your body temperature becomes too warm. Notably, make sure your top layer is both wind and water-resistant.
Meanwhile, the closest layer sitting next to your skin should be the most snug. It must draw away wetness, so the moisture-wicking fabric is key. It would be best to avoid cotton because it tends to get soaked when you sweat. When this happens, you will feel the cold seeping in. When combating winter lethargy, arming yourself with the right "battle gear" helps.
Keep Your Body Temperature Regulated
Most people typically remove layers as soon as they get back inside a climate-controlled environment. One trick to keep you from feeling "bleh" is to give your body time to adjust and regulate itself. If you are not wet, wait around 10-15 minutes before changing into other outfits.
When you lose heat from the body too quickly after doing some outdoor activities, you can experience what you call exercise hypothermia. This means your body reduces its heat production as you rapidly take off heat sources. Keep this at bay by keeping your clothes on for a bit longer. This assures you won't feel bad, which will then prevent you from moving the next day.
Stay Hydrated
Your body is made of 60% water, so make it a habit to drink at least 8 glasses a day. When you don't drink, you feel lazy because your organs cannot function correctly. It's just as important to stay hydrated in winter than in the summertime. The tricky part in cold weather is you may not feel as thirsty. For best results, don't forget to keep track of your water intake. In fact, you need to drink more water if you are:
Drinking caffeine
Taking medication
Sweating
Drinking diuretics
Eating more salt
If you are doing any activities, especially workout routines, remember to drink water before, during, and after the workout. Should you try some outdoor activities, it would help to carry a thermos with you with a hot drink. Keep it full with soothing green tea because it has a little bit of caffeine to keep you energized, and it's loaded with antioxidants.
Take Advantage of Daylight Hours
It would help to go out and try to be active when the sun is out. This will give your body its much-needed vitamin D. This nutrient boosts up your immunity and is a necessary component for keeping calcium stores in your bones. The thought of losing bone density should keep you motivated to seek sunshine already.
Remember, not every winter day will be dark and gloomy. The shorter days may make this difficult to do, but it can be done when you don't make excuses but make plans instead. So check the forecast, mark your calendar, and try to do activities while the sun is shining. Even if it's cold outside, you can bundle up and still find ways to stay active in the great outdoors. Communing with nature and feeling the sun will combat winter blues and make you feel more positive.
Do Winter Activities with a Group of People
When you're feeling unmotivated, surrounding yourself with others who are physically fit will pump you up and keep your butt moving. In addition, there's nothing like inspiring individuals who have a proactive attitude to keep you working on your own fitness journey. They will often invite you or remind you of activities. For example, you can try the following:
Join the mall walkers club
Sign up for activities at the community center
Organize a basketball game
Get a group of people to enjoy a scenic snowshoeing day
Attend an indoor water aerobics class
Find Ways to Get Steps In
In a world that's full of conveniences, you can increase your activity by making it a little bit inconvenient for yourself. For instance, choosing a parking slot that's farther away will force you to walk. This will keep your blood circulating and your muscles working. The high you get from this simple modification may even inspire you to do a bodyweight workout once you get home. Do this parking trick at work or in the mall. You can also try these other suggestions to sneak up more steps for you:
Ditching the elevator or escalator, and taking the stairs instead
Stretching and walking around the office during break times
Pacing around your cubicle every time you get a call
There are many ways to get your steps in the day, so make no excuses.
Take Advantage of Digital Resources
If you feel inspired enough, you can create a simple home gym with just a few inexpensive dumbbells. Then use fitness apps to keep motivated and excited to keep lifting. Alternatively, you can watch Youtube fitness videos. There are many fitness influencers on YT offering a variety of video exercises you can do at home. For instance, the following videos will surely keep you occupied: /
Zumba
Walkathons
Cardio kickboxing
Bodyweight
HIIT (high impact intensity interval training)
Low impact high intensity
Yoga and meditation
Pilates at home
Going to the gym when it's too cold out can feel like a chore. However, you have no reason not to move this wintertime because you can find a wide array of activities to do at home. Take advantage of the many digital resources at your disposal.
You can also invest in equipment like a treadmill, stationary bike, or elliptical machine. For instance, the Peloton bike allows you to cycle with a community or follow a guide on the internet.
Use your creativity to find an exercise you enjoy. The fun factor will allow you to stay more consistent even if the weather is nasty. Keep moving lest you end up on Santa's naughty list. Besides, movement is essential for your body to keep chronic diseases like diabetes, hypertension, or heart disease at bay.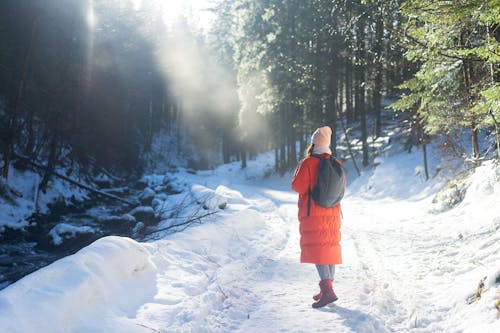 Shift Your State of Mind
Finally, the most important thing to master is how to stay active in the winter, is to change your mindset. It's time to shift your mindset and stop associating winter with staying indoors. Even if you are not the biggest fan of winter, you can count your blessings and stay focused on the things you love. Think about your family because the holiday season is all about sharing and giving love. Do meditation so you can reflect on what you're grateful for, and use those thoughts to change your path.
Instead of feeling miserable, lethargic, and groggy, a well-spring of positive thoughts will make you feel invigorated and excited. Remember, winter is not all bad. You can shop for gifts, enjoy holiday parties, and stay cosy with a mug of cocoa by the fireplace. Focus on how fun it is to stay active and spend time with the people you love.
However, if you still can't bust your winter blues, you may consider getting yourself checked by your physician. You could be suffering from a nutritional deficiency that affects your mental health. You may also have what you call SAD or seasonal affective disorder, which is just as worrisome as traditional depression.
Seeking professional advice will help you find the root of the problem. You can also take a DNA test like CircleDNA, because this test reveals your health risk factors. Test results also include nutrition and fitness suggestions based on your genetics. When you're armed with the right knowledge, you can make better plans and truly enjoy time with your loved ones all year long.