Lunar New Year food isn't just delicious; it's also symbolic and part of some very important traditions.
Every year, at the beginning of a new lunar calendar, Chinese, Korean, Malaysian, and many other communities celebrate with a 15-day festival. Commonly known as the Spring Festival, this celebration is packed with tradition. Families decorate windows in red (the color of good fortune), and events are hosted in major cities throughout Asia.
For most families that celebrate this holiday, Lunar New Year food is perhaps the most important part of the experience. After all, Chinese New Year is all about family and togetherness. Symbolic and tradition-based feasts are designed to bring loved ones together, and imbue them with the fortune they need for the year ahead.
Throughout the 15-day celebration, countless meals, snacks, and foods are consumed, all with their own unique meaning. Everything from the name of the food, to how it's prepared, influences how lucky it's considered to be. While every Asian culture has its own unique customs, there are certain dishes which appear frequently on most tables.
Below are some great recipes you can try if you want to celebrate Lunar New Year in style.
1. Longevity Noodles and Concubine's Chicken
Otherwise known as "long life noodles", longevity noodles are a common staple of many Chinese celebrations. They're essentially just extra-long noodles, made to accompany a range of different meals. While any long noodle can be used for longevity noodles, many prefer Yi Mein, due to its phenomenal taste.
Some Chinese and world food stores even sell and brand Yi Mein noodles as longevity noodles, with tips on how to prepare them.
These noodles can be paired with just about any topping or ingredients you like, but a common choice is concubine's chicken, named after a Chinese Tang Dynasty consort, Yang Guifei. The meal is usually prepared with dark chicken meat, and includes the following ingredients:
· Longevity noodles
· 280g of boneless chicken thigh
· ¼ teaspoon of cornstarch
· ½ teaspoon of white pepper
· 1 dried red chili
· 2 star anise pods
· ½ tablespoon of peppercorns
· 2 teaspoons of Pixian bean sauce
· 1 green onion (chopped)
· ½ red pepper
· ½ potato (yellow)
· A sprinkle of sugar
· 2 large garlic cloves (sliced)
· ½ a red onion
· 1 teaspoon of soy sauce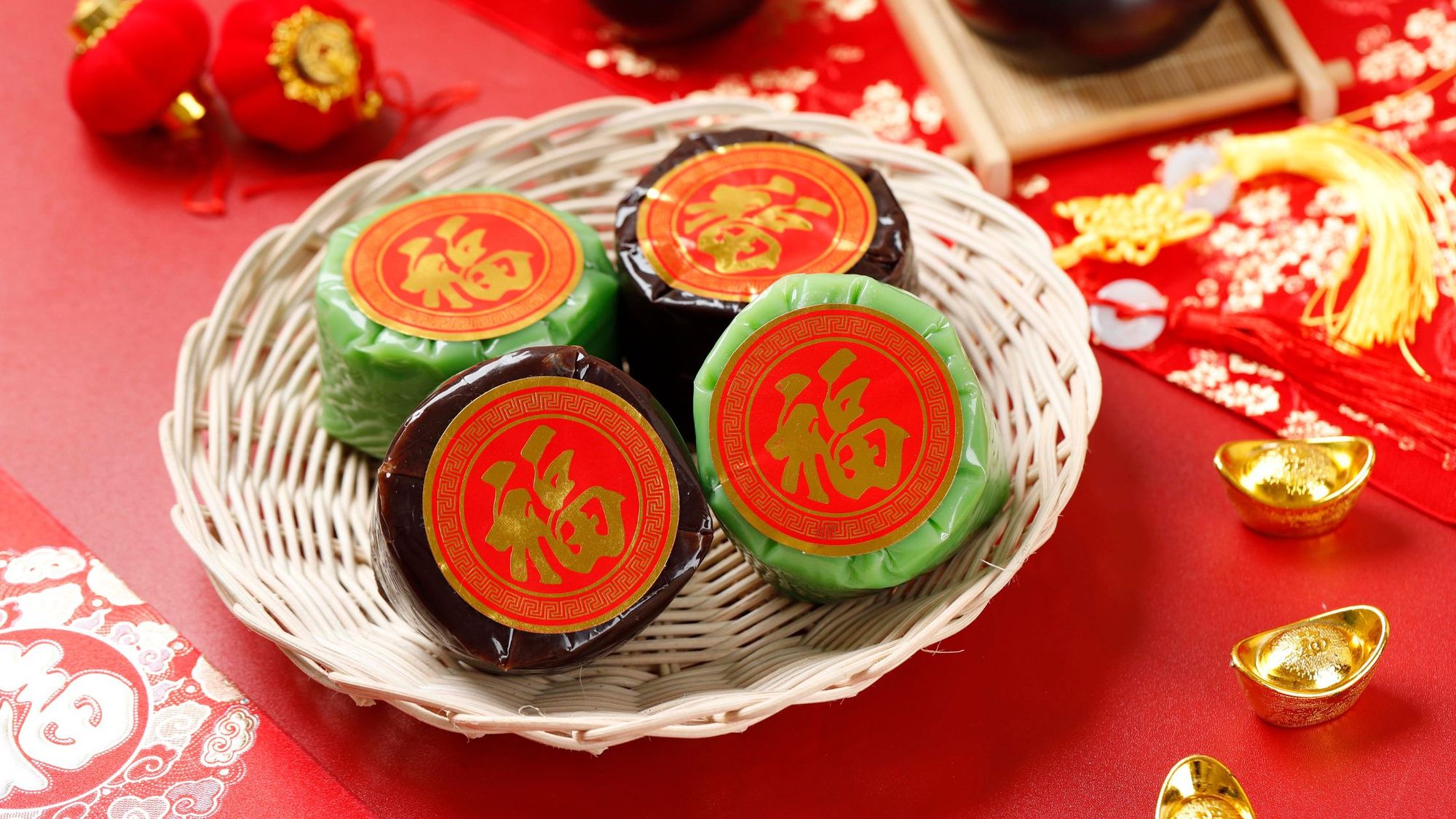 2. Nian Gao (Rice Cake)
Many locals refer to Nian Gao simply as New Year's Cake. It's made from a combination of rice flour, dates, and various other spices. Nian translates to "year", which, in Chinese, is also a homophone for "sticky", which might be why the dish is so sugary.
This might not be the healthiest meal to choose if you're exploring Lunar New Year food for the first time, but it's excellent for those who want to adhere to tradition. Many people see the cake as lucky, because "Gao" is a word associated with success and transformation.
Nian Gao can be prepared either as a sweet or savory dish, depending on your preferences. However, sweet options are usually the most popular. To make it you'll need:
· 455g of glutinous rice flour
· 4 teaspoons of ground ginger
· 1 teaspoon of allspice
· ½ teaspoon of salt
· 355g of brown sugar
· 1 and a half cups of water
· 225g of coconut milk
· 1 teaspoon of canola oil
· 3 red dates (jujube)
The process of making the cake is relatively straightforward, however it does require you to steam the mixture, rather than baking it in the oven. You'll only add the dates when the cake is fully cooked, as decoration. Dates are often seen as lucky around Chinese New Year because of their red coloring.
3. Tang Yuan
This Lunar New Year food is usually served on the 15th day of the celebration, though many locals enjoy it all year around. Similar to Nian Gao, it's made with glutinous round flour, and is similar in consistency to mochi. One great thing about Tangyuan is it's extremely versatile. The mixture can be both vegetarian and vegan friendly.
Typically, Tang Yuan is served in a plain broth or a sweetened liquid. The outer layer has a soft texture, while the inner portion is usually filled with red bean paste or sesame paste. The preparation process takes a little work, as you'll need to boil the dough after forming it. Fortunately, the ingredients are relatively simple. Here's an example of a recipe:
· 2/3 cup of black sesame seeds
· 2 ½ tablespoons of sugar
· 2 ½ tablespoons of softened butter
· 1 tablespoon of cinnamon
· 1 cup of glutinous rice flour
· 3 tablespoons of boiling water
The butter, sesame seeds and cinnamon will form your filling, while the water and glutinous rice flour makes your dough. You can even add a little beetroot juice to the dough for a pink or red finish.
4. Whole Steamed Fish
A common theme in Lunar New Year food is "wholeness". Many families serve whole meats to symbolize togetherness. This means it's not uncommon to see a full chicken on a table (complete with its legs and head), as well as various whole fish meals.
Fish is one of the most important symbolic dishes for Chinese New Year, as it's often associated with prosperity and good health. The word for fish in Mandarin has the same pronunciation as leftover. Locals believe having plenty of leftover abundance or food on your table at the start of the new year means you're going into the months ahead with good tidings.
There are plenty of great ways you can prepare a healthy fish recipe, but for a traditional experience, you'll need the whole fish. Here's a delicious option to try:
· 2 whole black sea bass (scored, gutted, and scaled)
· 1 cup of sliced green onions
· ½ cup of soy sauce
· ½ cup of peanut oil
· 2 tablespoons of ginger (freshly chopped)
· 1 teaspoon of sesame oil
· ½ teaspoon of sugar
Simply mix together your oils, sauces, and sugar, and spread it all over your fish. Bake the dish in the oven, for around 25 minutes, and season with your green onions, salt, and pepper.
5. Dumplings
Another excellent choice if you're looking for symbolic Lunar New Year food, dumplings are considered lucky in China, because they're designed to look like the traditional money used throughout ancient times. Dumplings symbolize wealth and abundance, while the fillings can also have their own unique meanings. Red bean paste and other red foods symbolize prosperity.
Dumplings are extremely versatile. They can be filled with everything from minced pork, to chicken and vegetables, depending on your preferences. Here's a fantastic recipe you can try yourself:
· 2 handfuls of kale (minced)
· 2 scallions (minced)
· 1 pound of ground turkey
· 2 tablespoons of soy sauce
· 1 egg
· 1 tablespoon of sesame oil
· 1 teaspoon of sesame seeds
· 1 teaspoon of white pepper
· 320g of all-purpose flour
· 175g of warm water
Use the flour and warm water to make the dough for your dumpling wrappers, then fill them with the mixed ingredients mentioned above. Make sure you seal the dumplings carefully before boiling them in water, or frying them in a pan.
6. Shrimp Lucky 8 Stir Fry
Shrimp is a popular Lunar New Year food in many parts of China. It represents happiness and liveliness, as well as good fortune. A shrimp lucky 8 stir fry combines the symbolism of shrimp with the benefits of various fantastic vegetables. Many vegetables are commonly served on the New Year table in China, such as Bok Choy, which symbolizes wealth.
A lucky stir fry could be a good option if you're limited on time. You can whip something up pretty quickly, and change ingredients according to your preferences. The most important thing is to ensure you're focusing on 8 main ingredients. 8 is a lucky number in Chinese culture, as the word is a homophone for prosperity.
Here's a recipe to try:
· 1 cup of prepared shrimp
· 1 tablespoon of vegetable oil
· 1 cup of bean sprouts
· 6 shiitake mushrooms (dried)
· 1 medium carrot (sliced)
· 1 cup of sliced Chinese cabbage or Bok choy
· 8 snow peas (cut into cubes)
· ½ a cup of dried wood ear mushrooms
· 3 celery stalks
· ¼ teaspoon of sesame oil
· 1/8 teaspoon of white pepper
· 1 tablespoon of soy sauce
· 1 teaspoon of dry sherry
All you need to do is throw all of the ingredients into a pan with a little bit of oil until they're fully cooked. You can add extra seasoning such as salt, pepper, and soy sauce to your liking.
7. Spring Rolls
Spring rolls aren't just a great Lunar New Year food, they're also served in China all year round. These savory fried rolls are ideal for celebrating the Spring festival in style. They're also symbolic of wealth, and many locals believe they help to encourage prosperity in the years ahead. The association between spring rolls and wealth comes from the fact they look a little like golden bars when fried.
Similar to many Chinese foods for the New Year, spring rolls are highly customizable. You can make vegetarian options if you're looking for a healthy, vegetable-filled meal, or you can add chicken, duck, beef, and pork. Here's a fun and healthy recipe to try:
· 50g of dried rice noodles
· 30g of dried shiitake mushrooms
· 1 teaspoons of vegetable oil
· 2 tablespoons of grated fresh ginger
· 2 crushed garlic cloves
· 80g of bean sprouts
· 80g canned water chestnuts
· 1 small, grated carrot
· 100g of Chinese cabbage (shredded)
· 2 spring onions (sliced)
· 1 red chili
· 1 medium egg (beaten)
· 6 filo pastry sheets
Preparing your spring rolls is simple. All you need to do is cook the ingredients in a wok for a few minutes, then arrange the filling onto your filo pastry sheets, before rolling them into cylinders. Bake each spring roll until it's crisp and golden.
8.    Candied Mandarin Orange
Tangerines and oranges are some of the most common foods to grace any table during the Chinese New Year. This Lunar New Year food was originally introduced by the Cantonese, who associate the word tangerine with luck, because of its name's pronunciation.
If you're looking for a healthy option, you can simply serve your oranges and tangerines whole. They're often offered at the end of each meal, and can even be exchanged as gifts by local Chinese people when visiting relatives.
However, you could also opt for a sweeter alternative, by cooking small slices of mandarin orange in granulated sugar, to create a caramelized finish. Sweet foods are often common around Chinese New Year, because they symbolize the hope for a sweeter life.
Embrace Tradition with Lunar New Year Food
Lunar New Year food is an excellent way to welcome the arrival of Chinese New Year in style. There are plenty of delicious recipes to choose from, and many of the options above are easy to customize, so they can suit people with gluten intolerances, allergies, and food preferences.
Remember, it's always worth checking your CircleDNA report before you start experimenting with new foods, for insight into the kinds of ingredients you should avoid. Many food sensitivities are genetic. Your CircleDNA test could even give you some insights into which vitamins and nutrients you should be getting more of in your diet, so you can adjust the recipes above accordingly.
References:
VICE: Concubine's Chicken Recipe – VICE