---
Smoothies have always been a staple in the fitness and health community, with endless smoothie recipes to choose from. Not all smoothie recipes are healthy or low calorie, however.
Recently, more and more people have been turning to smoothies as meal replacements, grazing snacks, energy workout boosters, post-workout recovery drinks, or cool treats. Many fitness influencers have also taken to sharing richer and creamier creations of smoothie recipes that mimic ice cream, without the caloric overload. Sometimes the most delicious smoothies are also very low in calories, while still leaving you feeling full.
Though smoothies can be consumed on any occasion, because they're delicious, nutritious and satisfying, they are often the deriguour meal replacement. Smoothies as meal replacements are common for those looking to shed a few pounds, cleanse their gut, or get more fit. This is because smoothies are easily digestible, and depending on what you put in the blender to create them, they can be very healthy. Furthermore, depending on your chosen smoothie ingredients, you can help your body absorb nutrients better, promote a better metabolic rate, and support immune system function.
Smoothies are also great if you're on the go because you can put them in a travel mug or bottle and drink up anytime, anywhere. If you happen to live a busy lifestyle and cannot carve out the time to meal prep full-blown menus for yourself, smoothies will provide you with the energy and nutrients you need to power through your day with little time lost.
You can easily chop and freeze your favorite smoothie ingredients, put them in single serving bags, and simply toss the ingredients in the blender with a nut milk, saving you a lot of prep time. From there, you can blitz the bits and be on your way.
The Basic Kitchen Tools to Make Smoothies
Smoothie making is a big hit because even kitchen newbies can create divine concoctions that tickle the palate, without a lot of effort. The equipment needed for various smoothie recipes is not expensive, and typically already present in most homes. To make a smoothie, you will need some basic kitchen tools. This includes a blender, which is perfect for making all kinds of smoothies.
If, however, you prefer a more ice cream-like consistency, a food processor would also be great. It would also help to have a few measuring tools, such as measuring cups, spoons, or a scale, especially if you are intent on counting calories.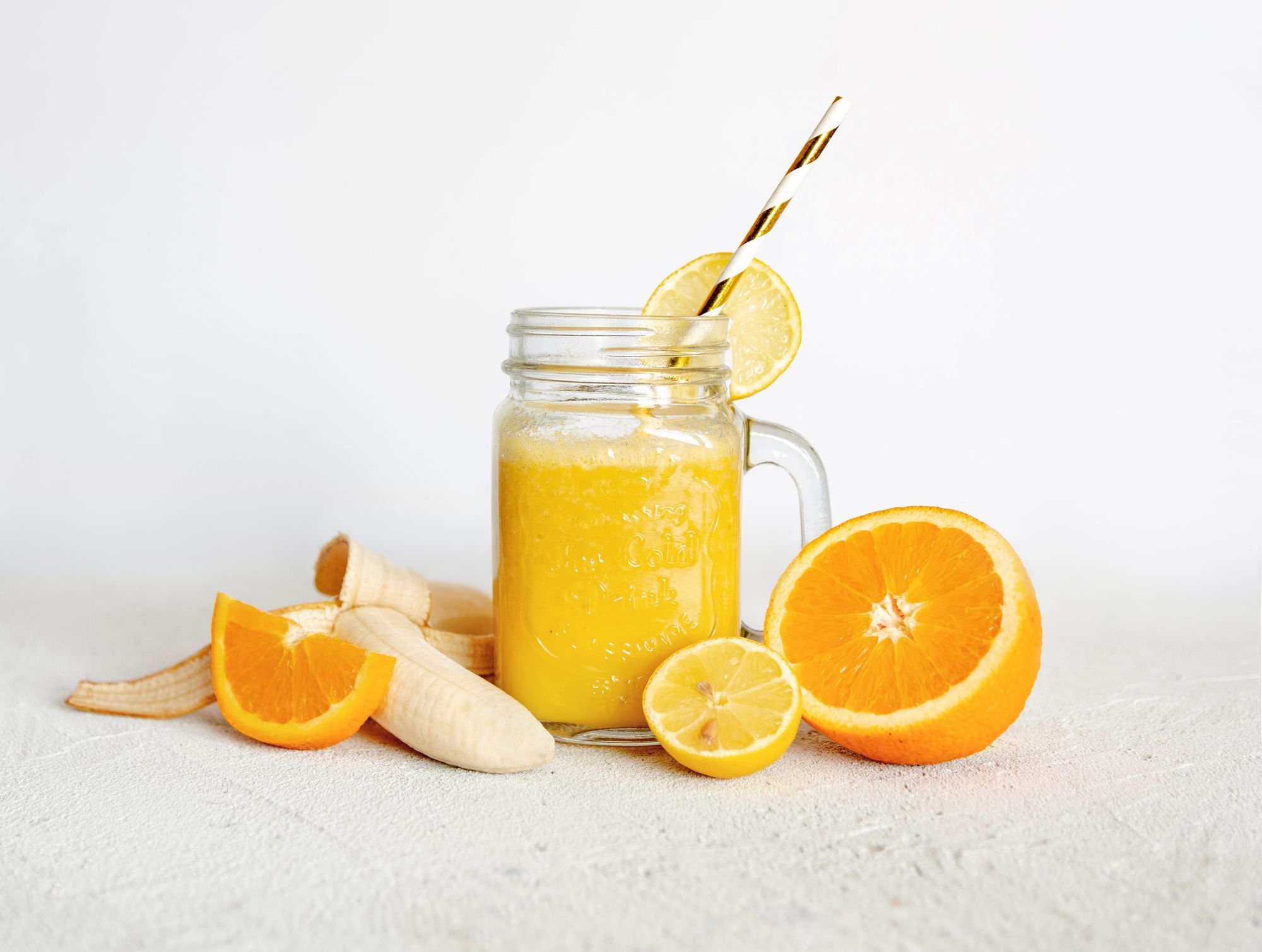 Filling and Low Calorie Smoothie Recipes
If you are looking to jump-start your fitness journey by replacing one meal per day with a healthy smoothie, or if you are simply looking for new healthy snack ideas to cool you down on hotter days and satisfy your sweet tooth, here are some filling yet low-calorie smoothies recipes for you; and everything else you need to know in-between.
1. Green Juice Smoothie
Contrary to popular belief, a green juice smoothie is one of the best, most nutritious, kinds of smoothies. This kind of smoothie often includes leafy greens and some fruit. Some great combinations include kale (high in vitamins K and C), spinach, (contains calcium, magnesium, and vitamin A), frozen mango (rich vitamin C), and frozen pineapple (high in fiber and vitamin C).
You can also add some cucumber, which adds some sweetness and more fiber to make you full. Best of all, these ingredients are all low in calories while being nutrient-dense. This drink is tasty, fruity, and fiber-rich. Indulge without guilt!
Ingredients:
– 1 handful of kale
– 1 handful of spinach
– 1/2 cup frozen mango
– 1/2 cup frozen pineapple
– Optional: 1/4 cup cucumber
2. Virgin Pina Colada
If you are in for something fruity, fun, and a little rebellious, try this Virgin Pina Colada, sans alcohol. It is just as delightful without all the calories and alcohol content of the original version. You can definitely drink and drive with this one.
This smoothie contains frozen pineapple (high in vitamin C and fiber), banana (high in potassium), and coconut milk (contains protein, electrolytes and healthy fats). This is perfect for days when you need a lil' pick me up. Add a little umbrella on the side for good measure.
Ingredients:
– 1/2 cup frozen pineapple
– 1 small banana
– 1/4 cup coconut milk or coconut water
3. Mixed Berry Delight
Berry smoothies are delicious and loaded with antioxidants, so they help fight oxidative stress while boosting immunity. Berries are also low in calories with high fiber, vitamin C, and anthocyanins. All of these amazing nutrients help improve heart health. Studies affirm that berries lower cholesterol and blood pressure.
For this smoothie, you will need a cup of your favorite berry and a banana. Additionally, to make this smoothie extra creamy, you will need Greek yogurt, which is a great source of protein and probiotics to kick cravings and improve gut health. You also need any liquid, preferably a high-protein and low-calorie option like soy milk, almond milk, skim milk, or cashew milk. If you would like to offset the tartness of the berries, you may also include your preferred sweetener.
Ingredients:
– 1 cup of mixed berries
– 1 small banana
– 1/2 cup Greek yogurt
– 1/2 cup of preferred liquid
– Optional: 1 tablespoon of liquid sweetener like honey or 1 packet of stevia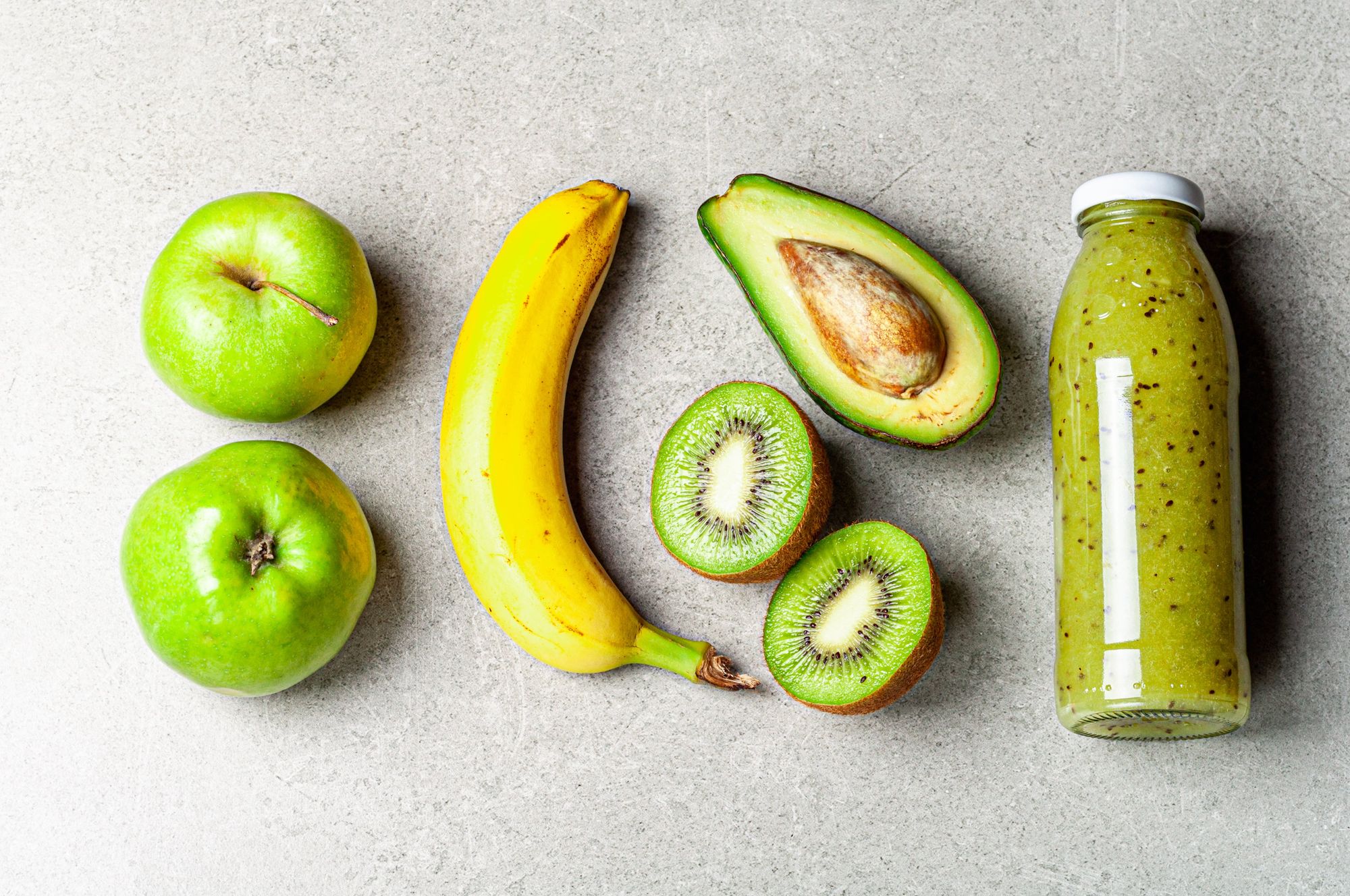 4. Creamy Avocado Banana Smoothie
Avocados are rich in healthy fats, taste delicious, and give your smoothie that ice cream-like mouth feels. An avocado overload smoothie is great if you are the type to indulge in creamy treats. But unlike your usual pint of ice cream, this one is the healthier version without trans fats and the sugar overload. Research says that avocados increase your good cholesterol while preventing the build up of heart-clogging bad cholesterol.
All you need for this amazing smoothie are ripe or frozen avocados, frozen banana bites, a liquid of your choice (preferably almond milk, coconut milk, skim milk, cashew or soy milk), and a squeeze of lemon to cut through the richness of the avocado and banana. If you're feeling fancy, place this in a bowl and eat it like ice cream.
Ingredients:
– 3/4 cup frozen avocado
– 1 frozen banana
– 1/2 cup of chosen liquid
– a squeeze of lemon
If you are on the keto diet, this is one of the smoothie recipes that is perfect for you. Simply reduce the amount of carb-rich bananas used, and use a sugar-free sweetener.
5. Choco-Nutty Smoothie
Hey chocolate lovers, this one's for you! This next smoothie tastes just like dessert heaven and is loaded with protein. It's a delish, guiltless treat! The Choco-nutty smoothie contains frozen banana, chocolate low cal protein powder, any liquid of your choice, like low-calorie milk, nut milk, or coconut and soy.
Then add a dollop of peanut or almond butter for healthy fats and protein. You must also add fiber-rich oats and chia seeds. Top with cacao nibs or dark chocolate, which are antioxidants. This smoothie is rich without being chock full of calories, and it is highly nutrient-dense.
Ingredients:
– 1 cup frozen banana
– 1 serving of low calorie chocolate protein powder
– 1/2/ cup of your preferred liquid
– 1 tablespoon of peanut butter or any preferred nut butter
– 1 teaspoon of chia seeds
– 2 tablespoons of rolled oats
– 2 teaspoons of cacao nibs or dark chocolate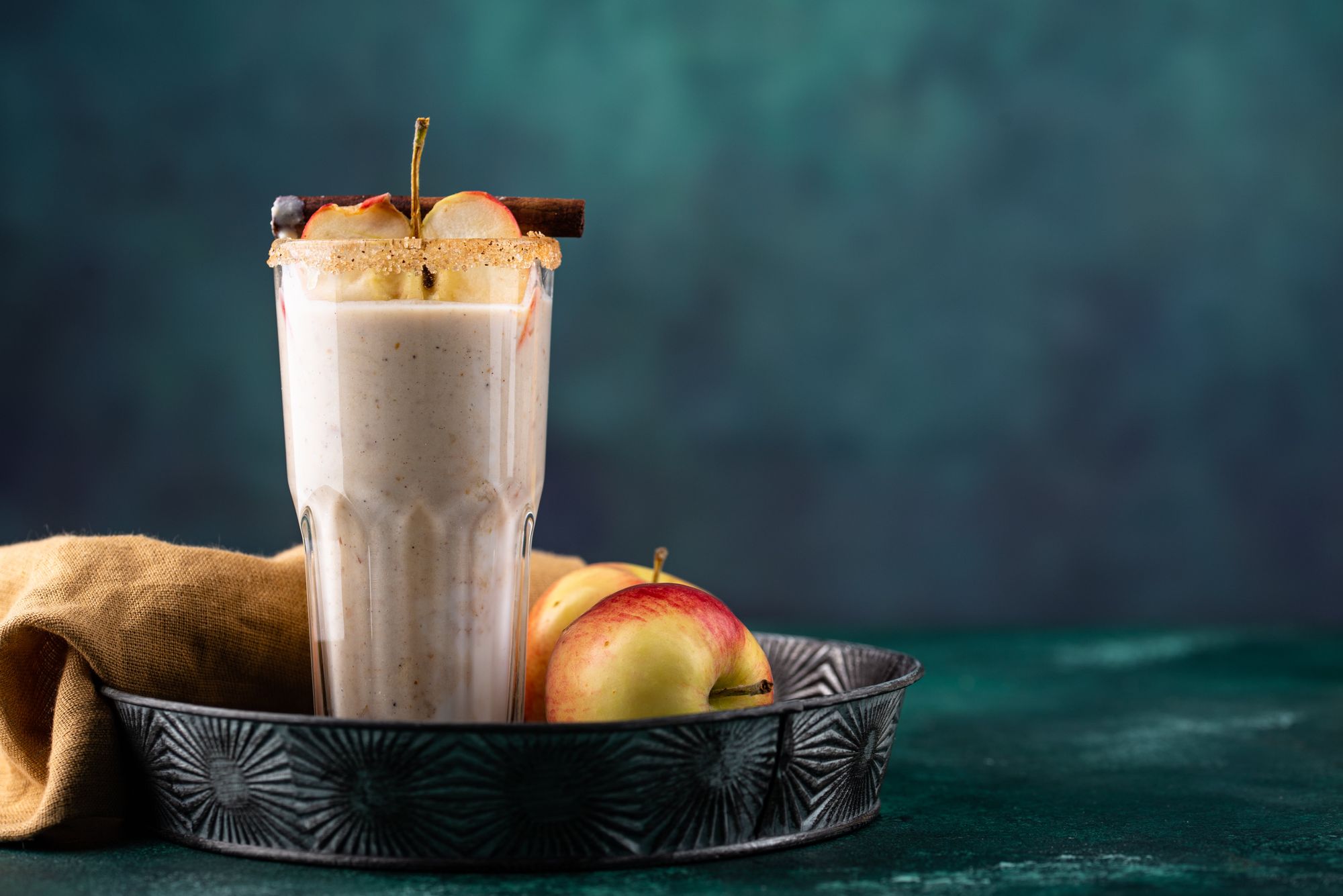 6. Cinnamon Apple Pie Smoothie
Another dessert-like smoothie without all the accompanying calories and fats of the traditional version is this Cinnamon Apple Pie smoothie. It contains apple, protein powder, chia seeds, oats, and a liquid of your choice.
Don't forget to top with cinnamon which is an antioxidant and anti-inflammatory. This smoothie is high in fiber and tastes just like everyone's favorite autumn delicacy. It's definitely a comfort "food" sans the steep nutritional price tag of high sugar and trans fats.
Ingredients:
– 1 apple
– 1/2 cup liquid of choice
– a pinch of cinnamon
– 1 teaspoon of chia seeds
– 2 tablespoons oats
– 1 serving of protein powder (preferably vanilla)
7. Ultimate Superfood Smoothie
This last smoothie is the ultimate healthy treat boasting of numerous superfoods. The base is composed of ever reliable bananas. But what makes it extra special is acai berries, goji berries, chia seeds, and cacao nibs, which are all antioxidants. There's also spirulina, which is rich in protein, iron, and vitamins B1, B2, and B3.
And here's a secret ingredient: add a pinch of cayenne pepper, which is an anti-inflammatory. It could help decongest sinuses. This smoothie is tart, healthy, and creamy, with a little crunch from the cacao nibs and just a subtle kick from the cayenne.
Ingredients:
– 1/2 cup frozen acai berries
– 1 banana
– 1/4 tsp spirulina powder
– 1 teaspoon of chia seeds
– 1 tablespoon cacao nibs
– a pinch of cayenne pepper, to taste
– Goji berries (as a topping)
Are You Fueling Your Body With the Right Ingredients?
Meal replacement smoothies are great for improving the results of your current fitness regimen. They are also highly convenient and are great options if you live a busy and active lifestyle, always on-the-go. However, note that since smoothies are easy to take in as they come in liquid form, it is equally easy to overindulge. Measure your ingredients, be cognizant of the kind of ingredients you are using, be mindful of having more than one glass of your smoothie, and make sure that you get the right nutrients needed to sustain you throughout the day.
Smoothies are usually digested faster than whole foods, so you may find yourself feeling hungry sooner. However, certain ingredients such as Greek yogurt and a tablespoon of chia seeds will make your smoothie recipes much more filling.
If you want to confirm if your diet is on the right track and be sure that you're eating the right foods, an at-home DNA test from CircleDNA can help you learn about the optimal diet type for you, based on your genetics. This DNA test will also alert you of possible genetic food sensitivities, such as a genetic sensitivity to carbs, lactose intolerance, or a higher sensitivity to fats. Of the hundreds of reports and DNA insights provided by CircleDNA, the genetic diet and nutrition reports are among the most useful.
---
References