Imbibe the luck of the Irish by celebrating St. Patrick's Day with exciting ideas that allow both kids and adults to get in on the fun. For almost 2,000 years, the Irish have commemorated the Roman Catholic feast day of St. Patrick on March 17th. Some fondly call this day St. Paddy's which is the shortened form of Padraig, the Irish spelling of Patrick.
Whether in the Emerald Isle or other parts of the world, the Irish come together to celebrate the patron saint of Ireland. In fact, you don't have to be Irish to enjoy this holiday, and they welcome everyone to join the festivities and gain tons of good luck. From savoring delicious Irish recipes to drinking green beverages, everyone has a roaring good time.
Below are 10 fun ideas for celebrating St. Patrick's Day with your kiddos.
Celebrating St. Patrick's Day With a Virtual Tour
Holidays can be great teachable moments for your kids. If you're Irish, taking a virtual tour of Ireland is a chance to let your children know more about the history of your family's roots and heritage. Studies show that consistent parenting beliefs and behaviors help in promoting children's mental health around culturally acceptable norms. And even if you're not Irish, learning more about other people's cultures will help you understand and embrace ethnic diversity.
With these fun virtual tour options, you can see famous Irish tourist hot spots, historical sites, and museums. Enjoy panoramic views of Ireland's roaming hills, verdant greens, and jagged coastlines from the comforts of home. Taking a virtual trip to Ireland on St. Paddy's day without paying for airfare is a fun activity to do with your kids.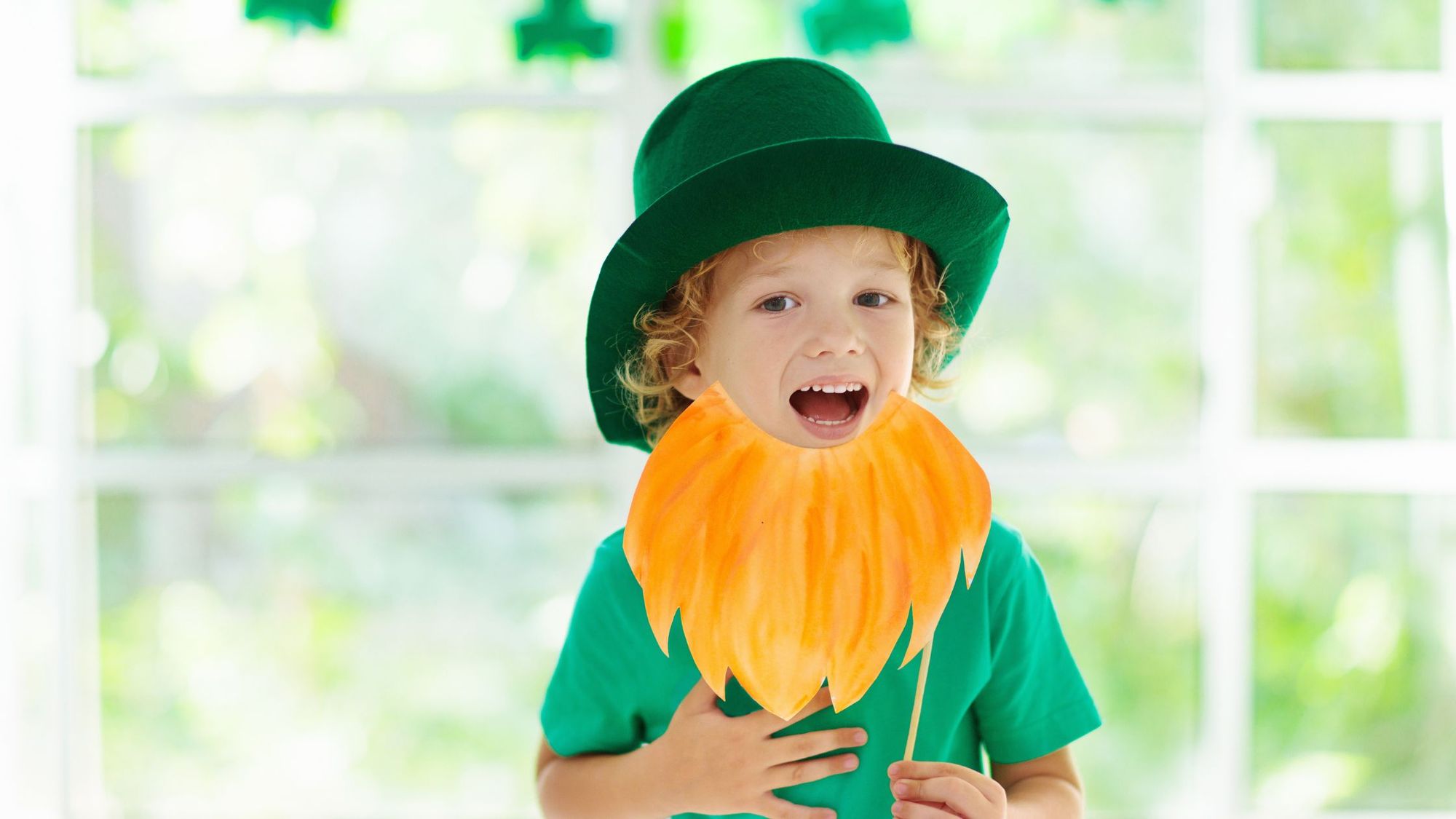 Wear Something Green for Luck
Of course, this fun holiday won't be complete if you and your kids don't wear at least one piece of green clothing. For many people celebrating St. Patrick's Day, the color green represents Ireland's landscape and the shamrock or three-leaf clover, the country's national symbol. Irish legend says that St. Paddy's used this trefoil plant to teach people about the concept of the Holy Trinity for the Catholic Church.
Feel free to embrace this colorful tradition as it now signifies luck. Try wearing a green sweater with a leprechaun print for good measure. You can also wear a green dress or polo shirt for good luck. And if you have a uniform, try wearing a simple green hat or green accessories.
Serve an Irish Meal When Celebrating St. Patrick's Day
Pretend you're in a pub and serve delicious Irish recipes while listening to classic Irish music with pipes and fiddles. After all, holidays won't be complete without good food. Celebrating St. Patrick's Day can be fun and memorable if you make an authentic dish like an Irish beef stew infused with Guinness beer.
Alternatively, you can make a booze-free option for the kids like classic corned beef and cabbage with a delicious mustard glaze. Enjoy this hearty meal with traditional Irish soda bread. To make your Irish meal extra festive, you can buy disposable theme plates, cutlery, and napkins from the party store.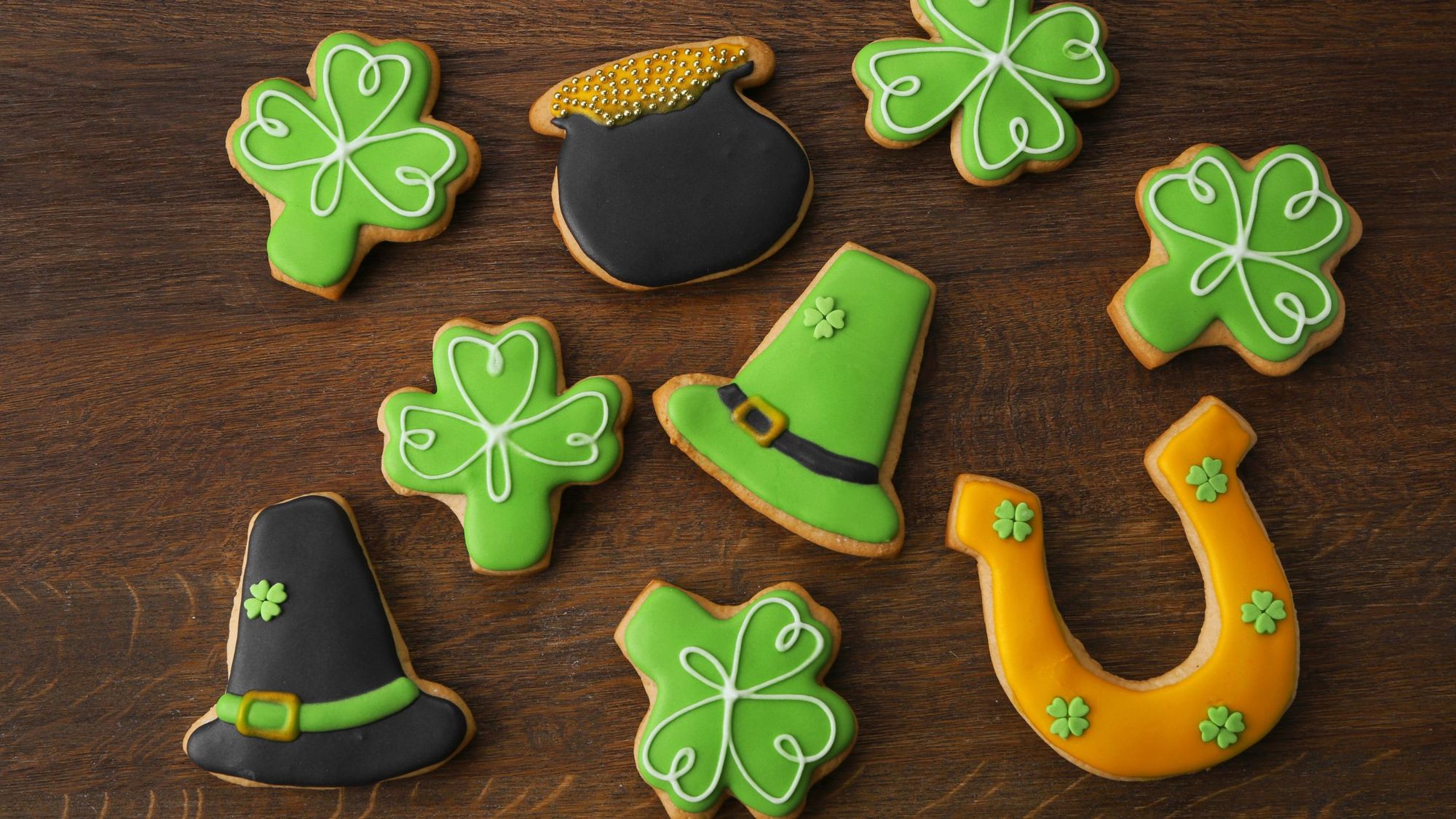 Make Holiday-Themed Cookies
Who says you can only make holiday cookies during Christmas? Gather your kids by celebrating St. Patrick's day with a cookie decorating contest. Making cookies on their own is already a great idea. But when you add a little bit of friendly competition, you double the fun.
You can decorate using the following cookie cutter shapes:
Shamrocks
Leprechauns
Rainbows
Pots of gold
Golden coins
Prepare lots of ingredients from the flour to the green icing and sprinkles. The one with the most beautiful cookies can receive a prize, along with extra cookies after dinner.
Concoct St. Paddy's Drinks
Adults are known to chug down pints of green-tinged Guinness. Celebrating St. Patrick's day is not complete with this delicious and creamy stout beer! Another option is an Irish coffee with a shot of whiskey to keep you warm and toasty. But for a kid-friendly option, whiskey and stout are out because of the alcohol content.
Instead, why not try a delicious green peppermint shake? Your kids will surely love this treat. You can easily experiment with the following ingredients: vanilla and peppermint ice cream, crushed peppermint, and chocolate chips. Alternatively, you can also make a green healthy smoothie to satisfy your family's sweet tooth. A green drink is truly a festive treat that will put everyone in a good mood.
Do a Fun Crafting Project
Crafting projects are great for celebrating St. Patrick's day and other holidays. These activities are great for kids because they allow kids to work with their hands and boost fine motor skills. At the same time, the mind also works as crafts inspire creative juices to flow and motivates them to express themselves.
The best part is these crafting projects will leave you with cute decor to spruce up your house. You can try making the following:
Shamrock-shaped paper plates
Beautiful green wreaths
Creating leprechaun hats using cheap materials
Paint Irish coffee mugs
Your CircleDNA test might reveal information about what talents lie in your DNA, so you and your kids can do projects and hobbies that match your genetic strengths.
Join a Fun St. Patrick's Day Parade
People around the globe are known to join in the fun by celebrating St. Patrick's day with parades. Whether you live in a big city or small town, you will surely find an Irish parade that will be held near you. Some malls even hold special events on March 17.
Major cities like NYC, Boston, and Chicago are known for their extravagant parades. For instance, Chicago is known for painting their river green on this day. If you don't have a parade nearby or don't feel like heading out, you can also get into the holiday groove by watching a parade from home. Make it extra fun for the kids by wearing matching green tops and other accessories.
Make Green Slime with Your Kids
An easy crafting project for celebrating St. Patrick's day as a family is slime making. Although you can readily buy pre-made slime, it's more fun to make it with your kids. Make this a bonding activity to create core memories for your children.
Making green slime to honor St. Paddy's is a simple craft that kids never seem to get tired of. It's also a fun project for adults to see this sticky goo come to life. You can buy a green slime kit or make your own edible slime following this recipe.
Do a Scavenger Hunt
Test your luck this year by celebrating St. Patrick's Day with a good old family scavenger hunt. Find the pot of gold that Mr. Leprechaun is hiding at the end of the rainbow! You can hide clues and treats like chocolate coins and simple toys all over your house.
To double the fun, you can also team up with your neighbors and make the scavenger hunt even more challenging by spreading out the clues and treasures all around your neighborhood. For inspiration, check out this ready-made scavenger hunt digital file. If going around your house or neighborhood is not your thing, you can try a more relaxing but equally fun St. Paddy's Day Bingo instead.
Learn How to Dance Like the Irish
Finally, get into the groove and learn Irish dance steps. This is characterized by minimal upper body movement and quick feet. You'll find a lot of tutorial videos on YouTube for inspiration so you can learn these moves from home.
The steps may look easy, but it's more difficult and complex than you think. You'll have loads of laughs as you fumble and tumble with your kids. Apart from being fun, it's a good way to break into a sweat and get some much-needed exercise. Get out of your comfort zone and try something new this St. Paddy's day.
References: