The peak of summer may have passed, but people are still enjoying lake activities to be active on the water while enjoying the surrounding scenery, before it gets too cold out.
Depending on where you live, it won't start to get cold for a couple more months, as many parts of the world have warm fall weather.
This means that in the fall, people are still kayaking, paddle boarding, canoeing and more. These lake activities are great for the end-of-summer or fall weather, because you're not actually in the water for these lake activities – you're just using the water for your sport.
In other words, even if it's a bit chilly out at the lake, you can simply dress in layers and wear warm sweaters. Accidentally falling in the water won't happen to most of you, but of course it can happen. Therefore, you should never do these lake activities if you can't swim, and you should always leave a big towel – and a change of dry clothes – back at the shore to change into if you do fall into the lake.
Another tip for lake activities is don't invest in something you can't logically pursue. For example, if you tend to take the bus to the lake because you don't drive, you should get an inflatable paddle board, not a regular heavy one. (The same goes for kayaks.)
Most lake activities can also be done in other bodies of water. Lakes are generally calmer than the ocean, however, and safer for beginners.
It's great for your mental health to spend time outdoors and be in nature. It's even better for your health to be active while you're enjoying nature.
Below are some of the top lake activities that allow you to get exercise outdoors, and stay active while you enjoy the scenery.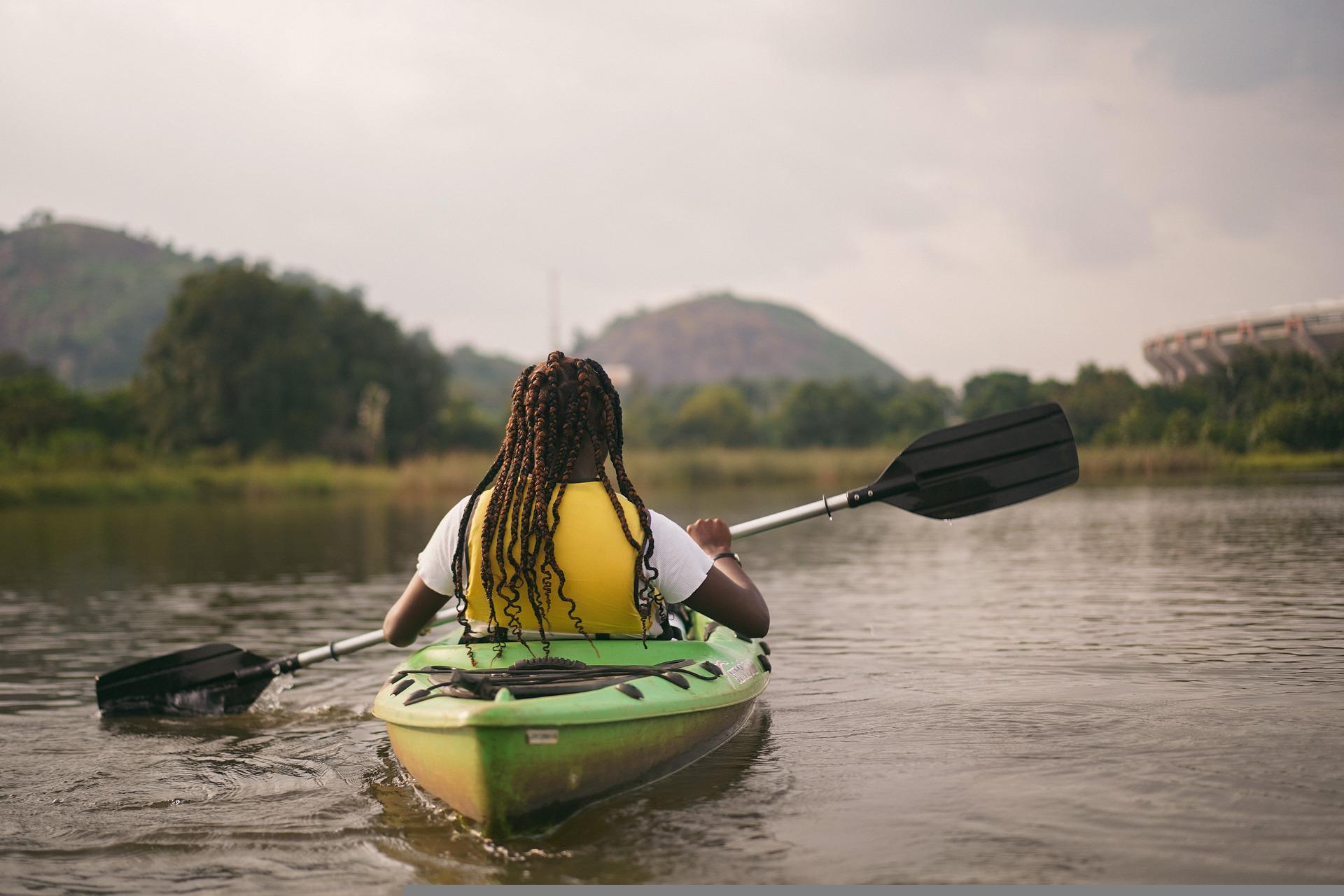 Kayaking
Those who love to kayak have many options. You can buy a real kayak if you have the ability to transport it, which typically includes being strong and able-bodied as well as having a roof rack on your car.
Alternatively, you can buy an inflatable kayak, which is my personal favorite. It doubles as a floating device to rest and float in the water when you need a break. The inflatable edges of the kayak are quite comfortable to rest your head on, and this allows you to get some of that serene lake floating experience as well. It's also much easier to transport than a regular kayak, since it deflates.
Another option is to go somewhere local to you that rents kayaks right there near the water. Kayaking is one of the most popular lake activities, so you might want to look up if anywhere near you rents kayaks. It's typically quite affordable, as you just rent them by the hour. This way, you can get a fantastic arm and core workout out in nature.
There are single kayaks if you enjoy peacefully kayaking alone. There are also double kayaks if you prefer to share a kayak with your partner or with a friend.
Canoeing or Rowing
If you want to bring your family along for lake activities, you might prefer canoeing over kayaking. Canoes are, of course, bigger. They can fit your family members, and you can get more than one paddle so that others in the canoe can help paddle, and everyone can get exercise.
Similar to how many places rent kayaks, many lakes have a station where you can rent canoes by the hour, as well. This is mostly an arm workout, but paddling engages the core as well.
Canoeing is one of the most casual and fun lake activities.
Rowing, however, is a sport where the paddlers have to propel the row-boat in a backward direction, and this is referred to as rowing instead of paddling. When canoeing, you can casually paddle the canoe in the direction you're sitting, and it's not a competitive sport, it's just a water activity.
If you and your family own a canoe and want to start a 'rowing team' for fun, note that it is possible to set up your canoe for rowing.
Stand-Up Paddle Boarding
Stand up paddle boarding (also known as SUP) is a popular and easy-to-learn water activity that can be done in lakes, small bodies of water, or even in the ocean.
The board might remind you of a surfboard, but with a stand up paddle board, it's larger for better balance and you're standing on it while holding a paddle.
While you're standing on the board, you'll paddle yourself around the water. Some people who aren't comfortable standing yet will simply kneel on the board and paddle around that way.
Some people even do yoga poses on their paddle board.
Similar to kayaking, paddle boards also come in regular or inflatable. What's the difference between a regular paddle board, and an inflatable? An inflatable paddle board is often larger and has more volume than a hard board, making it more stable on the water, and it's also lighter and more portable. Think of how much more portable it is to bring an inflatable (and deflatable) board to the water instead of a hard board. You'll end up using it more, because it's lighter and easier to transport.
Which Sports or Activities Are You Genetically Gifted At?
The optimal sports or activities for you are partly determined by your genetics. Have you ever noticed that some people seem to be genetically gifted at certain sports? This is because we all have genetic strengths and weaknesses.
For example, it could be in your DNA to have very high endurance, but low power and moderate strength. Your CircleDNA test will therefore tell you that rowing is an optimal sport for you, as rowing is a sport that has an endurance and strength focus, and it's one of the best endurance-based activities.
It's nice to know which sports or activities suit you best, and which you might be better at thanks to your genes. This way, you can choose exercises, sports and activities that you'll be more likely to excel at.
Get a DNA test from CircleDNA to find out your optimal sports type based on your genetics.