Prenatal fitness is not something that should be neglected during your pregnancy. Healthy prenatal fitness practices should be part of your self-care routine while you're pregnant for many reasons.
To get the best prenatal fitness tips, we spoke to Lucy Ulmer, founder of Hustle Fitness, Spin Society, and The LU Method, and a prenatal and postpartum fitness specialist.
As a fitness specialist who recently had a baby, Ulmer wants other mamas to understand the importance of prenatal fitness best practices.
Ulmer explains, "Prenatal fitness is important to create confidence in your pregnancy on how to move and support your body. Through prenatal fitness, we work on preparation for labor and delivery, using mindful movement techniques. Prenatal fitness allows proactive ways to prevent and heal complications in pregnancy. Most importantly, prenatal fitness is important for developing and maintaining a functional pelvic floor."
Prenatal exercise classes are special exercise classes that allow you to work out safely during pregnancy. Staying fit also ensures your heart and lungs stay strong, and your body is adequately fit for labor.
Some fitness studios specialize in prenatal fitness, and it's a great way to get to know other soon-to-be mamas in your neighborhood while staying healthy for you and your baby.
Below are 5 prenatal fitness tips from our specialist, Lucy Ulmer:
1. Establish a Healthy Exercise Routine Preconception
Prenatal fitness is safer and easier to maintain if a steady workout routine is already established preconception. Lucy Ulmer, prenatal fitness specialist and founder of Hustle Fitness, Spin Society, and The LU Method explains,
"Establish a good workout routine as soon as possible preconception (for both those conceiving unassisted, or those utilizing fertility treatment options) with a mix of what I call the balanced 4 fitness for the body and mind modalities:
(1) cardiovascular training i.e. indoor cycling, rowing and/or swimming combined with
(2) strength training i.e. dumbbells and kettlebells and,
(3) stability and balance training i.e. pilates, Lagree Fitness, and/or yoga
(4) meditation."
2. Keep Your Heart Rate at a Safe Pace During a Prenatal Fitness Class by Using a 'Talk Test'
Curious what a good method is of ensuring you're only engaging in safe and healthy workouts while you're pregnant? Lucy Ulmer states, "Keep a talk-test! This is key during any time of fitness while pregnant in a studio, home or outside environment. This means I can talk to you while working out or moving. This will keep mama and baby's heart rates safe."
If during the course of pregnancy you experience any dizziness or lightheadedness while exercising (or in general), make sure to stop the activity and check in with your healthcare professional.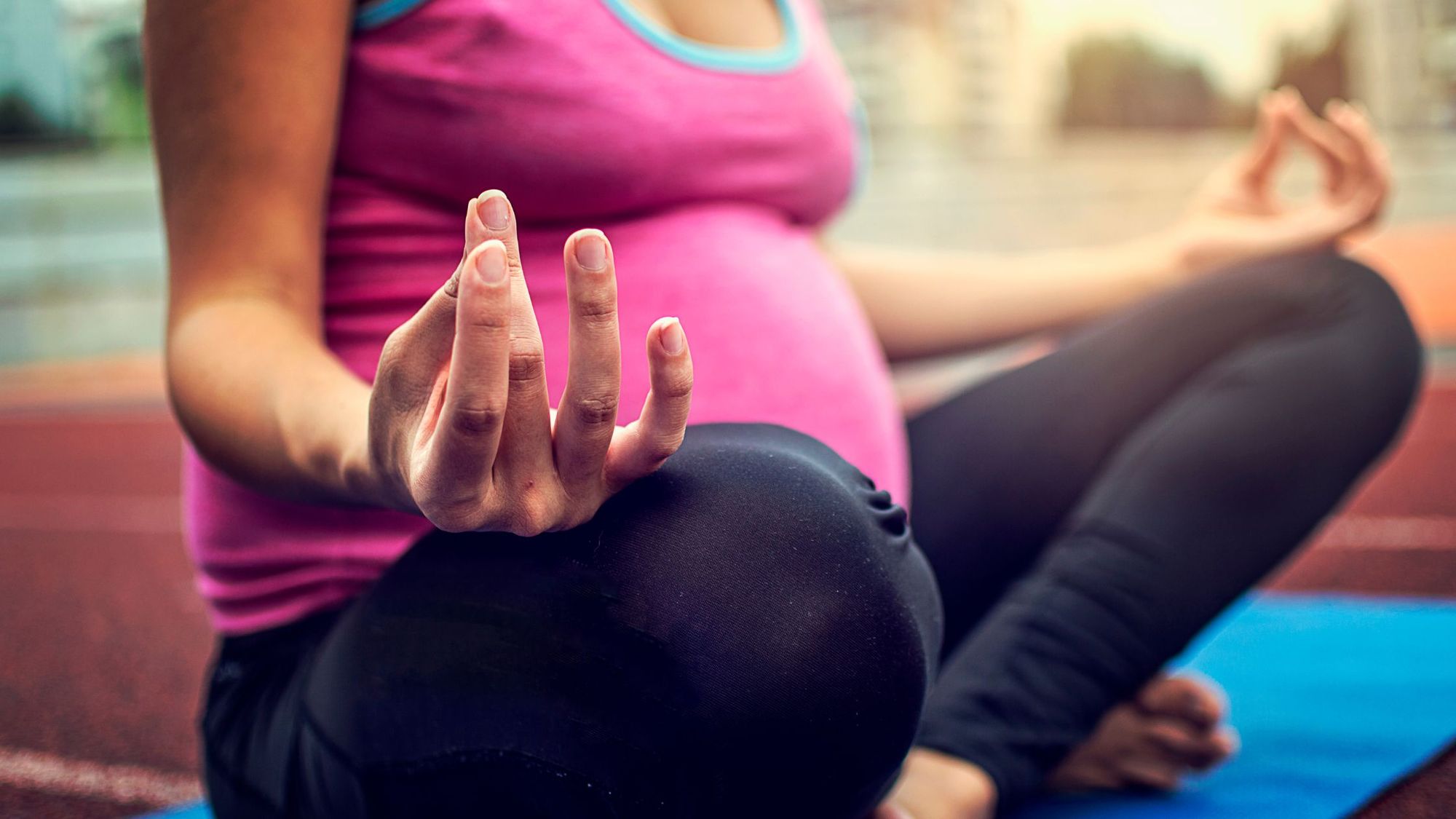 3. Seek Out a Good Prenatal Strength and Yoga Program
A healthy prenatal fitness routine will include a mix of different types of exercise. This includes a prenatal strength program and a prenatal yoga program.
Lucy Ulmer explains, "After receiving a positive pregnancy test, and you have been cleared to continue working out by the medical professional overseeing your pregnancy, seek out a good prenatal strength and yoga program."
Ulmer points out that prenatal yoga is an excellent addition to one's prenatal fitness routine:
"Prenatal yoga is important to give mamas both physical and mental tools to feel better throughout their pregnancy. Yoga also aids in mental clarity. When your mind is clear, you are able to support your pregnancy better. Not just physically, but also emotionally."
In addition to yoga, prenatal strength exercise classes are also a good idea. Ulmer advises, "Prenatal strength exercises help mamas learn to engage and disengage the pelvic floor. Learning to disengage the pelvic floor is equally as important as learning to properly engage it, and it is often an overlooked skill. Relaxing the pelvic floor becomes an extremely beneficial skill during birth, and remains beneficial postpartum as well. After birth, once you have learned how to properly release your pelvic floor, you develop a greater understanding of how to engage your pelvic floor."
4. Combine Different Types of Exercises into Your Prenatal Fitness Routine
According to prenatal fitness specialist Lucy Ulmer, "Prenatal individuals used to be told that they needed to pull back on their fitness, or that they couldn't start any new fitness routines once they found they were pregnant, but that's not exactly true now. I suggest finding a good mix of the above 4 areas of practice mentioned above. (Low-impact cardio such as an indoor cycling class, strength training, stability/balance training such as yoga, and meditation.) The practice evolves as the pregnancy progresses."
Ulmer continues, "A good way to monitor an exercise intensity for a safe prenatal workout is to use the 'talk test.' If the individual can hold a conversation while exercising, they will usually be within a safe range and will not be over-exerting themselves. In spin class this can be tricky to do, but try to sing along to the song when you feel like you are working hard! It adds to the fun vibe in the room and can be a good indicator whether you are able to complete your talk test, and that you're not over-exerting yourself while pregnant."
If you can't talk while you're exercising because you're so exerted, or you can't sing along to a song, you might need to scale it back a bit if you're pregnant. It's best to stay on the safe side.
So, what are some other safe low-impact forms of cardiovascular exercise while pregnant, aside from an indoor cycling spin class? Ulmer advises, "Aside from spin, swimming is a fantastic low-impact form of exercise to get some cardio in. Walking is a great default exercise option, but as mamas progress in pregnancy and start to feel the weight of the baby I recommend shortening the length of time of the walks. Break those walks up with periods of rest. Important to note, rest should be thought of as more than just sitting in a chair at home. That position still adds pressure to the pelvis. Try side lying to relieve some of that pressure."
5. Find an Accountability Buddy
Staying healthy while pregnant is crucial, and physical activity is a key component of maintaining a healthy body. However, remembering to move your body, getting motivated to move your body, and generally staying on top of your fitness is not always easy.
What makes it easier to maintain is accountability partners.
Ulmer explains, "Accountability is super helpful. Find other pregnant mamas in your area to socialize with and attend classes with, or do virtual workouts together."
If you're lucky enough to have a friend who's pregnant at the same time as you, that's a perfect accountability partner. Otherwise, attend local prenatal fitness classes in your area, and you may meet a great accountability buddy there.

How Can I Be Sure That Prenatal Fitness is Safe?
It's very common for pregnant individuals to be hesitant to attend a prenatal fitness class, or to be generally hesitant or concerned about the safety of fitness activities while pregnant.
Lucy Ulmer is a prenatal fitness specialist who wants to encourage mamas that it is safe to attend these prenatal fitness classes while pregnant. Attending a fitness class that is led by someone who is knowledgeable about pregnancy and specializes in prenatal fitness is a safer form of exercise than something like hiking, for example, where someone pregnant could suffer a fall. Furthermore, on a hike, you run the risk of no cell service when you might need medical attention.
On the other hand, the types of prenatal fitness classes you'll find in your area are designed for the safety of someone who is pregnant.
Below is Lucy Ulmer's quick checklist to determine if the fitness program is safe for the pregnant person:
Can I keep my talk-test so that I'm not over-exerting myself? Yes
Is there a fall risk or tripping hazard where I'm exercising? No
Am I working out somewhere that I can easily seek medical assistance if needed? Yes
Does the workout make my body and mind feel good? Yes
If you're experiencing nausea, dizziness, lightheadedness, or have existing health conditions – seek out a personal trainer specializing in prenatal fitness for the safest possible routine.