Quick and easy stir-fry recipes are the perfect dish to make for meal prep. Stir-frying has always been a popular cooking method in Asia, but it's gained popularity in the rest of the world because stir-fry recipes are generally very healthy. That's because this simple process uses high heat with little oil, resulting in tender yet crisp veggies, and juicy meat. Studies confirm that this cooking style retains more nutrients than boiling or stewing. When made with healthy ingredients and healthy sauce, eating stir-fries mean you get a complete meal that's nourishing and satisfying without the excess calories.
Furthermore, stir-fry recipes are easy enough to make, so even a kitchen newbie can figure out how to get it done seamlessly. Stir-frying is a fast and efficient way to cook food in a hot wok or skillet. As its name suggests, the ingredients are cooked with constant stirring while being "fried" with minimal oil in a hot pan. It's a versatile method to cook various types of meat and veggies. Then you can pair the dish up with whole grains like brown rice or whole grain noodles to help you eat balanced meals from all the main food groups. It's even lower in calories if you don't add a starch, however, and the protein and veggies on their own can still fill you up.
Stir-fry recipes are perfect for those on a keto diet, since you can make a delicious stir-fry with low-carb vegetables and lean meat or tofu.
One of the best benefits of stir-frying is getting a meal ready in under 30 minutes. There's also minimal clean-up involved as everything is cooked in one pan. If you want to get a healthy low-cal dinner on the table quickly, stir-fries are the answer. They are full of veggies and protein, making each dish less than 350 calories per serving. Check out these six popular stir-fry recipes that you must include in your meal prep rotation.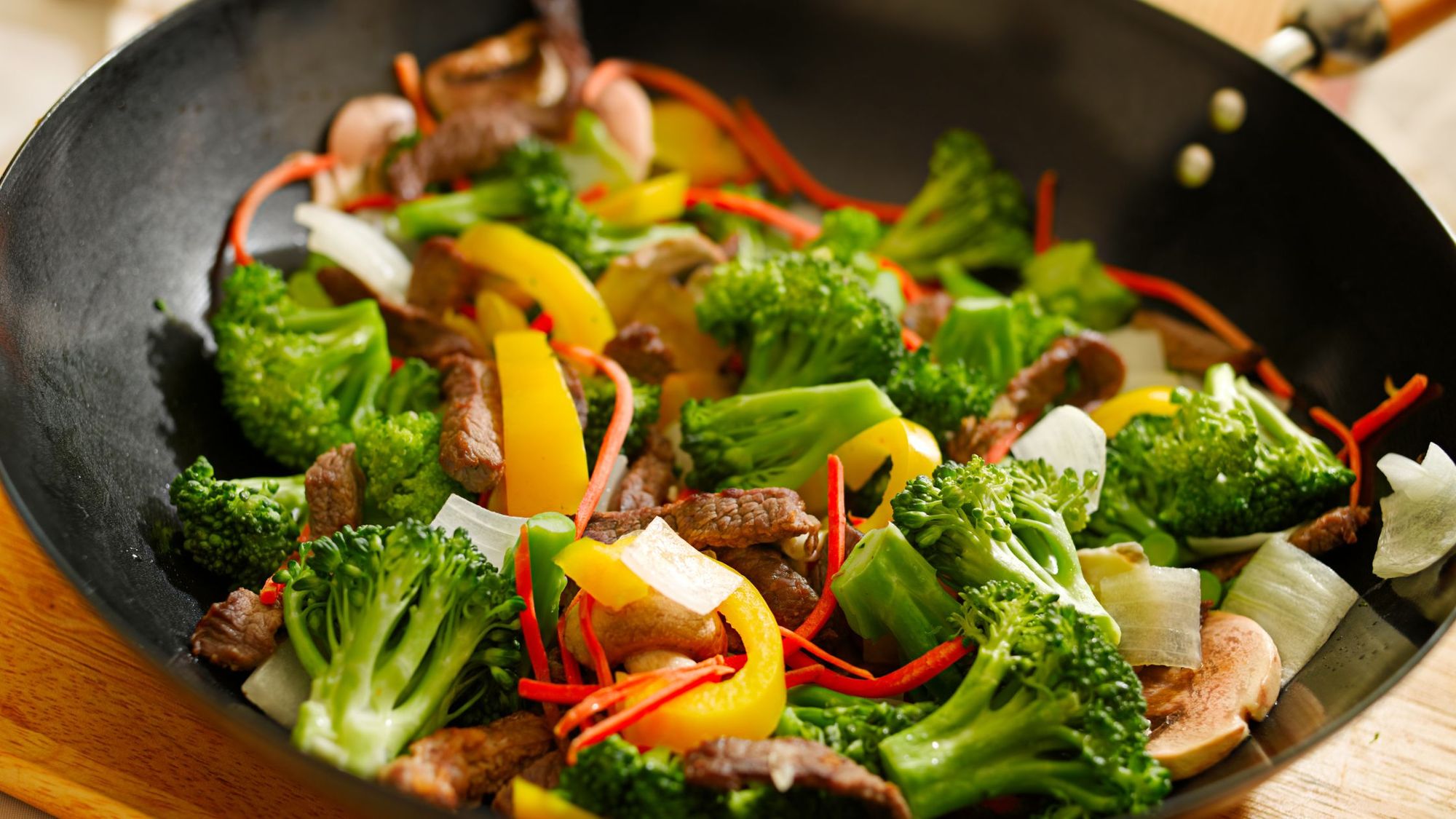 1. One of the Iconic Stir-Fry Recipes: Classic Beef and Broccoli
Make your own beef and broccoli stir-fry instead of having this Door Dashed or going out for Chinese dinner. Besides, homemade is a lot healthier because you can use the freshest ingredients and control the seasonings. If you make this classic dish, you can be sure that it's without MSG while still being rich in flavor.
Each serving contains about 267 calories, so it will help with maintenance and even promote weight loss. If you want to lower the calories, you can readily substitute beef with chicken breast. Here are the ingredients:
1 pound lean flank steak cut into thin strips
2 tbsps olive oil
1 medium broccoli cut into florets
Sesame seeds
For the sauce:
1 tsp grated ginger or ginger powder
3 cloves minced garlic
½ cup hot water
6 tbsp liquid aminos or low sodium soy sauce
2 tbsp brown sugar (or sweetener of choice)
1 ½ tbsp cornstarch
Dash of black pepper
1 tsp sesame oil
Combine all the sauce ingredients in one bowl and set aside. In a large pan, warm 1 tbsp oil using medium heat. Saute broccoli florets for around 5 minutes until tender but still crisp, and set aside. Increase heat, add 1 tbsp oil, and put the beef stirring constantly to make sure they cook evenly. Once the beef turns brown, add sauce and reduce heat to low, simmering for 4 minutes. When the sauce thickens, put back the broccoli and mix well until well combined. Garnish with a sprinkle of sesame seeds and serve over brown rice or quinoa noodles. This dish reheats well and can last for four days in the fridge. It's great for packing in lunchboxes for your kids, or bringing to work for you.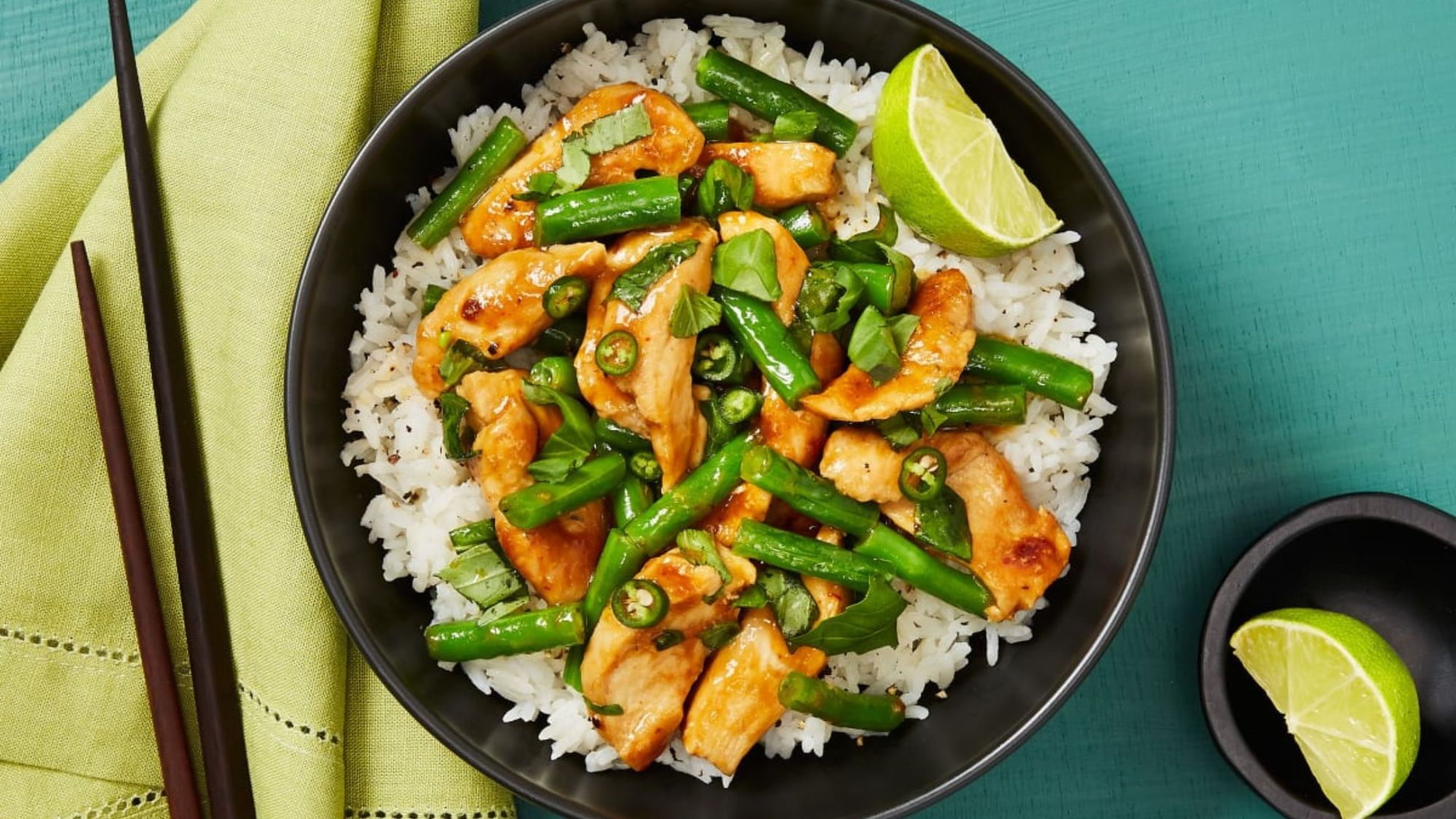 2. Peppery Delish Thai Chicken in Basil
One of the best stir-fry recipes that you must try is Pad Kra Pao Gai or chicken in holy basil. It's a classic dish in Thai cuisine, popularly sold as a quintessential dish in street food stalls. Even if you don't have Thai or holy basil, this dish will taste scrumptious with regular basil combining salty, sweet, and peppery. This recipe is traditionally served with a fried egg over steaming white rice.
However, if you're watching your carbs, you can use brown or multigrain rice. It is less processed and contains more fiber, making you feel more satiated and keeping your blood sugar levels stable. Ensure your portion of rice is quite small (one scoop) if you're watching your weight.
Each serving of this dish is about 178 calories without the egg. Check out the ingredients below:
¼ kilo or ½ pound chicken breast cut into small pieces
One bunch of green onions cut into 2-inch strips
1 cup Thai or regular basil
2 minced garlic
1 finely chopped chili (more if you want it spicy)
1 tbsp neutral oil
For the sauce:
2 tsp oyster sauce
1 tsp liquid aminos or soy sauce
1 tsp fish sauce
1 tsp brown sugar or sweetener of choice
2 tbsp water
Mix sauce ingredients in a bowl and set aside. Heat oil and add garlic, chili, and the white part of the green onion until aromatic. Add chicken and stir-fry until cooked through. Mix in the sauce and cook for a minute until it looks glossy. Turn off the heat and toss in the remaining green onions and Thai basil. The residual heat will cook and wilt the greens. Serve immediately with your grains. This dish tastes even better when it's older as the flavors will intensify. It can last in your fridge for five days.
3. Hearty and Versatile Japanese Shrimp Stir-Fry with Snow Peas
There's something classy about shrimp that turns a simple meal into an elegant crowd-pleaser. If you've grown tired of the usual salmon and tuna stir-fry recipes, shrimp is an excellent seafood alternative. You can use this versatile ingredient to spice up your meals and create variety. Japanese shrimp stir-fry with sweet and tangy mirin is a great canvas that works with different veggies like snow peas, bokchoy, green beans, asparagus, mushrooms, or baby corn. On its own, this is around 117 calories per serving, making it a truly low-cal meal.
However, proceed with caution as this crustacean is a known allergen. If you're certain you won't react to shrimp, cook this taste bud-tickling shrimp dish. Here's what you need:
1 ½ pound shrimp deveined and peeled but with tail on
½ pound snow peas cleaned and trimmed
3 cloves minced garlic
1 chopped shallot
1 tbsp minced ginger
1 stalk sliced green onions
1 tbsp neutral oil
¼ cup broth or water
Sprinkle black sesame seeds
For the sauce:
2 tbsp soy sauce
2 tbsp mirin
2 tbsp water
2 tbsp cornstarch
1 tbsp rice vinegar
1 tsp sweetener of choice
1 tsp sesame oil
Dash of pepper
Combine the sauce ingredients and set aside. Heat neutral oil in a pan with garlic, shallots, and ginger. Once aromatic, add broth or water. Slide in your shrimp and cook until pink, then set aside. Add the snow peas to the pan and cook for around three minutes. Then add the sauce to the pan and simmer until it thickens. Turn off the heat and toss in shrimp back into the pan, then garnish with black sesame seeds. You can eat this solo as a low-carb meal or you can pair it with traditional soba or udon noodles. Shrimp is best eaten right away, but it can be kept in the fridge for only a day or two.
4. Chicken Stir Fry-Fry Recipes With a Twist of Hearty Cashews
One of the hearty stir-fry recipes you ought to try is this saucy chicken with velvety cashews. It blends traditional soy sauce flavors with the wonderful crunch of creamy cashews. This recipe can stack up against takeout because it's so easy to make and stores well for future consumption. You can keep this in the fridge for 4 days, and it also freezes well for up to 3 months.
Do note that this dish is on the higher side of calories because of the cashews, which are a nut that is higher in fat. This dish is 384 calories per serving. However, cashews are a good source of healthy unsaturated fat that's good for your heart health. Research shows this increases good cholesterol and stabilizes blood pressure. Inspired to make it now?
These are the ingredients:
1 pound chicken thighs cut into small cubes
2 tbsp neutral oil
2 cloves minced garlic
1 small bulb onion chopped
1 green bell pepper cubed
¾ cup roasted unsalted cashews
6 tbsp water
For the sauce:
1 tbsp cornstarch
3 tbsp liquid aminos or soy sauce
3 tbsp oyster sauce
2 tbsp Shaoxing wine or cooking wine
2 tsp sesame oil
Dash of pepper
As always, mix the sauce ingredients in a bowl until smooth and set aside. Take two tablespoons of the sauce and use it to marinate the chicken for at least 20 minutes. Heat oil, then add onions and garlic. Once they release an aroma, add the chicken pieces. After two minutes or when the chicken is almost done, add the bell peppers. Pour in the remaining sauce and stir until the sauce thickens. Stir in the cashews and serve immediately with cauliflower rice for a low-carb meal. This can last in the fridge for up to five days, but note the cashews may lose their crispness as days go by.
5. Colorful Mexican Chicken with Cumin and Peppers
If you want a colorful and comforting meal, this dish hits the spot. Studies say that you have to aspire to eat all the colors of the rainbow for optimal health. This will satisfy that and quell your Mexican cravings without guilt. This belongs to the healthy stir-fry recipes list because it's loaded with protein and vegetables, helping you hit your macros target. This clocks in at about 286 calories per serving with tons of vitamins and minerals. Check out the ingredients below:
1 pound chicken breast cut into small pieces
1 red bell pepper cut into strips
1 yellow bell pepper cut into strips
1 small red onion sliced into strips
3 cloves minced garlic
1 cup broccoli florets
1 cup purple cabbage sliced
1 bunch cilantro
1 tbsp olive oil
Shredded cheese (optional)
For the marinade:
1 tsp cumin
1 tsp paprika
1 tsp oregano
1 tsp chili powder
Dash of salt and pepper
Marinate the chicken for at least 20 minutes. If you can do it overnight, the taste will be even better due to flavor infusion. Heat oil in a pan and add garlic and onions. Once aromatic, toss in the chicken. After two minutes, add in the broccoli. When they look almost done, add in the peppers and purple cabbage. Give everything a good stir and season with salt and pepper to taste. Garnish with fresh cilantro and top with shredded cheese. This dish is super versatile, so you can pair it up with a low-carb tortilla and eat it as a fajita. It also pairs well with brown rice. This can last in the fridge for five days and in the freezer for up to three months.
6. Tongue-Sizzling Spicy Korean Pork Jeyuk Bokkeum
Pressed for time? No worries! This Jeyuk Bokkeum or spicy pork stir-fry is ready in less than 30 minutes. It's savory, sweet, and spicy thanks to the gochujang (chili paste) and gochugaru (chili powder). These ingredients really make this dish stand out in terms of taste and color. You can make it spicier or milder by tweaking the gochujang to suit your preferences. There's no marinating time required because the flavors will meld with the pork during cooking.
Here are the ingredients:
1.2 pounds thinly sliced pork shoulder
2 tbsp neutral oil
2 cloves minced garlic
1 white onion cut into strips
1 stalk green onion finely chopped
1 carrot cut into circles
1 cup cabbage
Sprinkle sesame seeds
For the sauce:
3 tbsp soy sauce
2 tbsp brown sugar
2 tbsp cooking wine
2 tbsp sesame oil
2 tbsp gochujang
1 tsp gochugaru
In a bowl, mix the sauce ingredients and set aside. In a pan, heat oil, garlic, and onions. Once aromatic, add the oil and cook until almost done. From there, mix in the carrots, cabbage, and sauce. Simmer until completely cooked. Once done, garnish with green onions and sesame seeds. This dish is around 279 calories alone.
For a low-carb option, you can enjoy this wrapped in perilla leaves or lettuce. You can also eat it with brown rice. And of course, no self-respecting Korean recipes will be complete without banchan or side dishes. Be sure to have a plate of kimchi, sauteed microgreens, and pickled papaya with this dish. The peppers will help preserve this dish so it can last in your fridge for 5 days.
Healthy Choices Matter
Stir-fry recipes help you make healthy, balanced meals without fuss. As you can see, you just need veggies and proteins mixed with your choice of whole grains. It requires little preparation, quick cooking, and assured quick clean-up.
Find out the optimal diet plan based on your DNA by taking a CircleDNA test and reading your genetic diet and nutrition guidelines. This comprehensive DNA test doesn't just provide the standard ancestry information and health risks, but it also offers detailed nutritional reports based on your genetic makeup, and possible higher needs of certain foods.
But remember, not all stir-fries are made equal. If you use fatty cuts of meat, and super sugary sauces, and mix them with refined grains, then your stir-fries become a fat-ladened indulgence. Remember to stick to lean protein, whole grains, and fresh veggies for a nutrient-dense stir-fry that will keep your stomach full and your tongue satisfied.
References: