Korean recipes are all the rage these days on social media, with influencers sharing TikTok cooking tutorial videos and Instagram reels of their scrumptious dishes like bibimbap (rice bowl) or buchujeon (green scallion pancake). This phenomenon is not surprising because all things Hallyu (or the Korean Wave) are trending with Korean skincare, K-dramas, and K-pop like Grammy Award Winner, the BTS boy band.
One of the ways to truly appreciate a culture is to partake in gastronomic delights that underscore their culinary traditions and are unique to their region. Korean food is a great addition to your meal prep because it is generally quite healthy, with an emphasis on vegetables, little oil, and fermented ingredients like kimchi, kombucha, or fermented soybeans. Studies show fermented items are a great antioxidant, good for gut health, and aid in digestion. They also infuse a unique flavour into the Korean recipes.
If you're looking for healthier Korean recipes, ditch the samgyeopsal (pork belly) and bulgogi (beef). Instead, opt for Korean chicken recipes that are equally delicious as they are nutritious. Research shows that chicken breast is a lot healthier with lower calories and cholesterol than fatty cuts of pork and beef. Moreover, poultry is also cheaper per pound, so using chicken as the base protein for your Korean recipes means pocket-friendly meals that don't compromise on taste. Korean ingredients are also readily available in regular and Asian grocery stores.
Here are 5 Korean chicken dishes you can easily make at home, even if you're a kitchen newbie: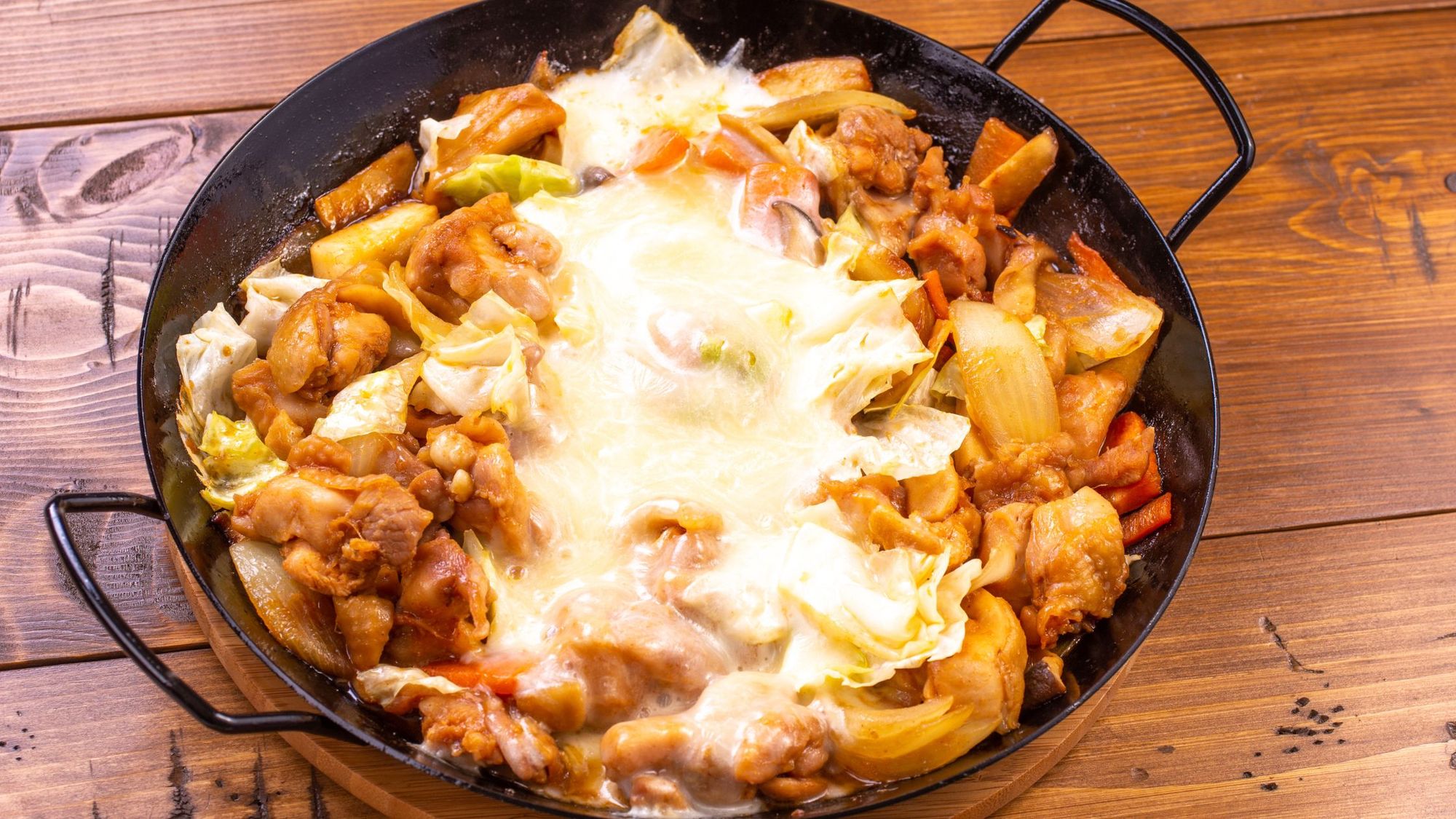 Iconic Korean Chicken: Ultra Delish Dak Galbi
Dak galbi is an iconic Korean chicken recipe that makes frequent appearances on social media. It translates to spicy chicken stir-fry and remains a cult favorite because of how easy it is to make. What sets this apart from traditional stir-fries is the red color and spice kick. You can adjust the seasonings to suit your taste buds, so if you want it spicier, just add more gochujang (chili) paste or gochugaru (chili powder). Conversely, you can taper down the seasonings if you want to avoid that burning sensation in your mouth.
This dish hails from Chuncheon, a beautiful lake city in Gangwon province. You can make your own version by marinating chicken in a spicy Korean sauce and stir-frying with tteokbokki (rice cakes), sweet potatoes, and greens. Check out the ingredients:
To make the Korean chicken:
1 pound or ½ kilo chicken breast or thighs sliced into pieces
½ sweet potato cut into strips
½ small carrots sliced into circles
¼ napa cabbage sliced thinly
20 pieces tteokbokki (prepared ahead by soaking and softening in warm water)
2 tbsp oil
For the sauce:
3 tbsp gochujang
2 tbsp rice wine or red wine
1 tbsp gochugaru
1 tbsp brown sugar
1 to 2 cloves minced garlic
1 tsp minced ginger
1 small onion chopped
Marinate the chicken in the sauce for at least 20 minutes. Heat oil in a saucepan and put all the ingredients into the skillet. Cook on medium to high heat for 4 minutes. Then, reduce to low and cook for another 10 to 15 minutes. Be sure to stir this often to avoid burning and sticking to the bottom of the pan. Once done, you can eat this wrapped in perilla leaves or lettuce. Some like dipping this into melted cheese. Since it comes with rice kicks, this dish satisfies your go (carbs), glow (veggies), and grow (protein) food groups.
Easy Korean Chicken Bibimbap
Bibimbap combines "bibim" which means mixing and "bap" which means rice. This is one of the most popular Korean recipes because of its simplicity. The term bibimbap means mixed rice with meat and various veggies. There's no single Bibimbap recipe because Korean ajummas make their own version with whatever banchan (side dishes) or leftover is in the fridge. Newbies will love this because there's minimal cooking involved.
Traditionally, bibimbap is made with beef and raw egg plus tons of veggies. But if you want a healthier version, you can use shredded left-over rotisserie chicken and a fried egg as a topping. Check out what you need to make our own Korean chicken "bibimbowl" below.
For rice and toppings:
1 cup cooked white rice
¼ cup shredded chicken
¼ cup kimchi
¼ sauteed spinach
¼ cup chopped purple cabbage
¼ cup carrot strips
¼ cup mushrooms
A handful of bean sprouts
Sesame seeds
Green onions
Nori
For the sauce:
½ tsp gochujang (more if you want it spicy)
T tsp brown sugar
1 tbsp sesame oil
1 tbsp soy sauce
T tbsp sesame oil
Just put the rice in a large bowl and assemble the veggies and chicken on top into sections to make it look pretty. You can add an optional fried runny egg and sprinkle cut-up nori with sesame seeds and green onions as toppings. Take a photo of this one, because this pretty bowl is Insta-worthy. Then, drizzle with the sauce, give your rice a good mix, and enjoy.
All-Time Fave Korean Recipes: Kimchi Jjigae with Chicken
Kimchi is your quintessential Korean ingredient. Some people even like to joke that this is the "national food" because you can immediately spot it with its unique scent and taste. Some would say that traditional napa kimchi is an acquired taste because it combines a medley of flavors like spicy, salty, sour, and even a tinge of sweetness.
If you want a comforting bowl of delicious goodness, kimchi jjigae or stew with chicken is great, especially for cold winter nights. This dish falls under many people's favourite Korean recipes because it's simple to prepare. It combines veggies, tofu, and chicken which means you get your fiber and much-needed protein. Check out the ingredients:
1 ½ cups stock
½ cup kimchi
¼ cup kimchi liquid
A handful of carrot strips
¼ of zucchini cut up
½ cup cubed chicken breast
½ pack of firm tofu cut into cubes
1 tsp gochujang paste
1 tsp soybean paste
1 tsp sesame oil
½ tsp gochugaru (chili powder)
One sliced shallot
1 clove minced garlic
Sliced green onions
In a pot, saute garlic and shallots until the fragrance comes out. Add the chicken breast and kimchi, then cook until brown and wilted, respectively. Add in the soup, seasonings, tofu, carrots, and zucchini. Simmer until the veggies are cooked. Topped with sliced green onions as garnish. En voila! Pair this up with a steaming bowl of brown rice and you've got a really filling, healthy, nutrient-dense meal.
Nourishing Korean Chicken Samgyetang
Ask any Korean ajumma and they will tell you that a nourishing and steaming bowl of samgyetang is a joy to slurp with its flavorful broth. They believe that eating this will restore the body's energy, especially in the summer when you tire faster and expend more effort because it's too hot. But, hot soup in the summer? Isn't that counterintuitive?
Koreans believe that a hot bowl of soup at the peak of summer is "fighting fire with fire!" You counter the hot summer weather by keeping your body temp acclimatized with hot soup. But clearly, this ginseng chicken soup will also work for cool winter months because a steaming bowl always hits the spot when it's frigid outside. The ingredients are:
1 whole chicken about 2.5 pounds or 1kg
1 to 2 liters of water
¼ cup glutinous rice soaked in water for at least 2 hours
1 dried ginseng
4 whole garlic cloves peeled
5 dried jujube or goji berries
Optional 4 ginkgo nuts and chestnuts
Salt and pepper to taste
Wash the chicken properly with cold water. Then place all the stuffings in the cavity and use bakers twine to tie the legs. This will prevent the stuffing from falling out as you stew the chicken. Season with salt and pepper. Place inside a tall pan and add water. Bring to a boil then lower heat. Simmer for at least an hour to bring out all the juices and cook the stuffing. Serve with slivered green onions as garnish.
Dress Up Instant Spicy Chicken Buldak Ramyun
Buldak-bokkeum-myeon or spicy chicken buldak ramyun by Samyang made waves because it was a viral challenge for the longest time. This super spicy noodle dish (non soup version) is said to put your mouth on fire. Many fans say it puts ordinary ramen noodles to shame. Even spicy lightweights can enjoy this dish by using only a few drops of the red sauce from the package. You can tailor the spicy level to suit your taste buds.
Although instant ramen may not sound healthy, eating occasionally to satisfy your cravings is okay. In fact, studies show that a well-planned cheat meal can help you stay motivated and give you the willpower to forge on with your healthy diet. Furthermore, this dish isn't completely lackluster because you will jazz it up with veggies and chicken to make it more filling and nutritious. Here are the ingredients:
1 pack Samyang Spicy Korean Chicken Flavor
1 tsp sesame oil
½ cup cooked shredded chicken
½ cup cucumber cut into strips
½ cup carrot strips
¼ cup corn
¼ cup mushrooms
Green onions for garnish
This Korean chicken dish is very easy to prepare because you just have to follow the noodle package instructions. Once it's cooked, mix a teaspoon of sesame oil into the noodles. This will enhance its already umami-filled flavor. Top the noodle dish with the veggies and chicken. Then, sprinkle the furikake packet that comes with the package and top with green onions. You can eat this rolled up in lettuce to increase your fiber intake.
Are You Ready to Give These Korean Recipes a Try?
Whether you're a total kitchen noob or a culinary whiz, Korean recipes deserve a place in your lunch or dinner lineup. Korean food is usually very healthy because it's cooked with minimal oil and uses healthy ingredients. That's why Korean meals often have fewer calories than traditional Western dishes.
Moreover, Koreans typically eat their meals with banchan. These are small plates of healthy side dishes like kimchi, sauteed microgreens, sweet potatoes, sesame eggplants, fish cakes, pickled carrots, and more. These little dishes along with the main meal fill you up with vitamins, minerals, and phytochemicals that nourish the body.
Are you ready to give these Korean recipes a try? Making Korean dishes at home is a lot easier than you think. Don't let the spice factor turn you off either, because you can tweak the seasonings to suit your taste and spice tolerance. Check what ingredients work well with your unique genetic makeup by taking a CircleDNA test. This at-home DNA test comes with hundreds of reports including reports on the diet that suits you best, based on your DNA, and your genetic nutritional needs.
References: