Whether you're just getting to know each other or have been together for ages, these healthy date night recipes will make hosting a date-night-in even more fun and memorable than going out for dinner. Remember, just because you and your significant other feel like staying home, it doesn't mean you have to settle for a mediocre microwave dinner, repetitive Chinese takeout, or unhealthy frozen pizza.
If you're looking for a touch of magic, these date night meals are perfect for adding a little sparkle to your relationship. Pop open a bottle of wine, play some mood music, and serve one of these easy dishes to spice up your night. They're nutritious and delicious, but most of all, easy to prepare. You'll have a night to remember when you serve any of these healthy date night recipes. With something like this to warm your heart and fill your belly, you and your partner may be motivated to do stay-at-home date nights more often.
Why Cooking Healthy Date Night Recipes is a Bonding Activity
Do you believe that romance doesn't just solely bloom in the bedroom but also blossoms in the kitchen? Research shows that 7 in 10 people agree that cooking for your partner feels more intimate than having sex. Perhaps this is why there's a timeless adage that says that the way to a person's heart is through the stomach. Cooking for someone (or cooking together) is an intimate activity that creates bonds and brings people together. Couples are actually encouraged to spend more time in the kitchen, whether it's both couples cooking or just one doing the preparation and the other providing support or contributing ingredients.
Matthew Riccio, National Science Foundation Graduate Research Fellow, said, "If you're cooking for someone, even if they're not present during the act, it can absolutely bring a sense of closeness in that you're expressing your love and your care for someone." Providing your partner with a meal is love put into action which promotes positive growth and closeness within your relationship. If you want to forge stronger bonds and show your sincerity, consider cooking for your loved one. After all, acts of service are a love language.
Below are 5 healthy date night recipes for two, to make a good impression on your one and only:
Easy Vegetarian One-Pan Ratatouille
To many people, ratatouille is the name of a poignant Disney animated movie. But this dish originally hails from the Provence region of France. This vegetable stew is originally considered a "poor man's" dish, but it is now well-loved throughout the world. This proves that healthy date night recipes don't have to break the bank. It's time to give this delicious vegan dish a try because it contains tons of veggies simmered in heart-healthy olive oil. Talk about an antioxidant boost with a dose of good fats!
Preparation is easy as it entails mostly chopping the vegetables and popping them in an oven. Impress your date and lay the vegetables prettily in individual pans. This healthy and hearty dish comes together quickly and looks very impressive when served with crusty baguettes on the side. Ratatouille is also one of those healthy date night recipes that pair well with wine.
Ingredients:
4 tbsp extra virgin olive oil
1 clove minced garlic
1 tbsp dried oregano
½ cup tomato sauce
1 small eggplant chopped into circles
1 small red onion diced
2 medium tomatoes cut into circles
1 medium zucchini chopped into circles
1 red bell pepper, diced
1 tbsp thyme leaves
Salt and pepper to taste
Instructions:
Preheat the oven to 375°F and prep all the ingredients. Place two individual baking dishes on a baking sheet and set aside. In a pan, heat olive oil and garlic until aromatic. Turn off the heat and add oregano. Drizzle some olive oil into the base of the prepared baking dish and then spread the tomato sauce into the base. Be sure to reserve a bit of oil and tomato sauce for the topping.
Next, layer the vegetables and make sure they're packed tightly. Don't worry about making things look perfect. They will look beautiful after baking. Once you're done placing the veggies, drizzle the top with tomato sauce and then add the remaining oil. Sprinkle it with thyme, salt, and pepper. Bake for half an hour or until the veggies are tender and beginning to brown on the surface. You can give this dish a unique spin by adding a sprinkle of shredded triple cheese. Bon appétit!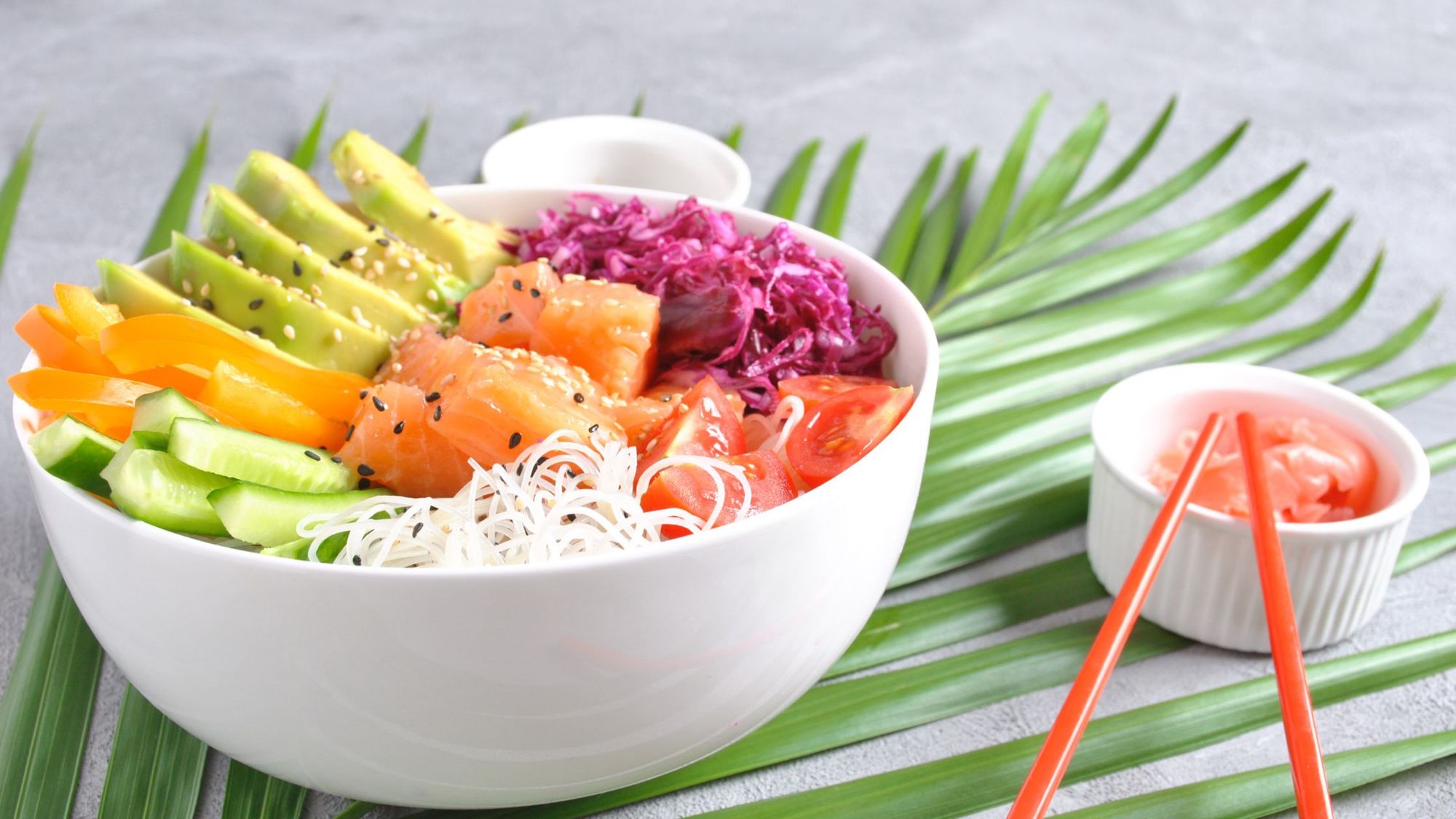 Salmon and Avocado Poke Bowl
Are you looking for creative, healthy date night recipes? Impress your special someone with your culinary finesse by serving this delectable salmon poke bowl that even kitchen noobs can make. There's just something about this king of the sea that tickles everyone's taste buds. Make sure to look for quality fresh salmon. And, of course, there's also something fancy-free about eating in a bowl.
This certainly deserves a spot in your healthy date night recipes list because both salmon and avocado are rich in omega-3 fatty acids, a form of good cholesterol that promotes heart health. Salmon is an easy ingredient to work with, plus you'll look super fancy serving freshly made fish in a bowl with a glass of white wine.
Ingredients:
For the fish:
½ pound salmon cut into ½ inch cubes
⅛ cup soy sauce
½ tbsp sesame oil
1 tbsp rice wine vinegar
½ tsp grated ginger
¼ tsp minced garlic
2 stalks green onions thinly sliced
For the rice
2 cups cooked brown rice (use a rice cooker or buy a microwaveable one in the Asian store)
½ cucumber cut into strips
1 radish cut into strips
1 avocado cut into cubes
1 small carrot julienned
Black sesame seeds for garnish
Instructions:
Combine all the fish ingredients in a bowl and stir well. Marinate the salmon for thirty minutes in the fridge. The fresh fish will "cook" through as it sits in the marinade with a generous dose of acid in the form of vinegar (think of it like ceviche). If you're squeamish about eating raw sushi-grade salmon, you can also pan-fry the cubes until cooked through.
Finally, assemble the rice bowls by laying the veggies prettily on the bowl. Make space for the salmon and top with toasted sesame seeds. You can also garnish this with cut-up seaweed flakes. If you want an added zing, add some wasabi or sriracha.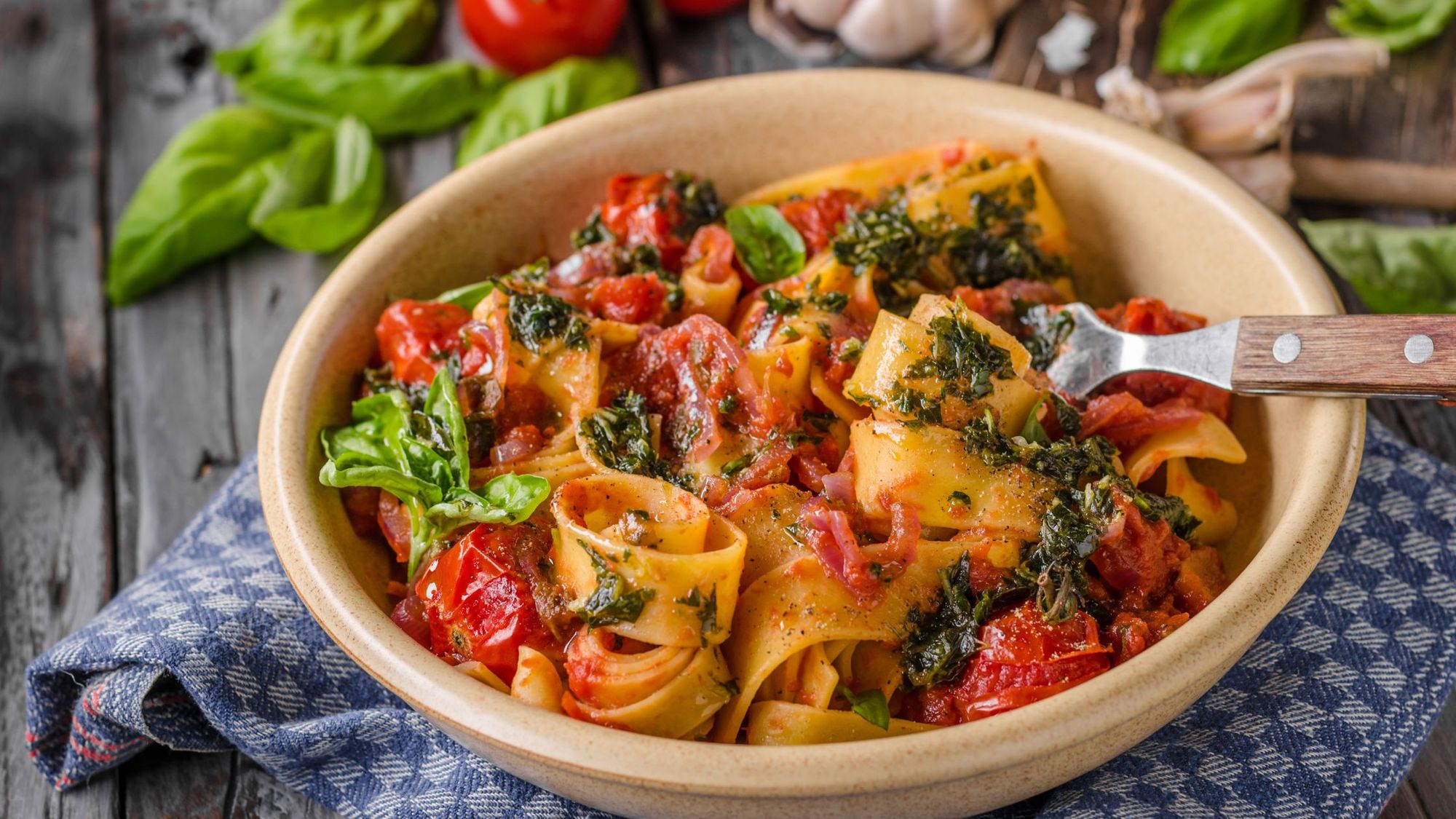 Whole Wheat Tomato Basil Pasta with Chicken
If you think pasta doesn't belong to a healthy date night recipes list, think again. Pasta can be an easy, complete, one-pot meal that's nutritious and filling. However, you must choose whole wheat and unrefined pasta over white pasta. Studies show that whole-grain pasta takes longer to digest, reduces appetite, and promotes satiety or keeps you full for longer.
On top of that, opting for an olive oil-based sauce with tomatoes is healthier than the creamy variants. The former is rich in healthy fats and antioxidants while the latter is just loaded in trans fats that increase calorie count without adding nutritional density. Wow your date with this easy pasta dish. You can make this classic pasta dish more hearty by adding protein. Make your life easy by slicing rotisserie chicken and styling it on the plate. No one will ever know that the chicken is store-bought.
Ingredients:
250 grams whole wheat pasta
4 tablespoons olive oil
2 cloves minced garlic
2 ½ cups fresh basil leaves
1 pack of cherry tomatoes
Parmesan cheese
Salt and pepper to taste
Rotisserie chicken cut lengthwise
Instructions:
Boil the pasta following the instructions on the package. As the pasta cooks, prepare the olive oil-based sauce in a separate pan. Heat the olive oil with the garlic. Once aromatic, add the basil leaves and cook until wilted. Turn off the heat and add the cherry tomatoes. When the pasta is cooked, combine the piping hot noodles in your serving dish with the sauce.
Don't forget to add a little of the pasta water. Sprinkle it with parmesan cheese. The residual heat will continue to cook the tomato and melt the cheese. Serve this on a pretty plate and with the pre-cooked chicken. Garnish with fresh basil, parsley ribbons, and slivers of parmesan to make it look extra festive.
Low-Carb Pan-Grilled Cumin Chicken With Green Beans
One of those healthy date night recipes that are quick to cook and full of flavor but difficult to fail is cumin chicken. It's low carb but rich in protein and fiber. This zesty, yummy dish comes together in a flash, so it's perfect even if you're in a rush. Don't be afraid to give this easy-easy recipe a tray. Even kitchen newbies can manage to prepare and cook this confidently. It's delicious and definitely good enough for company, especially if you wish to impress your date.
Ingredients:
4 deboned and skinless chicken breast
1 tsp ground cumin
½ tsp red chili flakes
½ tsp salt
Dash of black pepper
2 tsp olive oil
1 bunch of green beans
Instructions:
Slice the chicken breast in half and pound to ½ inch thickness with a mallet. Rub the chicken with the spices and olive oil and let it sit for 30 minutes to infuse flavor. Prepare a grill pan and spray with non-stick spray or use olive oil. Grill the chicken for five minutes per side, or until nice grill marks have formed. Once all the chicken is cooked, use the pan drippings to cook the green beans.
Serve on individual plates and enjoy this low-carb dinner that's perfect for keto dieters. For people on a normal diet, you can also serve this with a baked sweet potato side dish for healthy complex carbs. Check out this recipe here.
Tofu Thai Green Curry
Healthy tofu recipes can be surprisingly delicious, and tofu goes great in a curry. Of course, you can always swap the tofu for beef or chicken if you like. Curry recipes are highly adaptable, and many people modify the recipe to suit their vegetable preferences, etc.
This happens to be one of the best low-carb healthy date night recipes out there. Luckily, curry paste only contains 3 carbs per tablespoon, and only a couple of tablespoons are needed. The curry sauce is made up of green curry paste and ½ can of full-fat coconut milk, which only contains 3 grams of carbs, so green curry sauce is definitely a low-carb sauce to cook meat, tofu and vegetables in.
Below is the recipe. You can modify which vegetables you use in your recipe, to suit you and your date's preferences.
Ingredients:
½ yellow onion, diced
1 clove of garlic, minced
½ can of bamboo shoots
1 zucchini, chopped into cubes
1 red bell pepper, chopped into 1 inch pieces
1 sweet potato, chopped into cubes
1 block of tofu, chopped into 1 inch cubes
Lime juice
1 tablespoon olive oil
2 tablespoons of thai green curry paste
½ can of full-fat thai coconut milk
Instructions:
Start by preparing your ingredients by cutting up your veggies and tofu. Then, preheat a large pan on your stove on medium heat with a tablespoon of olive oil in it. Add your diced onions and 1 tablespoon of minced garlic to your pan. Once the onions start to darken or brown, add the tofu, flipping it frequently to cook evenly. Sprinkle some salt and pepper on the tofu while it's cooking in the pan, followed by half of your curry paste (about 1 tablespoon) flipping and tossing the tofu for about 6 – 8 minutes. Cook the tofu while coating it in curry paste before adding vegetables to the pan. Add all of your vegetables, along with a dash more salt and pepper, another tablespoon of curry paste and ½ can of full-fat coconut milk, stirring to mix well and coat evenly. Taste your curry sauce to see if you need to add any extra curry paste. Some people also add a tablespoon of chili flakes for added spice. This recipe will feed 2 people for dinner. Serve with rice.
What Recipe Will You Cook for Date Night?
No matter what recipe you choose, it's your intention that matters. Make your cooking a work of art and heart. Cooking is a creative endeavor that creates a sense of achievement once you serve up the plated dish. It will show how much time and thought you've put into your significant other, and they will surely be pleased by your effort. And you can think of your love as the secret ingredient. Anything made with TLC is always appreciated.
And if you want to make things more romantic, why not collaborate and cook the meal together? You can have a cooking night to forge even stronger bonds. If you're not sure what to cook, check out the many different recipes here from healthy stir fries to Korean dishes. And if you truly want to know what to nourish your body with, take a CircleDNA test.
This at-home DNA test provides you with hundreds of insights on your ancestry, genetic health risks, personality traits, exercise regimens that suit your body composition, nutrition guides, and more. You could find out if you're genetically sensitive to carbs or have certain food sensitivities, and it helps you plan out your diet.
References: