Healthy soup recipes are exactly what you need to be eating more of right now. Something about the warm broth base of most soups is extremely filling, satisfying and comforting. Made with healthy ingredients, healthy soup recipes can help you lose weight.
It's getting colder outside, and it's definitely soup season. Studies show that a cup of comforting soup has positive effects on mental health, because it automatically activates relationship-related concepts, satisfies the need for belongingness, and fulfills embodied cognition. Soup stimulates the onset of positive memories like being brought a cup of warm soup by your mom when you were sick, or warming up with a bowl of soup after a day of skiing with the family.
If you are looking for nutritious and delicious meals to keep you energized throughout the colder seasons, sustain you throughout your fun lineup of outdoor activities, and keep you in good health for more seasons to come, you can always turn to healthy soup recipes. They're hearty and filling, helping you maintain a healthy weight and curb cravings. With the right healthy soup recipes, you can also satisfy the main food group requirements that your body needs for optimal wellness.
Certain healthy soup recipes offer not only comfort but also are capable of fulfilling your dietary and nutritional needs when you select the right ingredients and choose the right cooking methods with minimal oil. These healthy soup recipes are also quite easy and quick to make, and often require hassle-free cleanup as most soups simply involve throwing everything into one pot, similar to a stir-fry recipe.
If you are looking for new healthy soup recipes to try, below are some few low-calorie yet nutrient-dense soup recipes for a healthy diet:
Russian Borscht Soup
One of the most beautiful and healthy soup recipes, the Russian Borscht soup is a filling, nutrient-filled, gorgeous red soup that will leave you feeling refreshed and satiated.
Russian Borscht is low in calories and requires a very simple set of ingredients that are nutrient-dense and rich in fiber. However, this beautiful red soup takes some time to make – so the level of difficulty may be de-motivating for kitchen novices, especially if you're not fond of chopping veggies. This particular Russian borscht soup recipe uses the following ingredients:
2 cups chopped cabbage
2 cups cubed carrots
2 cups diced onions (less if you prefer)
2 cups chopped fresh beets
4 cups of beef or vegetable broth
1 16-ounce can diced tomatoes (undrained)
1/2 teaspoon dill
1/2 teaspoon salt
1/4 teaspoon pepper
Instructions:
In a large pot of broth, combine the onions, carrots, and beets. Bring all of these to a boil. After the broth is brought to a boil, reduce the heat, cover, and let simmer for 30 minutes until the vegetables soften.
Next, add the tomatoes and cabbage. Cover and simmer until the cabbage is tender. Stir in the seasonings. This recipe yields 8 cups (about 6 servings) of soup, with each cup averaging only 71 calories. This means even a big bowl of soup would only be about 150 calories. You can eat this with whole grain bread if you like, and top it with a dollop of sour cream to make it a more filling meal. However, many people find that the soup is filling enough on its own. One benefit of the add-ons of sour cream and whole wheat toast is that you then get nutrients from the five main food groups.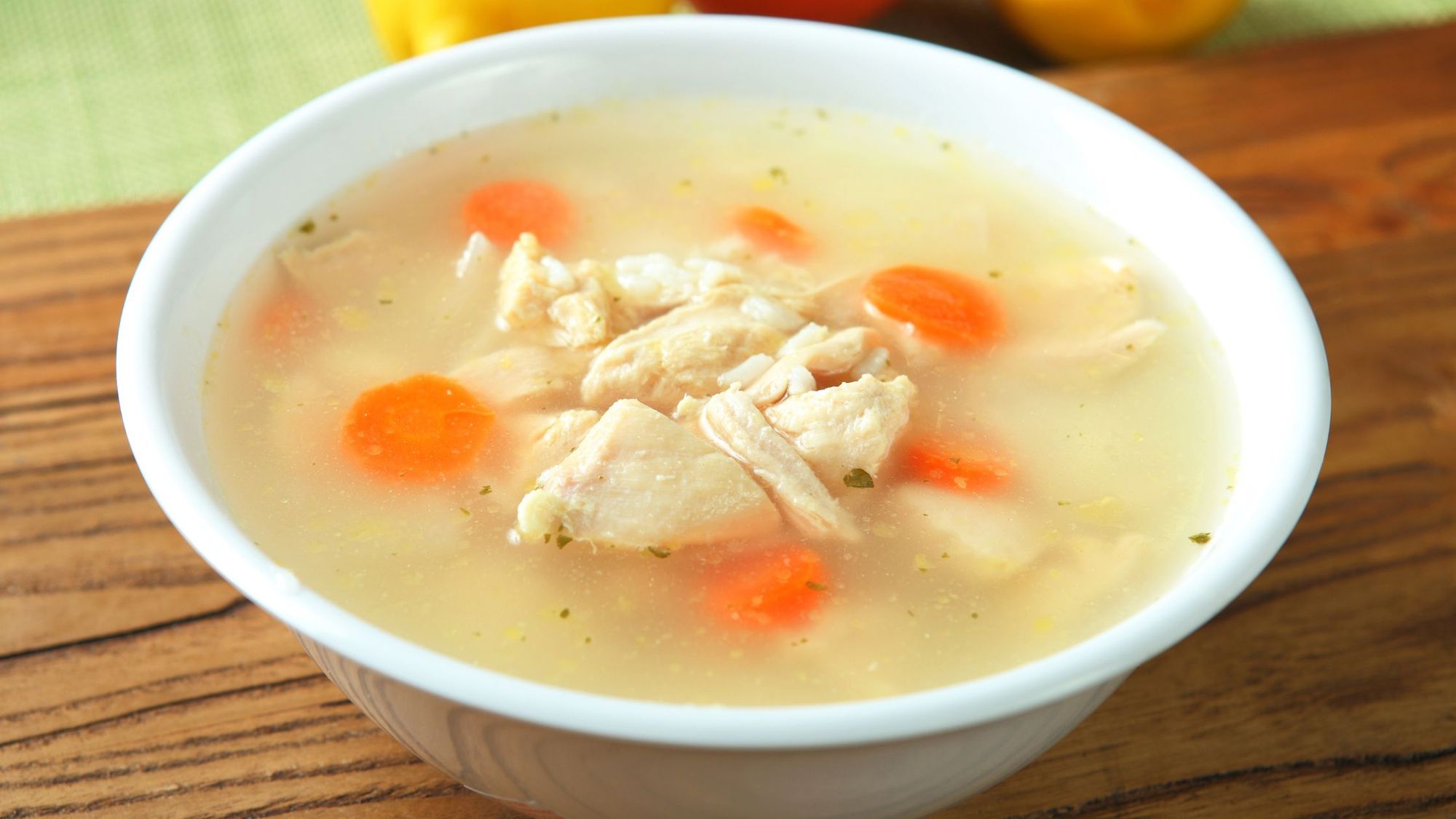 Chicken Soup: One of the Most Comforting Healthy Soup Recipes
Nothing spells healthy, hearty, and delicious like a good ol' bowl of classic chicken soup with all the fibrous vegetables, and lean protein. According to a clinical dietician at Beth Israel Deaconess Medical Center in Boston, Sandy Allonen, studies show that chicken soup could also ease cold symptoms, soothe the throat, and clear nasal congestion. More importantly, Allonen said: "Chicken is also high in tryptophan, which helps your body produce serotonin that can enhance your mood and give you the feeling of comfort."
This particular chicken soup recipe is great as it is loaded with fibrous veggies, protein-filled chicken, and tasty aromatics. This is one of those healthy soup recipes that will keep you satiated for a long time and keep cravings at bay. This soup calls for the following ingredients:
8 cups chicken broth (make your own or use a carton of chicken broth)
2 cloves minced garlic
1 small shallot
1 tsp neutral oil
1 knob tiny ginger minced
2 cups shredded chicken
2 cups cubed medium carrots
3 diced medium celery stalks
2 cut and peeled medium potatoes (or substitute whole wheat pasta)
Salt and pepper to taste
Instructions:
Heat oil and heat aromatics until fragrant. Pour in the broth, put heat on high heat, and bring to a boil. Add in your celery, carrots, and potatoes (or low-carb pasta if you're cutting out carbohydrates). Reduce heat to medium and simmer until veggies are tender. Stir in the chicken with your seasonings and cook until the chicken is warmed through. This particular recipe makes 6 servings, with each serving averaging 134 calories. Kitchen newbies will love this as it is very easy to make. You can even buy a perfectly cooked roast chicken at the grocery store to speed up the process.
To make the soup even healthier, add more veggies like broccoli instead of pasta or potatoes. This chicken soup is so flavorful and delicious, you won't miss the pasta.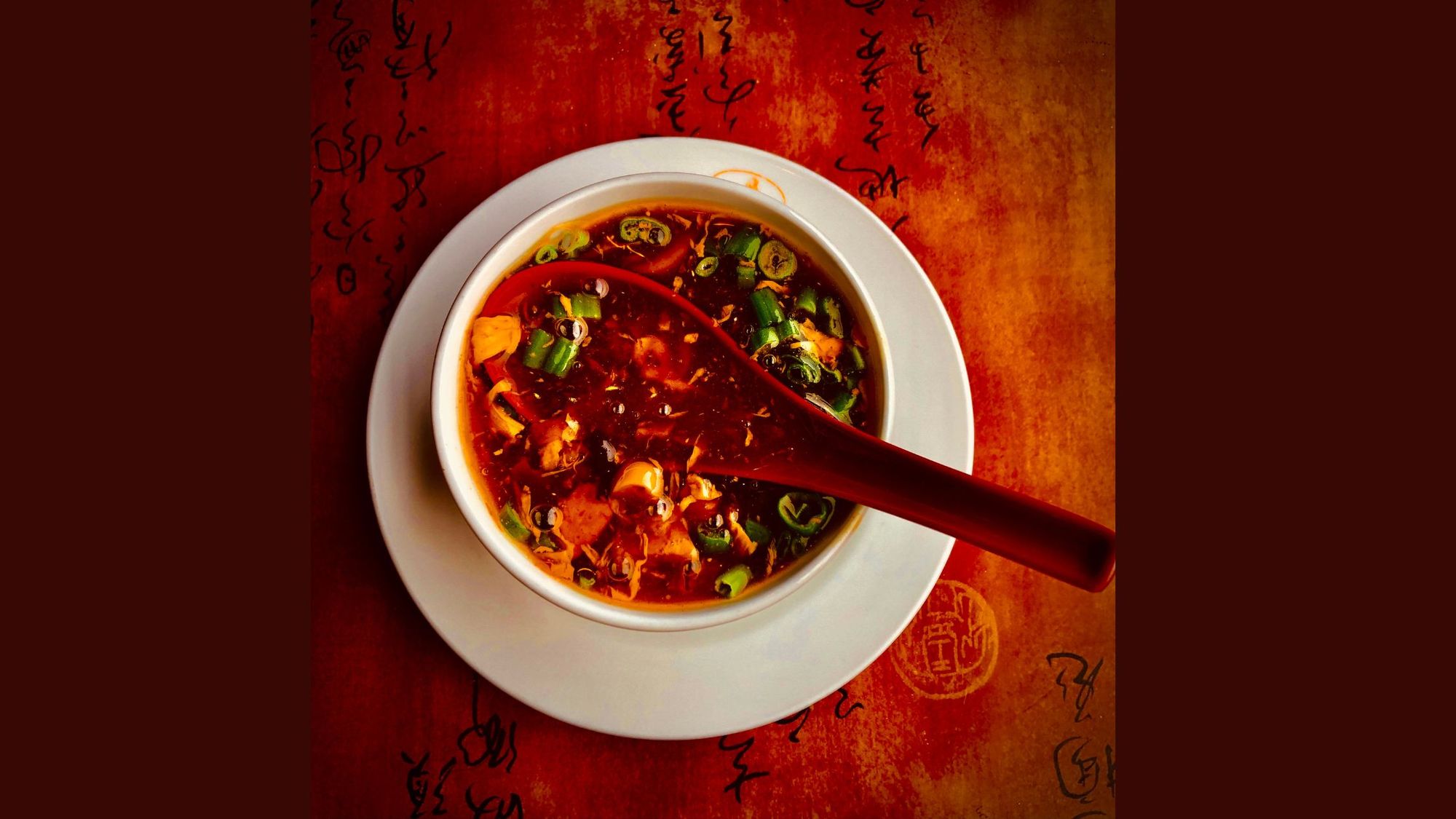 Enjoy a Blend of Flavors with Oriental Hot and Sour Soup
If you would like a soup that is not only healthy but a gastronomical delight that allows you to experience new flavors, an oriental hot and sour soup will do the trick. It has a wonderful tang and is complimented by a soothing, spicy warmth, so you'll enjoy slurping a bowl of this delicious goodness on these cold days. It combines hearty veggies with protein for a truly satisfying meal. This is one of the healthy soup recipes that will tickle your tastebuds. It's also moderately easy enough to make for kitchen newbies. For this, you will need the following:
6 cups of chicken stock or vegetable broth
1 1/2 cup sliced bamboo shoots
1 block firm tofu cubed
1 cup cubed chicken breast (optional)
2 eggs beaten
2 shallots
2 tablespoons black vinegar (or white but lessen to 1 tablespoon)
1 tiny knob of minced ginger for spice
1 bird's eye chili for extra heat (optional)
1 tsp soy sauce
1 tbsp oil
½ tsp black pepper
A handful of frozen peas
½ carrot julienned
Dried shiitake mushrooms
Wood ear mushrooms
Cornstarch or flour slurry
Sliced green onions
Instructions:
Soak your dried mushrooms to rehydrate and chop them up. In a pot, heat oil and add the aromatics (garlic, ginger, and chili). If you're using raw chicken, put this into and cook through. Alternatively, you can also use shredded leftover rotisserie chicken. Next, put stock in a pot, along with seasonings, and bring it to a boil. Then place chopped bamboo shoots, mushrooms, and veggies in the pot. Then, towards the end, add your slurry to thicken the soup and crack open the egg into the pot, while stirring, to make the egg ribbons. Garnish with sliced green onions and adjust seasonings to suit your taste. This recipe yields about 6 servings, with each serving averaging 216 calories.
Healthy and Healing Basic Chinese Congee
On days that you may be craving something a little simpler, classic, yet still tasty, this simple rice gruel is the answer. One of the healthy soup recipes that you must have on hand is Chinese congee. It is nutritious, filling, and comforting. That's why this dish is usually prescribed in Traditional Chinese Medicine as it could replenish the qi (energy) and blood. This could ease the stomach whether you're recovering from gut issues, acute illness like diarrhea, digestive problems, post-partum, stress, and more.
Furthermore, congee is a very versatile dish that you can top with whatever you like. However, this dish is not for someone doing a Keto or low-carb diet as it is mostly composed of rice. Nevertheless, most nutritionists attest that healthy grains have a place in a balanced diet. Those who prefer more wholesome grains can try this recipe with millet or brown rice (but you may need to add more water during cooking to soften grains). This recipe is very easy to make and does not require plenty of fuss or ingredients. It includes the following ingredients:
1 cup of rinsed, raw long-grain white rice
7 cups of chicken or vegetable broth
1/2 teaspoon of salt or more
One-inch knob of peeled and thinly sliced ginger
Sliced green onion
Soy sauce or sesame seed
oil (optional)
Fried garlic or shallot (optional)
Shredded chicken (optional)
Instructions:
In a large pot, add the rice, salt, ginger, and stock. This is very comforting as studies say that ginger is an anti-inflammatory and an antioxidant. Then, bring the mixture up to a boil, and eventually, reduce it to a low simmer. Stir occasionally from time to time to prevent your rice from clumping or sticking and burning at the bottom. Allow the congee to simmer for 1 hour or until it is thick and creamy. You may add more salt. Once it is done, serve with optional toppings, like shredded chicken, fried garlic or shallot, sesame oil or soy sauce, green onion, and even tofu. This particular recipe yields 8 cups of congee, and averages around 82 calories per cup, but calories may go up as you add more toppings like chicken or tofu.
5. Festive Taco Soup
One other flavorful and gastronomically delightful dish is this zesty taco-inspired soup that's sure to be a fiesta in your stomach. It is hearty and healthy, packed with protein, fiber, and carbohydrates. It's fun, scrumptious and nutritious. Taco soup is bright and colorful, and it adds the perfect burst flavor and fun to your meal. This moderately easy recipe includes the following:
1-1/2 cups water
2 pounds of ground beef or chicken
1 packet of taco seasoning
2 minced cloves of garlic
1 shallot diced
1 can mild chili beans with liquid
1 can of drained corn kernels
1 15 ounces of rinsed and drained pinto beans
1 can stewed tomatoes
1 can of diced tomato with green chiles
Fresh long green chiles chopped (optional)
Ranch salad dressing
Instructions:
Cook the ground beef or chicken over medium heat in a pot or Dutch oven Make sure you break it into bits so it doesn't clump. Add the garlic, shallots, and taco seasoning and mix. Once fragrant, mix the remaining ingredients and bring them to a boil. Let this simmer uncovered for 15 minutes, stirring occasionally. Keep a watchful eye to make sure the water doesn't dry up. Finally, once the beans are cooked, serve with ranch or sour cream, and some nachos or tortillas with a big helping of lettuce. You can also squeeze in a wedge of lime for an added zing. This soup yields about 10 cups or servings, with each cup averaging 370 calories (more if you add ranch, sour cream, cheese, and/or nachos or tortillas on top).
6. Simply Delightful Japanese Udon Soup
Last, but not least, on this list of healthy soup recipes is a classic Japanese udon noodle soup. Thick, chewy noodles with a simple broth will hit the spot on a chilly fall or winter night. It is light to the palate and quick to dish up. It also requires only a few ingredients, so beginner cooks can do this with confidence. Though very simple, it is one soup that can be dressed up with lots of vegetables to make for a healthy meal. This simple recipe includes:
1 pack of udon noodles
1 cup of boiling water
1 tsp of dashi powder
1 tsp of soy sauce
Salt and sugar to taste
1 tsp mirin
Instructions:
Cook udon noodles as directed in the packaging. Then, place dashi powder, soy sauce, mirin, salt, and sugar into a bowl and add boiling water. Then, simply place the cooked udon in the soup base. You can top this off with bonito flakes, green onion, and chili flakes. If you would like added nutrition, you can boil carrots, radishes, spinach, bok choy corn, snow peas, and other vegetables in the water before adding the dashi powder and other soup base essentials. Some people add shredded chicken or even a hard-boiled egg for additional protein. This recipe makes up to 1-2 servings of plain udon noodle soup, with each serving averaging only 59 calories.
Give These Healthy Soup Recipes a Try to Warm Your Belly
Now that the cold season is upon the temperate zones of the world, it's time to give these hearty soups a try. Even tropical countries will love these comforting soups. Some cultures, like the Koreans, believe that you can fight fire with fire. Eating something hot when the ambient temperature is also hot allows your body to acclimatize faster and provides a burst of energy.
With the easy one-pot clean up (give or take a couple of cutting boards) and the healthy ingredients used, soups are a fantastic idea for a healthy yet satisfying lunch or dinner.
You can also find out which ingredients you should use more or less of in your soup recipes, by getting a DNA test. The CircleDNA test provides you with insight on what vitamins you might need more of, based on your genetic makeup, and what foods you may want to avoid based on possible genetic food sensitivities. Read your genetic diet and nutrition reports through CircleDNA to figure out the optimal soup recipe for your body type.
References: