Bring extra joy to your holiday parties and family reunions with fun Christmas games that bring the family together. Family games will get everyone's adrenaline pumping, keep everyone's spirits high, and ensure you make treasured memories while bonding. After all, Christmas is all about quality time with the people you love.
While it's great to enjoy outdoor activities with your family, it's also important to have some fun indoor activities lined up, such as holiday games.
Exciting Christmas games are sure to keep the fun going and prevent family get-togethers from being boring. Games are a great way to bring people of all ages together. Bring out laughs and giggles ,and let the family games begin! Studies show that play is essential for the young children in your family because it contributes to their physical, cognitive, social, and emotional well-being.
Adults enjoy games as well! Research also confirms that playing fun games is essential for adults because it is said to open communication, strengthen emotional regulation, improve problem-solving, and promote a positive mood. Christmas games are sure to be a hit for all ages so make time for them this holiday season.
Below is a list of fun family games you can do with your loved ones during your holiday get-together.
Trending 2022 Christmas Games: Holiday Cups Challenge
You've most likely seen a fun video of the holiday cup challenge because it's great for all types of holiday gatherings, especially family reunions. With these family games, you'll need at least 12 dozen red or green cups. The more the merrier! Put festive bows on top of the cup to make them look like Christmas presents.
Then the festive part begins! Under each cup, put a present like dollar bills, candies, cocoa, and fashion accessories. Each family member will select a cup and get the present under it. To kick things up a notch, print out 3 giant yellow star stickers and put them in 3 random cups. This means whoever has the star stickers has the option of stealing another person's present.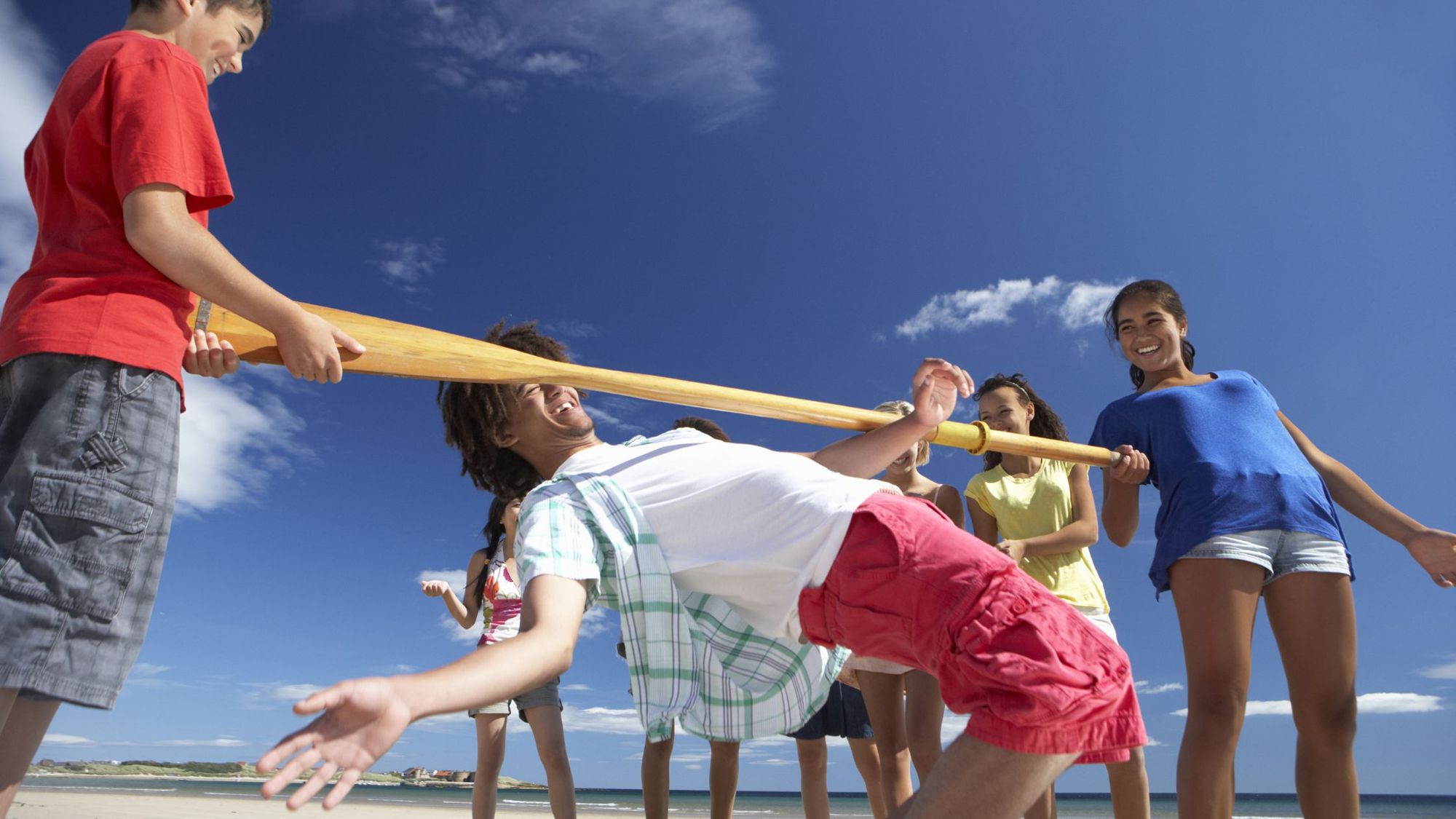 Santa Limbo: One of the Funniest Family Games
Prepare one Santa hat and one throw pillow or inflated balloon. The idea is to make sure the participants have a "Santa belly" when it's their turn on the limbo line by placing the throw pillow or balloon under their shirts. You need two people to hold the limbo stick at a starting height. Kick things up a notch by wrapping the stick with a Christmas wrapper.
Then, have your family members line up as they try to limbo with their Santa bellies one by one. Crank up your favorite holiday tunes with a Christmas playlist, so everyone can dance and sing along. Let everyone take a turn. Of course, this is extra challenging as the stick gets lower because of Santa's belly. Continue lowering the stick until a winner emerges. These themed Christmas games are sure to help everyone get in good holiday spirits. Ho, ho, ho!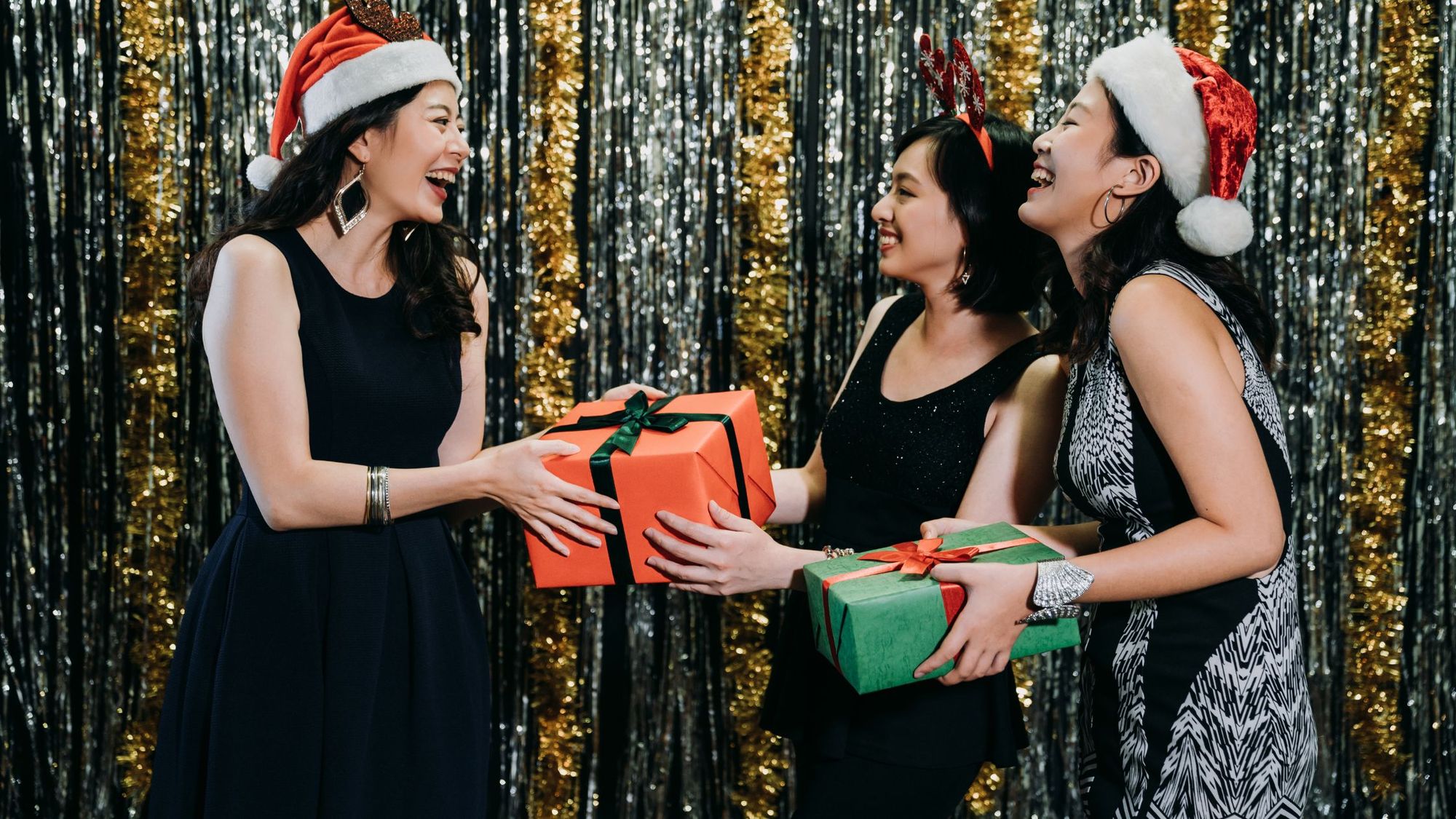 Dirty Santa Gift Exchange
In this Christmas game, random gifts (some funny, and some genuinely good gifts) are put on a table by each person. Nobody knows who brought what, or which gifts are the good ones. Numbers are drawn to decide who gets to pick their gift first. Each player can either choose a wrapped gift from the center of the pile, or steal someone else's gift that has already been opened. No gift can be stolen more than twice during this game. When everyone has a present, the game is over.
To ensure everyone in the family has fun during this game, stick to a few ground rules. For example, stick to a $20 price limit per person, and ensure any 'gag gifts' or 'joke gifts' are still somewhat usable. A couple of 'joke' gifts make the game more entertaining, but the joke gifts can't be absolute useless trash. That takes the fun away when someone is stuck with something truly awful. An example of a gag gift that's still at least usable is a notebook with a funny cartoon on the front cover, but it's still a usable notebook, and maybe it even comes with a cool pen.
Christmas Song Pictionary
Write down a list of Christmas songs on individual flashcards like Frosty the Snowman, Joy to the Word, Deck the Halls, etc. You can also have the songs printed on holiday cardstock. And here's the fun part: no singing allowed. Instead, divide your family into teams and follow the traditional Pictionary rules.
This means one person will draw a card from the pile. He will have one minute to draw the Christmas song printed on the card. If the team guesses correctly, they earn a point. Teams take turns being the artist. And the first to reach five points wins the game. These super fun-themed family games are sure to delight people of all ages. After, you can all start singing and dancing to the Christmas carols.
Discover your genetic potential for musical talent or dancing abilities with a CircleDNA at-home DNA test.
Classic Christmas Games: Sled Races
Who says you only have to stay indoors for fun family games? Walk off those extra dinner calories with exciting sled races. Make sure you bundle up everyone in your family and work that post-dinner slump with this exciting activity. Don't forget to wear safety gear like goggles, helmets, and gloves. Family outdoor activities are great for mental health by reducing cabin fever and beating the winter blues, while promoting good physical health.
A sled race is a great activity because it encourages movement which is good for your cardiovascular health. Have participants line up on the hill, keeping a safe distance apart to avoid crashes. Then let the sleds rip, and the first one to the bottom wins!
Simple Family Game: Pin a Nose on Rudolph
Christmas games don't need to be fancy to be fun. This simple, traditional game proves that you don't need to spend a lot of money to feel happy and create memories that you'll remember for years to come. Start by having the kids of the family work on a large picture of Rudolph. This is a fun crafting activity that will keep them occupied. Once the picture is done, place it on your wall.
Then have the kids cut out several red circle pieces of paper with double-sided tape in the back. Make sure the little kids are supervised. Once that's done, write one participant's name on the front part of the nose and have them form a line. Have your blindfold ready and have each person take a turn. Before a participant makes an attempt to pin Rudolph's nose, give him or her a good spin for laughs. Give everyone a chance to take their turn and the one with the most accurate nose wins.
Festive Family Feud
Who doesn't love a little competitive game of Family Feud? Bring this high-rating TV game show into your own living room. Challenge family members to enjoy these quick-thinking Christmas games with holiday categories. Make up a list of questions with a list of holiday-themed responses which people can answer. Then choose your game show host.
Next, divide your family members into two teams with at least four members each. Each team is asked a question and given ten seconds to write their three guesses on paper. The host then reveals if their guesses are on the list with the corresponding value of their answers to make up the points. When all the questions have been answered, everything is summed up to determine the winner.
Trivia Games
Crank up the holiday spirit with fun family games! And one of the best Christmas games is a classic family trivia session. This simple yet exciting game will help you get to know the faces of your family reunion. Wouldn't it be nice to know fun tidbits about your family members? To start this game, make sure you have every family member write a little-known fact about themselves before dinner starts. Then when everyone is stuffed, have them gather in the living room.
Crank up Christmas music and pass the hot cocoa. Have one master of the ceremonies pick through the papers and read them aloud. Then ask your family members to whom they think the fun fact belongs. Whoever guesses the most wins the game. These written facts are more than just competitive Christmas games questions but fun bonding moments rolled into one.
Holly Jolly Christmas Family Bingo
Fun family games must include traditional bingo. And it's an excellent game because everyone of any age can participate. From the littlest ones to great grandma, they will surely have a merry time participating in bingo Christmas games.
Prep by printing several pieces of Christmas bingo cards. You'll find lots of templates online so be sure to pick a good one that fits your holiday theme. To make things extra festive, use red and green M&Ms as your bingo markers. Just make sure you have a ton because your players may be tempted to eat them. Have tons of prizes on display as this will surely put your whole caboodle in a holly jolly mood.
Bring Holiday Cheer with Family Games this Holiday Season
Make every moment count when you're with your family. After the holiday feasting, take time to do Christmas games to entertain everyone. There's a party game out there for adults, kids, or both. Family games are an excellent way to get everyone to stop staring at screens and spend quality time together. After all, family time is what Christmas is all about.
References:
The importance of play in promoting healthy child development and maintaining strong parent-child bonds (Kenneth Ginsburg) https://pubmed.ncbi.nlm.nih.gov/17200287/
The importance of having fun: Daily play among adults with type 1 diabetes (Meredith Van Vleet) https://www.ncbi.nlm.nih.gov/pmc/articles/PMC8158911/