The festive season is here, and that calls for a holiday snack board. If you're expecting a lot of guests such as friends or family at your home over Christmas (or even if you're alone), a snack board is the perfect idea of what to serve your guests.
A holiday snack board looks very pretty presentation wise, and it's also the perfect appetizer idea. Nibbles are perfect for keeping hands busy and ensuring no one is complaining of hunger pains while the roast is cooking.
Of course, Christmas is a time to allow yourself to indulge and go the extra mile, so you're likely going to want your holiday snack board to be a masterpiece. In this guide, I'll take you through everything you need to know – from the best snacks for the season, all the way to how you can decorate and present your board. After all, the decoration is half the work when it comes to a snack board or charcuterie board, and food can certainly be art.
Why Create a Holiday Snack Board?
It might feel a little pointless to build a holiday snack board, but grazing while you wait for the main Christmas dinner later in the day is a great way to curb hunger while also keeping hands and mouths busy. Food is a social catalyst and builds a strong informal environment that makes people feel more comfortable. People gather around snack boards and end up socializing with each other more as they share the snacks.
More than that, Christmas is a time for great food, and a snack board encapsulates that perfectly. If we look back to the origins of Christmas, the pagan and Roman celebrations of the season (Saturnalia and Yule being two of the most common) had a strong focus on eating and drinking, as well as the exchange of gifts.
Plus, if you're struggling to get into the Christmas spirit, the food alone can often be enough to kick-start the process.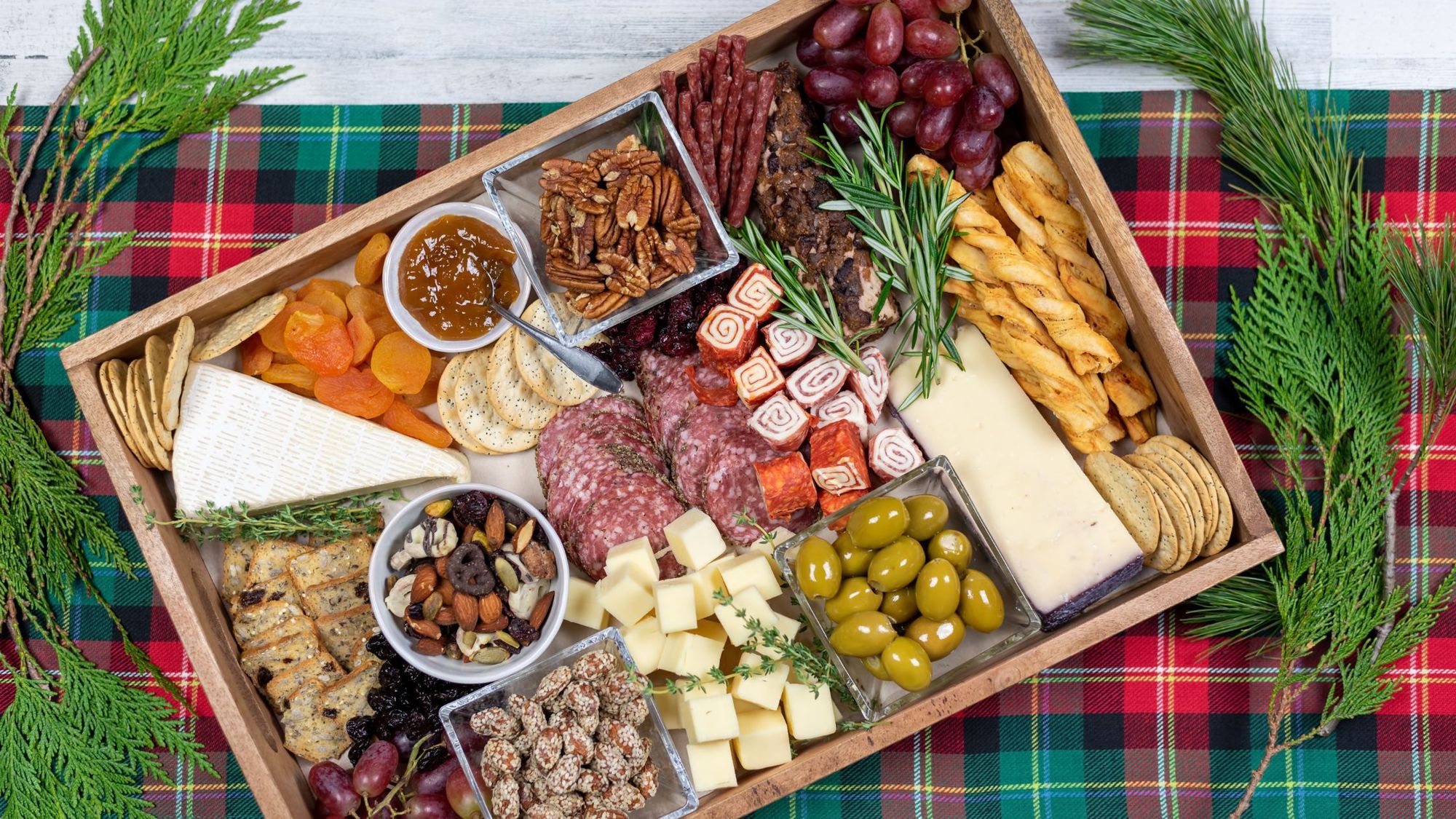 What to Serve on Your Holiday Snack Board
It's important to include a nice selection of snacks on your holiday snack board. It offers variety for your guests and keeps things fresh throughout the day. You don't need to be overly fancy either, as long as you pick snacks that you know everyone will enjoy. If you want to get fancy, you could do so by adding a very fancy and delicious truffle honey to go with the brie (your guests will love this, believe me.) Here are some more of my suggestions:
Cheese is an absolute must on any board, and while you have the classics like cheddar and gouda, this is also a time for adventure. Consider brie and camembert for something soft with rich flavour. Pepperjack adds a kick, and red Leicester has a strong and mature flavour that can't be beaten. You can even add a little stilton for more adventurous guests.
Deli meats are an excellent accompaniment, and this can include cured meats such as salami and pancetta that have been curled into floral arrangements around the cheese. The addition of crackers gives guests something to combine the meat and cheese with for an explosion of flavours and textures.
Mixed olives are a great addition, and they can be marinated in a variety of oils to pair nicely with your meat and cheese selections. You can even top them with feta cheese for a crumbly texture, and the bowls that they are placed in add plenty to the decorative appeal of your holiday snack board. Make sure they are pitted first to avoid unwanted surprises.
Sliced bell peppers and cucumbers offer a refreshing change, and they can be served with small dishes of hummus for dipping. It's gentle on the palate and provides a little crunch to your board. You can also add a selection of salted nuts that can be scattered freely for decorative appeal (as well as being delicious to snack on).
Sliced, cooked sausage is a delectable addition to a snack board or meat and cheese board. It's so flavorful and such a satisfying bite.
If you want to be a little fancier, bake a loaf of bread (pre-sliced before the oven) and cut the center out so that you can place a wheel of camembert in there. Baste the bread in garlic butter before it goes in the oven, and it creates a pull-apart snack that your guests can share. It's absolutely delicious, and a sprinkling of rosemary can really add life to it.
Different jams and honeys allow people to flavor their bites with their own preferred flavor, as some people love to mix cheese with jam, and others prefer a drizzle of high-quality honey. For presentation, place them in mini-bowls with cute mini silver spoons.
Mini cookies in Christmas shapes are an adorable addition to a holiday snack board, and it's nice to add some sweet snacks in addition to the savory ones. Bake your usual holiday cookies, just in miniature!
You can also consider adding some of these snacks to your board if you want to mix things up.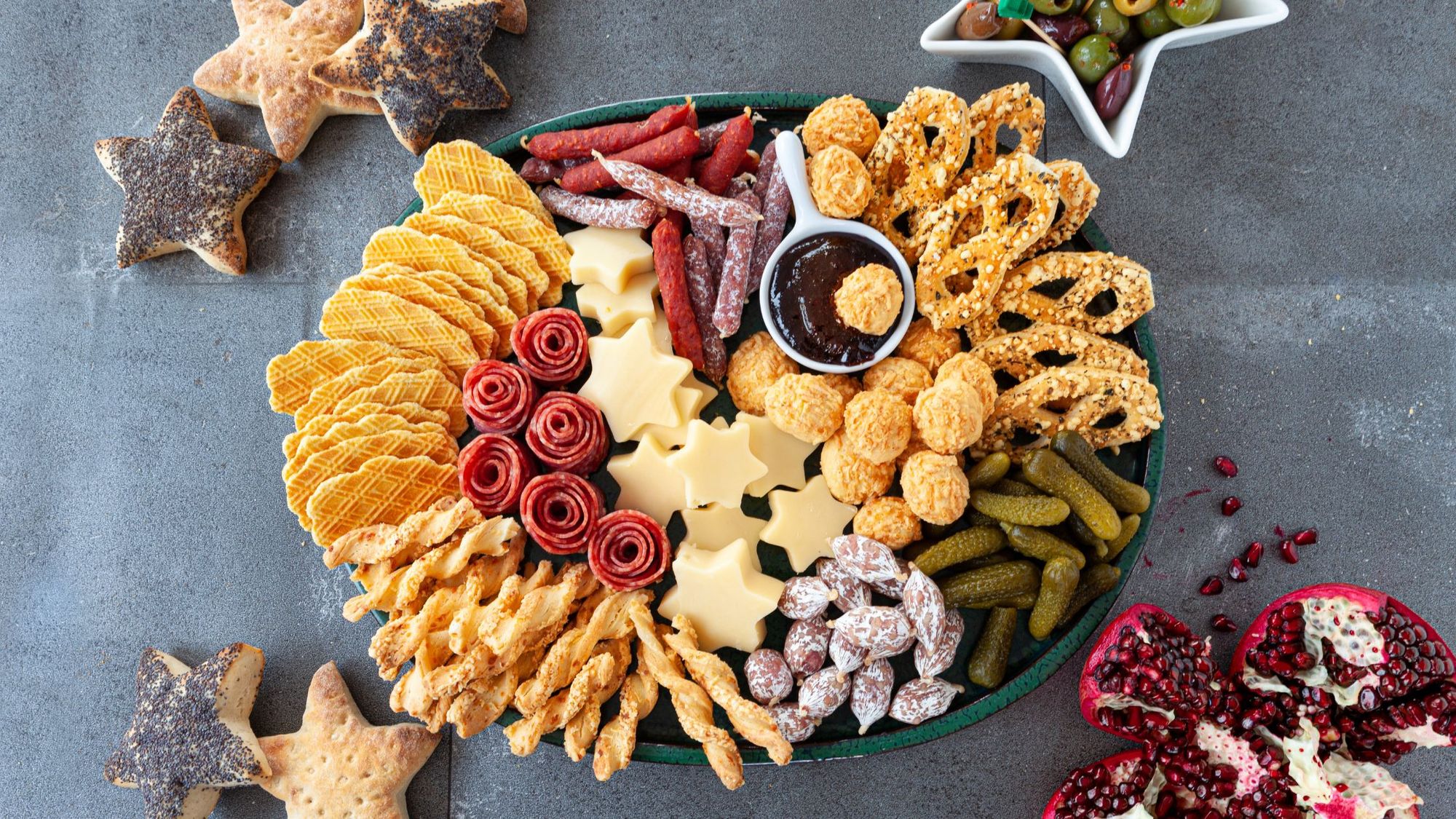 How to Decorate Your Holiday Snack Board
The food is only half of your holiday snack board; the decoration and presentation is what brings everything together. You don't have to be a creative genius to make your board pretty either; you just need a few decorations and to experiment with the placement.
Sprigs of holly can really bring out the colour of a dish, adding a festive twist that serves as a reminder of the season while also brightening up your board. It can be tempting to use mistletoe instead, but if you do, ensure that it's fake since the plant is actually toxic and could make your guests very sick.
You can place your sprigs and leaves around the edges of your board or perhaps make a beautiful centerpiece in the middle that your selected treats surround in a decorative manner. You could also use mini fake Christmas trees to create a wintry forest scene – especially if you have soft cheeses such as brie and camembert on your holiday snack board.
Edible glitteris a nice option if you want to add some sparkle to your snack board, and it can be lightly dusted over the cheeses and meats for some festive fun. Plus, there is an array of colours that represent Christmas and so anything from green and red to gold and silver can be used to bring some sophistication to all of your treats.
The glitter works especially well for a sweet snack board, one that is adorned with a selection of cakes and biscuits that have been made just for the holiday season. A light dusting of powdered sugar also does wonders for holiday snack boards, giving the illusion of a wintery Christmas scene that will make all of your guests feel a little warmer inside.
Ribbon around the circumference of the board, or even tied into mini bows and placed among the snacks, can be a great way to make your snack board stand out. You can even tie ribbon around stacks or blocks of cheese or meats to emulate Christmas presents – feel free to get creative.
Final Thoughts
You're now moments away from creating the perfect holiday snack board. You've now got some awesome inspiration from this article, and with a little fiddling and creativity, you're sure to create something that becomes the envy of all your guests. It doesn't matter if you have company or are alone; nothing beats having delicious treats to snack on all day. After all, everyone should eat better food at Christmas time.
While you're here, why not pick up a DNA test from CircleDNA? The results can give you clearer insights into the optimal foods for your genetic body type, the best diet for you based on your DNA, as well as lifestyle and fitness insights about yourself.
References:
University of Oxford, Social Eating Connects Communities:
https://www.ox.ac.uk/news/2017-03-16-social-eating-connects-communities