Getting into the Christmas spirit isn't easy for everyone, and the universally acclaimed "Most wonderful time of the year" just doesn't feel that way for a lot of people. Even though almost everyone around you may seem happy and full of Christmas spirit, it can be hard to start feeling that for yourself.
The holidays can have a negative impact on mental health for many people. Check out this article on the holidays and mental health to understand why. It's just a very hard time of year for some people, and they aren't really in the 'Christmas' mood. So, how are you supposed to start getting into the Christmas spirit, feel uplifted and more festive?
Little things like putting up decorations around your house or apartment, and baking Christmas cookies while listening to Christmas music can help boost those Christmassy feelings. Sometimes, however, you need to do a little more than that to jumpstart the festivities. In this guide, I'll take you through some great tips for getting into the Christmas spirit, directly from someone who struggles to enjoy the holidays almost every year.
Why is Christmas Difficult and Emotionally Taxing for Some People?
It's true that Christmas can be a very difficult time of year for many people. Not everyone has a family in town that they can spend the holidays with, and not everyone has a partner, either. When you're alone, it can be pretty easy to feel sorry for yourself when you see happy couples enjoying romantic Christmas dates together, or you see lots of cheery families.
Studies have shown that moods can worsen around Christmas time, and alcohol abuse is more prevalent at this time of year.
The same studies have shown that feelings of loneliness are more prevalent than ever during Christmas, as it's a season of 'togetherness' and 'love'. Christmas is a reminder for so many that they don't really have anyone. That's a difficult emotion to try to work through, and if Christmas is a lonely time of year for you, then I hope the tips in this article for getting into the Christmas spirit will help you feel a little happier.
It has also been shown that people feel a lot more stress over Christmas than at any other time of year. The pressure to buy presents, spend a lot of money, and provide lavish feasts can be a lot for people to try and handle.
Tips for Getting into the Christmas Spirit
If you're ready to start trying to get yourself into the Christmas mood, this article could help you. Preheat the oven for those festive cookies and snacks, crank up the holiday tunes, get yourself comfortable with some warm blankets and hot cocoa, and let's start the celebrations.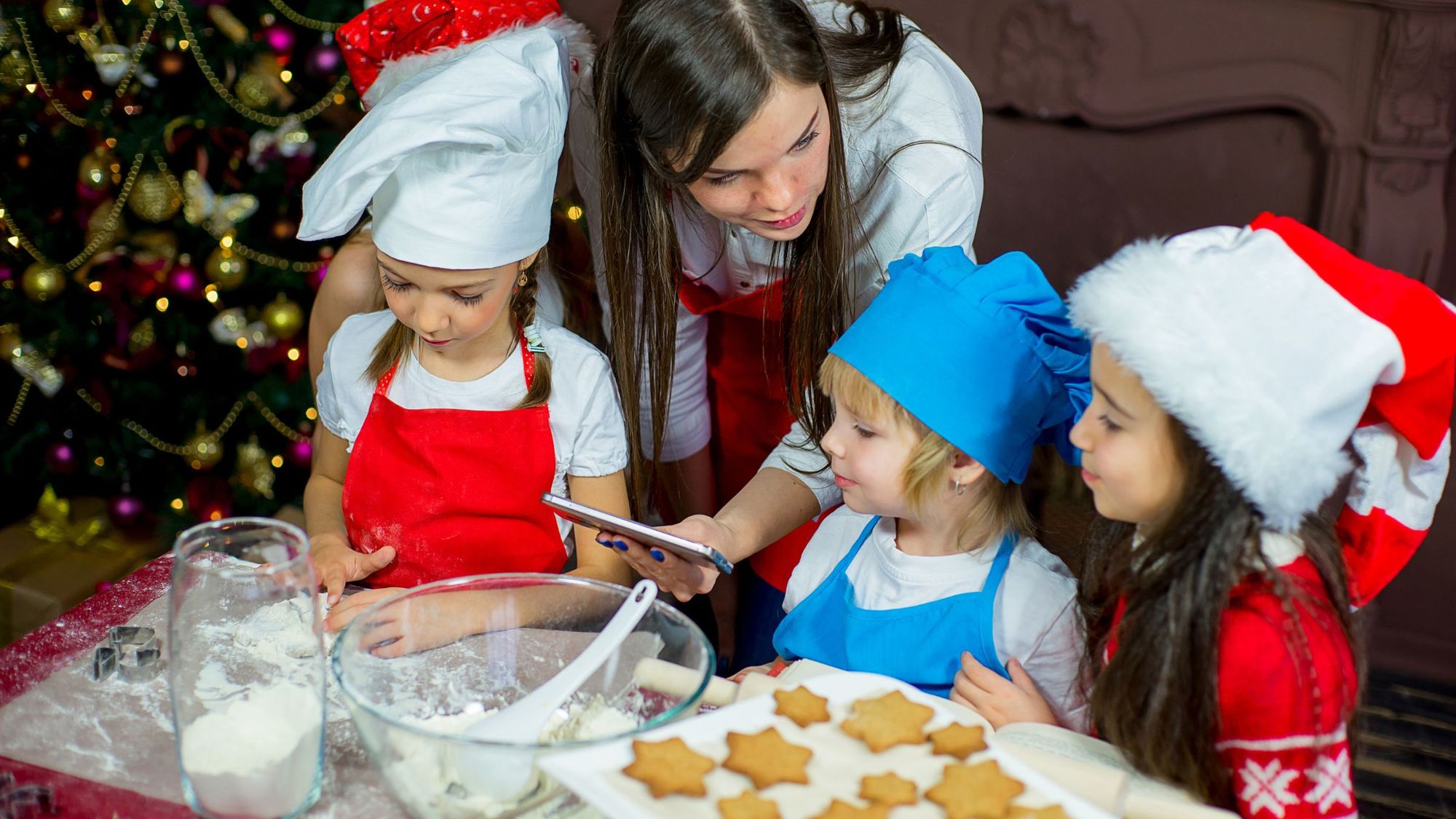 1. Bake Cookies While Listening to Christmas Music
Baking Christmas cookies are a great way to start getting into the Christmas spirit, and they are fun to make as an added bonus. Pick up some festive cookie cutters, get some colorful icing, and grab some food coloring so that you can decorate the cookies any way you like. (Decorating cookies is also a great way to express your creativity.)
The classic is usually a soft sugar cookie with some vanilla essence, which you can then ice as you like afterwards. However, a light gingerbread and cinnamon cookie can also be a fantastic way to add a little festive sparkle to your treats.
Don't forget to create your own Christmas playlist before you start baking. Crank up a playlist that contains all your favorite Christmas songs, and sing along to really start getting into the Christmas spirit.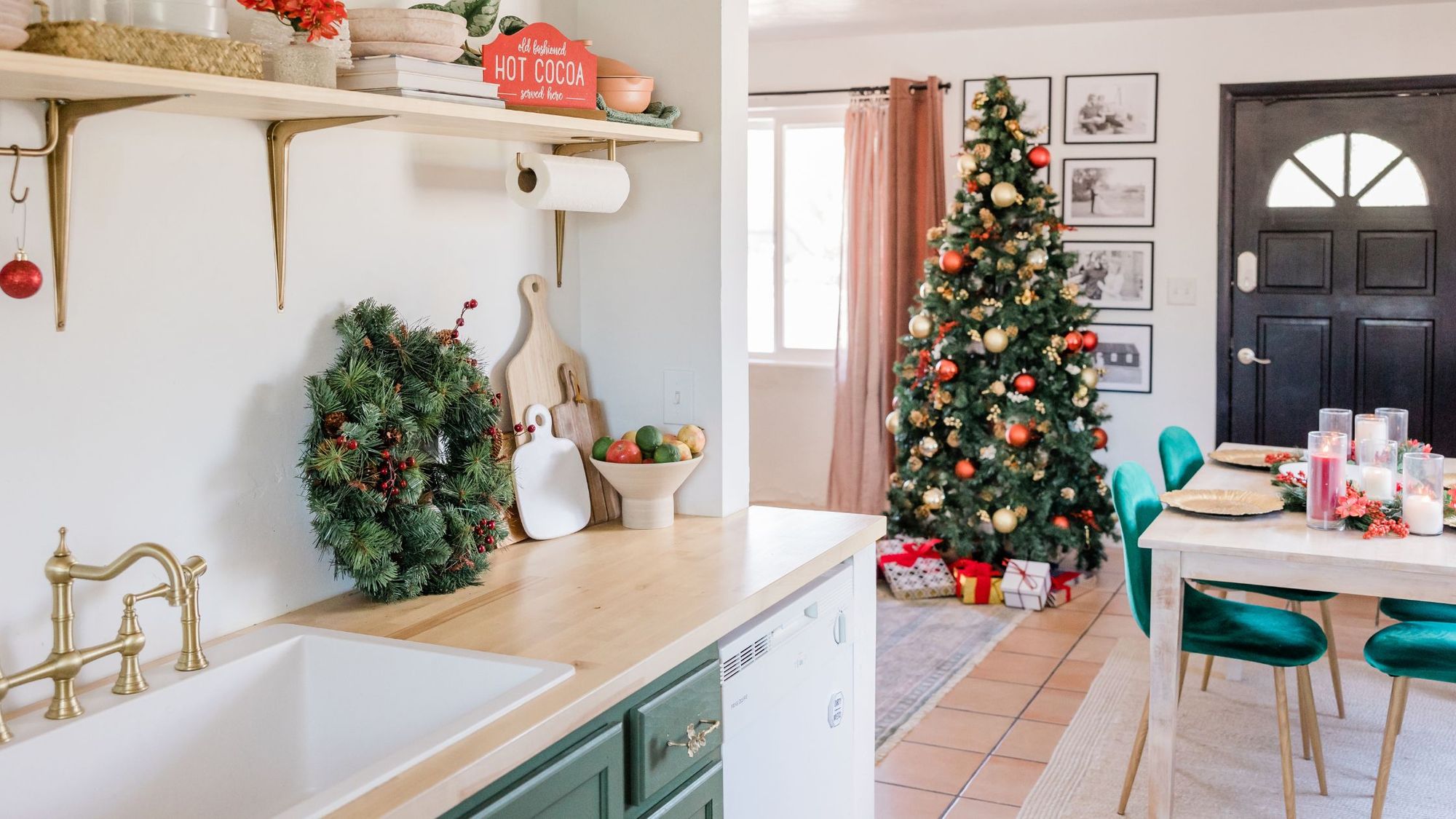 2. Decorate Your Apartment
Decorating your house or apartment when you're really not in the Christmas mood can feel like a challenge, but if you start small and go slow, you might be surprised by how much it changes your outlook on the season.
The atmosphere of some Christmas lights and a few decorations can often be an instant mood-boost. If you live alone, you still deserve to have beautiful Christmas decorations around you.
Hang some garlands in the doorways, hang string lights or Christmas lights on your balcony ledge, decorate the window ledges with some little decorations that bring some festivity to the house. Leave the tree for last, not only because it is the biggest thing you'll decorate but also because it's the most fun. Take your time with it, hang the lights, and let yourself get into the Christmas mood. If money is an issue, get a mini Christmas tree. Go to a thrift store or dollar store to find inexpensive Christmas decorations.
3. Buy Christmas Food
When it comes to getting into the Christmas spirit, I have always found that the festive snacks and desserts are the perfect way for me to start feeling the Christmas mood again. The festive season is a time for snacks and a little indulgence, and there's nothing wrong with grazing on a few holiday treats throughout the day.
Treating yourself is part of getting into the Christmas mood, and snacks are the best way to start.
4. Watch Uplifting or Funny Christmas Movies
Sometimes a festive film is a good way to start feeling celebratory, and they bring a warmth to your heart that just can't be achieved at any other time of year. Maybe your thing is cheesy Hallmark Christmas movies that you secretly enjoy, goofy films that have you laughing like crazy like Elf, or the absolute Christmas classic, Die Hard (it is a Christmas film, I will die on that hill).
Home Alone is always a fun watch, too.
Grab some snacks and Christmas cookies, make a hot chocolate, and you already have the perfect setting for bringing festivity into your home.
5. Get Together with Friends for Winter Activities
Christmas can be lonely, and it's hard when you don't have a partner or family like your friends do. This means you're more likely to isolate yourself, and that's the furthest thing from what's healthy. Throughout the month of December, take some time to meet up with friends and celebrate in your own way. Go for dinner, have a few drinks, go to a Christmas market together, exchange gifts, whatever gets the Christmas mood going.
If you have family that you can (and want) to visit, try to make the time for them as well. A few trips to see the people you love can do wonders for your Christmas spirit and make the holiday a little easier to cope with.
You might even try suggesting some fun winter activities (like ice skating, visiting a light display or going snowshoeing) to your friends. Sometimes, coming up with a fun plan and initiating that plan is all it takes for a fun day to take place.
6. Immerse Yourself in All of the Lights
Christmas light displays truly work wonders when it comes to getting into the Christmas spirit. Go somewhere near your home that is known for epic light displays for the public to enjoy. Or, go to a light show put on by a local park or organization. It could be as simple as going for a walk in the heart of downtown where lots of Christmas lights are likely adorning the trees and streets. This visual gift will help get you into the Christmas mood.
7. Embrace Hygge
For years, my Danish friends would tell me to stop stressing at Christmastime and embrace hygge. It's a word that embraces the concept of coziness and comfort – especially in the midst of winter. Warm blankets, hot chocolate with marshmallows and cream, candles on a wintry evening, these are all things that encapsulate the feeling of hygge.
It's become quite commercialised in the rest of Europe, but there is no need to splurge on hygge-branded goods. Hygge comes from what makes you feel happiest and most comfortable. For me, a thick pair of winter socks, a blanket, and snuggling up by the fire is when I feel coziest over Christmas. That's hygge – you just have to find yours.
8. Volunteer in Your Local Community
Spreading joy by giving to others is a surprisingly effective way to get into the Christmas spirit. Seeing deserving people smile does it all. Volunteering can be a great way to reduce your loneliness, spread Christmas cheer, and give back to the community this season. It doesn't matter where you decide to volunteer, a homeless shelter or an animal shelter, as long as you are doing something you're passionate about and helping those in need.
It's a good way to socialize and help other people who might also be struggling with embracing the season. Since being lonely is a leading cause of Christmas sadness, this is one of the most effective ways to feel a little better and maybe start getting into the Christmas spirit. Volunteering makes you feel good, but it's also helping a lot of people and animals.
Scale Things Back
Christmas doesn't have to be a big show. We lose sight of that quite a lot, especially when everyone seems to think that the festive season is all about spending masses of money on extravagant food and gifts. There's no faster way than that to kill the Christmas mood.
This year, scale things back. Spend less on gifts, be with the people you care about and forget about the rest, and only buy the food you want, not what you're expected to. You can even be more minimalist with the gifts. Scaling back reduces your stress levels and sets new expectations that are manageable and will leave you actually enjoying the festive celebrations.
Final Thoughts on Getting into the Christmas Spirit
Getting into the Christmas spirit isn't always easy, especially if you already struggle emotionally during this time of year. However, we hope that this guide has been able to give you a few ideas that can help you start feeling a little more festive and maybe even feel good enough to celebrate this year.
If you're struggling to find a Christmas gift for someone you love (or you want to spoil yourself), have you considered a DNA test from CircleDNA? The results are quite extensive, helping you to determine everything from your personality traits, genetic talents, and musical ability all the way to your optimal diet and exercise plan. It's a great way to learn more about yourself.
References: