For your children, nothing can beat the excitement of waking up on Christmas morning to a stockings stuffed with surprises, a beautifully decorated Christmas tree with presents underneath, along with holiday music serenading in the background. If you have little ones, it's even more exciting because one of the best things about being a parent is the opportunity to experience the joy and rekindle the wonder of this most magical time of the year through the eyes of your young children.
Even if you have older kids, are just newly married, or have grandkids, it's still a very exciting morning, and the best thing about Christmas is the freedom to celebrate in various ways that are uniquely your own. There's no right or wrong way to do Christmas morning. The important thing is to get into the Christmas spirit. Every family, no matter how big or small, can make their own fun little rituals. And the nice thing about these traditions is you can start them anytime. If you have kids, they can carry on these cute and clever Christmas traditions with their own families when they grow up and have kids of their own.
So, what can you do on Christmas Eve and Christmas morning to make the morning of everyone's favorite holiday more special?
Whether it's making a special Christmas breakfast or brunch, or wearing matching holiday PJs, every little thing adds up to create a collection of heartwarming Christmas memories that last a lifetime. Psychologists say that holiday traditions play a crucial role in building a strong bond between families and communities. Doing these celebrations foster a sense of belonging, helps express the values that are important to you, and connects you to your family's history because there's always a merging of old and new traditions.
If you need inspiration for a magical Christmas morning this year, keep on reading. Add an extra dash of magic to your Christmas mornings with these fun ideas. These tips will help your kids, your partner, and yourself enjoy this meaningful holiday even more. And remember, these rituals don't have to be perfect. The important thing is that you share the experience with your family so you can forge stronger bonds and show your love for one another during this Yuletide season.
Below are some ideas to level up your Christmas morning:
Wake Up in Style on Christmas Morning
Make Christmas morning extra festive by making sure everyone wakes up in style. To ensure this morning is memorable, wrap your children's doorways with red and green crepe paper, wrapping paper, and bows. Twirl the decors around and in between the door frames so your kids will have to burst through the decor to get out of their rooms.
If you do this while they're asleep, they'll wake up to a fun and festive surprise.
You could even surprise your kids by hanging their stuffed stockings on their bedroom door handles. They'll love waking up to the sight of that exciting stocking.
Consider also hanging and displaying decorations in the hallway leading to the Christmas tree. It's easy enough to do the decorations while the kids are asleep. This may create a bit of a mess you'll have to clean up later, but it's worth it because this is exactly what will make this morning memorable because it will be a day like no other. Waking up like a rockstar will help rev up the Christmas spirit.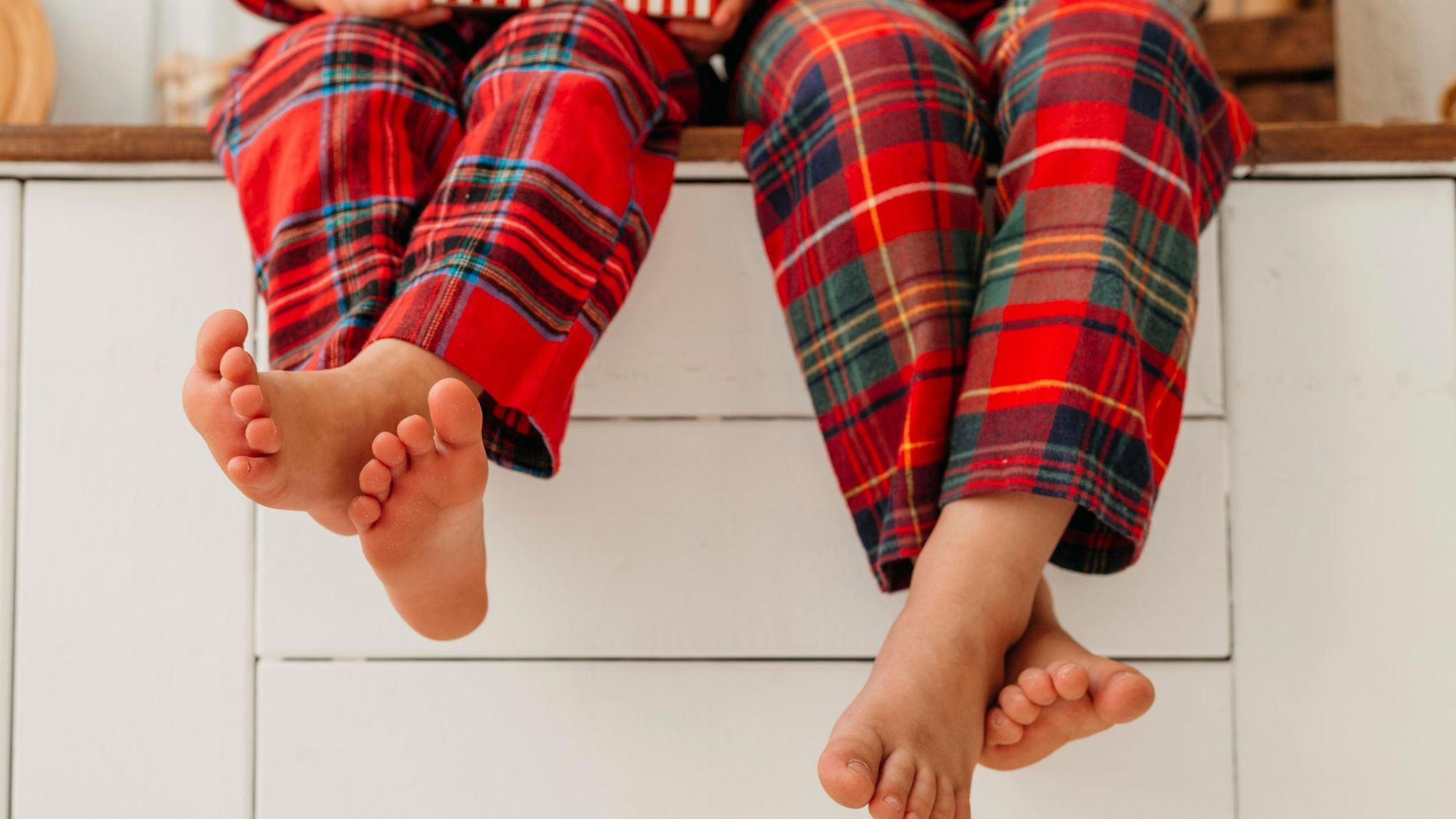 Wear Matching Christmas PJs
A magical morning starts with proper preparation on Christmas eve. Have everyone in the family wear matching Christmas pajamas when they head to bed at night so you can start the day's festivities with a bang. There's nothing cozier than donning a soft pair of PJs that matches everyone in the family.
You can find a unisex sleep outfit for everyone or you can have matching sets for the boys and the same for the girls. Having matchy-matchy outfits will foster excitement, especially for younger kids who love "twinning" OOTDs (outfits of the day). More importantly, these clothes, though seemingly trivial, will make every person in your family feel a sense of unity.
As an added surprise, pick up some 'Christmas light' necklaces from your local dollar store. These fun necklaces light up and twinkle.
Come Christmas morning, everyone will likely be in good spirits because they're dressed warmly and cutely in Christmas colors for the holiday. And of course, don't forget to take family photos of everyone in identical PJs by the Christmas tree.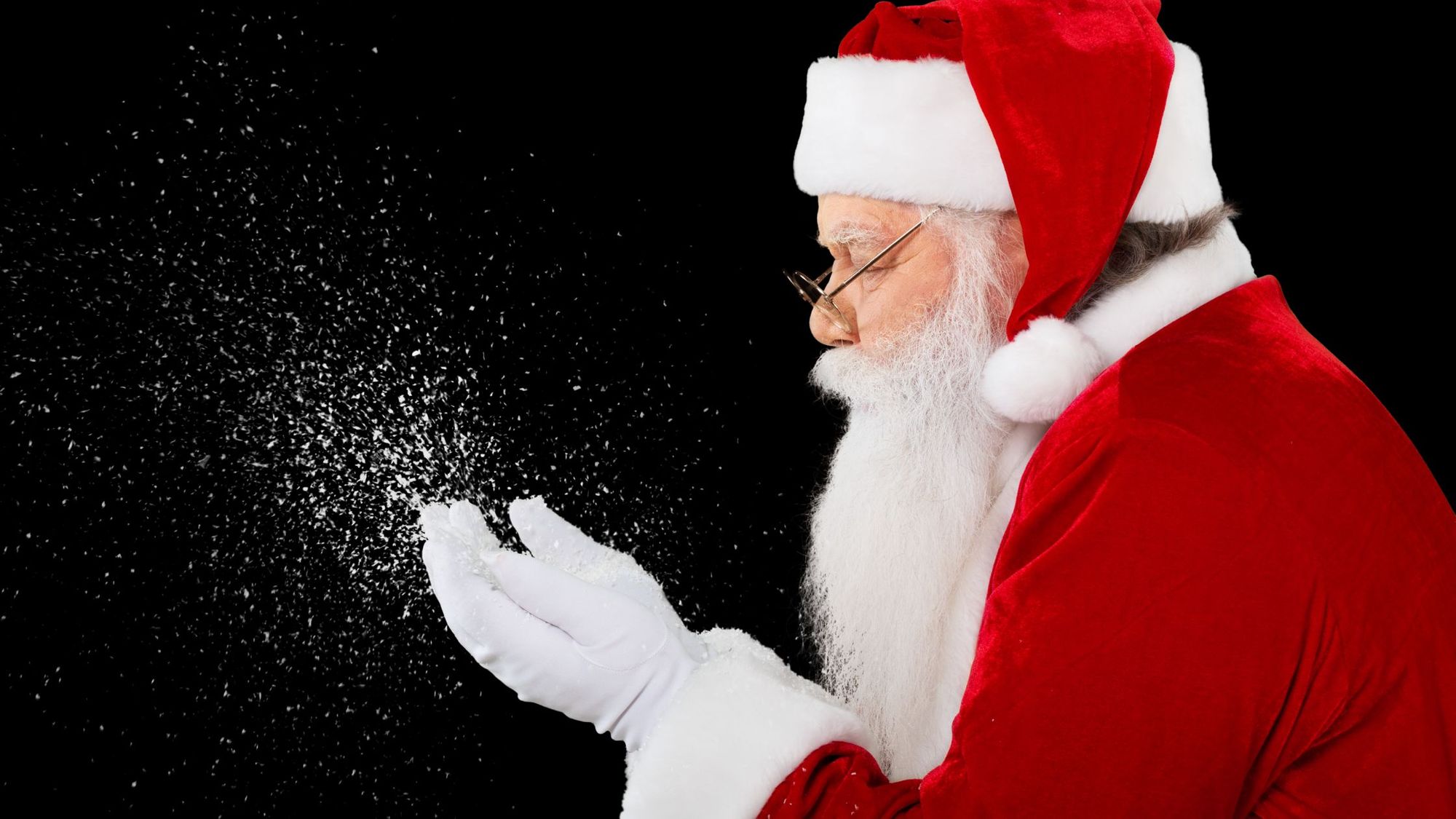 Plant Evidence of Santa's Presence
Add an extra special something to your morning by borrowing Santa's magic! If your family believes in St. Nick, go ahead and make an effort to leave evidence of his existence. Your young children may have even tried to stay up late at night in the hopes of getting a glimpse of him in action. For sure, your kiddos will be delighted to find his footprints in the morning, since Father Christmas may have been forgetful and didn't wipe his boots before sneaking down the chimney.
You can make Santa's tracks by mixing baking soda and glitter. Then use adult boots to create a snow-like outline from the fireplace to the Christmas tree. Don't worry, this can be vacuumed in a flash, leaving you with fresh floors.
You can also use props as evidence Santa was here, like an almost-empty glass of milk and cookie crumbs on a plate. This will show how Santa came last night and make your kids giddy with excitement.
Conduct a Christmas Scavenger Hunt
Typically, children want to rip off wrapping paper as quickly as they can on all their presents. But if you want magic, it's imperative to build anticipation and create a bit of suspense. Avoid rushing through things and make opening gifts more memorable by hiding them all over your house. This will slow things down, build a crescendo, and stretch out the holiday cheer.
Instead of just giving the presents directly, make a treasure map for the children. Tell your kids that in order to enjoy their presents, they have to figure out the clues. You can make the hints suited to your children's ages. But the general idea is to delay gratification with a merry scavenger hunt that they will remember for years to come.
This activity will make Christmas morning more meaningful and special compared to just randomly handing out gifts. Moreover, studies show that learning to delay gratification is an essential life skill that has an impact on academic excellence, health, and economic competence. Making your children wait for their gifts is a learning experience that could enhance patience and prevent future impulsiveness.
Set Up a Festive Hot Cocoa Bar
Most families have their own signature breakfast or brunch for Christmas, whether it's pancakes, fruit cake, french toast, or cinnamon buns. But you can make the first meal of the day even more memorable with a festive hot chocolate bar. Christmas and hot cocoa make a perfect mix because of the warmth and wonderful smell! Let everyone in the family enjoy a super sweet downtime with a hot cocoa bar. It's easy to set up on a small folding table covered in a Christmas tablecloth or wrapping paper. The idea is to include things that you don't normally use so that they will leave an impression on your children's minds.
For example, have unwrapped candy canes at the hot chocolate bar on Christmas morning to be used as stir sticks, infusing the mug of hot chocolate with the sweet taste of peppermint.
You can also use a charcuterie board, a big wooden chopping board, or even a large tray if you don't have an extra table. Set up fancy cups with holiday napkins, the candy cane stirrers, and hopefully you have some Christmas-themed mugs to use. Then prepare your hot cocoa mix packets on the side. Have several tiny bowls and fill them up with marshmallows, red/ green sprinkles, holiday colored M&Ms, and whipped cream. It's a lot of fun to sprinkle red and green sprinkles on top of the whipped cream as the final touch.
You can also stack up holiday cookies at the end of the holiday hot cocoa bar for extra cheer. Help the younger kids mix cocoa powder with warm water or warm milk. Have everyone get creative with toppings. The young ones and young-once-upon-a-time will surely have fun making their own signature hot cocoa.
Prepare a New Family Ornament
It would be nice if you could commemorate each year with a new family ornament to place on your tree every Christmas morning. You can buy an ornament for each of the children or make one with them if you're feeling artsy. Explain the meaning of your chosen design. Be sure to write the year on the back with a permanent marker. This will help you remember when the ornament was given. Over the years, these cute ornaments will be fun to pull out and put on the tree. Instead of just having generic store-bought ornaments, these little sentimental keepsakes could remind everyone of your family about past Christmases.
In the future, each piece could make a great conversation starter and transport you back to a particular moment in time. Although it may seem simple, evidence suggests that "the Christmas spirit network" or a specific cerebral region in the brain is more active for people who celebrate the holiday with positive associations compared to those that don't. So keep on doing these little things to stimulate Christmas cheer and prevent dampened moods.
Engage in Family-Friendly Activities
Create a magical Christmas morning with fun activities that keep everyone hyped and busy. Get everyone's adrenaline pumping with a little family-friendly competition. Motivate everyone to participate with cool prizes. You can do classic board games like Monopoly, Chutes & Ladders, or Sorry. If you want to bounce around, interactive games like Twister, Pictionary, or Pin the Reindeer's Nose will help you share laughs.
Furthermore, mind games like Guess the Christmas Carol, Family Trivia, or Cranium are highly stimulating. You can also try trending family games like scooping money with a spatula into a pan while blindfolded or playing the Christmas cups with hidden prizes hidden beneath. Apart from building happy memories, playing games teaches many things like strategy, honing focus, cooperation (for team games), and sportsmanship or how to be a gracious loser.
You can also try activities like making snow angels, sledding, or building snow castles. If outdoor activities make you cold, indoor arts and crafts like building mosaics with discarded wrapping paper or creating Christmas-themed origami is a good idea.
Take Memorable Holiday Photos with a DIY Photo Booth
Make it a tradition to capture holiday photos so that everyone in the family can look back at their growth through the years. When the presents have been opened and the wrapping papers have been swept away, take selfies and family photographs. You can do traditional photos by the Christmas tree, your couch, or porch.
Alternatively, you can have fun creating the best Christmas photos with a DIY photo booth. Tape shiny wrapping paper on the wall to be your backdrop. Use existing props like wigs, funky glasses, reindeer antlers, elf ears, a red Rudolph nose, and Santa hats. These types of items can easily be picked up on Christmas Eve at a local dollar store. Have fun creating different holly, jolly looks and doing funky poses. If you wish, upload your favorite snaps on social media to spread happiness and love on Christmas day to everyone in your network.
Pay the Magic Forward
Once the frenzy of opening presents has died down, you can spread holiday cheer by paying the magic forward. What better tradition than to spread kindness and think of others on Christmas morning? It would be heartwarming to look back through the years and remember fondly that your family had the heart to serve other people. More importantly, studies show that people engaging in volunteer work have better physical and mental health. So doing things for others is a win for all!
After opening presents and getting some new toys, you can have the kids choose old toys of theirs in good condition to donate. This will teach them the value of sharing while making room for new presents. It will also be exciting to spread glad tidings to your neighbors with pre-packed treats. You can also volunteer with your children to deliver gifts to a nursing home or hospital in your area since they can't leave to spend time with their families. Alternatively, helping out in a soup kitchen to serve Christmas brunch will be a rewarding experience.
It's important to note that you may have to sign up in advance to volunteer on Christmas day. A lot of families want to volunteer on Christmas, and these spaces only have room for so many volunteers. If you're told they could use you after Christmas more, you should agree to that, because giving back is important any time of year.
Whatever you decide, sharing the spirit of Christmas with those in need, or making plans to volunteer in the New Year, will make the season even more special.
If you can't volunteer on Christmas day, you could still prepare a donation bin at home with some of your kids' older toys to make room for their new toys and pay your kindness forward.
There are many ways to make your Christmas mornings meaningful, memorable, and magical. It only takes a wee bit of imagination and some planning to reap the rewards. And of course, seeing your family members smile and feeling their love and appreciation makes the effort worth it.
References: