January is one of the most popular months of the year for gyms, but is gymtimidation going to stop you from achieving your fitness goals? Maybe you've set a New Year's Resolution to lose some weight or become more physically fit in2023, or you simply want to feel happier and healthier, but something has you feeling a bit anxious about going to the gym.
You're not alone. Research has revealed that one in four people would rather deal with spiders or injections than go to the gym. "Gymtimidation" (being intimidated going to the gym) isn't limited to traditional gym workouts. It can also prevent people from joining group fitness classes, attending their local yoga studio, or simply working out in public.
Ultimately, a lot of people feel nervous about exercising in front of others, especially people who are insecure about their body or current fitness level. We worry about what people will think of us, whether we'll know how to use the equipment correctly or embarrass ourselves, and even fear that other gym-goers will laugh or stare. Most of this is in our heads, as gym-goers aren't as judgmental as we think, and they're typically more focused on their own workout. However, it's difficult to overcome feeling uncomfortable about exercising in public, being in tight gym clothes in public, etc.
This problem of gymtimidation isn't new, but it's been getting worse in recent years, thanks in large part to Instagram photos from 'fitfluencers' and TikTok videos presenting every gym-goer as a modern Adonis.
The good news? Gymtimidation doesn't have to get the best of you.
What Exactly is Gymtimidation?
Gymtimidation, or gym intimidation, is a term used to refer to the feeling of dread we experience when we imagine working out in front of other people. It's often a symptom of anxiety, low self-esteem, and poor body image, but it can affect anyone.
According to one survey, 47% of respondents said they experienced gymtimidation when exercising around others. Another 32% said they felt particularly intimidated when exercising near someone they perceived to be in great shape.
While anyone can experience gymtimidation, it's particularly common among women. In the UK, a survey found almost twice as many women are afraid of going to the gym as men.
According to the report, the reasons for this fear can vary. Around 44% of women worried about using weights because they felt they didn't know what they were doing. Another 14% said they feared judgement from others.
The truth is that the reason for experiencing gymtimidation can be very different from person to person. Other reasons for it include fearing running into someone you know at the local gym when you're not in the best shape and body confidence issues, to feeling that you'd be more comfortable exercising in private. Unfortunately, no everyone has the equipment they need at home.
How to Overcome Gymtimidation
Tackling gymtimidation is similar to overcoming any inherent source of fear or anxiety. It takes time, commitment, and patience. The first step is recognizing that your worry is normal, but perhaps exaggerated in your own mind. When exposed to new situations, many of us feel anxious. This concern about being exposed to something new is exacerbated in the gym, because many of us are afraid of being judged, feeling out-of-place, or being embarrassed.
Fortunately, there are some steps you can take to overcome gymtimidation.
Step 1: Create a Plan
It's common to feel uncomfortable with uncertainty. When we're unsure of what might happen in a situation, we naturally start to feel fearful and anxious. While you can't predict exactly what might occur during a visit to the gym, you can create a plan to give yourself a sense of having a bit more control and direction.
Start by deciding what you're going to focus on when you're at the gym, or any other workout destination. Keep your exercises simple to begin with, this will ensure you don't have to worry as much about learning new things. If you're planning on using gym equipment, look up the machines and accessories available to you, so you can learn a little more about how they work.
Finding videos online can give you an insight into how to use pieces of equipment, so you don't need to approach someone and ask for help. You could also consider calling your local gym and asking for an introductory session or a tour of the gym, where they'll show you around and give you step-by-step instructions. You'll learn where the equipment you need is, how to use it, and you can even ask what time of day is less busy in those areas of the gym.
A personal trainer can also be extremely helpful for guiding your fitness plan. They can give you tips on where to get started to achieve your specific fitness goals. You can also talk to them about your feelings of gymtimidation and get personalized advice.
Many people plan on starting the new year with some personal training sessions at their local gym, then continuing on by themselves once they master how to use certain machines and movements with their trainer. This instils confidence and helps overcome gymtimidation.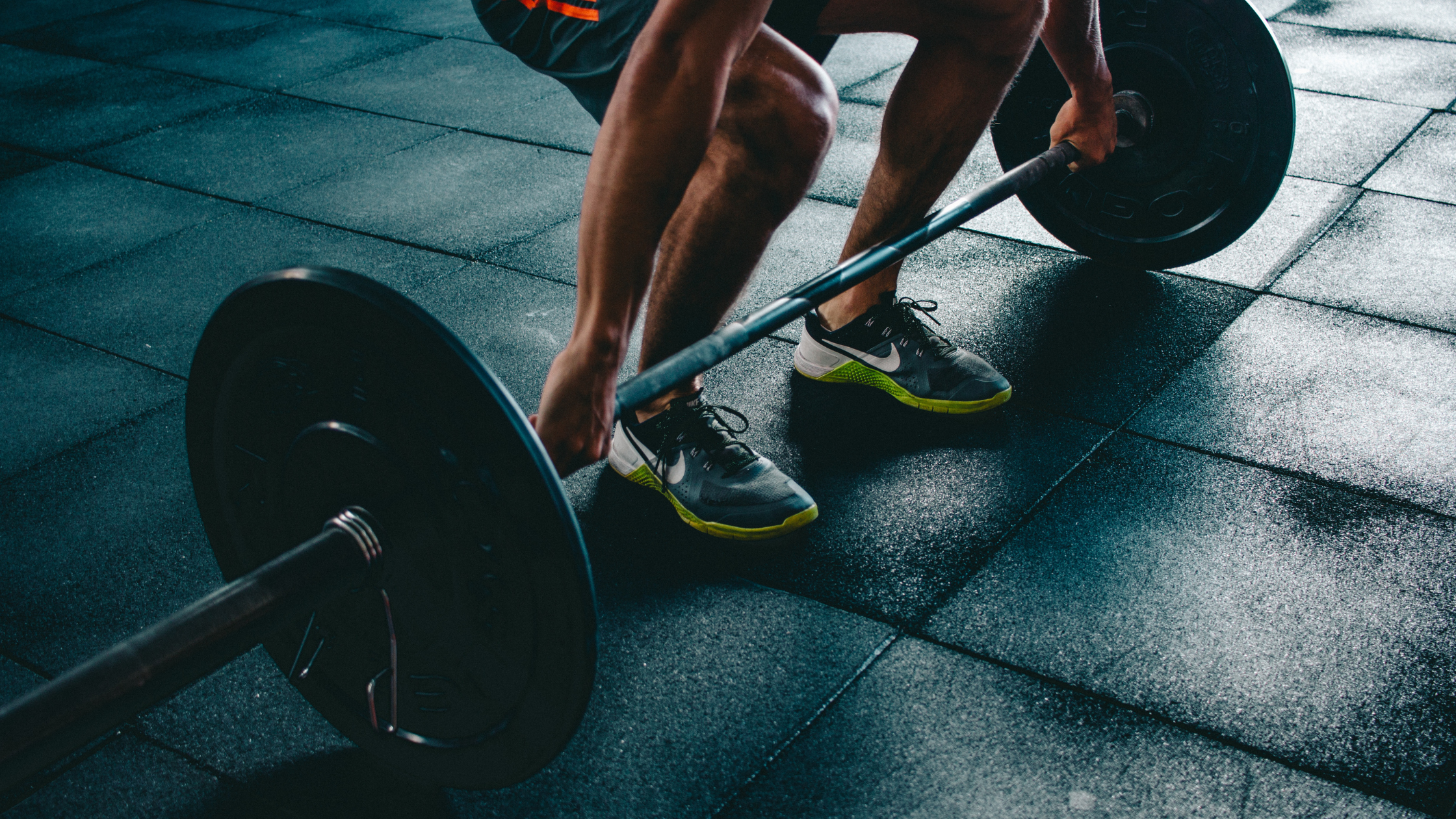 Step 2: Find the Right Gym
Based on your plan, start looking for a gym that's suitable for your needs. Make sure the right resources are in place to help you achieve your fitness goals. For instance, are you interested in trying water aerobics, building your strength with weights, or developing your cardiovascular fitness? Do you need a gym with a pool for that reason?
Are you a woman who feels more comfortable working out when men aren't around? There might be a female-only gym in your area.
Most gyms offer a free trial anywhere from 3 days free trial to two weeks. This allows you to ensure it's the right gym for you, before you sign up.
Aside from checking what kind of services and equipment your ideal gym offers, it's also worth looking into the factors that may make you feel more comfortable when you're there. You might feel better choosing a gym that's close to home, so you can get in and out easily. If you're worried about being surrounded by too many people, choose a smaller gym in a less popular neighbourhood, or one that's less crowded.
Before you start your routine, visit the gym and take a look around. Get an idea of the peak times when people are most likely to be active, so you can alter your schedule accordingly. Speak to the professionals at the gym, and see whether they can give you any support when you're getting started. They've probably dealt with gymtimidation before.
Step 3: Practice at Home First
You may not be able to practice all of the exercises you're going to be doing at the gym at home unless you have your own professional equipment. However, you can work on your posture in front of the mirror to grow your confidence. Practicing movements in front of a mirror, with the help of a training video will make your exercise feel more natural and comfortable in any setting.
Focus on bodyweight variations of the basic exercises you're likely to encounter in the gym. You can try various types of squats at home, such as sumo squats or single leg squats. This will help to build movement skills to develop your confidence.
If you know someone who already has experience at the gym, you could ask them to give you tips on your form and posture while you're at home to minimize gymtimidation by building up your confidence.
You can also watch YouTube tutorials at home first, such as videos on how to do a plank properly, how to lift weights with proper form, and how to do a proper ab crunch.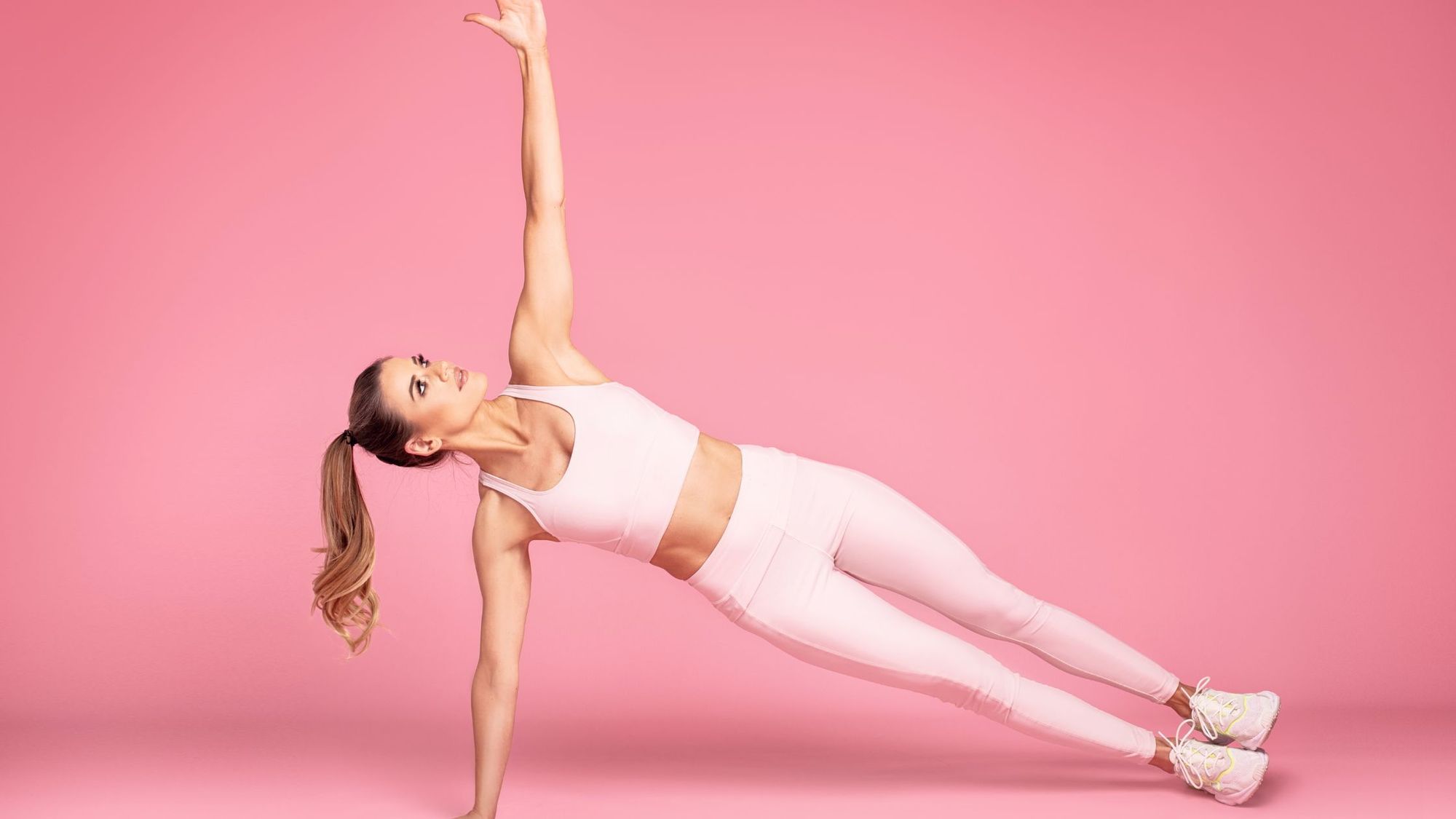 Step 4: Find Other Ways to Boost Your Confidence Such as With Perfectly-Fitted Workout Clothes
Practicing exercises and movements at home is a great way to overcome gymtimidation, but there are other ways you can give yourself a little extra boost. Try investing in a few accessories to take with you to the gym, such as a bag you can pack with water so you can grab a drink whenever you need it, and a towel so you can wipe away excess sweat. Wrist towels or headband towels are great, too.
Get some wireless headphones and create a workout playlist full of songs you love.
Find workout clothes that look good, but also feel comfortable to work out in. If you're worried about excessive sweating, you can choose dark colors to hide moisture patches. Before heading to the gym, test your clothing in front of the mirror. Make sure your shorts don't ride up during squats, and your shirt covers all of the right places.
The right clothing should allow you to focus on what you're doing, rather than concentrating too heavily on how you look, or causing distractions because you constantly need to adjust ill-fitting clothing.
It can help to buy some very high-waisted workout pants that are flattering and stay up the way they're supposed to, in a cute design to build confidence, such as these high-waisted Halara leggings.
Step 5: Create the Perfect Workout Playlist
To elaborate a bit more on the importance of creating the perfect workout playlist, we should explain how music is so powerful. Music has a significant impact on our mental health, and our confidence levels.
Music also helps get you 'in the zone' and in your own world at the gym. Creating a playlist full of your favourite motivational songs will allow your mind to focus on the rhythm and lyrics, so you spend less time worrying about what other people might be thinking.
Music will help to keep you motivated, increasing your energy levels, and making you feel more positive. Studies also show listening to music while exercising can distract you from pain and fatigue, so you may be able to commit to your workout for longer.
When your playlist is great, you'll naturally want to work out for longer.
If you're not sure what to listen to, browse through some pre-curated playlists online, specifically created for exercise. Alternatively, just ask yourself what makes you feel the most happy and motivated. You can listen to anything you want, from '90s pop to hard rock to country.
Step 6: Find a Workout Buddy
Few things will help you overcome gymtimidation more than finding an accountability buddy (a workout buddy) you feel comfortable with to go to the gym with. Walking into a new environment on our own can make us feel more vulnerable and exposed. Having a supportive friend by your side can help to eliminate these feelings, and give you a range of other benefits. A fitness buddy will help to keep you accountable, and stop you from making too many excuses about why you can't go to the gym.
Your gym buddy will also be able to distract you from gymtimidation with conversation, so you're less likely to focus on what other people are saying or doing. They can even give you motivation, and push you to achieve your goals when you're feeling anxious.
Gym buddies are also great for improving the overall quality and safety of your workout. They can spot you while you're lifting weights, and give you advice when necessary. If you don't have someone in your social circle to work out with, there are apps such as MeetUp and Strava to connect you with like-minded individuals.
However, you don't need a workout buddy to overcome gymtimidation. Many of the other tips in this article help you overcome it without help from anyone.
Step 7: Focus on Successes over Failures
One of the best ways to overcome gymtimidation and achieve your goals, is to celebrate every little win. It's easy to fall into the trap of comparing yourself to others when you're surrounded by other people at the gym. However, it's important to remember that everyone starts somewhere.
Just because other people are lifting heavier weights, running faster, or showing more confidence in their workout routine, doesn't mean you're not as good. Stop comparing yourself to others, and start focusing on celebrating your own little wins.
Set yourself a target before each workout, and write out a list of your achievements when you're done. Even if you've just managed something small, such as running for an extra ten minutes, or staying at the gym for your full scheduled hour, celebrating will improve your self-esteem.
Step 8: Don't Lose Sight of Your Goals: Remember Why You're There
Finally, the ultimate way to battle gymtimidation, is with motivation. Knowing why you're there, and reminding yourself of your goals frequently will help to direct your focus. Write down a specific goal and keep it somewhere you'll be able to see it regularly.
Maybe you want to lose enough weight to fit into a new dress, or you want to stop feeling exhausted every time you go for a walk with your dog. Perhaps you've discovered you're more predisposed to weight gain with your DNA test, and you want to ensure you get one step ahead of the issue.
Whatever your goal, focusing on it will help to keep you motivated. It can also remind you that all of the people around you have their own goals to focus on. The chances are they're too focused on themselves, and their own anxieties to pay attention to you.
Final Thoughts on Overcoming Gymtimidation
Gymtimidation is a common occurrence for people of all ages, and even people with great physical fitness abilities experience it. This type of public gym-related anxiety can make it harder to achieve your fitness goals, and even prevent you from getting the exercise you need. However, you don't have to let your fear of the gym control your life.
With the tips above, you can start to tackle gymtimidation one step at a time. If you need help figuring out where to get started with your fitness plan, use your CircleDNA test to guide you. This at-home DNA test notifies you of your genetic strengths and weaknesses when it comes to physical fitness, and it can offer some useful insights into which kinds of exercise you should be concentrating on when you visit the gym.
Once you start facing your fears, practicing exercise at home, and pushing yourself to visit the gym despite your anxiety, your confidence will rapidly begin to grow, and you'll be much less intimidated the more you go to the gym.
References: