Fall is upon us, and the beautiful fall months are never complete without some yummy pumpkin desserts while pumpkin is in season. Every fall, many of us look forward to pumpkin flavored treats. As the days get colder and shorter, we're all starting to look forward to cosying up on the couch at night with a hot drink and comforting movies. What's better for the occasion than some delicious pumpkin desserts?
Of course, when it comes to pumpkin desserts, some are healthier than others. The kind of pumpkin pie made with pumpkin puree with loads of added sugar is not one of the healthy options.
From healthier versions of the classic pumpkin pie to pumpkin muffins and even pumpkin smoothies, there is so much you can do with this wonderful fall squash to get you fully prepared for the cozy autumn season. Our recipes bring a healthy twist to each dessert, allowing you to indulge in something special without the guilt.
It's time to preheat the oven and get your best baking apron on – we have a lot of pumpkin desserts to learn how to make. Pumpkin is one of the best types of fall produce to bake with, and below are 5 tasty pumpkin desserts: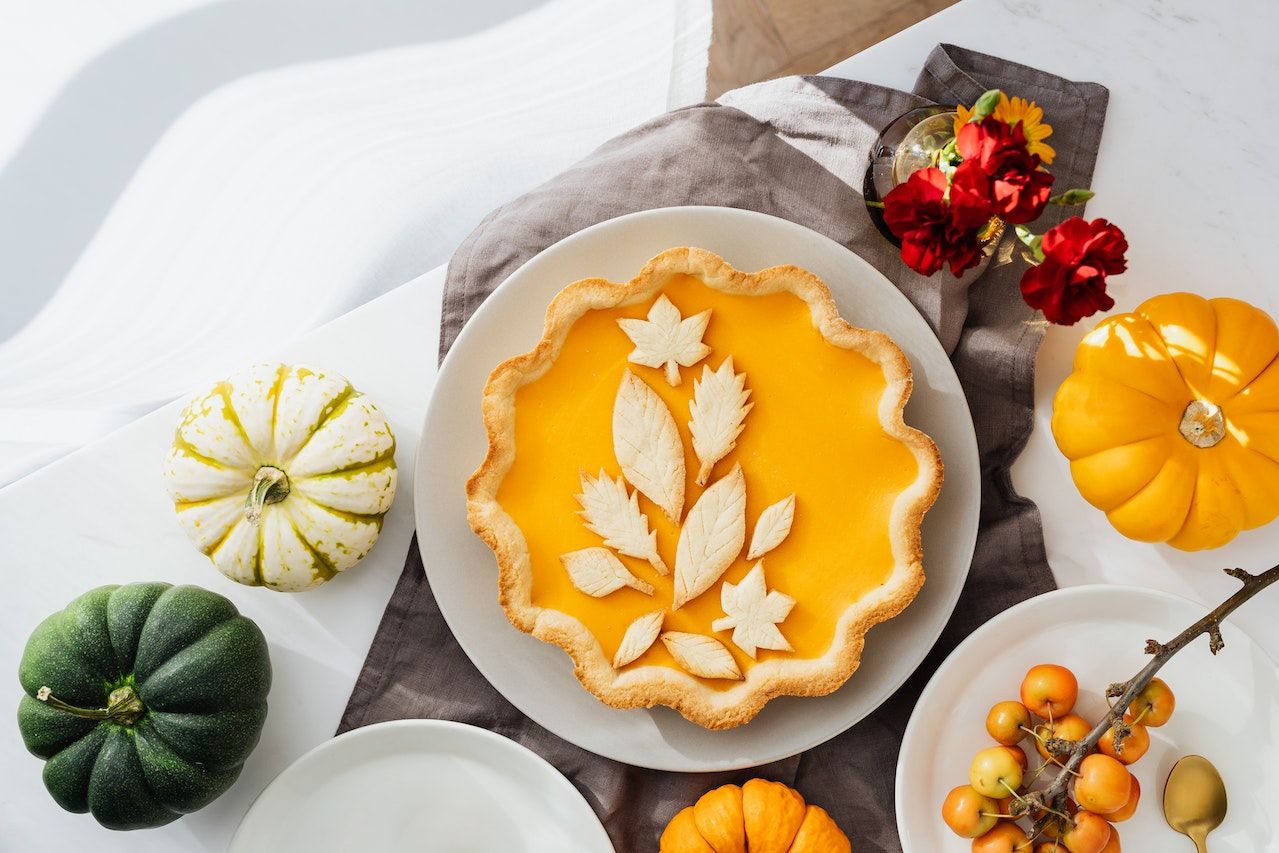 1. Pumpkin Pie
The first on our list of pumpkin desserts is a fall classic. Our recipe is simple, healthier than a store-bought pumpkin pie, and sure to bring a smile to the faces of your loved ones.
Ingredients:
2 cups ground oats
5 Tbsp coconut oil
5 Tbsp water
1 Tbsp honey
2 cups pumpkin puree made from scratch
3 tbsp coconut cream
3 Tbsp coconut oil
1/2 cup dates
2 Tbsp cinnamon
1/2 tsp ginger
A pinch ground cloves
2 Tbsp ground oats
A pinch of salt
1/2 cup chopped pecans and walnuts
Method:
Step One: Preheat the oven to 180C/350F
Step Two: Grind the oats so that you can make the crust. Combine them with the coconut oil and honey in a food processor, adding 1tbsp of water at a time until the mixture is sticky yet crumbly in texture.
Step Three: Take a pan and cover it with coconut oil before pouring in the crust mixture. Starting from the middle, press the mixture down until it covers the base and the sides of the pan evenly.
Step Four: You can either puree the cooked insides of a pumpkin yourself or use cans of pumpkin puree – the choice is yours. When you have the pumpkin puree, you then need to puree the dates in your food processor.
Step Five: Pour both purees into a bowl. Add the coconut cream, ground oats, coconut oil, cinnamon, ginger, and ground oats and then puree together using a hand blender. Make sure you taste the filling so that you can decide if it needs a little something extra, like more spices.
Step Six: Pour the mixture onto the crust and spread it out evenly. Then arrange the chopped nuts on top.
Step Seven: Bake it in the oven for 30 minutes before you take it out and allow it to cool. Leave it for 4-6 hours, although overnight is best. Serve with whipped cream for perfection.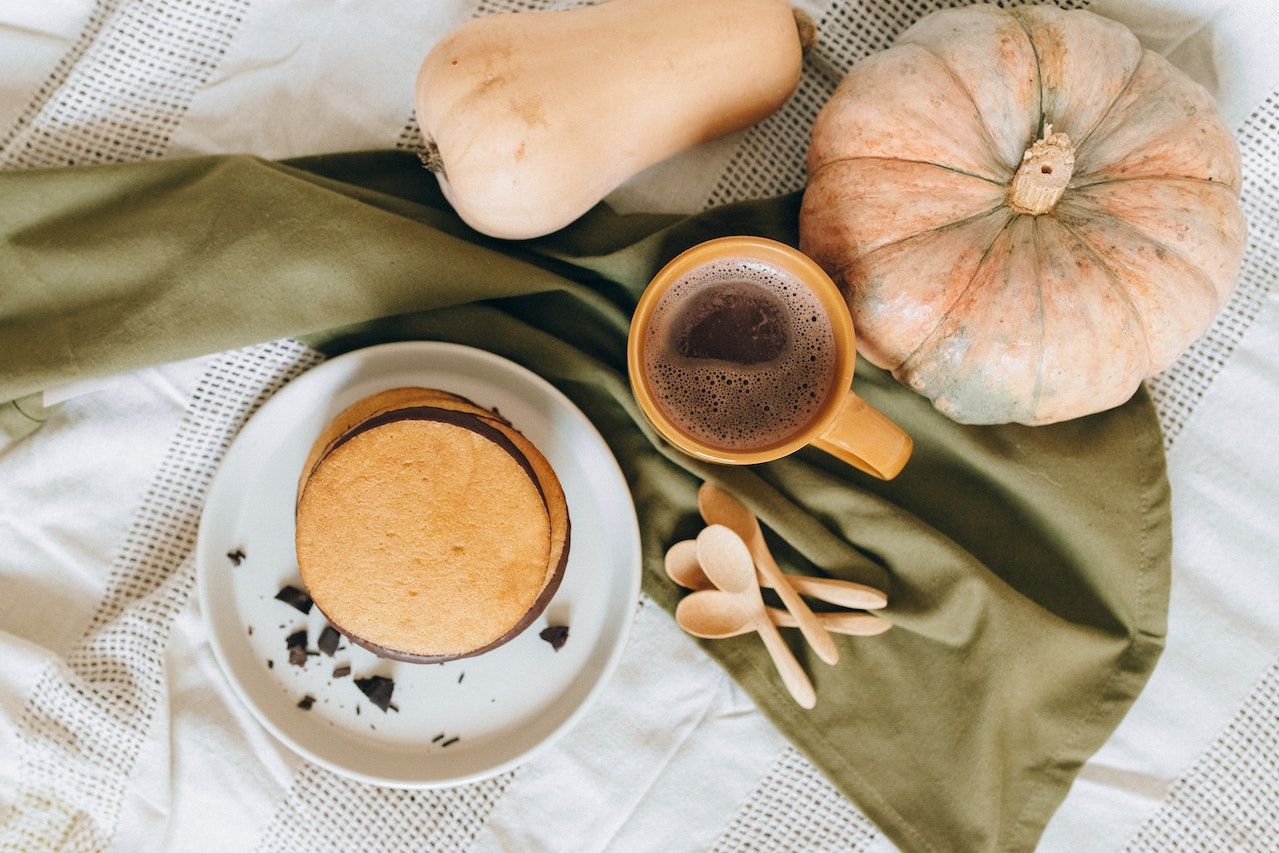 2. Pumpkin Pancakes
There is so much to love about these pumpkin pancakes, but we're especially fond of the fact that they are completely gluten-free as well as delicious.
It's important to be aware of your food sensitivities before you bake something for yourself. A CircleDNA test can give you some insight into possible genetic dietary needs you should be aware of.
Ingredients:
1/2 cup oats
1/2 cup pumpkin puree
1 tsp cinnamon
1/2 tsp ginger
1 tsp vanilla
1 egg
2 Tbsp yoghurt
1/2 tsp baking soda
2 1/2 Tbsp honey
Coconut oil for cooking
Method:
Step One: Take all of the ingredients (aside from the coconut oil) and blend them together until it creates a thick yet smooth batter.
Step Two: While you let the batter sit for a few minutes, preheat your pan at a medium temperature and cover the surface with a light layer of coconut oil.
Step Three: Turn the heat down to low and spoon some pancake mix into the pan. Wait until the edges are cooked, and bubbles start to form in the centre of the pancake.
Step Four: Flip the pancake and wait for it to cook. Then repeat the process for the rest of the batter until all the pancakes are cooked.
Step Five: Serve with your favourite toppings. For me, that's lashings of maple syrup.
3. Pumpkin Bread
This is another recipe that doesn't use any flour, making it gluten-free as well, and safe for those who are lactose-intolerant since you can choose any type of milk while making this pumpkin bread. We love adding chocolate chips just to give it that nice dessert feeling, but feel free to leave them out for an even healthier version, or use dark chocolate chips to be healthier.
Ingredients:
1 cup oats
¾ cup pumpkin puree
3 tbsp honey
1 tbsp almond butter
1 tbsp coconut oil
⅓ cup milk of choice
⅔ tsp baking soda
1 tbsp cinnamon
½ tsp nutmeg
1 tsp vanilla
½ cup chocolate chips
2 eggs
Method:
Step One: Preheat the oven to 180C/350F.
Step Two: Add the wet ingredients to a mixing bowl and stir until they are mixed together. When that's done, add the dry ingredients (except the chocolate) to the same bowl and mix once more.
Step Three: Add half of the chocolate chips to the mix.
Step Four: Grab a baking tin and line it with greaseproof paper. Pour the bread mix into the tin and spread it out. Take the remaining chocolate chips and sprinkle them on top.
Step Five: Bake for 30 minutes.
Step Six: Slice it up and enjoy it warm for the best results. The perfect cosy dessert.
4. Pumpkin Smoothies
This is a really quick and easy treat, and it's one of the simplest pumpkin desserts as it only takes a few minutes to make. A pumpkin smoothie is a refreshing drink to have with breakfast or just for when you're craving something sweet.
Ingredients:
2/3 cup pumpkin puree
1 cup of milk
1/2 tsp cinnamon
1/2 tsp vanilla
1/3 tsp ginger
1 tbsp almond butter
Method:
Step One: Grab all of your ingredients and put them into your blender or smoothie maker. Switch it on and blend until the mixture is completely smooth.
Step Two: Add some ice cubes to the blender and then mix them in, helping to give the smoothie that ice-cold and refreshing taste.
Step Three: Pour into glasses and serve. If you're feeling really fancy, you can top it with a little whipped cream.
5. Creamy Pumpkin Muffins
These pumpkin muffins are fluffy, delicious, and oh so sweet. The best part is that this is another recipe that leaves the gluten out, so everyone is able to enjoy them.
Ingredients:
1 ½ cup quick oats
1 cup pumpkin puree
1 tbsp cinnamon
½ tsp nutmeg
3 heaping tbsp coconut sugar
⅓ cup almond milk
2 eggs
1 tbsp coconut flour
1 tbsp butter
1/2 tsp baking soda
1 tsp vanilla
3 tbsp cream cheese
1 tsp honey
1 tsp vanilla
Method:
Step One: Preheat the oven to 180C/350F.
Step Two: Mix all of the muffin ingredients (excluding the cream cheese and honey) in a bowl. Next, take a muffin tin and line it with muffin cases before distributing the mixture equally.
Step Three: In a separate bowl, mix the cream cheese, honey, and vanilla together. Top the muffin mix with the cream cheese.
Step Four: Bake them for 25 minutes and then leave them to cool. Once they are ready, you can enjoy them.
To Conclude
We hope you've enjoyed our selection of healthy pumpkin desserts you can enjoy this autumn. There's nothing quite like sitting by the window with a hot cup of tea and a homemade pumpkin dessert while you stare at the beautiful fall foliage.