Make mealtime more exciting with tasty and healthy kimchi recipes that tickle the taste buds and warm the belly. You can use kimchi to spice up your meal times with its flavorful, hot, salty, and tangy power. Yes, you can even eat kimchi for breakfast. Because of the Hallyu wave with high-rating K-dramas. K-pop and just Korean culture in general, a lot of people have become familiar with this Korean delicacy that appears to be an integral component of every meal.
Kimchi is a traditional banchan or side dish made out of fermented vegetables. The most popular of them all is napa cabbage kimchi. It's crunchy with lots of zing and flavor, so it hits the spot, especially when it's cold outside. But remember, you can also find other kimchi variants in the market like radish, cucumber, papaya, and green onion kimchi. Most Koreans have some form of vegetable kimchi with the majority of their meals. It's safe to say that most Koreans like to eat kimchi every day.
Find out why kimchi is all the rage by trying out some delicious kimchi recipes for your meals.
Why Should You Make Room for Kimchi Recipes in Your Meal Prep?
If you're up for it and feeling adventurous, scrumptious kimchi recipes are a great addition to the Western diet because kimchi is a fermented food, which makes it an amazing probiotic.
The same good lactobacilli bacteria in Yakult or yogurt is found in kimchi, and this promotes good digestion. Studies attest that eating kimchi regularly stimulates immune function. Moreover, apart from regulating the bowels and promoting good intestinal flora, research shows kimchi can also fight free radicals, metabolic syndrome risks, cardiovascular diseases, certain cancers, and aging.
Your jar of kimchi is more than a condiment to spice up your dishes. If you're feeling creative, you can do many things with kimchi other than eating it straight out of the jar. Need a burst of kitchen inspiration? Check out these nutritious and delicious kimchi recipes that will bring a little heat to your plate and get you and your family fired up for mealtime.
Below are 6 tasty and healthy kimchi recipes to try making: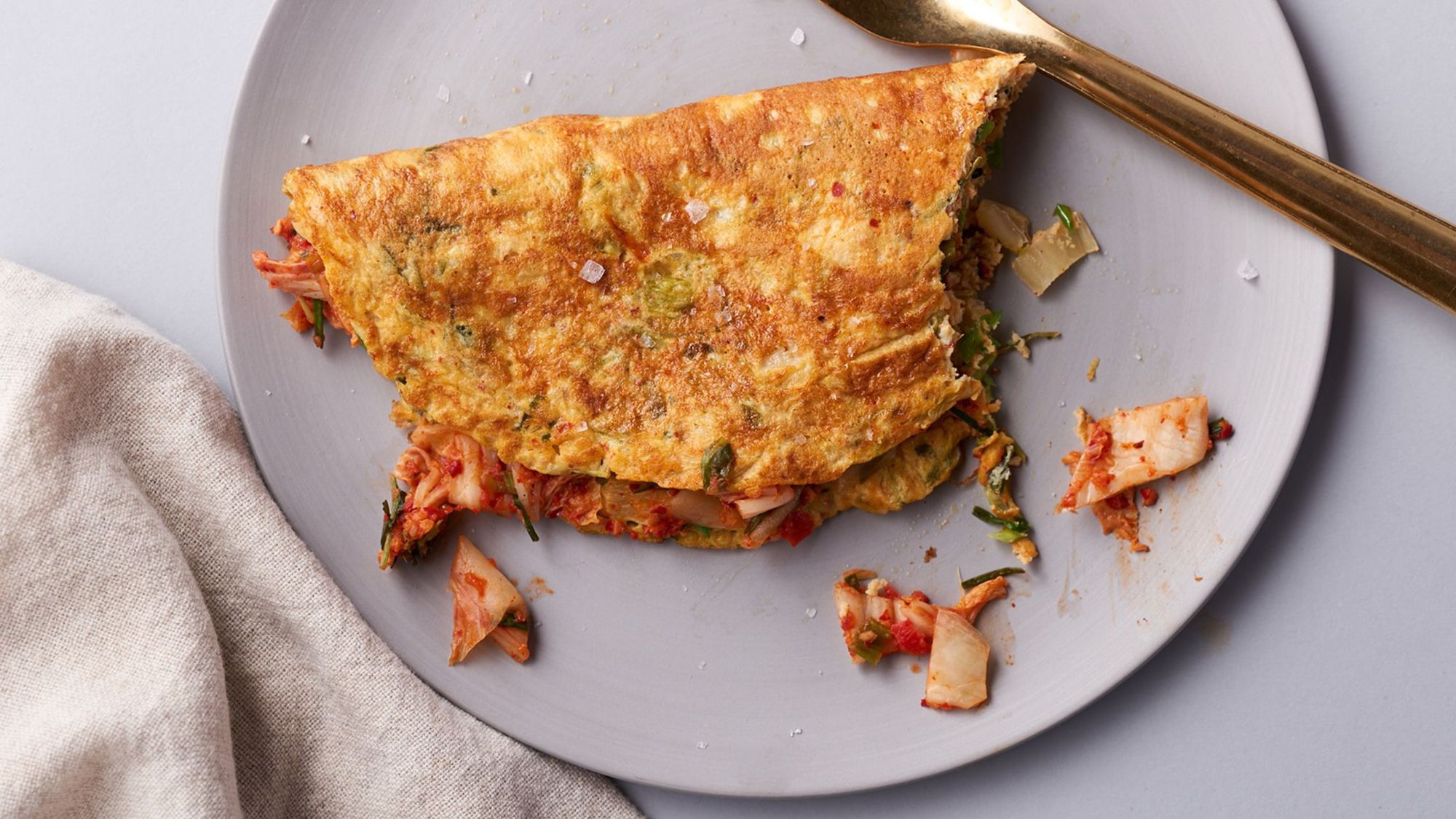 1. Crunchy Kimchi and Savory Cheddar Cheese Omelet
What do cheese and kimchi have in common? Well, they're both fermented foods that rock your world. If you're looking for a perfect match in fermentation heaven, give this fusion omelet a try. It's an excellent protein-packed meal for breaking your fast, or you can use it as an option when you want breakfast for dinner. You will need these simple ingredients for this delectable breakfast:
2 eggs
2 tbsp shredded cheddar
1 tbsp neutral oil
¼ cup drained napa cabbage kimchi
Salt and pepper to taste
Instructions:
Prepare this as you would a normal cheese omelet. Beat the eggs in a bowl and season with salt and pepper. In a non-stick pan, heat the oil over medium heat. Pour in the eggs and swirl until almost set. Add in the cheese and kimchi. Let this cook until the bottom is a bit puffed up and golden brown. Make the classic omelet fold and slide it into a plate.
If you're feeling extra, add more cheese and garnish with scallion ribbons. You can also play around with the ingredients and add cubed ham or bacon bits for more of a meaty flavor. This is one of those easy kimchi recipes that even kids can do. It clocks in at about 282 calories depending on the amount of cheese you use. You can use low-fat cheese or vegan cheese for a lower-fat and calorie option. You can eat this solo or pair it with spicy noodles.
2. Not Your Average Pancake: Kimchi Pajeon
The Korean pancake is unlike the Western breakfast variant. You can think of this as a veggie fritter. It's savory and packed with vegetables, ensuring you hit your five-a-day. It's a bit spicy, salty, chewy, and crunchy. But if you're cooking for people with low spice tolerance, you can tailor the amount of kimchi you use. Korean cooking is very versatile because you can always tweak the seasonings to suit your taste buds. To make this kimchi pajeon, you will do the following:
1 large egg
1 tbsp kimchi juice
1 tbsp soy sauce
¾ cup flour
1 cup chopped napa cabbage kimchi
½ cup green onion kimchi (optional if not using increase napa kimchi to 1 ½ cups)
1 tbsp white vinegar
5 tbsp cold water
3 tablespoons oil for frying
Instructions:
Preparing this recipe is easy because you just have to combine all the ingredients in the bowl (except the oil for frying) and give it a good mix. Keep in mind, if you want your pancakes spicier, you can add ½ teaspoon gochujang paste. However, kitchen neophytes may be afraid of the sizzling oil so that amps up the difficulty level. In a nonstick pan, heat oil on medium heat. Then, scoop ¼ cup full of batter into the pan. Spread it out to about 4 inches in diameter. Cook for about 3 minutes on each side until golden brown. Make sure the pancake is set before you flip it to prevent collapse.
Repeat the process until the batter is finished. This makes up 8 pancakes with roughly 167 calories per piece. Some ajummas like to sneak in more veggies like shredded carrots into the pancake or they add shrimp and squid. You can serve this with a simple soy sauce and vinegar dip combining equal parts with a sprinkle of sugar and drops of sesame oil. This hearty dish can be eaten at any time of the day.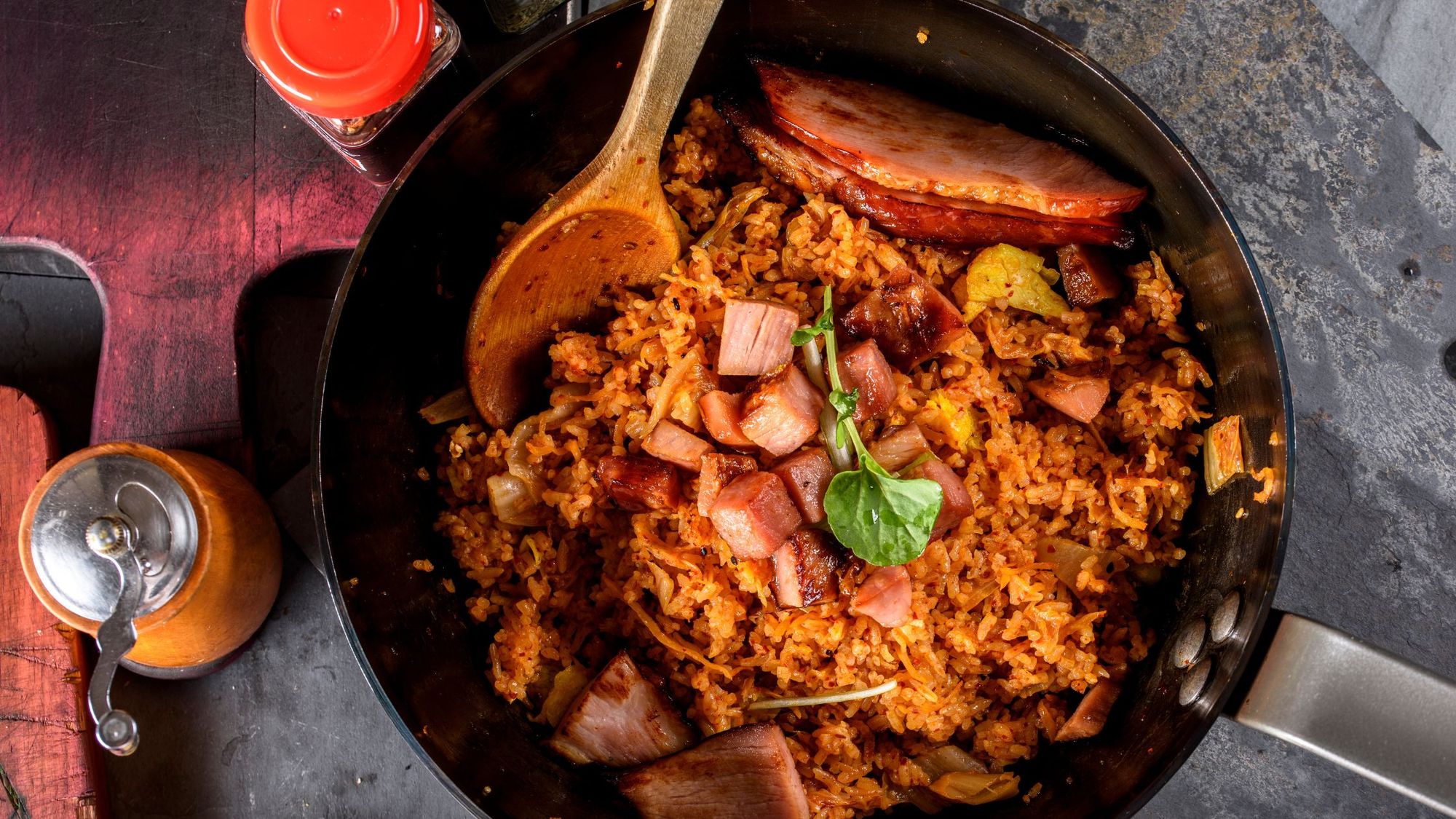 3. Kimchi Rice (One of the Quintessential Kimchi Recipes)
We can't talk about great kimchi recipes without the iconic Kimchi Rice Every Korean ajumma (older, married woman) has their own version of Kimchi Fried Rice. Most of the time, they put whatever leftovers they have so as not to waste food. This is one of those kimchi recipes that will help you clear out your fridge and use up old rice. It's a newbie-friendly recipe because you just need to chop up the ingredients and toss them in the pan. For those who are watching their carbs, whole grains like brown rice or multigrain rice will also work. For a basic kimchi rice recipe, you need the following:
2 cups brown rice
3 tablespoons napa cabbage kimchi chopped
2 tablespoons kimchi juice
1 tsp gochujang (less to reduce spice)
1 clove minced garlic
1 tsp neutral oil
1 tsp sesame oil
A handful of green onions
Black sesame seeds
Instructions:
In a pan, heat neutral oil and garlic until it becomes fragrant. Then add kimchi until wilted. Mix in the gochujang, kimchi juice, and rice. Combine the ingredients by giving them a good mix. When almost done, mix in the sesame oil. Plate up the rice and garnish it with green onions and black sesame seeds. The most basic recipe is about 223 calories per cup of kimchi rice.
However, the calorie count can go up depending on what you include. Some ajummas include diced ham, fish cakes, or other meats in the rice. They also frequently top this with a fried egg and cut-up nori sheets. Depending on the ingredients you use, kimchi rice can help you get your protein, carb, and veggie intake.
4. Hearty Pork Kimchi Stew with Potato and Carrots
This is one of the most satisfying kimchi recipes because it is flavorful and loaded with nutrient-dense ingredients. It's moderately easy to do, and best of all everything is done in one pot for easy cleanup. This dish contains go, grow, and glow foods, so it's a comprehensive meal that will keep you satiated. You can also eat this with brown rice to make it more filling. The ingredients are:
1 pound lean pork cubed
3 cups water
1 ½ cups chopped napa cabbage kimchi
½ cup radish kimchi
1 cubed potato
1 cubed carrot
1 clove minced garlic
1 tbsp neutral oil
1 tsp gochugaru (chili powder)
2 stalks of green onions sliced
Salt and pepper to taste
Instructions:
Prepare the stew by heating oil with garlic until fragrant. Then add the pork and saute until brown. Add in the cubed potatoes and carrots. Increase heat and add broth, along with napa and radish kimchi plus the seasoning. Once boiling, simmer for fifteen to twenty minutes or until everything is tender. Take off from heat and garnish with green onions. This makes two to three helpings with about 310 calories each.
5. One-Pot Wonder: Budae Jjigae
One of the all-time favorite kimchi recipes that people love is Budae Jjigae because it's a gastronomic bonanza of all things yummy. It usually includes green onions, baked beans, SPAM, hotdogs, noodles, mushrooms, scallions, silken tofu, and of course, napa cabbage kimchi. This Army Base Stew got its name because it was invented at the end of the Korean War. The locals used the surplus food from the empty US Military bases to create this one-pot dish.
Some would say that this is not healthy because of the inclusion of processed meats. However, you can tweak the ingredients and include healthier options. This particular recipe contains protein and nutrient-dense ingredients. Best of all, family members can enjoy this one-pot dish together. Take a look at the ingredients:
4 cups veggie broth
1 to 2 packages of ramen noodles (plain)
1 tsp soybean paste
1 tsp gochujang
1 tsp gochugaru
1 tbsp soy sauce
1 pack of extra firm tofu cut into bite-sized cubes
1 tsp minced garlic
1 bunch of enoki mushrooms
½ cup shiitake mushrooms
½ cup carrots
½ cup napa cabbage kimchi
¼ cup radish kimchi
¼ cup cucumber kimchi
2 vegetarian sausages cut diagonally into circles
½ can vegetarian spam cut into cubes
Sliced green onions for toppings
Instructions:
Heat a medium-sized pot and add the seasonings plus the garlic. Bring to a boil until the flavors combine for your soup base. Turn off the heat. Put the ramen noodles in the middle of the broth. Then arrange the mushrooms, tofu, sausage, and vegan luncheon meat on top. After assembly, cover the pot and bring it to a gentle boil. It's best to serve this hot-pot style so you can cook and enjoy the dish on the dining table with a portable stove. You can add or subtract condiments and toppings to suit your taste. This bubbling symphony will make you salivate. And since the whole thing can serve 3 to 4 people, it rounds up to about 247 calories.
6. Fusion Kimchi Slaw: The Perfect Side Dish
If you want to give your average coleslaw side dish a makeover, this kimchi slaw with a Korean twist is the answer. With the addition of kimchi, you will get a crispy, tasty, zingy, and juicy condiment that's bursting with flavor. You can use this as a cooling condiment or banchan to accompany all your Korean meals. Moreover, you can pair this up with traditional Western dishes like burgers and fries. Check out the ingredients:
½ cup thinly sliced green cabbage
½ cup thinly silenced purple cabbage
½ cup julienned carrots
1 cup chopped kimchi
¼ cup mayonnaise
1 tsp vinegar
Instructions:
This is a super easy recipe to prepare, because all you have to do is combine the above ingredients in one giant bowl. Adjust the seasonings to suit your taste. If you want a spicier slaw, you can add ½ tsp of gochugaru. This will keep well in the fridge when stored in a sealed container. This recipe serves four and comes out to almost 100 calories. It's high in fiber with all the vegetables, making it a filling addition to your main meals.
Dare to Give Kimchi Recipes a Try?
Making Korean recipes at home is a lot easier than you think. It just requires chopping a lot of fresh veggies and including a spice mix, usually made with gochugaru or gochujang. Remember, you can always tweak the spicy seasonings to your tongue's tolerance.
More importantly, make sure you check the ingredients to make sure you're not sensitive or allergic to any raw materials. Some types of kimchi contain shrimp, while others have anchovies or fish sauce. To help you out, take a CircleDNA test to see which foods suit you best, based on your genetic makeup. This at-home DNA test provides more than 500 reports, including health disease risks, ancestry, and diet suggestions that are based on your DNA and genetic nutritional requirements.
References:
Health benefits of kimchi (Korean fermented vegetables) as a probiotic food (Kun-Young Park et.al.) https://pubmed.ncbi.nlm.nih.gov/24456350/
Effects of Kimchi on human health: A protocol of systematic review of controlled clinical trials(Myung-Sunny Kim et.al.) https://www.ncbi.nlm.nih.gov/pmc/articles/PMC5895381/Why
5 a day? (NHS) https://www.nhs.uk/live-well/eat-well/5-a-day/why-5-a-day