More and more families are choosing a vegetarian diet as the benefits of a plant-based diet become more widely understood. Vegetarian Christmas dinner recipes can be incredibly delicious, and a vegetarian Christmas dinner can be just as gourmet as a turkey dinner – sometimes even more gourmet.
Start by serving your guests festive cocktails and a vegetarian snack board in the living area, then move the guests to the dining table for a lovely vegetarian Christmas dinner.
From main course ideas to sides, appetizers and desserts, below are 6 vegetarian Christmas dinner ideas to try out this year:
1. Butternut Squash Roast
If you're looking for the ultimate vegetarian Christmas dinner main course, look no further than the butternut squash roast. This recipe is brimming with smoky and sweet flavors, as well as plenty of antioxidants and vitamins. It's ideal not just for Christmas dinner, but for whenever you need a healthy boost around the holidays.
Ingredients:
500g of cubed butternut squash
3 tsp smoked paprika
2 garlic cloves
2 sage leaves (Chopped)
2 tbsp of olive oil
1 onion (chopped)
200g of chestnut mushrooms (chopped)
2 tbsp of soy sauce
2 tbsp tomato puree
125g red lentils
4 dates (pitted)
300ml of vegetable stock
50g of white breadcrumbs
150g of mixed nuts (walnuts, pecans and Brazil nuts)
2 beaten eggs
Instructions:
Heat your oven to around 400 degrees Fahrenheit and mix the paprika, sage, garlic, and squash in a bowl with 1 tbsp of olive oil. Place on a roasting tray and cook for 20 minutes. Heat some oil in a frying pain in the meantime and fry the onion until softened, then add your mushrooms. Stir in 2 tsp of paprika, the tomato puree, stock, soy sauce, and lentils. Simmer for 20 minutes.
Add your dates, nuts, breadcrumbs and eggs into the cooled lentil mixture, and fold in the roasted squash. Fold the garlic into the mix and pour everything into a greased loaf tin. Cook for 30 minutes and leave to rest.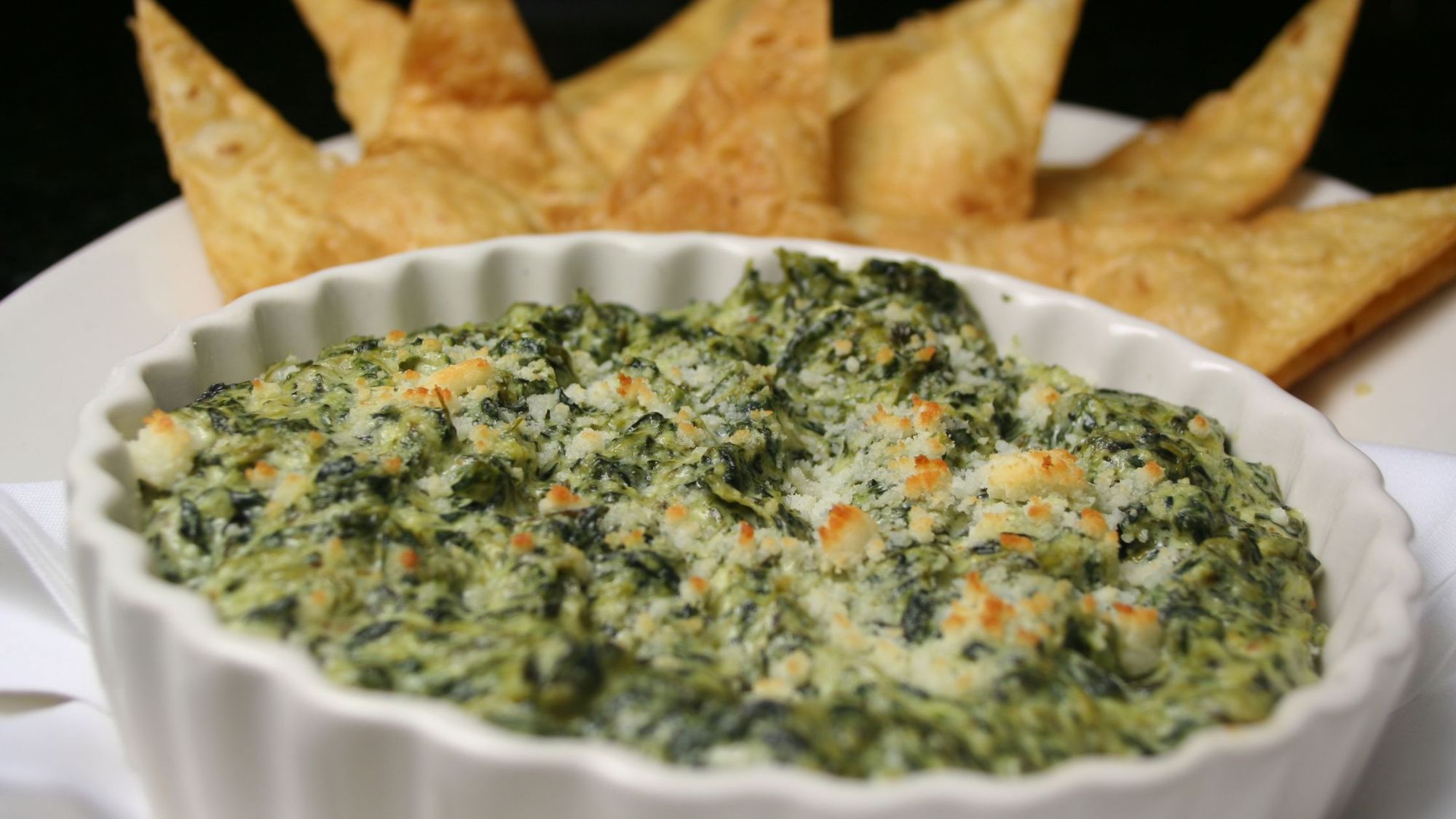 2. Cheesy Spinach Dip Tree
This vegetarian Christmas dinner recipe is a winning appetizer or side. It's sure to impress at any holiday party. It's a great choice for all ages, thanks to the generous amount of cheese. Plus, it's brimming with nutrients from the chopped artichoke hearts. Here's what you'll need.
Ingredients:
· 4 oz of cream cheese
· 1 cup of chopped artichoke hearts
· 1/2 cup of finely chopped spinach
· 1/4 cup of fresh grated parmesan
· 2 cloves of garlic (minced)
· ½ tsp of red pepper flakes
· Kosher salt
· Ground black pepper
· 1 sheets of frozen puff pastry
· ¾ cup of shredded mozzarella
· 2 tsp of melted butter
Instructions:
Preheat your oven to 375 degrees Fahrenheit and line a baking sheet with parchment paper. In a large bowl, combine the cream cheese with the parmesan, garlic, red pepper, spinach, and artichoke hearts, and season with salt and pepper.
Unroll your pastry sheets onto the baking tray and use a knife to cut 2 Christmas tree shapes. Remove the top tree and spread the cheese mixture on the bottom. Sprinkle on mozzarella and add your second tree cut-out. Mix your melted butter with a little extra garlic and brush the mix over the tree, then bake until golden.
3. Christmas Cabbage with Hazelnuts
If your Christmas traditions involve plenty of leafy vegetables on the festive dinner table, this is a great option to try. It's fantastic for adding unique flavors to your vegetarian Christmas dinner, and it's packed full of nutritious vitamins and minerals.
Ingredients:
· 250g cabbage
· 40g raisins
· Handful of parsley leaves
· 50g toasted hazelnuts
· 50g pomegranate seeds
· 40g green olives (pitted)
· Handful of mint leaves
· 1 tbsp of sherry (optional)
· 1 tbsp of olive oil
Instructions:
Cover your raisins in boiling water and set them aside to rehydrate. Shred the cabbage and add to a medium saucepan. Chop your hazelnuts, herbs, and olives and combine in a bowl with the pomegranate seeds and sherry. Drain the raisins, chop them, and add them into the mix.
Pour the fruity mixture into the cabbage and simmer for 5 minutes with some extra water. Add a pinch of salt, your oil, and toss to coat.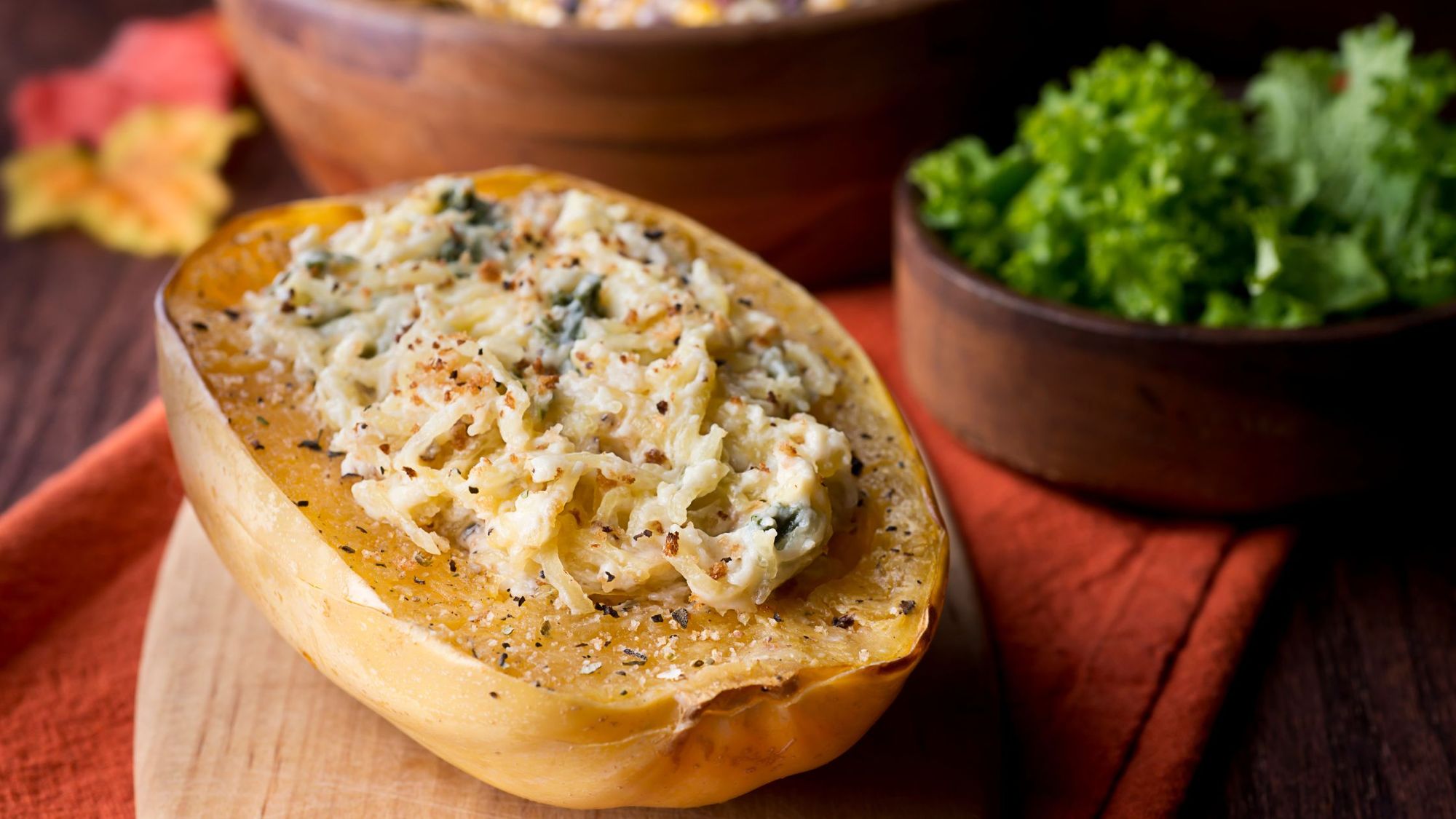 4. Squash and Ricotta Wreath
Squash is a versatile ingredient for any vegetarian Christmas dinner, as a side course or a main. This pastry wreath made from squash is excellent if you're looking for an eye-catching edible centerpiece for a holiday party. All you need is a handful of ingredients, and a little creativity.
Ingredients:
· 750g of chopped butternut squash
· 1 bunch of finely chopped sage
· Olive oil
· 250g ricotta
· A sprinkle of nutmeg
· 2 crushed garlic cloves
· 2 x 360g cartons of croissant dough
Instructions:
Heat your oven to 400 degrees Fahrenheit and mix the squash with half the sage, 2 tbsp of olive oil and plenty of salt and pepper. Tip everything onto a baking tray and cook for 30-40 minutes. Beat your ricotta, remaining sage, garlic and nutmeg together then season. Unroll your croissant dough and cut into 12 triangles. Arrange the triangles in an overlapping circle on a baking tray.
Pile the squash into your ring with your ricotta mixture, and fold the pastry triangles into a wreath shape. Bake for a further 30 minutes until golden.
5. Christmas Pudding Brownies
Looking for an awesome vegetarian dessert to serve at the end of your vegetarian Christmas dinner? Christmas Pudding Brownies are a great idea, and this particular recipe happens to not only be vegetarian, but vegan as well. This dessert will be enjoyed by guests of all ages, and it's dairy-free, as well as packed with dark chocolate for some healthy antioxidants.
Ingredients:
· 2 tsp of ground flaxseed
· 200g of dark chocolate
· 100g of dairy-free spread
· 100 ml of oat or almond milk
· 125g of self-raising flour
· 1 cup of mixed sultanas and raisins
· Half a cup of cherries
· 50g cocoa powder
· 50g ground almonds
· 150g golden caster sugar
· 100g of light brown sugar
· 1 tsp of vanilla extract
· A sprinkle of sea salt
· ½ tsp of cinnamon
Instructions:
Start by mixing your fruit in a bowl. Add your flaxseed to a second bowl with 4 tsp of water, so it creates a gel-like substance. Melt 150g of chocolate and mix together your flour, almonds, cocoa, spread, sugar and salt in a separate large bowl. Whisk in the chocolate mixture, along with the flaxseed, vanilla, and fruit. Fold in any remaining chocolate chunks and scrape the mix into a greased baking tin.
Bake your brownies for around 40-50 minutes until no raw dough remains. Cut the brownies into squares and leave them to chill.
7. Sticky Toffee Pudding
Another awesome vegetarian dessert option is this Sticky Toffee Pudding recipe. This delicious recipe comes packed with dates and a touch of ginger to help boost your immune system during the holidays.
Ingredients:
· 200g of softened butter
· 300g of stoned dates
· 1 tsp of baking soda
· 1 tsp vanilla extract
· 100ml dark rum (optional)
· 225g of muscovado sugar
· 100g chopped pecans
· 225g self-raising flour
· 4 eggs
· 1 tsp of ground ginger
· 1 tsp of mixed spice
Instructions:
Grease a baking tin and line with baking parchment, while preheating your oven to around 380 degrees. Tip your dates into a heat-proof bowl with the baking soda, vanilla, and rum. Add 200 ml of boiling water, and leave to soak for 30 minutes. Toast your pecans in a dry pan for around 6 minutes, then leave to cool. Pour your dates and their liquid into a food processor, and tip half back into the bowl, then blitz the rest into a smooth puree.
Mix the chopped and pureed dates, then add the butter and sugar, and beat until fluffy. Add your eggs, and fold the flour and spices into the mix with a pinch of salt. Scrape everything into your prepared tin, and bake for 30 minutes.
Does a Vegetarian or Vegan Diet Suit You Best?
Most people agree that plant-based diets are very healthy, as long as you get enough plant-based protein and limit the portions of simple carbs.
However, if you're curious which type of vegetarian diet suits you best, or if you might be better suited to a vegan diet, take an at-home DNA test from CircleDNA and read your genetic diet and nutrition reports.
For example, one reason why some people are better suited to a vegan diet (aside from moral beliefs) is if they find out they have a genetic lactose intolerance. Since vegan diets tend to be dairy-free, this might suit those people better.
The fact that the above vegetarian Christmas dinner recipes sound so delicious just confirms how satisfying a vegetarian diet can be.