---
There are many benefits of planking for your body and mind. In general, we know that following a healthy diet, getting plenty of sleep, and exercising regularly is crucial to our overall health. Weekly exercise routines should be a combination of cardiovascular activity and strength training or resistance training.
The human body is made up of around 600 muscles that can be classed into 5 major muscle groups.
These 5 major muscle groups in the human body are:
Chest
Back
Arms and Shoulders
Core
Legs and Glutes
Compound exercises, such as squats and push-ups, work multiple muscle groups at once. Isolation exercises target smaller, more specific muscles. An example of isolation exercises would be bicep curls or calf raises.
What about doing planks? Planking is a great option as a compound exercise that works nearly every muscle group in your body. There are many benefits of planking for beginners and for conditioned athletes alike. Planking is a low-intensity, strength training exercise that almost anyone can learn how to do.
Planking is easy to do from home or from anywhere. You can plank daily quite easily. Do it while you're watching TV, waiting for your laundry to finish, or during a work break. What's more, there are several variations of planking exercises, so you can adapt your planking routine as you get stronger and your fitness increases.
For example, one of the benefits of planking every day is that you'll get noticeably stronger. You'll gradually be able to modify your plank to be more challenging than holding the basic plank position.
Your health can be improved greatly by holding a plank at some point in the day every day, or multiple times a day. With that in mind, let's look at some of the benefits planking daily:
What is a Plank Position?
Planking is an isometric body-weight exercise that involves holding yourself in a push-up-like position for as long as possible, typically for at least one minute. Many yoga positions involve planking. A plank can either be held high, meaning you hold yourself up on your hands with arms straight, or low.
A low plank is held by bending your arms 90 degrees, and holding yourself up with your forearms and toes, engaging the core and keeping your back straight.
Isometric exercises are different from other forms of resistance training exercises because they require no movement. Most strengthening exercises require you to either push or pull to lift and shift weight, while isometric exercises such as planking involve holding static positions to increase strength and engage large muscle groups.
During isotonic movements (pushing and pulling), tension remains the same as the muscle gets either longer or shorter. In contrast, tension increases when isometric exercises are performed, but the muscle shape does not change. Additionally, the joint remains still during isometric exercise. Stability coupled with constant tensions improves balance, posture and endurance while being gentle on the joints.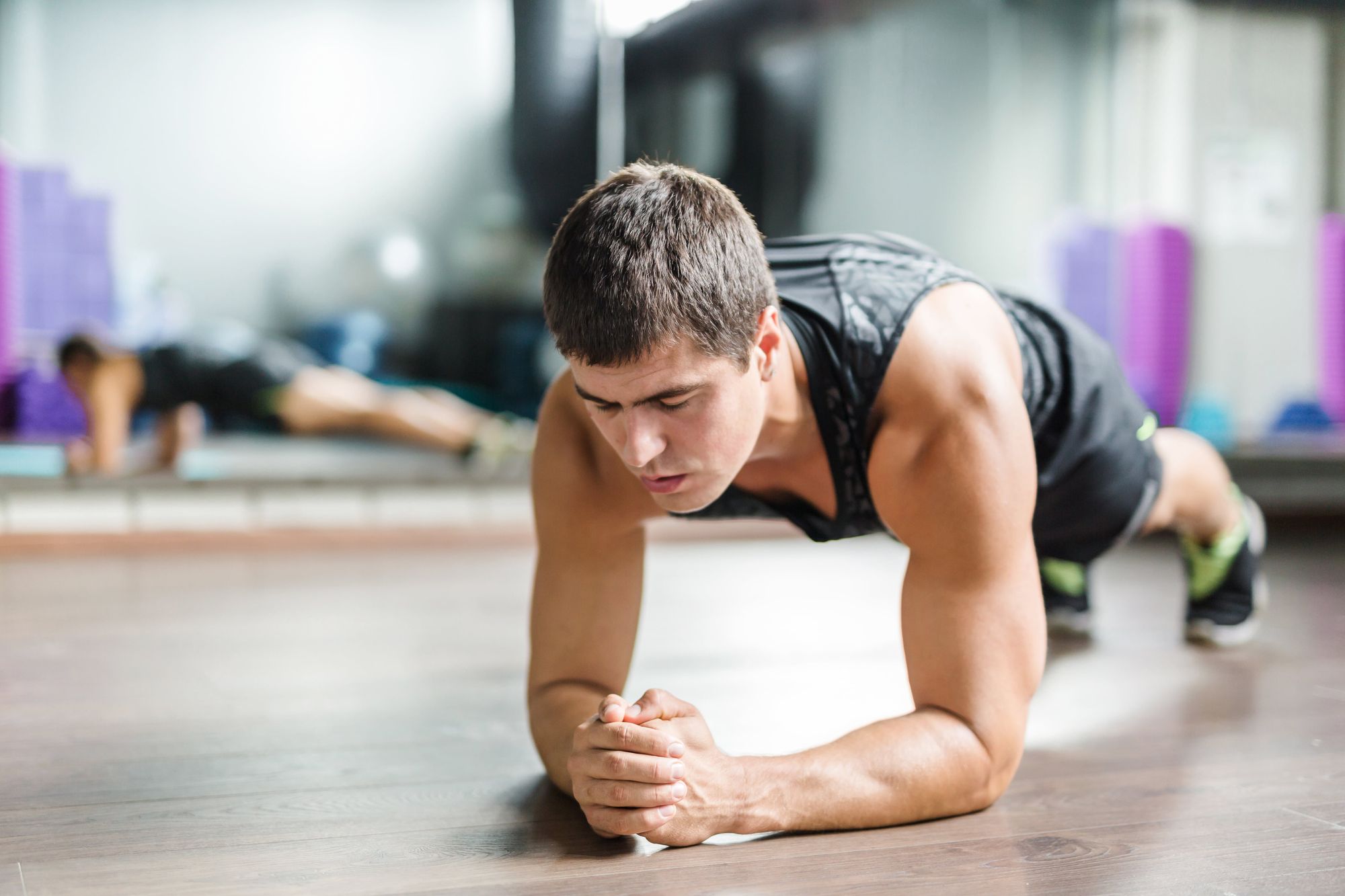 Benefits of Planking: The Muscles Planks Target, Strengthen, and Tone
Planks are one of the best movements for strengthening and toning your core muscles, which is one of the primary benefits of planking daily. Your core is made up of several large muscles in your abdominals, low back, hips and pelvis. Planking is a great way to work out your entire body at once.
More specifically, planking works your rectus and transversus abdominis, your 'six-pack' muscles and 'corseting' muscles, respectively. They are the front and back abdominal muscles responsible for keeping your organs in place and supporting the muscles of your spine, so planking daily can help alleviate back pain. Holding a plank also works your hips, which are connected to your lower abs.
Your arms will also be strengthened and toned by doing daily planks. The muscles of your upper body become engaged when you hold a plank. Engaging your trapezius, rhomboid and pectoral muscles puts less pressure on your core muscles. As your upper body gets stronger, you will find that you're able to hold your plank longer.
How To Hold a Plank Position
Like all exercises, good form is imperative to unlocking the benefits of planking and achieving the maximum results of this exercise. To hold a plank correctly, ensure that your elbows are directly below your shoulders and that your wrists are aligned with your forearms. Tuck your chin and maintain a neutral spine and straight back. Be sure that you aren't lifting or curving your backside, as is not the correct form and can lead to pain and injury down the road.
Ashley Hawksworth, personal trainer and nutrition coach explains, "Most people have somewhat of an anterior pelvic tilt, where they have more of an excessive arch in their lower back. Doing planks this way just causes gravity to reinforce its force right in that spot which could train bad posture. Also, a lot of people's hip flexors are very active, which could be caused by sitting behind the desk too often and could be the cause of lower back issues and groin strain. For the plank, I teach people to tuck their tailbone in when they are in position and squeeze the core. It's the tucking in of the tailbone that is the key as this correctly activates the abs and the core."
Conversely, try not to 'sag' in the middle. Your weight should be evenly distributed as you balance on your elbows and toes.
When holding a plank position, it can help to visualize your mid-body being suspended from the ceiling by an invisible rope, and consciously engaging your core muscles, keeping them tight.
Hold this position for as long as you can without compromising your form. Anywhere between 30 seconds to 1 full minute is ideal – longer if you're strong enough to keep holding it. However, if you can't hold a plank correctly for this long, then don't. It's better to hold a plank properly for 20 seconds than it is to hold a plank with an improper form for 2 minutes.
Benefits of Planking Every Day
Isometric exercises like planks gently improve endurance as the contraction allows the tissue to fill with blood. In addition to helping you reach your fitness goals by working your core, there are many benefits of planking on a daily basis.
For one thing, planking improves your posture, which can relieve a number of ailments such as low and mid-back pain and digestive issues, and reduces your risk of skeletal injuries. Planking daily will improve your overall strength, and tone muscles in your body such as your arms, legs, and core.
Furthermore, exercises that strengthen your core teach your muscles to work together, improving balance and coordination.
Improved balance, stability and coordination are certainly important benefits of planking regularly. You will likely notice many daily activities, from climbing stairs to riding a bike, becoming easier as your core strength improves. Planking also helps improve the flexibility of the muscles in your body, and can improve your concentration.
Finally, as your large muscles grow from daily planking, your body will require more fuel to feed them, so your metabolism could get faster as a result of doing planks. There really are so many benefits to planking, and they are easy enough to learn, regardless of where you are in your fitness journey.
So, how long do you need to plank in order to see results and reap the benefits of planking? Much of that depends on your body type, diet and consistency. However, this study, conducted in 2019, suggests that 8 weeks of daily planking was enough to notice an improvement in core strength, stability and endurance.
Planking: The Bottom Line
Planking every day can provide you with many health benefits such as relieving back pain, improving posture, toning your body, and improving arm and core strength. Planking daily could help you reach your weight loss or fitness goals. However, planking alone won't accomplish much if you're not also adhering to a complete health and wellness plan, including eating a healthy diet and getting cardio exercise as well.
Learning more about how your DNA affects your health can go a long way in creating a healthy routine that suits you. You can learn more about what kind of foods and exercises to incorporate into your healthy lifestyle by taking a DNA test, like the one available from CircleDNA. This is because among its hundreds of reports and DNA insights, CircleDNA can tell you the optimal diet plan for you, based on your genetics, as well as the types of exercise that suit you best based on your genetic makeup.
---
References
Instagram: @ashleynutritioncoachandpt
Effects of 8-week core training on core endurance and running economy (Kwong-Chung Hung, Ho-Wa Chung, Clare Chung-Wah Yu, Hong-Chung Lai & Feng-Hua Sun ) https://journals.plos.org/plosone/article?id=10.1371%2Fjournal.pone.0213158