A strong core is the foundation of a strong body. Our core muscles are used to perform everything from simple movements like climbing stairs and getting out of bed, to more challenging tasks like carrying groceries and moving furniture. Even the act of breathing engages our core.
A weak core can generate a lot of problems, especially during workouts. Trying to lift or squat too much weight without adequate core strength will result in poor form. This can lead to injuries in your back, hips, knees and shoulders as your other muscle groups try to compensate.
Weak core muscles also contribute to poor posture, lack of stability and back pain. For people with chronic back pain due to scoliosis, strengthening your core can alleviate the discomfort and even prevent progression.
Fortunately, strengthening your core doesn't require a gym membership or a lot of expensive equipment. In fact, many core exercises don't call for more than your own body weight; a few light dumbbells and some resistance bands can also go a long way for workouts that target your core.
Let's review what your core is made up of and why the form is important, and then get into the best core exercises to strengthen your core.
Core Exercises: Your Abs vs Your Core
Many people equate having six-pack abs to having a strong core, but in fact, your abs make up only one small part of the many muscle groups that are part of your core.
TJ Mentus from Garage Gym Reviews is an ACE certified personal trainer, functional range conditioning mobility specialist, weightlifting coach and holistic life coach. According to TJ,
"The abs and core often get referred to as if they are the same thing when they are actually different. Think of the core as a bigger system of muscles and the abs are one part of that system that provides strength, stability and mobility to the midsection of the body. In addition to ab muscles, the core is also made up of muscles on the back, the quadratus lumborum, erector spinae and lats as well as the groin and hip flexor muscles in the legs. [Exercises that work] just the abs tend to be exercises like crunches and sit-ups; movements that flex the torso forward and work to build muscle. Core exercises focus more to build overall strength and stability through the midsection and help prevent injuries."
Optimal Form
Like any exercise, maintaining proper form throughout the entire movement is essential to achieve optimal results.
In order to maximize the benefits of strengthening your core, TJ suggests "creat[ing] a bracing effect with the muscles. In order to brace, first, think about pulling the rib cage down with the abs. Then take a breath in to expand the diaphragm and keep this abdominal pressure. You should still be able to breathe as you hold this air in. While performing exercises keep this tension through the midsection engaged. To get even more core recruitment, also squeeze the glutes and adductors."
For each exercise, aim for 3 sets of 10 repetitions, or as many as you can without compromising your form. Take as short of a rest as possible between sets.
Below are the top 10 exercises to strengthen your core: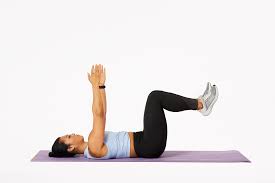 1. Dead Bugs
Lay on your back with your knees bent and shins parallel to the ceiling. Extend your arms straight up. 'Tuck' your pelvis so your back is flush with the floor; you may need to raise or lower your legs to accommodate. Extend one leg and the opposite arm, hold for 1-2 seconds and return to the starting position. Alternate legs and repeat.
To make this exercise more challenging, balance an exercise ball between your knees and arms, hold light dumbbells, push against a resistance band or use strap-on ankle weights.
2. Bird Dogs
This move is similar to dead bugs, except we begin on all fours. Keep your back flat and maintain length in your spine as you extend one leg and the opposite arm simultaneously while maintaining stability in your trunk. You can try putting a water bottle on your back to make sure you're not twisting or rocking. To make it harder, begin from a planking position.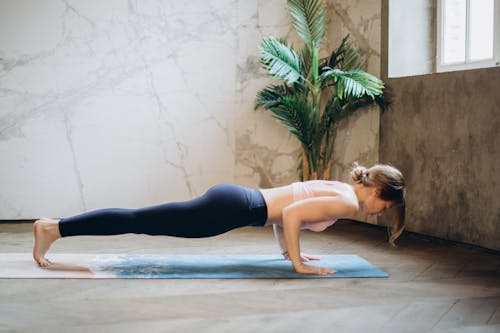 3. Plank
Planking is a gentle exercise and is an excellent way to target most of the muscles in your core, from your shoulders to the bottom of your quadriceps. You can hold a plank from the top of a push-up position (also called a high plank) or on your elbows with your hands clasped. Brace your core, maintain length in your spine and keep your back flat; your hips should not be piked and your belly should not sag. Hold for as many seconds as possible. Daily planking greatly improves core strength and is excellent for developing proper posture. Also, there are many variations to the standard plank including side planks, reverse planks, plank rocks and reverse plank marches. You can add in shoulder or toe taps for a bit of a challenge.